2017 Year in Review
Wet Summer Set Local Tongues Wagging in 2017
By DAVE KIFFER
January 02, 2018
Tuesday PM

(SitNews) Ketchikan, Alaska - Another year in Ketchikan where "weather" was the big story. At least that's what everyone was talking about. The summer weather that is.
Ketchikan's summer seemed like it was one of the most dismal ever. Rain, rain, rain. Turned out we weren't imagining it.
June, July and August were wetter than any time other summer in recorded history, topping the previous drizzle-a-thon of 1967. Nearly 50 inches of rain were recorded in those three months, topping the previous high by nearly half a foot. Of note, in June there were only two sunny days and in July only six. August started off with 8 sunny days, but immediately turned bad the rest of the month and featured the remnants of a tropical typhoon dropping nearly eight inches of rain two plus days.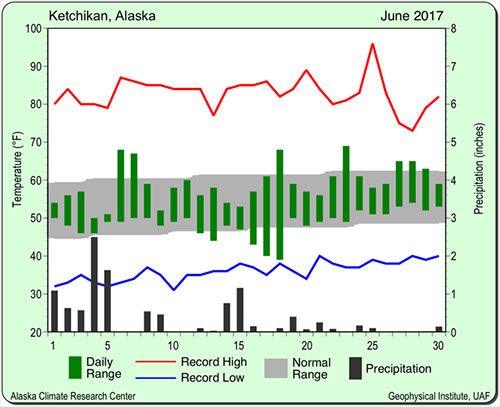 Ketchikan: June 2017
Courtesy Alaska Climate Center www.akclimate.org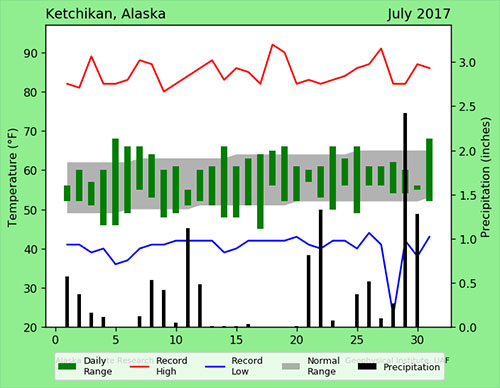 Ketchikan: July 2017
Courtesy Alaska Climate Center www.akclimate.org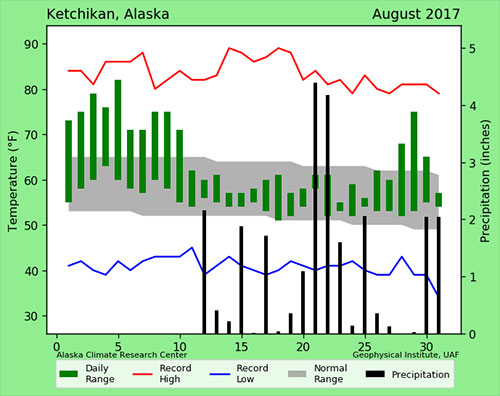 Ketchikan: August 2017
Courtesy Alaska Climate Center www.akclimate.org
The good news was that all four holidays – Memorial Day, 4th of July, Blueberry Festival and Labor Day – were sunny for the first time in …. forever.
Oddly enough, the deluginal summer was followed by an unusually dry fall and early winter.
One day, Dec. 11, was actually the warmest Dec. 11 on record with a high of 58. Fortunately, it cooled off in time for Christmas and Ketchikan had a slight dusting of snow making for a rare White Christmas. The snow stayed on the ground until New Year's Day as the temperature dipped well below freezing and local lakes froze up enough to provide for some ice skating, if one could survive the sheet ice on the roads to the lakes.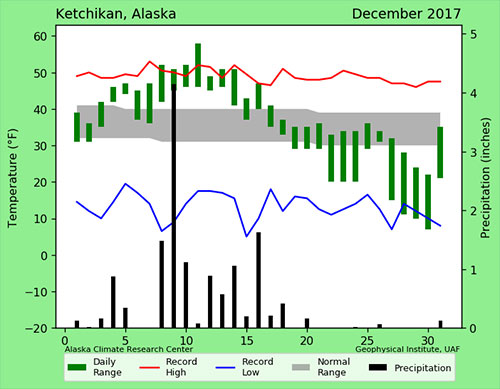 December 2017
The observed maximum temperature was 58.0°F on the 11st of the month,
the minimum temperature was 7.0°F on the 30th of the month.
The total monthly precipitation was 13.6°F, which was 0.6" below normal.
Courtesy Alaska Climate Center www.akclimate.org
In other 2017 news, in January local mariners worked together to rescue a humpback whale that had become tangled in a steel cable in Nutkwa Inlet on the west coast of Prince of Wales Island. Employees of Alaska Commercial Divers and Olson Marine were involved in the rescue of the 35-foot whale.
The first baby of 2017 was a boy, Jacko Reyes Scudero, born to Gerardo Reyes and Giovanna Scudero at 11:38 PM on January 5. He weighed 7 pounds, 10 ounces.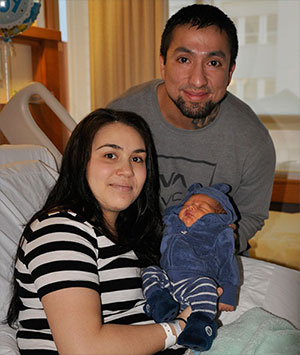 Jocko Reyes Scudero, First Baby 2017
Parents are Giovanna Scudero and Gerardo Reyes.
Photo courtesy PeaceHealth Ketchikan Medical Center
In January, the Edgewater Inn became part of the Clarion/Rodeway Inn chain. In February, a new hotel, a Ketchikan "My Place" opened across from the Vigor Shipyard. In the summer, the renovation of the Bayside Hotel was completed and it opened as part of the Inn at Creek Street operation.
Zach Willard was sentenced to 18 years in prison following his guilty manslaughter plea in the 2015 death of Wayne Nathan.
Dry weather and cold temperatures lasting from mid December 2016 through mid January limited hydro usage and put Ketchikan on diesel generators for several weeks. It was the first time in five years that cold winter weather had been a significant issue, according to Ketchikan Public Utilities officials.
Former Ketchikan Gateway Borough Assembly member Agnes Moran was named the new executive director of Women in Safe Homes (WISH).
Two former Ketchikan residents, sisters Laurie Carroll-Bakk, 36, and Brooke Gilpin, 26, were killed in a car accident in January in Wasilla.
A fire on the top floor of the Tongass Towers killed longtime Ketchikan resident Weston Davis, 49, in January.
Early in January, Ketchikan Indian Corporation purchased 34 acres of logged land near Mud Bight. Officials say the land may be used for housing in the future.
Heavy northerly winds, up to 75 mph, struck Knudsen Cove early in February, damaging docks and several boats.
Lee Gray was hired to be the new Tongass Historical Museum Director and Patricia Tully came on board as the new Ketchikan Public Library Director in January. Gray resigned two months later and a search for her replacement began. Longtime museum curator Anita Maxwell was named museum director in July.
Four people were elected to positions on the Ketchikan Indian Corporation Tribal Council. The new members are Irene Dundas, Melissa Johnson, Norman Skan and Gianna Flannery.
After months of controversy, the Alaska Mental Health Lands Trust announced that it is temporarily backing away from a proposal to log its land on Deer Mountain. The trust cited efforts in Congress to approve a land swap with the Forest Service for other lands. An agreement was eventually reached later in the year to transfer the Mental Health land on Deer Mountain for other lands on Prince Of Wales, ending a two decade controversy.
A local sports highlight occurred in January as the Kayhi boys basketball team swept defending state champion Juneau twice in Ketchikan.
Retiring doctor David Johnson was named the Ketchikan Chamber of Commerce Citizen of the Year. Johnson retired after 40 years in Ketchikan. The chamber also saluted Marble Construction (business of the year), Trevor Sande (entrepreneur of the year), Bella Posey (youth leader of the year) and Russell Anderson (community service).
Two Metlakatla men, Troy Smart and Timothy Staples disappeared during a late-night skiff ride from Mountain Point to Annette Island. Searchers found their boat and some supplies.
The Samson tug Mariner ran aground on Rosa Reef in February, the barge it was towing north also ran aground. There was an oil spill of approximately 1,200 gallons and no injuries. Less than two weeks later a different tug towing the same barge ran aground on Mariposa Reef near Port Protection.
The theater at the Southeast Alaska Discovery Center was formally renamed in February for Elizabeth Peratrovich, an early leader in the Alaskan civil rights struggle.
Houghtaling sixth grader Franchesca Correa won the Ketchikan School District Spelling Bee. Her winning word was c-o-l-l-i-s-i-o-n.
Whale Pass officially became the newest city in Alaska on February 3.
Two Seattle based pilots were extremely lucky on March 3, when they survived ditching their twin engine plane in Nichols Passage. Steven Hewitt and Grant Hasting were bringing a load of geoducks from Klawock to Ketchikan. Weather had been good in Klawock, but they ran into a blizzard in Ketchikan and had to abort the landing. As they were circling around for another attempt, one of the engines on the 50-year-old Beechraft G18S failed and they ended up ditching near Smugglers Cove on Annette Island. The plane sank but both men were able to swim 200 yards to shore and were rescued.
Ketchikan was hit with by a series of heavy snowstorms the last week of February and three weeks of March, dumping approximately 40 inches of snow on the First City. Naturally, school was not cancelled, at least not initially.
The Hydaburg Boys and Klawock Girls basketball teams won the Region V 1A Division tournament in Ketchikan in March.
The Ketchikan High School Girls Basketball team won its fourth straight regional title. The Boys team finished second to Juneau Douglas, both teams advanced to the state tournament.
Traces of paralytic shellfish poisoning was found in clams in George Inlet.
The Ketchikan High School Academic Decathalon team finished second in the state of Alaska in March. The Craig High School team was the state champion for schools with under 150 students.
As a money saving measure, the Forest Service announced it was merging two districts in Prince Of Wales, Thorne Bay and Craig, into a single district.
The new 154-foot fast response cutter, John McCormick arrived in Ketchikan in March. The McCormick is one two new cutters that will replace the 110-footers in Southeast Alaska.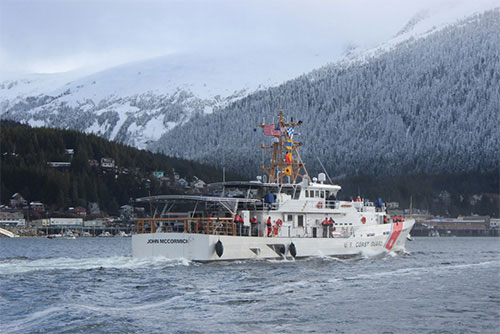 The Coast Guard Cutter John McCormick (WPC-1121) and crew make way to their home port at Coast Guard Base Ketchikan, March 17, 2017. The Fast Response Cutter McCormick and its crew completed a 6,200-mile trip fmor Key West, Florida.
Photo by Petty Officer 1st Class William Colclough
The Metlakatla boys basketball team made it all the way to the State 2A division championship game where it fell to its old nemesis Petersburg.
The Kayhi boys team finished 3rd in the State in the 4A division.
In April, police began investigating a suspicious death involving surgeon Eric Garcia. At first it appeared his death was natural causes, but police became suspicious when an acquaintance of Garcia was found to have a significant amount of money and property belonging to Garcia. Jordan Joplin was eventually charged with theft and then with murder, his trial was set for April of 2018.
Ketchikan's first marijuana retailer, The Stoney Moose, opened in April.
Student archers from the Southeast Island School District finished first in the state high school archery division. Curtis Clower was the top individual archer.
Misty Fjords Air began making the first scheduled flights to Prince Rupert since the late 1990s.
Local entrepreneur Trevor Sande began a commercial kelp farming operation near Ketchikan in April.
Governor Walker came to town in late April to attend Ketchikan Youth Initiatives fundraising gala which raised money for a roof for the Ketchikan Skate Park.
The National Transporation Safety Board met in April 2017 to discuss the 2015 fatal flightseeing crash in Misty Fjords that killed 9 people. The board has initially decided that bad decisions by both the pilot and the company were responsible for the crash. The NTSB says that the pilot should not have been attempting to fly through the mountains in deteriorating weather and that the company, the former Pro Mech Air, had a habit of encouraging pilots to take risky chances while competing with other carriers. Pro Mech shut down after the crash and most of its assets were purchased by Taquan Air.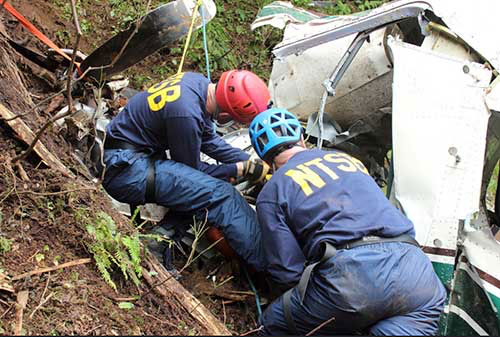 NTSB investigators Brice Banning and Clint Crookshanks on scene examining the wreckage of a sightseeing plane that crashed in Alaska on June 25, 2015.
Date of Photo June 30, 2015 - Courtesy NTSB
Joel Buchanon of Coffman Cove was one of 10 state residents recognized by First Lady Donna Walker in April. Buchanon has been a volunteer for North of Hope and has overseen the work of 85 construction teams in the past six years in Kasaan, Klawock and Hydaburg.
Longtime local police officer Joe White was named the new Ketchikan Chief of Police in May.
City officials had to make emergency repairs to a float in Thomas Basin after the 56-foot seiner Chrystal Bay slammed into the dock, separating it from the main float.
The U.S. Senate approved a spending bill that included a land trade in which the Alaska Mental Health Lands Trust will get land on Prince of Wales in return for land on Deer Mountain and elsewhere that it had been threatening to log.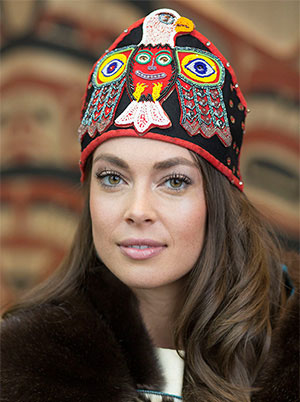 Miss Alaska USA 2017, Alyssa London
Photo by Brian Wallace
Courtesy Sealaska Heritage Center
Alyssa London, the first Tlingit Native to be Miss Alaska USA and the granddaughter of a Ketchikan family, visited schools in the First City. London was the first Miss Alaska to finish in the top ten in the national competition.
Deanna Claus of Craig was named a British Petroleum "Teacher of Excellence."
The former treasurer of the Ketchikan Rotary 2000 club, Nancia L. Christian, was charged with stealing more than $65,000 from the organization.
More than 140 students graduated from Ketchikan High School in May. Alison Blair was the Valedictorian and 1967 Kayhi graduate Bill Tatsuda was the commencement speaker.
A fire caused by a campfire destroyed a community picnic shelter in Naukati. Originally the fire was thought to be suspicious in origin, but State Troopers determined that a fire in the building's firepit flared up after users thought it had been put out.
Thirty-five students received degrees or certificates from University of Alaska-Ketchikan Campus in May.
Sam Severin and Kelly Reppert were the winners of the 2017 Totem to Totem Half Marathon. More than 180 runners, walkers and relay racers took part.
Kayhi senior Trevor Ortiz finished second at the state championships in the 4A division triple jump. Titus Tripple of Thorne Bay finished third in the 110 meter hurdles and the fourth in both the 300 meter hurdles and the shot put in the 3A division.
Three commercial seiners were heavily damaged in a fire at Craig's North Harbor. The 57 foot Seaborne was destroyed and the 49 foot Julia Kae and 56-foot Pacific Lady were heavily damaged. State Troopers are investigating.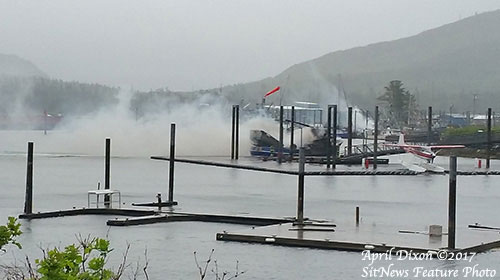 Three-vessel fire aboard the 57-foot fishing vessel Seaborn, 56-foot fishing vessel Pacific Lady and the 49-foot fishing vessel Julia Kae, at a marina in North Cove in Craig, Alaska.
Photo by April Dixon ©2017
The USCG 154-foot Fast Response Cutter Bailey Barco arrived in Ketchikan, joining the FRC John McCormick at Base Ketchikan.
Thirty students graduate from Revilla Blended School in May, Audrey Kistler was the commencement speaker.
Rhonda Peratrovich, 53, of Hydaburg, died in a car accident on Prince of Wales Island in early June.
A spectacular fire destroyed a small fishing boat in Bar Harbor in June. Police are still investigating the cause.
The state DOT announced that it was planned to spend nearly $80 million to make improvements to the Ketchikan airport ferry docks and parking areas. The money is what remains of the more than $300 million the state received from the federal government a decade ago to fund a bridge to Gravina Island.
Despite two price cuts there were still no takers for the state Ferry Taku which has been laid up in Ketchikan for two years and is for sale. A third attempt got a bid from a hoteler in Portland who wanted to turn it into a floating hotel But that sale also fell through. At year's end, the ship was still docked in Ward Cove.
A 40-year-old man from Stewart B.C. was killed in a vehicle accident in Hyder in early June. Garland Stevens was driving his pickup truck when it went down a 400 embankment into the Salmon River.
The pilot and six cruise ship passengers survived a plane crash at Big Goat Lake in Misty Fjords in early June. The Alaska Seaplane Beaver crashed on take-off, but the pilot and passengers were able to swim to shore and only had minor injuries.
Chase Hanis, 12, was the winter in the 2017 Ketchikan King Salmon Derby. His king weighed 43.7 pounds.
Ketchikan artist Dave Rubin's sculpture of William Henry Seward was unveiled in July in front of the state capitol building in Juneau.
Longtime matriarch of the Filipino Community and local restauranteur Clara Diaz was the Grand Marshall of the Fourth of July Parade.
The Ketchikan, Gero-Kanayama student exchange program celebrated its 30th anninversary and a delegation including Gero Mayor Hidehiro Hattori took part in the Fourth of July parade.
The long delayed Gravina Access project finally passed a long delayed milestone as the environmental impact statement and record of decision was approved on a $90 million project to improve ferry access to the airport on Gravina. The original project, which began in 2004, envisioned a bridge connecting Revilla and Gravina islands, but now will involved improvements to the ferry system and increased parking.
Karl Kruger became the first stand up paddle boarder to complete the Race to Alaska, a 750-mile race between Port Townsend and Ketchikan.
Rose's Caboose, an iconic restaurant on Ketchikan's north end was reopened as AJ's Gourmet Burgers. The original building was heavily damaged by a car late last year.
Locals were disappointed when a much-ballyhooed visit by media mogul Oprah Winfrey did not come as planned. Winfrey was on a cruise tour of Alaska with fans, but left the ship after it arrived in Sitka and before it came to Ketchikan.
Several local baseball and softball all-star teams had regional success as the Majors baseball team, and the 8-10 and 13-14 year old softball teams all won regional titles this year and advanced to the state tournament.
A woman was murdered on a cruise ship shortly after it left Ketchikan heading north on July 27th. The assault that led to the murder of Kristy Manzanares Of Utah happened near Forrester Island as the Emerald Princess was on its way to Juneau. The woman's husband, Kenneth Manzanares has been charged with murder.
Ketchikan's American Legion baseball team concluded its season by winning the American Legion Matson Tourney in Anchorage in July.
Citing family and personal issues, school board member Misty Browne resigned her seat on the board.
Ketchikan's 12-year-old Little League Major's All Star team won the state title in July and went to the regional tournament that was held in San Bernadino, California for the first time in 17 years.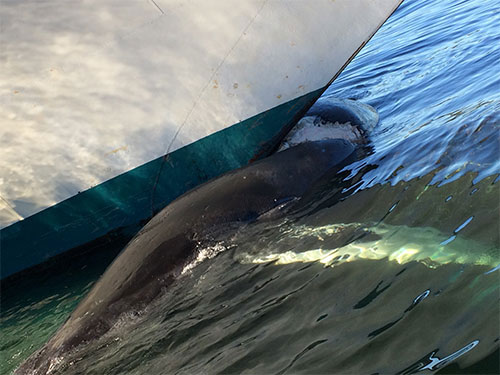 Grand Princess Cruise Ship arrived in Ketchikan the morning of August 9, 2017with a juvenile humpback whale lodged on her bow.
Photo credit: Fred Burk, NOAA Office of Law Enforcement ©2017
A juvenile humpback whale was found wedged against the bow of the Grand Princess when it arrived in Ketchikan in early August. Officials were investigating to determine how the whale died. (Editor's note: Recent email to SitNews from NOAA; The results have yet to be released.)
Testing of coastal water quality around Ketchikan in August determined that several area beaches had higher than normal levels of fecal bacteria. Testing the next month showed normal levels. In September, DEC suspended bacteria monitoring in the Ketchikan coastal areas until the 2018 summer recreation season.
Governor Walker came to Ketchikan twice in early August, first to officiate the pie contest at the Blueberry Festival and later to sign the state legislation supporting the land transfer trading Mental Health Lands Trust land on Deer Mountain for property on Prince of Wales Island.
Carlos Weimer and Stephanie Spring were the winners of the Blueberry Festival 10K Run.
More than 200 people showed up at the Ketchikan Public Library for an eclipse viewing party in August. The cloud cover eclipsed the eclipse outside but party goers watched the NASA live feed.
As if the summer weather weren't weird enough (only seven sunny days in all of June and July) August says the remnants of a typhoon hit the area and dump nearly eight inches of rain in two days in August.
A Fisherman's Memorial was dedicated at Cannery Point in Craig in late August. The memorial was a gift from hotel heir Barron Hilton who has been a frequent visitor to Craig on his yacht.
Ketchikan High School teacher Sarah Campbell was awarded the Elgin Heinz Outstanding Teacher Award by the United States Japan Foundation.
A preliminary report by the U.S. Coast Guard determined that multiple factors were the cause of a 2016 accident in which the Celebrity Infinity smashed into Ketchikan Berth Three, causing $1.2 million in damages. The report determined that high winds were one factor, as was poor execution by the ship's bridge crew. The report indicated that no single crew member or pilot was responsible but that several made errors that helped lead to the accident.
A Ketchikan man found guilty of a 2011 murder at a local trailer park, had his conviction reversed by the state court of appeals. The appeals court ruled that the district attorney made improper statement in the closing arguments in Devin Rossiter's trial.
Local tongues were wagging in late September when a state Department of Transportation stripping project on Tongass Avenue went horribly wrong. First, the stripes themselves were wavy in places and then the paint itself didn't dry as fast as it should have and ended up being smeared on the road and on numerous area cars. DOT blamed the paint saying it didn't dry quickly in humid and wet situations. Ketchikan residents noted that it is always humid and wet in Ketchikan.
Ketchikan welcomed its one millionth seasonal cruise passenger for the first time in September. Candy Borda from Fort Lauderdale, Florida was feted on Sept. 25.
Local elections saw some changes on the Borough Assembly with three new members, Susan Pickrell, Amanda Pierce and Alan Bailey (re-elected) taking seats. Diane Gubatayo, Glen Thompson and Glen Brown were elected to the school board and Mark Flora, Dave Kiffer and Dick Coose were re-elected to the City Council.
The most interesting election news from Prince of Wales was in Craig, where Dennis Watson, the 13-term Mayor, was defeated for re-election by Fire Chief Tim O'Connor.
Richard Branda, 55, was found dead a stab wound to the neck on Oct. 6. His body had lain near the sidewalk at Berth Four for more than 12 hours because passersby though he had passed out. Joshua Bliss was charged with first degree murder.
Ketchikan police made a significant methamphetamine bust in early October, seizing more than $270,00 worth of drugs and weapons. Three people were charged.
Rev. Bill White retired after 56 years as the Ketchikan jail chaplain.
Timothy Murphy, 26, was charged with first degree murder after the Oct. 25 shooting death of Brian Stanton, 64, at a logging camp at Keete Inlet on Prince of Wales Island.
Although Ketchikan remains a fishing community, the value of the local catch continues to drop in relation to other ports. In 2016, Ketchikan was the 14th nationwide in landing volume and the over-all value of the catch was 31st, about six places below last year.
A Ketchikan man was taken into custody after allegedly falling asleep in a meat display at a local grocery store.
Former Ketchikan resident Frances Leach was named the executive director of the United Fishermen of Alaska.
2016 Kayhi valedictorian Kiera O'Brien was named President of the Harvard Republican Club. She is a freshman at the university.
Former Ketchikan resident, 22-year-old Devan McDonald was the victim of a shooting death in Anchorage in December. A 20-year-old Anchorage man is facing charges including murder in the first and second degree along with tampering with evidence.
The Ketchikan High School wrestling squad continued its decade of regional dominance, winning its 10th consecutive Southeast title. Eleven Kayhi wrestlers won their weight classes. One Kayhi wrestler, Brayden Linne, finished second in the state tournament. Two Klawock wrestlers, James and Jonas Heppe finished second in the state wrestling tournament as well.
Ketchikan resident Ronald Fulgencio died on Dec. 18 after being hit by a truck while crossing Stedman Street near Tatsuda's.
Former Ketchikan resident, Marika Middag Stone, 38, was killed by a alleged drunk driver while riding her bicycle in Bend, Oregon on Dec. 23.
REST IN PEACE:
Karen Sivertsen Canaday, 72, lifelong Ketchikan homemaker, Jan. 1, 2017
Bob Landis, 83, longtime Ketchikan teacher, Jan 4
Balvino Punongbayan, local prep cook, 56, Jan. 7
Tom Aspinwall, 80, longtime state ferry captain, Jan 10
Weston Davis, 49, lifelong Ketchikan resident, Jan. 10
Edward Ermaloff, 34. Lifelong Metlakatla fisherman, Jan. 15
Phyllis Seibel, 79, 30-year Ketchikan resident, Jan. 21
Ronald Davis, 70, longtime ferry system employee, Jan. 28
Marcia Brendible, 67, longtime Metlakatla resident, Jan. 31
Margaret "Peg" Johnson, 84, co-owner of the legendary Toot and Tell, Feb. 1
Leona Lamphier, 87, longtime local cook, Feb. 3
Mercy Schleusner, 56, lifelong Metlakatla resident, Feb. 7
Patrick Durkin, 82, longtime resident, Feb. 8
Robert Johnson, 89, longtime Hyder and Ketchikan resident, Feb. 9
Ernie Leask, 90, lifelong Metlakatla resident, Feb. 11
Rev. Dr. Louis Gerhart, 91, former Metlakatla minister, Feb. 13
Ralph Ulricksen, 86, former Ketchikan resident, Feb. 13
Karl Grahl, 71, former Forest Service engineer, Feb. 15
Hal Woodworth, 73, long time First Bank vice president, Feb. 25
Larry Hoffman, 69, longtime former Ketchikan resident, Feb. 25
Dennis Neill, 66, longtime Ketchikan Forest Service employee, March 5
Frances Sanderson, 82, longtime Hydaburg resident, March 9
Pete Ellis, 83, lifelong Ketchikan aviator and attorney, Mar 13
Charles Gail, 69, former President of TEMSCO, Mar. 14
Dave Blick, 60, Ketchikan computer guru, Mar. 14
William Burmeister, 94, longtime Whale Pass gardener and resident, Mar. 16
Douglas MacAllister, 65, local adventurer, Mar. 16
Cesar Manolo, 69, Ketchikan resident, Mar 20
Monte Guymon, 88, former Ketchikan borough assembly member and city councilman, Mar. 22
Helen Featherston, 73, longtime Klawock resident, Mar. 23
Chrissie Jackson, 59, former Ketchikan resident, Mar. 27
Linda James, 67, former Thorne Bay and Ketchikan resident, Mar. 28
Brian Murphy, 72, longtime area resident, Mar. 29
Harris Skillie, Sr, 73, former Hydaburg resident, Mar 31
Kirby Evans, 66, former Ketchikan resident, Mar 31
Irv Leask, 62, fisherman and former Metlakatla resident, Apr. 1
Charles James Sr. 80, longtime local fisherman, Apr. 2
M.J. Hert, 72, longtime local timber industry worker, Apr. 3
Gail Bertrand, 79, former jewelry store owner, Apr. 6
Daniel Charles, 79, longtime Craig and Ketchikan resident, Apr. 6
Sammy Flores, 58, general manager at Karlson Motors, Apr. 6
Mac Rado, 58. Lifelong Ketchikan resident, Apr. 10
Robert McLaughlin, 58, longtime Prince of Wales and Ketchikan resident, Apr. 10
Shirley Jackson Ritter, 56, former Ketchikan resident, Apr. 10
Courtney Marshall, 36, longtime Ketchikan resident, April 11
Janet "Summie" Borgen, 102, 40-year resident and former school board member, Apr. 11
Ford Miller IV, 53, longtime resident, Apr. 12
Ralph Grooms, 91, longtime Ketchikan resident, Apr. 13
Diane Ferguson, 58, longtime local accountant, Apr. 13
Floyd Crocker, 76, longtime Ketchikan mechanic, Apr. 13
Bill Green, 77, pillar of the Ketchikan musical community for nearly 50 years, Apr. 13
Margaret Bolton, 83, longtime Metlakatla Head Start director, Apr. 15
George Smith, 81, longtime Ketchikan fisherman, Apr. 19
Evelyn Bullock, 91, longtime Ketchikan teacher, Apr. 20
Ken Blume, 63, longtime local fisherman and carpenter, Apr. 25
Marian Glenz, 80, longtime Meyer Chuck postmistress, Apr. 26
Myrna Nissen, 77, longtime Department of Transportation employee, Apr 27
Murray Gildersleeve, 87, logging company owner, Apr. 29
Cody Wolf, 28, carpenter and pool aficionado, Apr. 29
Don Kenoyer, 80, longtime Ketchikan counselor, fisherman and smoked salmon genius, Apr. 29
Brian Coburn, 71, longtime troller and counselor, May 3
Judy Hagan, 72, longtime Ketchikan teacher, May. 6
Velma Cox, 91, longtime Ketchikan fisherwoman, May 6
Dale Young, 70, lifelong Ketchikan resident and 20-year police detective, May 7
Richard Hall, 56, longtime local machinist, May 12
Sylvia Umphrey, 91, longtime school district employee, May 14
Mike Abbott, 74, lifelong Ketchikan resident, May 19
John Alguire, 55, 20-year Ketchikan police officer, May 21
Howard Banta, 89, former Ketchikan canneryman and surveyor, May 28
Paul Boyd, 86, longtime forest service employee and realtor, May 30
Rhonda Peratrovich, 53, former Hydaburg council member, June 1
June Fawcett, 84, longtime Metlakatla cook, June 3
Leslie Killian-Soule, 58, lifelong Ketchikan resident, June 4
Kay Gunderson, 92, legendary former owner of Kay's Kitchen, June 5
Destiny Charles, 40, longtime Hydaburg resident, June 5
Robert Giddie, 76, longtime Craig firefighter, June 7
Tammy Fain, 57, long time Ketchikan store clerk, June 9
Edward "Sam" Thomas Jr., lifelong Craig resident and former President of the Craig Tribal Association, 53, June 11
John Bussanich, 92, lifelong Ketchikan resident, pilot and ship's captain, June 15
Ramon Cabillo, 70, former Ketchikan cannery worker, June 16
Hattie Lea Baumgarter, 47, Ketchikan's perpetual "ray of sunshine", June 22
Joy Gerde Erickson, 69, 6o-year Ketchikan resident, June 22
Virgil Williams, 69, 60-year Metlakatla resident, June 23
Norman "Nick" Farstad, 86, former longtime resident, June 22
Gene Dyer, 87, "Dogfish Dyer", June 26
Katherine Eastham, 91, 30-year resident, June 28
Tammy Snook, 53, longtime local logger and artist, July 1
Janey Johansen Smith, 70, former police dispatcher, July 3
Neil Gilbertson, 72, longtime local fisherman, July 8
Dennis Dupas, 64, longtime shipbuilder, July 5
Mary Larsen, 68, longtime teacher & leader in Ketchikan's music community, July 14
Eric Amundson, 53, Ketchikan's "friend to everyone," July 18
Norman Nygard, 69, longtime Southeast Stevedoring superintendent and life-long resident, July 22
Lennie Hipkins, 56, longtime local grocery clerk, July 22
Benjie Tavares, 55, longtime local longshoreman, July 23
Rose Northrup, 84, two-time winner of the Ketchikan King Salmon Derby, July 24
R.J. James, 31, lifelong Ketchikan resident, July 26
Leif Singstad, 93, 88-year resident and longtime owner of Ketchikan Dray, July 28
Jeanette Samson. 87, longtime Metlakatla foster care provider, July 30
Harriett Brendible, 93, 63-year Ketchikan resident, Aug. 4
Tamara Williams, 62, longtime local nurse, Aug 8
Dorothy Rathbun, 73, 48-year resident, Aug. 9
Louise Laine, 98, 38-year Ketchikan resident, Aug. 13
Thomas Brendible, 75, longtime Metlakatla mill worker, Aug. 14
Richard Dundas, 76, fisherman and 74-year Metlakatla resident, Aug. 15
James Curry, 48, longtime timber faller, Aug. 18
Neal LaFlamme, 59, longtime youth sports promoter, Aug. 21
Kaaren Kubley, 69, longtime Ketchikan and Prince of Wales public health nurse. Aug. 22
A.J. Charlton, 71, former state trooper and "all around good guy," Aug. 29
April Atkinson, 55, lifelong Metlakatla resident, Aug. 30
Floyd Frank, 91, longtime Hydaburg and Ketchikan resident, Sep. 3
Cleo Weston, 89, longtime Ketchikan artist, Sept. 4
Arlie Umphrey, 95, long time school district employee, Sept. 4
Robert Melton, 64, longtime Ketchikan fisherman and logger, Sept. 14
Bill Ren, 79, long time Ketchikan building and rock wall expert, Sept. 19
Annette Gregorioff, 86, lifelong Ketchikan and Metlakatla resident, Sept. 22
Kent Miller, 76, lifelong Southeast community builder, Sept. 22.
Tony Dupea, 51, longtime Ketchikan pilot, Sept. 27
Alvina "Vinnie" Martinez, 80, lifelong Saxman and Ketchikan resident, Oct. 1
Della "Toby" Dunkin, longtime Ketchikan artist, 62, Oct. 1
Cassandra Edwards, 24, local artist, Oct. 1
Arne Paasche, 76, longtime Dall Bay resident, Oct. 2
Nora Combs, 70, longtime school custodian, Oct. 2, 2016
Richard Branda, 55, longtime fisherman and Ketchikan resident, Oct. 6
Steve Doran, 32, lifelong resident, Oct. 16
Warren "Bill" Powers, 90, long time Point Baker resident, Oct. 20
William Cook, 94, 57-year Ketchikan resident, Oct. 22
Brian Stanton, 64, longtime local "Mr Fix It," Oct. 25
Kathleen Ash, 64, longtime Ketchikan resident, Oct. 31
Kay Taylor, 77, wife of former state legislator Robin Taylor, Nov. 1
Michalyn Bathke, 81, former Ketchikan nurse, Nov. 3
Richard Grude, 76, longtime Ketchikan resident, Nov. 6
Sheila Carlson, 70, longtime Ketchikan and Annette Island resident, Nov. 11
James Scott, 52, former longtime Ketchikan Assistant District Attorney, Nov. 13
Ralph Gregory, 79, architect and former Borough Mayor, Nov. 14
Bob Higgins, 81, long time pulp mill manager, Nov. 14
Jay Snodderley, 89, world's greatest chef/accordionist, Nov. 18
Derek Dotson, 32, lifelong resident, Nov. 18
Ron Van Winkle, 74, longtime tugboat operator, Nov. 21
Martin Milne, 51, lifelong Metlakatla and Ketchikan resident, Nov. 22
Annelies Leask, 79, half century resident of Ketchikan, Nov. 23
David Kuehl, 52, port engineer, Nov. 23
Jean White, 83, longtime Thorne Bay resident, Nov. 26
Robert Hogben, 69, longtime ferry chief purser, Nov. 26
Casey Nelson, 88, former Metlakatla Mayor, Nov. 30
David Abbott, 78, longtime Hollis resident, Dec. 2
Richard Monrean, 70, lifelong Ketchikan resident, Dec. 5
Mac McManus, 90, longtime area fisherman, Dec. 6
Jerry DeBoer, 74, six-decade Ketchikan resident, Dec. 8
Karl Leask, 88, lifelong Ketchikan fisherman, Dec. 12
Mike London. former Ketchikan resident, Uncle to Miss Alaska and son to Gayle & Ernie Boyd. Passed Dec 12
Jacinto "Jess" Mendoza, 82, longtime Ketchikan business owner, Dec. 13
Sherman Alexander, 63, master furrier and diesel mechanic, Dec. 14
Inez Nichols, 96, former longtime local resident, Dec. 14
James Zink, 70, longtime tugboat operator and builder, Dec. 15
Ken Denton, 72, longtime shipping company worker, Dec. 16
Patricia Jasper, 88, Mormon church historian, Dec. 18
David Ahonen, 72, Blueberry beard champion, Dec. 27
Timothy Brown, 52, longtime local mechanic, Dec. 27
Duane Burnet, 90. Longtime Ketchikan pulp mill worker, Dec. 27
David Estey, 23, state ferry employee, Dec. 30
Carol Voris, 75, longtime local Forest Service employee, Dec. 30
2017 WEATHER HIGHLIGHTS
High Temp: 82 on Aug. 5
Low Temp: 7 on Dec. 30
Monthly Precipitation (rainy days)
January 11.74 (26)
February 9.52 (8)
March 10.48 (26)
April 10.81 (23)
May 7.07 (18)
June 6.98 (28)
July 6.67 (22)
August 24.85 (18)
September 11.38 (20)
October 11.21 (22)
November 7.69 (22)
December 13.63 (23)
Total 150.60 inches
256 rainy days in 2017.
Particularly wet days
Jan 27 - 2.72 inches
Feb. 11 – 3.52 inches
May 21 – 2.33 inches
June 4 – 2.5 inches
July 29 – 2.42 inches
Aug. 21 – 4.39 inches
Aug. 22 – 3.12 inches
Longest stretch of rainy days
19 days (twice)
March 22 to April 9
Nov. 17 to Dec. 5
Longest "drought"
11 days
January 30 to Feb. 9
HAPPY NEW YEAR!!
On the Web:
More Columns by Dave Kiffer

More Historical Feature Stories by Dave Kiffer
Dave Kiffer is a freelance writer living in Ketchikan, Alaska.
Contact Dave at dave@sitnews.us
Dave Kiffer ©2018
Representations of fact and opinions in comments posted are solely those of the individual posters and do not represent the opinions of Sitnews.

Contact the Editor
SitNews ©2018
Stories In The News
Ketchikan, Alaska

Articles & photographs that appear in SitNews may be protected by copyright and may not be reprinted without written permission from and payment of any required fees to the proper sources.

E-mail your news & photos to editor@sitnews.us

Photographers choosing to submit photographs for publication to SitNews are in doing so granting their permission for publication and for archiving. SitNews does not sell photographs. All requests for purchasing a photograph will be emailed to the photographer.