Offbeat stories, a 2016 highlight; No major local stories dominated year
By DAVE KIFFER
January 18, 2017
Wednesday PM

Ketchikan, Alaska - It was a year, in which no major story dominated the news in Ketchikan, but as usual there were several smaller, offbeat, bits of news that reminded us what a unique place Ketchikan is.
First, of all local wildlife made the national news twice in May. First, a marten dragging a chicken across North Tongass Highway caused a two-car accident on the road.
Then, the same weekend, humpback whales bubble feeding a few feet from the docks at Knudsen Cove were featured on national television shows and websites.
Later in the year, Ketchikan also made regional and national news when a Prince of Wales resident making his "last rounds" was reported to the police. It turned out that the gentleman's wife had been driving his remains around Ketchikan in a traveling "wake" to several places he had frequented during his lifetime. Police suggested that the woman cut the tour short and take the remains to the mortuary.
In early January, the Alaska Supreme Court ruled against Ketchikan's efforts to change how education is funded in Alaska. The Ketchikan Borough had filed suit against the mandatory local contribution and won a decision in superior court, but the Alaska Supreme Court reversed that ruling and held for the state. Two of the four justices noted that the Borough might have prevailed with a different approach.
The high water mark of the Ketchikan High School boy's basketball season was January 8, 2016. The first statewide basketball poll showed Ketchikan second, behind Dimond in the state rankings and Ketchikan defeated visiting West Anchorage, the defending state champions, 81-57. Later in the season, the Ketchikan girl's team was ranked first until it was defeated by second ranked Dimond. The girls won the southeast region title for the third straight year, while the boys finished third but both teams advanced to state because of their statewide rankings. The girl's team finished third statewide while the boy's team finished fifth.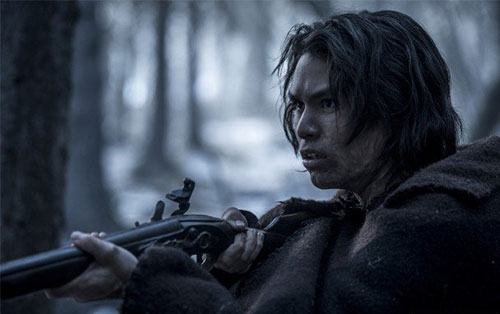 Forrest Goodluck in The Revenant
Photo capture: Courtesy The Revenant

Former Ketchikan resident Forrest Goodluck was featured in the Oscar winning movie, "The Revenant." Goodluck, who is of Tsimpshian heritage, played Hawk, the son of Hugh Glass who was played by Leonardo DiCaprio. Goodluck lived in the area when he was a young child. Goodluck won the 2016 Young Artist Award for Best Performance in a Feature Film (Supporting Young Actor, Ages 14-21).
Tobias Elijah Burnette was Ketchikan's first baby of 2016, arriving on the afternoon of Jan. 1. His parents are Leanna Booth and Jack Burnette.
After several months of grumbling by local residents, Facebook, finally changed its system so that posts from Ketchikan were no longer tagged as Ketchikan, WA. Now there is no state attached to Ketchikan postings, leading some to wonder if Nowhere, 99901 is now truly stateless, at least as far as the internet is concerned.
Local businessman Randy Johnson, the president of Tyler Rental and the former owner Alaska Ship and Drydock, purchased a 10 percent stake in Ucore Rare Metals for $5 million. Ucore is hoping to develop a rare earth minerals mine at Bokan Mountain on south Prince of Wales Island.
Ketchikan enjoyed yet another January "hurricane" as a storm blew through the area on Jan. 26, packing winds greater than 80 mph.
Former Borough Mayor Mike Salazar was named the Ketchikan Chamber of Commerce Citizen of the Year. The 2015 business of the year was Timber and Marine Supply, the entrepreneurs of the year were Debi Hanas and Shirley Solaas of Sweet Mermaids, Kelly Johnson of the Ketchikan Public Library was the youth leader of the year and the Linda and Johnny Gilson won the outstanding community service award for their work with the First City Council on Cancer. Ketchikan also received its official recognition as a Coast Guard city, joining Kodiak and Sitka as the only Coast Guard cities in Alaska.
The Ketchikan High School drama debate and forensics team won a state championship for the first time in 20 years, and Cheyenne Mathews and Audrey Kistler were the state champions in the signature event, the public forum debate. Mathews also finished first in the expository speaking competition. Mathews would later go on to finish 3rd in the national American Legion Speech contest.
Ketchikan's Wearable Arts Show celebrated its 30th anniversary in February. In 2016, KRBD FM celebrated its 40th anniversary and so did the Totem Heritage Center.
Citing paperwork deficiencies, the Alaska Council on Domestic Violence and Sexual Assault put Women in Safe Homes on probation for the year and termporarily suspended payment for the $840,000 in funding the organization gets each year. The probation remained in force for several months but funding was restored within a couple of weeks. The probation was lifted by the end of the year and former borough assembly member Agnes Moran became the new executive director of WISH in December.
Tiernan Johannsen, a fifth grader at Houghtaling Elementary School, was the 2016 Ketchikan Spelling Bee champion. The winning word, m-a-g-n-o-l-i-a.
In February, the MV Susitna finally left Ketchikan, nearly six years after it was completed at the Ketchikan Ship and Drydock (Now Vigor Alaska). The Sustina was towed to Seattle where it was determined whether or not its engines would be repaired from water damage or scrapped. It was later purchased by the Philippines Red Cross and barged across the Pacific to the Philippines.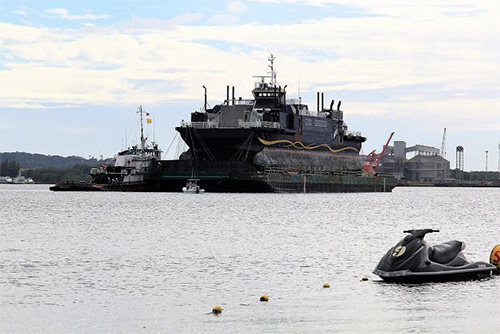 The M/V Susitna, originally constructed for Alaska's Matanuska-Susitna Borough using public funds, arrived at Subic Bay Freeport, Philippines in December 02, 2016. The Phillippine Red Cross paid $1.75 million for the M/V Susitna far from its original public tax funded price of $80 million. The vessel was purchased as an ambulance ship. by the Phillippine Red Cross. The vessel was never used by the Matanuska-Susitna Borough for its intended purpose.
Photo credit: Subic Bay Freeport - Public posting FB Page

Sarah and Todd McNabb won the Ketchikan Visitor's Bureau Golden Totem Award. Other yearly KVB winners were Chuck Baird (Rainbird Award), Candi Scudero (Spirit of Alaska Award), Gillian Edward (Heart of the Community) and University of Alaska (The Chinook Award).
At the behest of community members, the Ketchikan Police Department asked officials with the FBI to review how the KPD has handled several missing person cases in the past year. The FBI later determined that local law enforcement was acting appropriate in its investigations of the missing people.
The Coast Guard spent several days searching for Naukati resident, James Gray, who disappeared near Heceta Island on a fishing trip. Searchers found his skiff and his dog.
Federal officials charged Grabriel Karim, the owner of Ketchikan's Alaskan Heritage store, with violating the Indian Arts and Crafts Act for allegedly misrepresenting art as being Native made.
Governor Bill Walker met with local officials and promised to spend the more than $90 million left in the state coffers from the Gravina Access Project on Ketchikan transportation projects. State officials had previously committed to only spending $23 million of the money in Ketchikan. More than $300 million in federal money was originally earmarked for the project, most of that money went elsewhere in the state.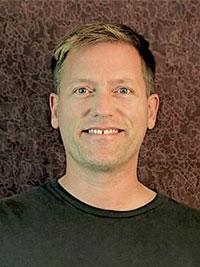 Mark Woodward
Photo courtesy Grosvenor Teacher Fellows, National Geographic
Ketchikan teacher Mark Woodward was one of the 35 teachers nationwide named a National Geographic Fellow and will travel to the Galapagos Island to study the marine environment. Woodward is the first Alaskan teacher to be named a Nat Geo Fellow. Mark Woodward is the Director of Distance Education and Maritime Expeditions for the Ketchikan Gateway Borough School District in Ketchikan. In 2015, he obtained a grant to study traditional subsistence foods, and led a six-day halibut subsistence expedition for Alaska Native students, in June 2016. The plan was for students touse a special NOAA educational fishing permit, and to serve the halibut to Alaska Native elders in Ketchikan.
In the statewide Republican primary, local voters backed Donald Trump. Local Democratic voters strongly favored Bernie Sanders. In the general election, most local voters cast their votes for Trump who wom every Ketchikan precinct.
Kayhi senior Cheyenne Mathews was named the 2016 Alaska Distinguished Young Woman in the statewide pageant held in Ketchikan in March.
The former Ketchikan based Coast Guard cutter the Acushnet, which was decommissioned and sold five years ago, may have more sea life in it. The original purchaser, a Seattle based man, defaulted but now a Minnesota Navy cadet program is trying to raise the funds to buy the ship. It's current price is $250,000.
Three long time local businesses closed in 2016. Radio Shack closed down after nearly two decades and Hometown Furnishings which opened in the early 1990s, also closed down. In December, Jud's Business Supply, a decades old business, also closed.
The U.S. Supreme Court declined to hear a state of Alaska appeal of a lower court ruling that eliminated a Roadless Rule exemption for the Tongass National Forest.
A Ketchikan woman, Meghan Enright, 21, was the sole survivor of a small plane crash on Admiralty Island in early April. Three men from Wrangell died in the crash.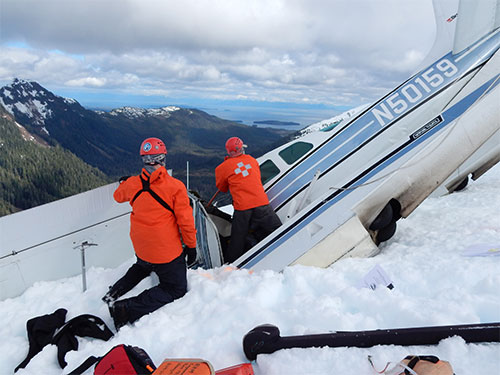 Responders at the Admiralty Island crash site in early April 2016
Photo courtesy Alaska Department of Public Safety, AST

Longtime local attorney Loren Stanton had his law license suspended for three years for having an inappropriate relationship with a client.
Addie Epler, 6, took part in the ribbon cutting of the renovated Monroe Street Tot Lot. Last year, she had written the Borough asking it to fix up the dilapidated former park.
Two Metlakatla residents filed a federal complaint seeking an audit of the Nov. 3, 2015 community election. Jim Scudero and Michele Gunyah unsuccessfully sought offices in that election.
Taquan Air purchased Promech Air for an undisclosed sum in early April 2016.
Ketchikan schools superintendent Robert Boyle was one of the four finalists to be selected for consideration as the new state education commissioner, but then he withdrew his name from consideration.
Ketchikan Public Library Director Linda Lyshol resigned after four years to take a job in Michigan.
Ketchikan Museums Director Lacey Simpson also resigned her position in order to move to Washington state.
The body of Thomas Booth was found underneath E.C. Phillips in May. He had been missing since early January.
Ketchikan High School senior Ginger Burke was named a winner of a Gates Millennium Scholarship. Burke plans to attend Pacific Lutheran University.
Schoenbar Middle School Principal Casey Robinson resigned to take a job in Wyoming. He was replaced by Sheri Boehlert, the assistant principal.
A float plane pilot from Illinois, Billy Rusk, was fortunate to be uninjured when his plane flipped over while landing at Jordan Lake.
Carlos Weimer beat Chris Marceno by two seconds to win the annual 13.1 mile Totem to Totem Race.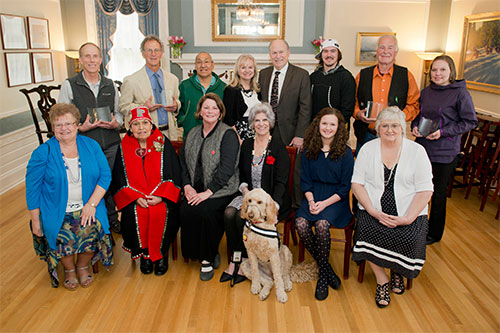 Thirteen Alaskans Awarded As First Lady's Top 2016 Volunteers
Pictured are Linda Gilson, Amelia McAlpin and Tessa Salazar from Ketchikan.
Photo courtesy Office of the Governor
Three Ketchikaners were honored by First Lady Donna Walker for their volunteer work in 2015. Linda Gilson, Amelia McAlpin and 12-year-old Tessa Salazar were among the 13 statewide honorees.
Tatsuda's Grocery celebrated its 100th anniversary in Ketchikan on April 24. (See SitNews: Tatsuda's grocery celebrates centennial; Family's 4th generation operates Stedman landmark By DAVE KIFFER)
A Juneau man, Steven Browhay, announced a plan to pump freshwater from Boca de Quadra to California. The proposal would create a catchment system in the inlet involving a plastic reservoir and four large anchors. Thus far both the Alaska Department of Fish and Game and the U.S. Forest Service have announced opposition to the proposal.
Residents of Whale Pass were hoping to create Alaska's newest city. A petition of residents supported the proposal and a vote was scheduled.
After several years of studying a partnership with the Alaska Marine Highway System, the National Oceanic and Atmospheric Administration (NOAA) announced in April that it is no longer pursuing a joint layup facilty in Ward Cove. It will continue to plan for improvements to its current dock on Stedman Street.
Thirty one students graduated from Revilla Alternative School.
Craig resident Micki Decker, 63 was killed in a single car accident at Mile 9.5 of the Klawock-Hollis Highway.
12-year-old Brett Capas of Ketchikan finished third in the 17th Annual Prince of Wales Marathon. Capas only 10 minutes behind the adult winner, Bryce Tyler of Hoonah.
The 900 foot Celebrity Infinity struck Berth Three while docking hard enough cause more than $1 million in damage to the Berth and put it out of action for at least a month.
Misty Pattison was the winner of the 69th Annual Ketchikan King Salmon Derby with a 48.6 pound King Salmon.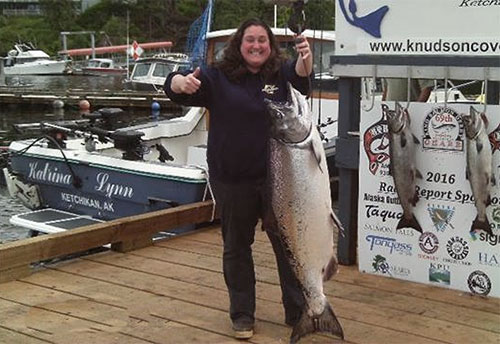 Misty Pattison was the winner of the 69th Annual Ketchikan King Salmon Derby
Photo courtesy Ketchikan CHARR King Salmon Derby

High levels of Paralytic shellfish toxins were found at two beaches in Craig and one in Klawock. Residents were advised to avoid shellfish in the area.
Ketchikan High School baseball player Nathan Bonck was tabbed to play summer ball in the Alaska Baseball League for the Anchorage Glacier Pilots. Bonck, a senior, played on the Seattle University team beginning in the Fall.
Ketchikan's "melodrama" The Fish Pirate's Daughter celebrated its 50th anniversary in July with a special showing featuring original cast members.
Team Mad Dog won the second annual "Race to Alaska" in a record time of 3 days and 20 hours.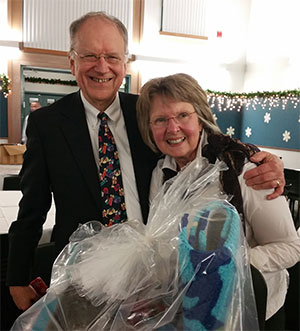 Dr. David Johnston retired after more than 40 years of service to the community. He is pictured with his wife Jennifer Johnson RN.
Photo courtesy PeaceHealth Ketchikan
Verna Edenshaw, 43, was killed when the vehicle she was driving crashed near Mountain Point on June 30. Three other people in the car sustained serious injuries.
Marta Poore a longtime local midwife and health practioner retired after 30 years. Poore was involved in more than 1,400 births in the community.
Later in the year, Dr. David Johnston retired after more than 40 years of service to the community. His last day at PeaceHealth Ketchikan was Friday, December 30, 2016.
The $62 million expansion of the PEacehealth Ketchikan Medical Center was dedicated in late June. The 72,000 square foot addition included a new surgical area and office space.
Ketchikan's first dog park was dedicated on Borough land near Ward Lake.
Kayhi graduate Isaac Updike, 24, made the finals of the Olympic steeplechase trials, finishing 12th.
Ketchikan's Britta Adams is believed to be the first person to swim Wrangell Narrows. On June 14, Adams swam the 10 miles from Marker 1 to 50. It took her exactly four hours.
After two second place finishes, Boone Scheer won the 2016 Iron Jack competition on the 4th of July.
The Thundering Wings sculpture returned to Ketchikan after a three year absence. It had been taken down in 2013 after 20 years.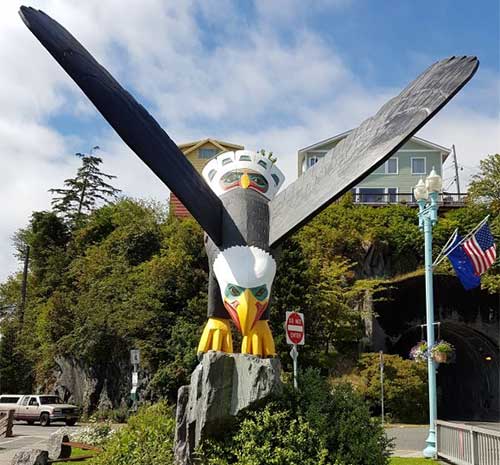 Thundering Wings: By Master Carver Nathan Jackson
The original Thundering Wings was carved by Nathan Jackson and installed in 1993. Deterioration took its toll and in 2014 the carving was removed and Jackson began work to recreate the sculpture. The new piece was installed VERY early in the morning of July 4th, 2016.
Photo courtesy Ketchikan Arts & Humanities Council
Ketchikan state parks Ranger Mary Kowalczyk retired after 29 years of managing Totem Bight, Refuge Cove and Settlers Cove parks.
The body of 63-year-old Harris Wood was found in Tongass Narrows in late July.
Hydaburg resident Judylee Guthrie, 27, was found dead outside of Hydaburg on July 31. Her partner, Albert Macasaet, 27, was later charged with first degree murder.
School Board president Michelle O'Brien resigned her seat effective in October.
A Ketchikan man was sentenced to a month in jail for attempting to use a fake penis, a whizzinator, when he taking a court ordered urine test.
City officials announced that cremations are on the rise in Ketchikan, meaning that more crypt space will be necessary in the future.
Jared Gross and Amanda Davidshofer were the winners in the 2016 Calamity Triathalon.
Tacquan Air pilot Mike Hudgins rescued a small dog swimming in the middle of Tongass Narrows. The dog had fallen off a boat earlier in the day.
The state of Alaska announced it was closing the Ketchikan Regional Youth Facility because of budget cuts.
Cmdr. Ashley Holt became the new leader of Coast Guard Base Ketchikan replacing Cmdr. Jack Johnson who is transferring to Norfolk, VA.
Ketchikan High School was fined $500 and put on probation after its football team walked off the field shortly before halftime during a game against Juneau's Thunder Mountain. Three Ketchikan players had been injured and Ketchikan coach Jim Byron accused Thunder Mountain of dirty play.
The great-great niece of Saxman namesake Samuel Saxman visited Ketchikan in September. It was Ann Saxman's first visit to the community named after her great great uncle, a missionary who died while scouting locations for the village that became Saxman.
Ketchikan residents were up in arms after the Mental Health Lands Trust announced that it planned to begin helicopter logging land it owned on Deer Mountain unless the federal government approved a land swap by mid-January of 2017.
KJ Harris, resigned his seat on the Ketchikan City Council after serving for more than ten years. He was replaced by Mark Flora.
David Landis ran unopposed and was elected Ketchikan borough Mayor for three more years. Judith Anglin and Rodney Dial were elected to open seats on the Assembly as Alan Bailey and Bill Rotcki were unable to run because of term limits. Trevor Shaw and Kim Hodne were elected to seats on the School board and Judy Zenge and Julie Isom were reelected to seats on the Ketchikan City Council. Borough voters narrowly approved a $2 a pack cigarette tax and more widely kept in place a half cent sales tax to fund school construction projects.
Sylvia Banie, Caryl Williams and Gabriella Daniels were elected to three year terms on the Saxman City Council. Frank Seludo was named Mayor for a one year term.
Zach Williard pled guilty to manslaughter in the 2015 stabbing death of Wayne Nathan. He faces a sentence of up to 20 years.
Longtime Ketchikan District Attorney Steve West retired in September after more than 30 years and nearly 600 jury trials in the Ketchikan area. West was the Assistant DA for 13 years before being named DA in 1999.
Ketchikan's Tanner Thomas took sixth place in the 2016 International Jet Sports Boating Association Championship World Finals in October. Last year, Thomas the winner in the amateur division and this year is competing as a professional.
Incumbent state representative Dan Ortiz retained his seat in the November election. He defeated Ketchikan City Councilmember Bob Sivertsen.
The Borough Assembly chose Ruben Duran from California as the new borough manager. Dan Bockhorst is retiring in January after nine years with the borough.
Hydaburg Mayor Anthony Christianson was named the chairman of the Alaska Federal Subsistence Board.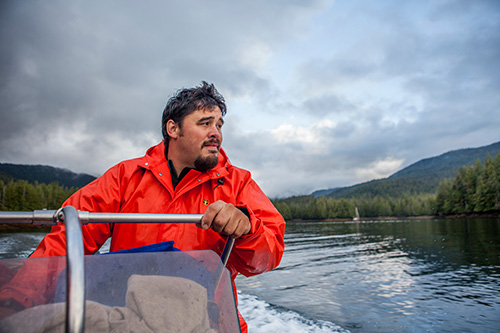 Anthony Christianson
Photograph courtesy The Nature Conservancy - Alaska Chapter
After going back and forth several times on whether or not to ban retail marijuana operations within the city limits, the Ketchikan City Council finally decided to allow two retail operations. The Stoney Moose on Stedman Street and Rainforest Cannabis on Water Street applied for the two permits and were approved by the state Marijuana Control Board. There were also a handful of grow and retail operations pending outside the city in the Borough.
A Ketchikan entrepreneur is seeing his Hump Island Oyster Co. expanded beyond Ketchikan. Trevor Sande's oysters began showing up in Anchorage and Seattle in the fall.
After trying for many years to get a new facility, Ketchikan Senior Services has moved its operations into a new building that also houses Saxman Senior programs.
The Ketchikan High School boys basketball team won the annual Clarke Cochrane tourney. The girls team finished third after winning the tournament the previous three years.
City of Ketchikan police chief Alan Bengaard retired in December after 28 years with the department.
Borough Manager Dan Bockhorst retired after nine years on the job and more than 30 years in government in Alaska.
The Kayhi boys wrestling team took fifth in the state tournament and Matthew Rodriguez won the 106 pound class. Kayhi freshman Haylee Stewart was the first girl from Ketchikan to take part in a state tourney. Kayhi had previously won its ninth straight Southeast regional wrestling championship and Coach Rick Collins was named state Wrestling coach of the year.
The Craig High School volleyball team won the 2A division state title in December.
In 2016, it was a drier than normal year with Ketchikan getting just under 140 inches of precipitation. Ketchikan did have a white Christmas for the first time in many years.
Rest in Peace
Jerry Burnham, 66, longtime Orton Ranch caretaker, Dec. 10
Betty Marsh, 86, former Thorne Bay councilmember, Dec. 18
Sister Barbara Haase, 79, longtime Ketchikan General Hospital Administrator, Dec. 18, 2015
Francisco "Cisco Bud" Bitoni, 43. lifelong Hydaburg fisherman, Dec. 24, 2015
William "Buck" Martin, 74, longtime area logger/homesteader, Jan. 2
Virgene Harvey, 97, longtime Pioneer Home resident, Jan. 3
Glen Mood, 81, longtime Ketchikan business owner, Jan. 4
Gary Powell, 54, longtime area logger, Jan. 4
Lawrence Milton, 79, lifelong Metlakatla fisherman and longshoreman, Jan. 5
Thomas Booth, 35, longtime Metlakatla resident, Jan. 6
Sharon Kacenas, 66, longtime Ketchikan resident and "Mrs. Magnum," Jan.6
Wilbur "Ed" Fisher Jr., 82, longtime resident and Pulp Mill manager, Jan. 9
James Harris, 88, Gravina Island homsteader, Jan. 13
Ray "Ski" Matiashowski, 86, 60 year resident and former MV Columbia chief steward, Jan. 15
Francis Carle Sr, 82, lifelong Hydaburg resident and legendary fisherman, Jan. 17
Johanna Bolton, 82, lifelong area resident and longtime Annette Island Packing employee, Jan. 22
MaryEllen Haseltine, 91, 65 year resident of Ketchikan, Jan. 23
Gerald "Jerry" Sirevog, 83, long time local firefighter, Jan. 24
Roberta "Sis" Johnson, 79, longtime Pulp Mill millwright, Jan. 28
Kenneth Book, 92, mechanical engineer, Jan. 30
Shirley Struthers, 83, 60-year Ketchikan resident, Feb. 1
Steven Urbanski, 52, former Rolling Stones sound tech and HVAC worker, Feb 1.
Bernita Brendible, 85, lifelong resident of Metlakatla, Feb. 1
Cecil Samson, 93, longtime Ketchikan, Metlakatla and Thorne Bay resident, Feb. 9
Nol Garr Boles, 54, lifelong Ketchikan resident and Alaska Cab owner, Feb. 11
Earle Palmer, 85, former Ketchikan fire chief and Episcopal priest, Feb. 11
Melanie McElrath, 63, former Ketchikan resident, Feb. 13
Evaristo "Buddy" Quinoveva, 44, bus driver and machine operator, Feb. 14
Karie Entwit, 62, local dental assistant and water lab technician, Feb. 20
Lita Clark 95, longtime Craig and Klawock resident, Feb. 23
Maurice Ingman, 93, 78-year resident and highliner troller, Feb. 25
Clarence Chalmers, 73, lifelong fisherman and Metlakatla resident, Mar. 2
Rick Eide, 64, former Kayhi basketball star, Mar. 4
Denis Kuntz, 68, first mayor of Thorne Bay, Mar. 4
Arnold "Butch" Sipe, 64, longtime Hollis timberman, Mar. 8,
June Allen, 86, longtime local historian and character, Mar. 9
Harvey Mullenax, 59, lifelong Ketchikan fisherman and longshoreman, Mar. 11
Isabel Manuel, 91, longtime Ketchikan resident, Mar. 11
Melva Ball, 75, longtime Ferry system chief purser, Mar. 16
Jennifer Wise, 47, long time Klawock and Thorne Bay resident, March 17
John "Pete" Raintanen, 71, 30 year pulp mill employee, Mar. 20
Vivian Phillips, 67, long time local waitress March 23
Dorothy Boyd Savage, 63, longtime Ketchikan resident, March 23
Vicky Brown, 59, former Ketchikan resident, March 25
Donald Newman, 85, longtime resident and commercial fisheman, Mar. 25
Ann Stout, 71, longtime Pioneer Home cook, Mar. 26
Nancy Mitchell, 68, longtime White Cliff and Valley Park teacher, Mar. 27
Jerry Johansen, 78, lifelong Ketchikan resident and Marine Highway Bos'n, Mar. 31
Ginny Gisse, 69, longtime local banker, April 5
Theodora Allen Eaton. 84, 30 year Ketchikan resident, April 11
Sarasustine Black, 77, long Ketchikan teacher and community volunteer, April 13
Eugene Avey, schools superintendent in Metlakatla, April 17
Katherine Hurm, longtime Ketchikan resident, April 25
Anne Carleton, 73, longtime Ketchikan resident, April 25
Floy Wingren, 102, lifelong Ketchikan resident and widow of grocery magnate Paul Wingren, April 26
Arnold Booth, 96, lifelong resident and former Councilman in Metlatkla, April 29
Robert Walters, 78, former owner of the Hilltop Motel, May 6
Duane Hill, 66, Vietnam vet and longtime salmon industry executive, May 7
Joan Leighton, 84, longtime area resident and former Mayor of Kasaan, May 10.
Alan Martin, 74, longtime area logger and tugboat operator, May 11
William "Dooder" Reece, 63, longtime Metlakatla resident, May 21
Roberta "Bobby Jean," Whiteside, 54, lifelong Ketchikan resident, May 25
Robert Bathke, 81, longtime Ketchikan Pulp Company employee, May 25
Derek Linkenhofer, 35, 30 year Ketchikan resident, June 2
Raymond Roberts, 89, longtime Ketchikan resident and fisherman, June 3
Robert Feller, 69, lifelong Ketchikan resident and boat captain, June 4
Alice Brusich, 93, longtime Ward Cove postmaster, June 4
Richard "Stan" Standerfer, 79, longtime logging roadbuilder, June 5
Getrude Anderson, 79, longtime owner of "Gertie's Day Care," June 8
Neil Ohashi, 87, lifelong Ketchikan resident, June 14
Robert "Bob" Pickrell, 86, longtime publisher of the New Alaskan magazine, June 15
Paul Askren, 21, lifelong Ketchikan resident, June 16
Pauline Scott, 75, longtime Ketchikan health administrator, June 18
Edward Leask, 82, founder of Leask Market, June 19
Sheila June Scheer, 47, Co-owner of the Great Alaska Lumberjack Show, June 19
Carrie Hall, 50, longtime area logging camp cook and resident, June 20
Delores Houts, 87, 60 year Ketchikan resident, June 23
Alfred "Freddie" Greuter, 94, longtime owner of Schallerer's Photo, June 29
Douglas Ruhl, 75, former pulp mill and marine highway employee, June 29
Karen Eakes, 73, longtime Ketchikan teacher and school board member, July 5
Cheryl Henderson, 61, lifelong Metlakatla resident, July 18
Bill Durgan, 54, longtime Ketchikan resident, July 25
Lloyd Jackson, 49, longtime Saxman resident, July 19
Carol Baines, 70, longtime resident, July 20.
Thomas Guthrie, 89, lifelong Metlakatla resident, July 20
Leandro Guthrie, 80, longtime Metlakatla schools employee, July 22
Pete Van Aart, 66, longtime ferry worker, July 27
Stephen Oviatt, 58, longtime Ketchikan resident, July 31
Alfred Slagle, 89, longtime airplane and diesel mechanic, Aug. 2
Ken Riley, 71, lifelong Ketchikan resident, Aug. 4
Marilyn Akin, 67, longtime Ketchikan teacher, Aug. 7
Lydia Fawcett, 59, longtime Metlakatla senior center cook, Aug. 9
Jack Mason, 88, former owner of the Wooden Wheel in Port Protection, Aug. 11
Julius Douglas, 85, long time Hydaburg and Ketchikan resident, Aug. 13
Karen Hanson, longtime Ketchikan resident, Aug. 14
Phyllis Sinclair, 101, logging company owner and 70-year resident of Polk Inlet and Ketchikan, Aug. 21
Jane Carr, 97, longtime Ketchikan resident, Aug, 23
Cammy Smith, 51, Bar Harbor Restaurant owner, Sept. 10
Willis Hamilton, 79, long Ketchikan and Prince of Wales fisherman and logger, Sept. 11
Scott Cleveland, 87, former Pulp Mill electrician and 30 year resident, Sept.12
George Davis, 66, former pulp mill millwright, Sept. 16
Geoff Currall, 66, 40 year local attorney, Sept. 20
Gary Eddy, 66, lifelong Southeast resident, Sept. 20
Albert Feller Sr., 91, longtime local fisherman, Sept. 21
Don Wright, 76, longtime resident, Sept. 30
Lester "Obie" O'Brien, 91, longtime state trooper and charter fisherman, Oct. 6
Betty Marksheffel, 89, longtime Ketchikan teacher, Oct. 13
Elizabeth Denny, 93, lifelong Saxman resident and one of the last speakers of the southern Tlingit dialect, Oct. 14
Jeffrey Turner, 60, longtime resident, Oct. 15
Marlen Davis Sr, 79, one of the best logging boom men in Alaska, Oct. 18
Harry Merlo, 91, two-decade CEO of Louisiana Pacific and Ketchikan Pulp, Oct. 24
Mae Peterson Seal. 80, longtime head custodian at Kayhi and bingo afficionado, Nov. 8
Margaret "Lorrie" Hulstine, 55, longtime Klawock resident, Nov. 9
Dale Whitesides. 90, former ferry system chief engineer and construction company owner, Nov. 9
Merna Atkinson, 85, longtime Metlakatla resident, Nov. 11
Lorrie Luck, 75, longtime Prince of Wales resident, Nov. 13
Harvey Jacobs, Jr, 62, fisherman and lifelong Southeast resident, Nov. 17
Brenda Murphy, 70, longtime owner of Ketchikan Welding Works, Nov. 19
Rebecca Beimler, 64, long time resident and Red Hatter, Nov. 20
Harry Egner, 72, longtime Ketchikan resident, Nov. 24
Allen Estrin, 22, photographer and life long resident, Dec. 1
Alfred "Waddy" Natkong, 73, fisherman and lifelong Hydaburg resident, Dec. 4
Melvin Charles, 76, longtime resident and respected weaver and carver, Dec. 10
John Wallace, 30, lifelong Saxman resident, Dec. 10
Patrick Laws, 58, longtime fisherman and diver, Dec. 16
George Hancock, 62, lifelong Ketchikan and Hyder residen and ferry employee, Dec. 16
Bob White, 83, 50-year visiting orthodontist and oral surgeon, Dec. 18
Toni McCormick, 53, longtime Ketchikan resident, Dec. 23
Ethelyn "Dot" Steinke, 79, lifelong Ketchikan and Prince of Wales resident, Dec. 24
Duane Buernet, 90, 30-year Pulp Mill digester supervisor, Dec. 27
Jerome McNeill, 37, lifelong Klawock resident, Dec. 29
David Estey, 23, ferry system employee, Dec. 30

On the Web:
Columns by Dave Kiffer

Historical Feature Stories by Dave Kiffer
Dave Kiffer is a freelance writer living in Ketchikan, Alaska.
Contact Dave at dave@sitnews.us
Dave Kiffer ©2017

Representations of fact and opinions in comments posted are solely those of the individual posters and do not represent the opinions of Sitnews.
E-mail your news & photos to editor@sitnews.us


Publish A Letter in SitNews Read Letters/Opinions
Contact the Editor
SitNews ©2017
Stories In The News
Ketchikan, Alaska

Articles & photographs that appear in SitNews may be protected by copyright and may not be reprinted without written permission from and payment of any required fees to the proper sources.