Year in Review
Plane Crash, Gravina Bridge Top local stories in 2015
By DAVE KIFFER
January 04, 2016
Monday PM

Ketchikan, Alaska - A deadly plane crash and another chapter in "The Bridge to Nowhere" saga were the major stories in Southern Southeast in 2015.
A Promech turbine otter floatplane crashed above Ella Lake in Misty Fjords on June 25. The pilot and eight passengers – all passengers on the Holland America ship Westerdam - were killed. Officials are continuing to investigate, but no cause had been announced by year's end.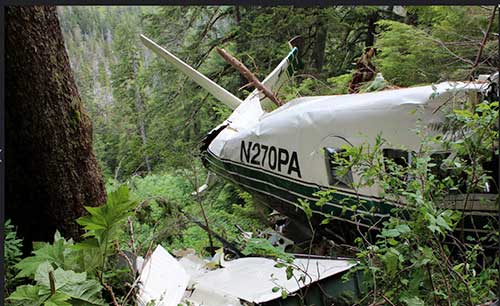 DeHavilland DHC-3T (Turbine Otter) that crashed on June 25, 2015 near Ketchikan, Alaska while on a sightseeing tour.
Date of Photo June 27, 2015 - Courtesy NTSB

In October, the state of Alaska Department of Transportation FINALLY announced its new preferred alternative for Gravina Access. In 2006, the state approved two bridges to connect Gravina and Pennock Islands to Revillagigedo. But that plan was cancelled by Governor Sarah Palin in 2008. After seven years, the state has now decided to improve the ferry terminal and make other minor changes for a total of $23 million. Most of the rest of the more than $250 million the state received from the Federal Government for the access project went to other projects in the state. Local officials expressed concern that the new "preferred alternative" does not improve access.
Jaxson Brown was the first baby of the 2015 in Ketchikan, he was born on Jan. 2
Phyllis Sinclair, long time local float camp resident, quietly celebrated her 100th birthday in January.
There was about 2 inches of snowfall on Jan. 4-5. It was the only significant snowfall of the winter. There was another snowfall in late December, dumping up to 10 inches of snow in Clover Pass and Herring Cove, but the snowfall in most parts of the city of Ketchikan were negligible.
Klawock City Council member Sabrina Demmert, 35 , was charged with drug possession Jan. 2.
The Forest Service announced that long time Tongass National Forest Supervisor Forrest Cole would retire in April. Cole has been with the Forest Service in Southeast since 1979 and has been Supervisor since 2003. He was replaced by Earl Stewart.
After being engaged for 13 years, Jared Barlow and Lisa George wanted a different kind of wedding. So, the Klawock couple chose to get married during the halftime of a Klawock/Kake basketball game in January. George is a former Klawock basketball player and her son is on the current team.
Longtime Ketchikan business, Murray Pacific got a new name in January. Longtime employee Dan Voelz purchased the outdoor and fishing supply store and renamed it Pacific Pride of Alaska.
Metlakatla hosted is first ever Academic Decathalon meet in January. Teams from Metlakatla, Ketchikan, Craig and Juneau took part.
Newly elected Governor Bill Walker held one of his inaugural balls in Ketchikan. The last governor to have an inaugural ball in Ketchikan was Frank Murkowski in 2002.
The proposed midnight to eight am closing of the Hyder border crossing made international news. Eventually negotiations between the United States and Canada led to the border crossing remaining open 24 hours a day for the time being.
Willie Smith, an employee at the Discovery Center, was named the winner of the meritorious service award for the Tongass National Forest.
Dive boat owner Joshua Wodyga was found guilty of criminally negligent homicide by a local jury. Wodyga's crewmember, Levi Adams, died of carbon monoxide poisoning while diving for sea cucumbers in October of 2013. Officials contended that Wodyga did not propely maintain the air compressor that was being used when Adams died. Wodyga was sentenced to three years in prison.
Brandon Sample, 20, an inmate at the Ketchikan Correctional Center, committed suicide after being arrested on sexual abuse of a minor charges.
Rich and Kay Andrews, owners of Annabelle's, were named Citizens of the Year by the Ketchikan Chamber of Commerce. Last yeat, Annabelle's hosted six fundraisers that raised more than $125,000 for individuals facing medical emergencies.
Other chamber winners were Pool Engineering (Business of the Year), Island to Island Veterinary Clinic (Entrepreneur of the Year), Ketchikan's two Rotary Clubs (Community Service), The Monthly Grind (Event of the Year), Carol Shafer (Youth Leader of the Year), and Rachel Guyselman (Presidents Award).
The Eichner Family donated more than $350,000 to the Peace Health Ketchikan Medical Center for the creation of the Ken Eichner Healing Garden. Work began on the garden in April.
A Ketchikan man died of an accidental shooting in a gravel pit off Brown Mountain Road in early June, Samuel Mullenax, 22, was target shooting with friends.
Youth was served in fishing this summer. A 10 year old girl from Idaho, Lily Hornish, made the catch of the summer of with a 333 pound halibut in mid June. And Middle schooler Duseigneur Paolo, 14, won the Chamber of Commerce King Salmon Derby with a 40.3 pounder.
The Elsie Piddock won the first annual Race to Alaska in five days, 55 minutes on June 12. The entrants in the Victoria to Alaska race had to be motorless.. The winning team won $10,000.
Angela Morin finished second in two categories at the Pizza Man 2015 National Physique state championship. Morin was in the Masters Figure and the Open Figure B categories.
A student was expelled from Leask Middle School in Metlakatla in April after bringing a handgun to school.
For the third straight year, the Ketchikan High School girls softball team finished second in the state. Kayhi has now finished second four of the past six years. The Ketchikan boys baseball team finished 4th in the state. Three Ketchikan athletes made the all tournament teams, Leesa Murphy and Felicia Ruaro were selected for softball and Nathan Bonck was tabbed for baseball. Bonck was named the Alaska Gatorade Player of the Year.
Ketchikan High School men's basketball coach Eric Stockhausen was named the state Coach of the Year.
For the first time in more than 30 years, both the boys and girls basketball teams won the Southeast Region and went to the state tournament.
Alex Pihl of the boys team and Eliah Anderson and Alexis Buggerstaff of the girls team were named to the all state team.
The Metlakatla Misschiefs finished second in the state 2A division. Craig High school finished 5th.
The usually nice weather from May through early July caused an algae bloom in Ketchikan waters that turned Tongass Narrows a shade of green that it usually only seen when there is glacial runoff near rivers like the Stikine and the Unuk.
Life is a marathon, so is marriage. So it made perfect sense that runners Melissa and Lonnie Walters chose to get married in Craig on May 24, the day after both competed in the annual Prince of Wales Island marathon.
A mother/daughter combination were winners in the women's division at the Prince of Wales marathon, Grace Wasielewski of Illinois was well of ahead of the pack, but she turned around and waited for her daughter Lisa to finish with her. The winning time was 3:48:14. Jeff Arndt of Sitka was the men's winner at 3:24:31.
Pastor Bill White celebrated his 55th year at the Lighthouse Church of God in Ketchikan. White has also ministered to the inmates at Ketchikan Correctional Center for more than half a century.
One of Ketchikan's venerable liquor establishment closed its doors for good in late April. The Derby Room shut down after more than 60 years in the First City.
Another Ketchikan Bar announced it was closing and then came back from the dead. The Arctic Bar name was caught up in a dispute between the current and potential owners before it was taken over by longtime employee Paula Weisel. The new Arctic Bar reopened in July on the site of the old Arctic Bar next to the tunnel.
Amongst the many prominent visitors to Ketchikan this summer was Newt Gingrich, the former speaker of the US House of Representatives and a 2012 presidential candidate. Interestingly enough, he was recognized by Alaska's Democratic Committee member Kim Metcalfe of Juneau who was visiting Ketchikan that day. The two took a "bipartisan" selfie.
The Mayor of Ketchikan's sister city, Gero Japan, Makoto Nomura made his first visit to Ketchikan during the Fourth of July holiday.
John Mathis Jr. was found not guilty of felony custodial interference after being charged with helping his two younger brothers run away from their mother on Prince of Wales Island. Mathis was found of guilty of misdemeanor contributing to the delinquency of a minor charges. His brothers, Jacob and Toby Simmermeyer hid out in the woods of Prince of Wales for several weeks before being caught in a state ferry on its way to Bellingham. Mathis was given a one-year suspended imposition of sentence.
Brooke Mickel, 16, won the girls junior varsity state trap shooting title in Chugiak. Mickel outpaced her competition with a score of 91 out of 100.
University of Alaska Ketchikan Campus Director Priscilla Schulte was named interim provost for the University of Alaska Southeast in Juneau. Schulte is taking the position just for a year and will continue to head the Ketchikan campus in the meantime.
Three generations of the Schulz family umpired a regional Little League tournament game in July. Jeff Schultz was at first base. His son Aaron Schultz was behind the plate and Aaron's son Azariah Schultz was at third base. It was the first time all three have worked a game together.
Ketchikan resident Lloyd Gossman spent 105 days walking the Oregon Trail to raise more than $30,000 for the First City Council on Cancer.
The Ketchikan 11-12 year old girls softball team won the regional tournament and went to state.
The Ketchikan 13-14 year old boys baseball team won the regional tournament and the state titles and went to the western regional finals in Vancouver, Washington.
An altercation on Park Avenue led to the stabbing death of Wayne Nathan 33. Zack Willard, 23, was later charged with second degree murder.
John Botello, 18, died in Seattle after he was medivaced following a one car crash near Thorne Bay in late June.
The oft delayed Rainforest Islander ferry began service between Coffman Cove and Wrangell and Petersburg.
Ketchikan Indian Corporation unveiled its Veterans Housing Project on Woodland Avenue. The house offers three one bedroom apartments.
After running uphill for nearly an hour, Kayhi seniors Sylvan Blankenship and Leif Svenson finished tied at at 54 minutes on the 4.1 mile Deer Mountain Challenge.
Local lawyer Dennis McCarty announced his retirement after nearly 40 years.
Local doctor William Anthes announced his retirement at 39 years.
Ketchikan's long running variety show, the Monthly Grind, celebratred its 25th year in 2015.
Ketchikan residents were treated to some unusually bright displays of Northern Lights during the summer and early fall.
The sale of the MV Susitna to the Philippine Red Cross for $1.75 million was announced.
Ketchikan High School Athletic Director Ed Klein stepped down after four years on the job. He was later replaced by Jenn Smith.
Ketchikan resident Tanner Thomas won the 900 cc Amateur Freestyle Division jet ski championship in the Best of the West Series in August. In October, he won the same division in the world championships.
Prince of Wales residents celebrated the 20th Anniversary of the raising of the Healing Heart Totem Pole in Craig.
All three Ketchikan elected bodies got some new members in the October municipal elections. Felix Wong and Stephen Bradford were elected to the Borough Assembly, Janalee Minnich, Julie Isom and Bob Sivertsen were elected to the city council and Alma Parker, Misty Archibald and Matt Eisenhower were elected to the School Board. Lew Williams III was re-elected City Mayor.
Richard Shields and Frank Seludo were elected to the Saxman City Council.
Community Connections, one of Ketchikan's largest employers, celebrated its 30th Anniversary in October. The non-profit provides services for the region's developmentally disabled residents.
Audrey Hudson was re-elected to a second two year term as Mayor of Metlakatla.
An effort create a city of Ward Cove north of the Ketchikan city limits was ended in the fall. Organizers had proposed a charter and an election that would create of city of some 3,500 people. But after studying the issue for several months, they decided that there wasn't support among the proposed residents for the idea at this time.
After nearly a decade of non-rural status, Saxman was returned to "rural" community status by the federal government. Rural status had been taken away from the community in 2007 because the Feds felt that Saxman was part of the Ketchikan urban area. But Saxman has been appealing that decision, primarly because it effects subsistence rights of its community members.
Ketchikan resident Justin Breese earned a gold medal in judo in the national winter nationals in California.
Ketchikan ranked 15th in the country in seafood landings in 2014. Approximately 87 million pounds of seafood were landed in Ketchikan in 2014 with a value of $45 million.
Matt Hamilton, a former state championship wrestler, is now successful as an adult in Jui Jitsu. Hamilton won the gold medal in the heavyweight class in the Jui Jitsu Federation Seattle International Open in October.
In October it was announced that the White family had sold two major properties, the Salmon Falls Resort and the Edgewater Inn (formerly the Narrows) to Edwin Leslie, a longtime hotel operator in the Lower 48. The White's had owned Salmon Falls since 1990 and had recently purchased the Edgewater from Don Thornlow.
The Kayhi girls volleyball team made its first trip to the state tourney since 1995 after it defeated Juneau Douglas in the regional tournament.
Seven members of the Ketchikan High School music department were selected to statewide honor music groups. Hannah Crowder (bassoon) and Amber Junkin (trombone) were selected to the all-state honor band and the all state honor orchestra. Kayleigh Krosse (violin) was selected to the all state orchestra. Megan Daugherty, Drew Hoyt and Kay Fazakerley were named to state choir groups. Junkin and Lora Starr (trumpet) were named to the All Alaska Jazz Orchestra.
Ten months after he disappeared near the docks in downtown Ketchikan, a local jury declared Roy Banhart was legally deceased. Banhart was last seen leaving a local bar in December of 2014.
After searching for five days, local rescue officials called off a search on Deer Mountain for 22-year-old Justin Nathan in early November. Nathan disappeared near the second lookout shortly before a large snowstorm struck the mountain, which hampered search efforts.
Two prominent Ketchikan artists, Delores Churchill and her grandson Donnie Varnell, were the keynote speakers at the annual Alaska Federation of Natives conference in Anchorage.
A Craig landmark, Ruth Ann's Restaurant, was destroyed in a fire in December. The business had operated in downtown Craig for more than 40 years.
With the statewide voter approval of marijuana possession in 2014, pot was on the mind many residents. The city of Ketchikan, the borough and the school district formed a committee to discuss the implementation of local rules for marijuana sales. By the end of the year, the city council had taken a preliminary vote to ban sales in the city, but then rescinded that action. The borough had taken action on preliminary zoning laws for potential marijuana retailers. State laws will severely limit the number of marijuana retail establishments in the downtown area.
The Kayhi wrestling team dominated the Southeast region again, winning 12 of 15 weight classes. Kayhi senior, Nate Fousel went on to win the state title at 195 pounds.
After several months of discussion, the South Tongass Service Area board voted not to merge its fire department with the City of Ketchikan's fire department.
Ketchikan High School auto shop teacher Jeffrey Shelton, 39, was killed in a car accident in Central British Columbia while returning to Ketchikan after Christmas.
The Ketchikan High girls basketball team won its third consecutive Clark Cochrane tournament championship, defeating Petersburg. The Boys team finished second to a team from Auburn, Washington.
Rest in Peace
James Raymond, 64, retail store owner, Dec. 23
Pam Race Stepper, 51, 50 year resident of Ketchikan, Dec. 31
Kathleen Ziegler Goertz, 91, 60 year resident of Ketchikan, Jan. 2
Linda Griffin, 68, long time E.C. Phillips employee, Jan. 5.
Pat Roppel, 76, longtime Alaska historian, Jan. 6
Albert Young, 56, long time area cook, Jan. 4
Debbie Kaes, 60, 30-year Ketchikan resident, Jan. 12
Juanita Stanley, 90, 60 year Ketchikan resident, Feb. 6
Lacey Scott, 33, longtime resident, Feb. 7
Donna Teal, 82, longtime community volunteer, Feb. 9
Ira Gross, 55, longtime Metlakatla resident, Feb. 12
Edna Carlson, 74, longtime tugboat operation owner, Feb. 15
Frances "Pat" Koons, 82, a half century Ketchikan resident, Feb. 22
Carl "Doc" Waterman, 71, former Klawock City Administrator, March 18
Ken Tuene, 59, longtime local teacher, March 15
James Beard, 59, long time Prince of Wales resident, March 13
George Mather, 60, longtime Native artist, March 23
Caroline Hendrixson, 90, lifelong Kasaan, Ketchikan resident, March 27
Elizabeth "Ellie" Hanks, 89, longtime Ketchikan resident, March 31
Karen Todd, 59, local artist, March 13
Marion Geiger, 91, former school district employee, March 26
Leonard Olsen, 92, former member of the Charcoal Point Gang, March 31
Merta Smith Kiffer, 93, lifelong Ketchikan resident, April 8
Sarah Gilbert, 71, former Pioneer's Home employee, April 12
Rodney Skan, 60, longtime Klawock and Ketchikan resident, May 5
Mary Fitzgibbon, 95, Native leader and lifelong resident of Southeast Alaska, May 7
Margaret McCombs, 107, a Kasaan and Ketchikan resident for 97 years, May 15
Judy Stenford, 79, lifelong Ketchikan resident and businesswoman, May 18
Mytle Guymon, 81, 55 year resident and avid bowler, May 26
Joshua Izatt, 28, longtime Ketchikan resident, May 27
Thomas Hayward, 61, longtime Metlakatla resident, May 31
Robert Reeser, 82, Prince of Wales home builder, June 3
Albert Dundas, 48, lifelong Metlakatla resident, June 3
Delbert Alexander, 83, lifelong Hydaburg and Ketchikan resident, June 6
"Tundra" Tom LeCompte, 65, longtime teacher, surfer, musician, June 6
Samson Mullenax, 22, lifelong Ketchikan resident, June 7
Joyce Pegram, 74, longtime local florist, June 9
Donald Edwards, 43, former area logger, June 21
Lou Johnson, 83, former Ketchikan teacher, June 22
Blaine French, 63, 20 year resident of Klawock, June 23
Cynthia Demnke, 58, 25 year Ketchikan resident, June 25
Virginia McElroy, 85, former Tongass Marine Department manager, June 24
Rod "Tony" Sivertsen, 44, longtime area resident, June 25
Theresa Houtary, 82, 60 year resident and former First Bank employee, June 28
Elizabeth Garza, 63, longtime Native dancer, July 1
Pauline Green, 86, prominent member of Alaska Women in Timber, July 6
Angelina Dundas, 34, lifelong resident, July 8
James Paul "JP" Nelson, 49, longtime Ketchikan resident, July 18
Kenneth Peters, 76, longtime timberman, July 21
Margaret "Meg" Hanas, 92, longtime Annette Island airline employee, July 21
Jimmy Bernhardt, 77, longtime Hydaburg resident, July 22
Patricia Long, 80, Ketchikan's first physical therapist , July 26
Patricia Rettke, 56, longtime Ketchikan resident, Aug. 7
Bernie Crisman, 57, former Ketchikan resident, Aug. 7
Wayne Nathan, 33, Saxman artist, Aug 10
Janice Montry, 44, longtime Ketchikan resident, Aug 13
Todd Adams, 48, longtime local construction worker, Aug. 16
Alma P. Cook, 91, longtime Hydaburg health practitioner, Aug. 17
Ken Beckedahl, 52, airplane mechanic and Harley rider, Aug. 23
Roberta "Bert" Crabtree, 90, forty year Ketchikan resident, Aug. 28
Sandra Edminston, 77, longtime local cab driver and bartender, Aug. 31
Margo Winzeler, 81, longtime Ketchikan resident, Sept. 1
Edith Garrison, 98, half century Ketchikan resident, Sept. 2
James Hendren, 40, longtime Ketchikan chef, Sept. 2
Douglas Johnson, 67, longtime Ketchikan resident, Sept. 2
Steven Cox, 53, longtime Ketchikan resident, Sept. 5
Samuel Daniels, 53, former Captain of the AMHS Chenega, Sept. 10
Rory Hulse, 61, lifelong Kewtchikan resident, Sept. 10
Beverly Grant, 64, former Hydaburg resident, Sept. 11
Jane Dossett, 73, picture framer extraordinaire, Sept. 13
Robert "Lanny" Bryan, 76, 50 year Ketchikan resident, Sept. 16
Dick Smith, 62, former owner of Prince of Wales Logging, Sept.16
Cecelia "Ceil" Lewis, 72, 45 year Ketchikan resident, Sept.22
Joe "Joe Dick" Kemp, local radio personality, Sept. 23
Roberta Starrish, 73, lifelong Metlakatla resident, Sept 26
Emily Whitesides, 84, 50 year Saxman resident, Sept. 28
Don Cullop, 85, longtime local restauranteur, Sept. 29
Ruth Pechay, 90, 25 year Ketchikan resident. Oct. 1
Shirley Cowley, 76, lifelong Ketchikan resident, Oct. 2
George Lybrand, 88, former member of the Borough Assembly and City Council, Oct 4.
Vernon Eggen, 81, longtime local homebuilder, Oct. 4
Gerald Dundas, 63, lifelong Metlakatla resident, Oct. 4
Eileen Smith-Harmon, 72, longtime Klawock resident, Oct. 5
Mike Perez, 65, longtime local "catskinner," Oct. 5
Rowena Nathan, 79, lifelong Hydaburg and Ketchikan resident, Oct. 8
Maria Angeles, 75, former Ketchikan hotel and restaurant worker, Oct. 8
Dale Music, 82, longtime area logger, Oct. 9
Dallas "Delly" Dundas, 46, lifelong Metlakatla fisherman, Oct. 12
Fae Bomstead, 82, 40 year resident of Ketchikan, Oct 13.
Matilda Ermaloff, 75,longtime Metlakatla resident and cookie baker supreme, Oct. 15
Linda Lou Pratt, 74, half century resident of Ketchikan, Oct. 24
Susan Thompsen, 64, former Ketchikan magistrate judge and coroner, Oct. 25
Margaret "Peggy" Garrison, 71, longtime LAbouchere Bay and Thorne Bay resident, Nov. 4
Henry Nelligan II, 102, commercial fisherman and 89 year resident of Prince of Wales and Ketchikan, Nov. 4
Jackie Collins, 82, longtime resident of Ketchikan and Thorne Bay, Nov. 6
James Hodgeman, 923, former Coast Guard Captain and ship pilot, Nov. 15
Edward Weston, 48, lifelong Ketchikan resident, Nov. 18
Martha Johnson, 75, matriarch of the Tongass Tribe Raven Clan, Nov. 20
Donald Peterson, Sr., 87, Nov. 25
Harold Kessler, 74, Nov. 29
Michael Panama, 66, longtime logger and fisherman, Nov. 28
Weather Stats
It was a bit wetter than normal in Ketchikan in 2015, primarily because of two months. Both January and October had more than 30 inches of rain, as Ketchikan experienced a pair of the rainiest storms in Ketchikan's history.
Overall 169.53 inches of rain was recorded. Measurable precipitation fell on 265 days in 2015.
Besides January (31.01 inches) and October (30.64) being unusually wet, although not alltime records, May was unusually dry with only .68 of an inch recorded.
The "wet streak" for the year was 28 days of rain between, October 28 and November 23. The driest period? Nine days of no precip between May 11 and May 19.
The coldest recorded temp was 19 degrees on January 5 and the warmest was 81 on July 7, one of two 80 degree days in 2015.
The official windiest recorded gust was 70 mph on April 29, but that same day anemometers at the Ketchikan Shipyard clocked gusts over 105. Most locals agree it was a hurricane that day.

January 20 was the windiest day with an average speed of 25.3 for the entire day.

But it was the wet days that were truly superlative in 2015.

First off, was a two day period in January in which 10.04 inches of rain fell. But that was just a prelude to an even larger storm that featured one of the wettest days in Ketchikan history. That two day storm brought 10.87 inches of precip including 7.21 inches on Oct 8 that was either the third wettest or fifth wettest day – the record isn't clear – in Ketchikan's history.

A total of nine days topped the 2 inch of precipitation per day mark in 2015 including:

Jan 12 – 2.20
Jan 20 – 5.56
Jan. 21 - 4.48
Feb. 11 – 3.67
April 9 – 2.85
Aug. 28 – 3.52
Oct. 8 – 7.21
Oct. 9 – 3.66
Nov. 10 – 2.11
Nov. 11 – 2.15
Nov. 20 – 5.28
Dec. 1 – 2.57
Of those days, several were the all time wettest in Ketchikan's history including:

Wettest days ever

Jan. 20 - 5.56
Jan. 21 - 4.48
Apr. 28 - 1.70
Aug.28 - 3.52
Oct. 8 - 7.21
Oct. 9 - 3.66
Nov. 10 2.11
Nov. 20 5.28

Amidst all that rain, Ketchikan had its warmest October 16 when the mercury hit 63.

And may you all have a Happy New Year and a great 2016!!!



On the Web:
Columns by Dave Kiffer

Historical Feature Stories by Dave Kiffer
Dave Kiffer is a freelance writer living in Ketchikan, Alaska.
Contact Dave at dave@sitnews.us
Dave Kiffer ©2016

E-mail your news & photos to editor@sitnews.us


Publish A Letter in SitNews Read Letters/Opinions
Contact the Editor
SitNews ©2016
Stories In The News
Ketchikan, Alaska

Articles & photographs that appear in SitNews may be protected by copyright and may not be reprinted without written permission from and payment of any required fees to the proper sources.