SHIPYARD STORIES BIG NEWS IN 2012
By DAVE KIFFER
January 15, 2013
Tuesday AM

Ketchikan, Alaska - Much of the significant news in 2012 revolved around Alaska Ship and Drydock, one of the community's largest employers.
Early in the year, ASD announced that it had received a large contract from the Alaska Longline Company to build an 136-foot longliner to be delivered in 2013. The news was hailed as an example of ASD's future as a major player in the private sector shipbuilding that is expected to boom as development expands in the Arctic.
Then the State of Alaska, long ASD's biggest patron, announced that it was negotiating with the shipyard to the finish the design on the much anticipated first Alaska Class Ferry, a 350-foot, $120 million replacement for the aging ferry system mainliners. This was good news because a role in the final design meant that ASD would have a leg up in the competition to build at least three of the Alaska Class ferries over the next decade meaning the potential of hundreds of millions of dollars being pumped into the local economy.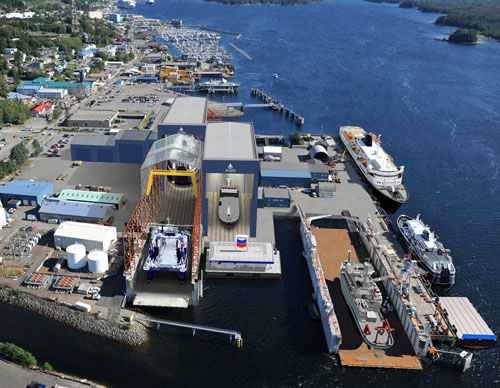 Photo rendering of current and planned development.
Photograph courtesy Vigor Industries

In 2012, ASD also completed a $31 million ship assembly hall which is now the tallest building in Ketchikan at just under 110 feet.
Then there was a real shocker, when ASD announced it was being sold to Vigor Industrial, the largest shipyard company in the Pacific Northwest. Vigor, which had earlier absorbed industry leader Todd Shipyards, met several times with community leaders and the state officials to discuss the sale.
Company officials assured all concerned that it would build the Alaska Class ferries in Ketchikan if awarded the final contract by the state. The deal was completed and Vigor became the owner of ASD. Vigor employee Adam Beck, a former employee of ASD, was brought in as President of ASD, while former ASD owner Randy Johnson stayed on as vice president.
But that was just a prelude to the final surprise involving the shipyard in 2012.
In December, with no advance warning, Governor Sean Parnell announced he was "downsizing" the Alaska Class Ferry project because of cost concerns. Parnell told Ketchikan officials that he had determined that the cost of the first ship was going be at least $30 million above the budgeted $120 million cost and that the state needed to refocus its efforts to a way to get more bang for the state's buck.
Parnell announced that he had instructed the state Department of Transportation to scrap the past four years of design work on the Alaska Class ferry and come up with a new design for smaller vessels that would allow the state to build two ferries for the $120 million already approved by the state Legislature.
Parnell said that he hoped the new design would be finished within one calendar year and that he continued to support the idea of building the new ferries in Alaska.
Response to the new direction of the Alaska Class project was muted in some Southeast communities such as Ketchikan and Wrangell and openly angry in others, such as Haines and Petersburg. Meetings were scheduled for January, 2013 to discuss the changes.
Other local news in 2012 was a bit more predictable.
Ketchikan's first newborn of 2012, Kyle Izaac Walker Jasinski ,was born at 3:13 p.m. Jan. 1 at Ketchikan Medical Center, weighing 7 pounds, 10 ounces.
Schoenbar 8th grader Max Oaksmith won the District-Wide spelling bee by correctly spelling "harpsichord."
Skip LeCornu, Donna Frank, Rob Sanderson Jr. and Delores Churchill were elected to seats on the Ketchikan Indian Community Tribal Council in January.
Devin Rossiter, 19, was found guilty by jury on January 24 of second degree murder in the stabbing death of Nick Stachelrodt, 45, at the Vallenar View Mobile Home Park in March of 2011. He was later sentenced to 36 years in prison.
The Alaska Journal of Commerce named two Ketchikan residents, Erin Uloth and Gretchen Klein, to its annual Top Forty Under Forty list of young statewide leaders.
Kayhi dominated Region Wrestling championships in Juneau with nine individual champions.
Jack Dawson was named Chamber of Commerce citizen of the year, The Plaza mall was named business of the year, Bob Hewitt and Doug Nausid were named youth leaders of the year, Jerry Cegelske won the community service award and the entrepreneur of the year was Brenda Jorgens (Silly Munchkins).
Former Ketchikan resident, Mark Jahnke, competed in the US Figure Skating junior Ice dance competition in San Jose, California. Jahnke, 21, and his partner Roxette Howe finished 10th.
Two Thorne Bay boys, Toby Simmermayer, 14, and Jacob Simmermeyer, 12, who had been missing since June 2, were found trying to board a bus Feb. 11 in Bellingham after stowing away on an Alaskan ferry.
Metlakatla and Craig high schools finished first and second in the state "division three" academic decathalon championships.
Jeanette Sweetman of Ketchikan finished second and Charlie Klein of Ketchikan finished 3rd in the speech category at the Drama, Debate and Forensics meet in Anchorage.
Ketchikan resident Allen Richter, 72, was sentenced to seven years in prison in March in Indiana after pleading guilty to flying 200 pounds of marijuana from California to Indiana in 2011.
Two men survived the crash of a floatplane near Niblack on March 13. A Southeast Aviation plane piloted by Ernest Robb, 64, of Ketchikan, with passenger Murray Richardson, 56, of Vancouver, crashed shortly after takeoff. Troopers said a snowstorm and zero visibility were a factor. Both men suffered head and back injuries but recovered.
Six former teachers who sued the Annette Island School District for racial discrimination when they were fired in 2011, settled with the district for $442,500 in March of 2012.
A Ketchikan High School student was charged with terroristic threatening after claiming he was going to bring a gun to school in April. The school was briefly locked down until the student was tracked down by police. He spent several months at the Ketchikan Correctional Center.
The West Behm Canal herring fishery was over before it started in April, when spawning amounts and sizes were below the threshold for Fish and Game to open the fishery.
Seniors at Ketchikan High School threw a "senior prom" for residents of the Ketchikan Pioneers Home and other local senior citizens. Eldora Peterson and Larry Thomas were crowned Queen and King.
After operating Gateway Center for Human Services for two years, Akeela of Anchorage took formal control of the mental health facility from the City of Ketchikan in April.
Borough Assembly member Agnes Moran joined the crowded Republican primary for the Ketchikan area state house seat in April. She and Ketchikan Visitors Bureau President Patti Mackey and incumbent Peggy Wilson of Wrangell would face off in the primary with Wilson winning and moving on to the general election.
Clover Pass Community Church celebrated its 40th anniversary in April.
A fish habitat restoration project on the Harris River on Prince of Wales Island won a national US Forest Service Award in April. The award, the "Rise to the Future Award for Collaborative Aquatic Stewardship" was shared jointed by the Craig Ranger District and the Nature Conservancy.
Saxman opened a new 17-unit senior center in March.
Approximately 600 people took part in the annual Prince of Wales Island Whalefest
The Ketchikan Gateway Borough named the athletic field at Fawn Mountain School after longtime Native leader Esther Shea and the ballfield at Valley Park after longtime local sports promoter and announcer Tom Friesen.
Calling it a hazard to navigation, the US Coast Guard fired on and sank a derelict Japanese fishing boat, the 164-foot Ryou-Un Maru as it drifted about 200 miles west of Prince of Wales Island. The ship was part of the debris from a major Japanese earthquake that occurred in 2011.
A Craig jury found Ronald O'Neil of Port Protection guilty of manslaughter in April in the August 2011 death of Tracy Simpson . O'Neil had been charged with second degree murder.
The Rainforest Islands Ferry Authority purchased a $2.1 million vessel for its Saxman, Prince of Wales, Wrangell, Petersburg route scheduled to begin in the summer of 2012. That service was later delayed until 2013.
David Ford, 57, of Ketchikan was extremely fortunate to be found by searchers after spending more than a week lost on Prince Of Wales Island during a fishing trip.
Rocker Ted Nugent pleaded guilty in Federal Court in Ketchikan to illegally harvesting and transporting a black bear on Sukkwan Island in May of 2009. Nugent's actions were filmed for his television show "Spirit of the Wild."
Alaskan and Proud stores of Ketchikan announced it was closing its Foodland Store in Juneau, which it had operated since 1996.
Heatherdale Resources announced that it hoped to open its Niblack gold/copper mine on Prince of Wales Island in 2015.
Former borough and city mayor Jack Shay changed his plea to guilty to seven counts of possession of child pornography. Shay, 80, was sentenced to 35 years in prison, 18 suspended.
Some of the first debris from the 2011 Japanese Tsunami began washing up on the Prince of Wales Island shoreline in the spring.
Ketchikan Indian Community purchased the Wells Fargo Building in downtown Ketchikan. After the summer season, it closed its coffee shop and pharmacy store on Front Street.
Ketchikan residents turned in more than 1 million pounds of trash during Clean Up week. Kayhi students picked up 8 tons of trash on April 25 alone.
Anthony Mansueto resigned to take a college job in Washington DC. After 10 months as the head of UAS-Ketchikan.
The USFS announced that it was studying whether to close part of the Southeast Alaska Discovery Center in Ketchikan to create office space. No decision had been announced by year end.
Makayla McRoberts, 13, of Port Protection was found safe after becoming lost for several days in May not far from Port Protection after hiking to a nearby lake and becoming disoriented in the wood.
Drug busts were common in the community beginning in the spring and lasting until the end of the year. Police reported that most were the results of long investigations into several larger groups that had been involved in importing drugs into Ketchikan either through the mail or on the state ferry.
A man – as yet unidentified – apparently killed himself on his sailboat after the boat was brought in to City Float because it didn't have lifejackets. The Coast Guard had brought in the C-Ya of Sitka. After the vessel docked, one of the crew went below and then shot himself, according to Ketchikan Police.
A Ketchikan nurse practictioner/midwife, Eileen Small, pleaded guilty to Medicaid fraud in late May and was sentenced one year in prison and five years probation.
Former Governor Frank Murkowski, US Senator Lisa Murkowski and US Representative Don Young were among the guests at a retirement party for Sherri Slick in May. Slick worked as a local aide to the Alaska Congressional Delegation for 25 years before retiring in July.
Henry Nelligan , a long time fisherman and carpenter, who was born in Craig in 1912, turned 100 in Ketchikan on May 6.
John Emig, a Kayhi grad who has been a pilot in the US Air Force for two decades, paid a surprise visit to Ketchikan on May 11. Emig was piloting a US government 757, dubbed Air Force 2, as it made several "touch and gos" at the Ketchikan Airport as part of a training exercise.
It wasn't quite a Guinness Book of World Record success, but 1,008 residents turned out May 19 in an attempt to set a record for the most rainboot racers. The record of 1,367 remains in the United Kingdom where it set in 2009, but local Rainboot Festival organizers say they will try again next spring.
A 1916 boat, the Diehless, being used as a liveaboard sank in Ward Cove May 16. It is the second time in the past three years that the Diehless has sunk in Ward Cove.
Craig Superintendent of Schools Jim Thomas, resigned in May, to take a similar position in Reedsport, Oregon
The future scope of Ketchikan's legislative district seesawed back and forth in May. First, the state Redistricting Board announced that Ketchikan, Wrangell and North Prince of Wales Island would be in the same State House district. Then the State Supreme Court ordered the board to redraw the SE districts. The Board then created a district that included Ketchikan, Metlakatla and most of the Prince of Wales Island.
Then the Supreme Court changed its mind and ordered the Board to leave the District constituting Ketchikan, Wrangell and northern POW, at least until 2014. Later in the year, the state Supreme Court ordered the Redistricting Board to redraw all of the Southeast Legislatives Districts in time for the 2014 election.
One change was permanent. After being called District One for nearly a century, the new Ketchikan district is now District 33.
Ketchikan and the former District One made out very well in the final State Capital Budget for FY 2012, with more than $70 million in projects being approved by the Governor and the Legislature. Among the bigger ticket items were $19 million for a variety of Ketchikan International Airport improvements and $19 million to complete a road connecting Ketchikan with Forest Service road system at Shelter Cove. The Ketchikan Shipyard received $10 million, the city received $9 million to repair bridges and the Borough received $7.5 million to build a layup facility in Ward Cove for the Alaska Marine Highway System and National Oceanographic and Atmospheric Administration.
The 2012 Kayhi senior class was 145 students strong at graduation. Donna Smith – a former Ketchikan obstetrician who was present at the births of about half of the class – was the commencement speaker. Gates Failing was the valedictorian. Revilla Alternative High School graduated 31 students
The Ketchikan Gateway Borough approved both its budget and the school district budget in May. Borough property taxes were cut from 5.8 mills to 5 mills for FY 2013
Incumbent State Rep. Kyle Johansen opted not to run in the Republican primary and ran instead as an independent in November.
The Kayhi boys baseball and girls softball teams both went to state, the boys finished second to Juneau and the girls finished third.
Governor Parnell visited Ketchikan in June.
Former Governor Frank Murkowski spoke to the Ketchikan Chamber Of Commerce and suggested it is time for the community to consider a tunnel to Gravina because funding for a bridge was unlikely to every be approved. By year's end, there was still no word from the state DOT about a new preferred alternative for Gravina Access. It has been more than four years since former Governor Palin cancelled the preferred alternative and announced a new one would be chosen in a year.
Kevin Hansen won the King Salmon Derby with a 43.2 ounce king.
The new $22 million Ketchikan Gateway Aquatic Center opened in late June. Former Pool Director and the first Killer Whales Coach Gene Horne and his family returned to Ketchikan to cut the red ribbon.
The MatSu Boro spent most of the year pondering what to do with the icebreaker-ferry MV Susitna which is still docked in KTN two years after being completed at the Ketchikan Shipyard. At year's end, there was word the ship – which has no dock to use in either MatSu or Anchorage – may be sold to a country in the South Pacific, the Northern Mariana Islands.
Ketchikan's oldest resident, Margaret McCombs, turned 105 on June 18.
Ketchikan city voters voted 290-115 in favor of bonding for $5 million in harbor work on June 26. Voter turnout was 7 percent.
Sonia Henrick was named to replace Sherrie Slick who retired after 25 years as the local representative for Congressional delegation.
Debris from the Japanese Tsunami began washing up on Ketchikan beaches in July.
Ketchikan man, Jake Anderson, 36, charged with 98 counts of drugging and sexually assaulting a young girl. He was still awaiting trial at year's end.
The Captain of state ferry Matanuska, Scott Macaulay, was found at fault in July for a navigation error that caused the ferry to slam into a seafood company dock in Petersburg on May 7.
Solar activity led to some of the brightest northern lights ever seen in Ketchikan area in mid July.
Gary Garrison's 147 pound 6 ounce halibut won the SSABIA 2012 Ketchikan Halibut Derby in July.
An Anchorage woman was charged with animal cruelty, after more than 50 cats were found in her car when she arrived by ferry from Metlakatla. She had early arrived in Ketchikan and traveled to Metlakatla where authorities had made her get back on the ferry and return to Ketchikan. The situation led to an ongoing discussion between Ketchikan and the ferry system over rules that allowed animals to travel on the AMHS without permits.
A new $12 million fire station opened in downtown Ketchikan adjacent to the Federal Building. It replaced the 1940s era Fire Station #1 on Main Street.
Peace Health announced it was exploring multi-billion dollar merger with Catholic Health Initiatives.
The Plaza Sears store closed in Ketchikan, ending 80 years in First City.
A logger was killed in an accident at Nutkwa Lagoon on Prince of Wales on Aug. 11. Billy Mack Worley was 36.
A Ketchikan woman, Elizabeth Johnson, 34, was charged with third degree assault, after allegedly duct taping her seven year old son's head and arms and leaving him for several hours. The child's teachers noticed that he had tape residue on his body when he came to school. Her case was unresolved at year's end.
Four crew members of the fish packer Mary Kay were rescued when their 78 foot boat sank off Cape Chacon in late July.
OceansAlaska began producing its first batches of oyster and geoduck seed in Ketchikan. The coastwide mariculture industry has been facing a seed shortage in the last several years.
Cruise passenger numbers for Ketchikan increased in 2012. A total of 894,000 visitors arrived in 2012, up from 844,000 the year before.
After significant lobbying by local officials, a second 110-foot Coast Guard cutter arrived in Ketchikan. The USCG Chandeleur was relocated from Miami in October. Coast Guard officials continue to say that they plan to replace the Chandeleur and the Naushon with 154-foot cutters by the end of the decade.
Leigh Gerber retired as the plant manager for Trident Seafoods in August. He had been a fisheries executive in Ketchikan for 23 years and had served as the president of the Ketchikan Chamber of Commerce.
Point Higgins Elementary School and Tongass School of Arts and Sciences won national blue ribbon designations from the US Department of Education. There were only three Alaskan schools so honored.
Waterfall Resort on Prince Of Wales marked the 100th anniversary of the Waterfall Cannery in 2012. It was a cannery until 1970 and was converted into a high end resort in 1973.
Incumbents were re-elected in the October municipal elections in Ketchikan. Todd Phillips was re-elected to the Borough Assembly and former Assembly member Jim Van Horn was elected to replace Mike Salazar who couldn't run again because of term limits.
Salazar retired as the longest serving borough official with 17 years of service as either assembly member or Mayor over the past 30 years.
Borough voters also approved $5.5 million in bonds for education related capital projects.
On the City Council side, incumbent city Mayor Lew Williams easily won re-election as did Councilmembers Deann Karlson and Bob Sivertsen.
On the school board, incumbents Michelle O'Brien and Stephen Bradford were re-elected. Newcomers Ralph Beardsworth and Colleen Scanlon were elected to open seats on the board.
Freshman Taylee Nyquest of Thorne Bay easily won the state 1A-3A cross country championship in Anchorage.
Hurricane force winds (with gusts over 100 mph) hit Ketchikan Nov 4 but little damage occurred.
The Kayhi girls swim team won the Southeast championship and went on to finish 3rd in state.
It was announced that the downtown Ketchikan postal station would close. By year's end, the USPS was negotiating with other property owners on a new location.
Jacquie Meck was the new Alaska state Rock Paper Scissors Champion. The event was held at the Plaza mall.
Ketchikan resident Bo Meredith won the inaugural state crossfit championships in Anchorage
Great Alaska Lumberjack Show owner Rob Scheer and his fiancé competed in the Amazing Race reality television show. They were eliminated in the first round.
Former resident Daniel Savella, 56, was sentenced to 90 days in jail for abusing minors while working as a Ketchikan youth minister in the 1990s.
Ketchikan residents were surprised to see a squadron of F-18 Eagle fighter jets and their tanker zoom overhead on Oct. 23. They were on their way to Singapore after taking part in training up north.
The Ketchikan City Council approved a ½ mill property tax increase, boosting the overall city rate to 6.7 mills. The increase amounts to a $100 increase on a house valued at $200,000.
Faced with ballooning costs for the Whitman Lake hydroelectric project, city officials asked the Ketchikan Gateway Borough to help out with a $2.5 million grant for the project. The Borough agreed.
Metlakatla's Marty Vera finished second in the heavyweight division in the state 1-3A wrestling tournament becoming the first Metlakatla wrestler to finish that high at state since since 1966.
Two people were killed in car crash south of Ketchikan on Nov. 19. April Arland, 31, and Kiana Seirup, 16, were killed when their vehicle rolled over. Two other teenagers were seriously injured but survived. The accident closed South Tongass Highway just south of the Coast Guard base for nearly 5 hours.
RIP

Jerry Collins, 73, 50 year resident of Ketchikan, Jan. 3.

Art King, 76, Naukati community leader and shellfish industry proponent, Jan. 5

Les Komitz, 89, longtime Ketchikan Pulp and KPU employee, Dec. 29

Mary Gilpin, 54, longtime Ketchikan resident, Jan. 12

Dolores Dundas, 75, lifelong resident of Metlakatla, Jan. 19

Barbara Mix, 84, longtime Ketchikan resident, Jan. 20

Harley Hall, 93, longtime KPC worker and Pioneer Home "grandpa." Jan. 22

Johanna Close, 90, a resident of Ketchikan for more than 80 years, January 24

Ken Goodrich, 73, longtime Ketchikan resident and alcoholism counselor, Jan. 11

Ruth Jenne, 85, longtime Ketchikan resident and airline employee, Dec. 29.

Mike Thomas, 47, forty year resident of Ketchikan, Dec. 20.

John Horwath, 63, lifelong resident of Kechikan, Feb. 6

Patrick Lloyd, 94, 63 year resident of Ketchikan and former Grand President of the Pioneers of Alaska, Feb. 3

Ron Keizer, 55, longtime Ketchikan resident, Feb. 10

Ed Glenz, 80, longtime Meyers Chuck resident and fisherman, Jan. 27

Ray Diamond, 56, lifelong Ketchikan resident and builder extraordinaire, Feb. 19

Irene May Collins, 82, 25 year resident of Ketchikan, Feb. 20

Walt Begalka, 83, long time timber industry worker, February 6

Patricia Rowan, 89, longtime local nurse, February 17

Donald Haseltine Sr, 84, fireman, ferry worker, 62 year resident, Feb. 21

Chuck Slajer, 77, half century resident of Ketchikan and Hyder, Feb. 29

Archimedes Inoncillo, 58, businessman and 30 year Ketchikan resident, Jan. 27

Margaret Wengert, 92, a 27 year Ketchikan teacher and Alaskan Educator of the Year in 1967, Feb. 28

Jack Chambers, 78, longtime local logger, March 19.

Georgia Baker, 71, longtime Kasaan resident, March 30

Bessie Commisky, 98, 74 year resident of Ketchikan, March 11

Dee Doiron, 76, a four decade resident of Ketchikan, March 15

Jack Wilson, 89, longtime Ketchikan resident, March 15

Whitey Anderson, 59, Ketchikan motorcycle aficionado, March 16

John Divelbiss, 73, former Ketchikan Fire Chief, March 22

Joe Starr Wasuli, 39, longtime Metlakatla and Saxman resident, March 24

Elizabeth Johnson, 75, longtime Metlakatla resident, March 25

Gottlieb "Blackie" Kossman, Jr, 85, longtime state ferry purser, March 26

Joan Miller, 79, longtime Ketchikan resident, April 2

Calvin Bakk, 62, longtime local contractor, April 5

Barbara Guthrie, 49, lifelong Ketchikan and Saxman resident, April 7

Wardell Atkinson, 67, lifelong Metlakatla and Ketchikan resident, April 7

Roland Young, 72, lifelong Southern Southeast resident, April 6

Irving Leask, Sr. 89, longtime Metlakatla resident, April 11.

Ivan Wick, 95, longtime Ketchikan builder, March 28

Pearl Nordstorm, 85, legendary local bowler and 81 year resident of Ketchikan, April 25

Bruce Chambers, 57, longtime Ketchikan carpenter, April 25

Marie Bowling, 101, Hollis resident, April 9

Charles Straight, 60, local miner, April 22

Primo Kintana, 87, a 30 year Ketchikan resident, April 28

Michael Fontana, 51, 32 year resident of Ketchikan, April 29

Ruth Craig, 79, former pulp mill employee and half century resident of Ketchikan, May 7.

Janice Russell, 78, longtime Thorne Bay businesswoman and city councilor, May 5.

Ernest "Bink" Leask, Jr., 60, fisherman and lifelong resident of Metlakatla, May 15

Tom Miller, 63, 40 year resident and longtime local journalist, May 28

Chris Charles, 61, longtime Hollis resident and fireworks maven, June 2

Thomas Guthrie IV, 32, lifelong resident of Metlakatla, May 29

Virginia Keith, 84, longtime Ketchikan resident, June 1

Paul Mattle, 82, longtime airline pilot and owner of Mattle's Drive In, June 18

Shawn O'Neil, 58, longtime Hydaburg resident, June 20

Charles Simpson, 79, owner of Sea Land Brokers, June 19

Gregg Music, 59, longtime Klawock resident, April 27

Jim Martinez Sr., 73, former president of the Organized Village of Saxman, July 4

Dorothy Ludwick, 92, longtime Ketchikan resident and Girl Scout region coordinator, July 4

Donna Markuson, 81, longtime Ketchikan resident and fisherwoman, May 29

Carol Woolf, 69, longtime Ketchikan resident, June 27

Peggy Eichner, 92, lifelong Ketchikan resident and matriarch of the Eichner family, July 6.

Don Finney, 85, longtime timber industry executive, July 12

Margaret "Betty" Peterson, 83, lifelong Southern Southeast resident, July 14

Mary Lou Antonsen, 58, longtime local cook, July 15

Sarah Peele, 88, longtime Ketchikan resident, July 17

Dale Tillson, 61, lifelong Ketchikan resident, July 10

George Thorson, 94, longtime local accountant, July 17

Doris Reece, 82, lifelong resident of Metlakatla, Aug. 18

Joseph Thompson, 84, long time Prince of Wales logger, commercial fisherman, July 20

Anna Miller, 80, longtime Ketchikan nurse, July26

Daniel Canfield, 71, longtime Ketchikan logger July 30

Carmen Holum, 90, longtime Ketchikan kindergarten teacher, Aug. 19

Billy Worley, 36, Ketchikan area logger, Aug. 11

Dolores White, 65, longtime Metlakatla resident, Aug 21

Kent Nicholson, 48, USFS Thorne Bay District Ranger, Sept. 7

Deanna Nicholas, 74, longtime Ketchikan resident, Sept. 16

Mary Beth Schmidt, 53, longtime Ketchikan resident, Sept. 21

Delores Ivins, 81, longtime Native culture bearer, Sept 22

Dr. James Wilson, 84, second generation Ketchikan doctor, Sept. 28

Mary Simpson, 70, sixty year resident of Metlakatla, Oct 5

Gertrude Mather Johnson, 96, lifelong resident and Tsimpshian culture bearer, Oct. 9

Jacqueline Crabb, 77, longtime Totem Heritage Center employee, Oct. 13

Edith Nelson, 91, long time lodge owner and state employee, Oct. 12

Mary Simpson, 70, 60 year Metlakatla resident, Oct. 5

Timothy Collins, 61, longtime Marine Highway worker, Oct 10

Bill Dalton, 71, longtime Ketchikan resident, Oct. 19

Donald Dinsmore, 71, longtime mill, ferry worker, Oct. 25

Bruce Booth, 69, long time Metlakatla resident, Oct 29.

Bessie Hustead, 87, former KPC manager, Oct. 16

Clyde Cowan, 85, longtime tug boat operator, Nov. 1

John Patterson, 81, longtime local forest service employee, Oct. 15

Amanda Kolanko, 29, lifelong Ketchikan resident, Oct. 25

Diana Gaube, 57, longtime Metlakatla store manager, Oct. 28

Mark Hill, 51, lifelong Southeast resident, Oct. 28

Dr. Pat Henley, 69, 40 year Ketchikan chiropractor, Nov. 4

Raven Brendible, 33, lifelong Metlakatla resident, Oct. 31

Joan Hardesty, 73, longtime Ketchikan resident, Nov. 5

Jon Sportsman, 61, longtime timber manager, Nov. 1

Robert "Red" Dotson, 84, long timer ferry worker, miner, Sept. 3

Dorothy Dennis, 83, lifelong Southeast resident, Oct. 21

Arthur "Bob Dorn" Westergard, 86, longtime broadcaster, Oct. 19

Donna McLane, 72, a thirty year resident of Ketchikan, Oct. 7

Paul Peterson, 58, half century resident of Ketchikan, Nov. 16

Gary Milton, 74, lifelong Metlakatla resident, Nov. 10

Rose Boguslawski, 94, longtime hospital worker, Nov. 18

Jane Hunt Talbot Church, 92, lifelong Ketchikan resident, Nov. 19

Bob Monrean, 57, lifelong Ketchikan resident, Dec. 3

Dorothy Benson, 96, longtime Ketchikan businesswoman, Dec. 6

Dennis Ackley, 59, longtime local taxi driver, Dec. 14

Jim Weisert, 61, longtime local postal employee, Dec. 17

Dixie Lee John, 48, longtime Ketchikan and Whale Pass resident, Dec. 13

Mary Hastings, 85, lifelong Ketchikan resident, Dec. 25

Sebastiana Baloco, 93, longtime Ketchikan resident, Dec. 31
Weather facts
Ketchikan enjoyed a rare white Christmas
Total rainfall for the year 144.06 inches, precipitation was measured on 282 days.
The rainiest day was May 6 at 4.73 inches followed by May 7 at 4.26 inches.
Only three days had precipation greater than 3 inches. A total of 13 days had greater than 2 inches precipitation. The longest stretch of non rainy days was 12 from Oct. 20-31. October was unusually dry with precipitation being recorded on only 12 days.
Longest stretch of rainy days was 43 from Nov. 11 to Dec. 22.
Windiest official gust recorded was 86 on May 23 (a gust of 66 was recorded on Nov. 11, but non-official wind gauges recorded gusts over 100 that day in the Ketchikan area.)
The windiest day was April 2, when the constant speed was measured at 24.4 mph.
The warmest day was June 23 at 81. The coldest was -2 on January 19.
Several days set individual all time records. At 50 degress, February 2 was the warmest Feb. 2 on record.
May 6 (4.73 inches), May 7 (4.26 inches), May 30 (1.78 inches), Nov. 4 (3.27) and Nov. 16 (1.55) were the wettest on record for those dates.
Several days were the coldest for those dates on record including: Oct 22 (28), Oct 24 (28), Oct 29 (25) and Nov. 1 (21).
On the Web:
Columns by Dave Kiffer

Historical Feature Stories by Dave Kiffer
Dave Kiffer is a freelance writer living in Ketchikan, Alaska.
Contact Dave at dave@sitnews.us
Dave Kiffer ©2013

E-mail your news & photos to editor@sitnews.us


Publish A Letter in SitNews Read Letters/Opinions
Contact the Editor
SitNews ©2013
Stories In The News
Ketchikan, Alaska

Articles & photographs that appear in SitNews may be protected by copyright and may not be reprinted without written permission from and payment of any required fees to the proper sources.