Ketchikan: 2011 Year In Review


By DAVE KIFFER
January 09, 2012
Monday AM

(SitNews) Ketchikan, Alaska - A political shocker and some of the wettest weather on record dominated the year 2011 in Ketchikan.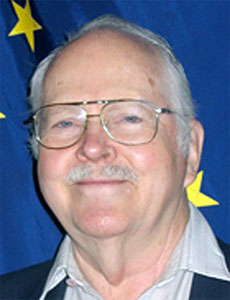 Jack Shay
Photo courtesy Alaska Municipal League
Residents were stunned in early November when Jack Shay, one of the most prominent politicians in Ketchikan history, was charged with 91 counts of possession of child pornography. Shay, 80, the only man to serve as both city and borough mayor, resigned his seat on the Ketchikan City Council and was expected to go to trial in February of 2012.
The fall rainy season arrived early in Ketchikan, with the weather turning to mostly rain by early July. In fact, there were only 31 days without precipitation between July 1 and December 31. Less rainfall than normal in the first six months of the year kept the yearly total to "only" 171.3 inches.
In January, Rachelle Waterman's retrial began in Anchorage. The Craig woman had been charged with conspiring to have her mother killed in 2004. Her first trial had ended with a hung jury in 2006, but in February she was convicted of criminally negligent homicide and sentenced to three years in jail.
Norman Arriola reelected president of the Ketchikan Indian Community in January.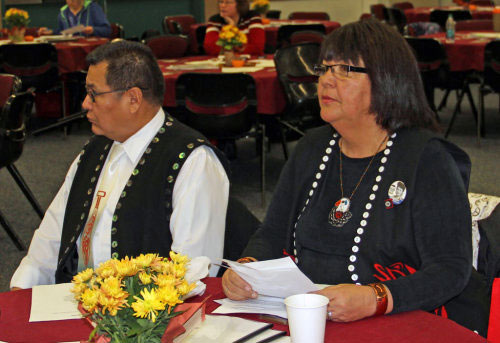 Norman Arriola, Tribal Council President, and Verna Hudson, Tribal Council Vice President, wait to deliver their speeches at the annual membership meeting of the Ketchikan Indian Community.
Photo By Cliff Guthrie

The Ketchikan Chamber of Commerce handed out its annual awards: Ed Zastrow, Chamber Citizen of the year, Ketchikan Coliseum Theater business of the year, Sonia Christensen, young professional of the year Dana Elerding and Orla Roberts of Simpy Bella entrepreneurs of the year, Rev. Bill White and Freddie John Community Service Awards, and Robert McClory, youth leader of the year award
Work began on the Ketchikan Aquatic Center in January with completion expected in the summer of 2012. Work also began on the new Ketchikan Public Library which is also expected to be completed late in 2012. Work continued on the new downtown Ketchikan Fire Station and also on the $30 million renovation of the Ketchikan Shipyard that will create an enclosed 120 foot high drydock.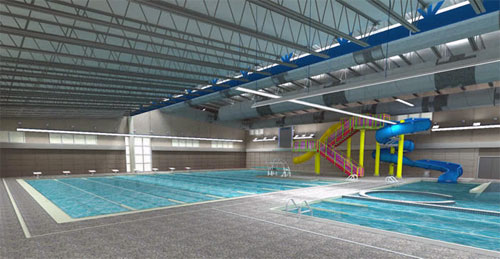 Ketchikan Aquatic Center
Photo courtesy Ketchikan Gateway Borough

In February, Patrick McDonald resigned from the School Board and was replaced by Stephen Bradford. In December, the longest serving school board member, Choc Shaefer resigned after 11 years.
Ada Castle of Fawn Mountain Elementary School won her second consecutive district wide spelling bee.
The Coast Guard cutter Acushnet was decommissioned after nearly 70 years of service and sold to a private buyer for more than $600,000. The Coast Guard announced that a second 110 foot cutter, the Chandaleur will be stationed in Ketchikan in the summer of 2012 and that plans were in place to station two brand new 145 foot cutters in Ketchikan in 2015.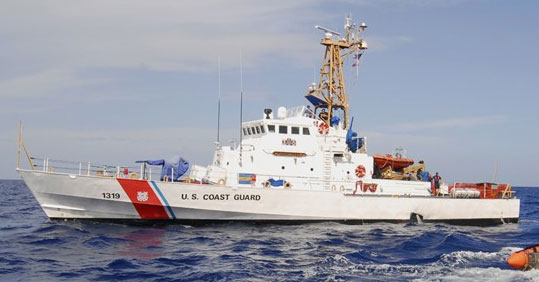 USCGC Chandeleur
Photo courtesy USCG

In March, an 18-year-old Ketchikan man, Devin Rossiter, was charged with second degree murder after a resident of the Vallenar View mobile home park, Nick Stachelrodt, was stabbed to death outside his trailer on March 14. Trial set for June, but then delayed until January.
On March 12, Michael Madden, 35, went missing while snowboarding on Deer Mountain. His body was found in early August.
In the wake of the 2010 Census the state announced new legislative boundaries. Initially, the reapportionment board came up with a plan that put Pennock, Gravina and Saxman in a district with Prince of Wales and Ketchikan in a district with Wrangell and Petersburg. But after hearing protests from Ketchikan and Saxman, the board then opted to keep the Ketchikan area in a single district with Wrangell. Petersburg was put in a district with Juneau and filed suit.
In April, the Ketchikan Gateway Borough sold the remaining land at the old pulp mill site at Ward Cove to local businessmen David and Andrew Spokely for $2.1 million. The deal officially closed in late December.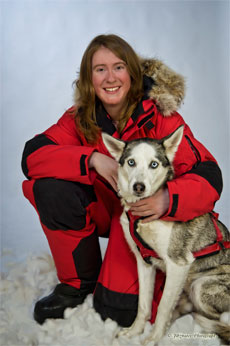 Angie Taggart became the first Ketchikan resident to complete the Iditarod sled dog race, finishing 43rd.

The first herring fishery in West Behm Canal in 35 years spurred only limited interest in April.
Angie Taggart became the first Ketchikan resident to complete the Iditarod sled dog race, finishing 43rd. Taggart was also the commencement speaker for the Kayhi graduation ceremonies. One hundred students graduated in 2011.
In May, District One Republicans officially began efforts to recall State Representative Kyle Johansen, alleging that he had "abandoned" his constituents when he stepped down from his Majority Leader position and left the ruling coalition. The recall was unsuccessful, but by the end of the year four other people had announced they planned to run for the house seat from the Ketchikan District including Patti Mackey, David Scott , Matt Olsen and incumbent Wrangell Representative Peggy Wilson, who's community is now in the same district as Ketchikan after reapportionment.
Plans by the City of Ketchikan to sell of the Ketchikan Public Utilities telecommunications division to the private sector came to a halt after federal laws changed, making the sale less lucrative to potential bidders.
In June, two Ketchikan residents and five Metlakatla residents were hospitalized with paralytic shellfish poisoning symptoms. Testing by state officials showed one of the highest concentrations of toxin ever recorded in local mussels.
The US Forest Service approved a special use permit allowing the City of Ketchikan to building a new hydroelectric dam on Whitman Lake south of Kethikan.
Ketchikan General Hospital changed its name to PeaceHealth Ketchikan Medical Center.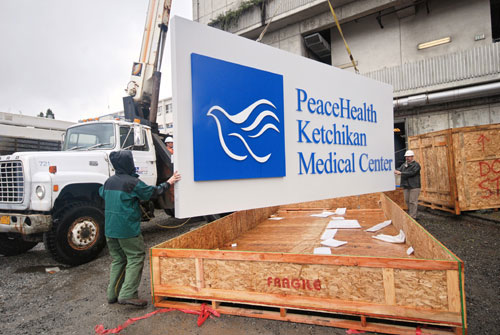 June 2011: Workers from ESA. Eugene Sign and Awning (ESA) of Eugene, Oregon had a sign contract for the name changes at the PeaceHealth hospitals. New signs were hung on Saturday.
Photo courtesy KGH

Also in May, Governor Sean Parnell approved $38 million in local capital budget projects including the public library and the Whitman hydro dam.
The July 4th Parade featured three grand marshals, Elizabeth Nelson, Kathleen Light and Marguerite Auger, representing different local arts groups as part of the "Year of the Artist" parade theme. It was one of the wettest and windiest July 4ths in memory. The parade went on, but the Fireworks were delayed until July 9.
Also in July, Ketchikan Indian Corporation opened the Southern Southeast Technical Education Center on Stedman Street and the first Veterans Memorial on Prince of Wales Island was dedicated in Craig.
Also on Prince of Wales, an approximately 500 year old Haida canoe, 33 feet long, was found in the woods near Kasaan.
Five crewmembers of the seiner Legend escaped serious injury the vessel caught fire and was beached on Gravina Island.
Six former teachers filed suit against the Metlakatla School District, claiming they were fired because of their race.
Ten people were left homeless with a fire damaged a tri-plex on Alaska Avenue in Ketchikan.
Ketchikan took first place in Southeast in the Little League 9/10 division.
In August, a Port Protection man, Ronald O'Neil, 39, was charged with second degree murder in death of Tracy Simpson, 54, at O'Neil's floathouse.
At the end of the summer, Governor Parnell announced that the final design of the new Alaska Class Ferry will be completed in conjunction with the Ketchikan Shipyard, potentially leading to the construction of four ships here over the next decade.
Private interests continued to move ahead with the development of two large mines on Southern Prince Of Wales at Niblack and Bokan Mountain.
John Harrington and Misty Archibald were elected to the Ketchikan School Board in the October municipal elections. Agnes Moran, Glen Thompson and Mike Painter were elected to the Borough Assembly. Marty West, KJ Harris and Sam Bergeron were elected to the City Council. Dave Kiffer was re-elected Borough Mayor.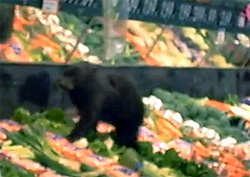 Little Bear tiptoes through Tatsuda's produce
Photo courtesy Joe Stollar
From Joe Stollar's video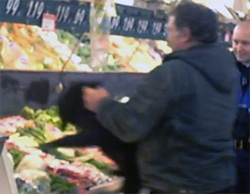 Retired City of Ketchikan firefighter Ken Holmes offers assistance and catches the small cub.
Photo courtesy Joe Stollar
From Joe Stollar's video
Also in October, Ketchikan made national headlines because of a video that was shot when a black bear cub was spotted rummaging in the produce aisle at Tatsuda's Supermarket. Video of the cub was shown on national news casts and became an internet sensation for several days.
In November, Deann Karlson was appointed to replace Jack Shay on the City Council. Houghtaling staffer Katy Hook was named Alaskan Education Support Professional of the Year. The North Tongass Volunteer Fire Department was tabbed as the statewide ambulance service of the year.
The Borough completed a five year clean up of beaches on Gravina Island that netted 140 tons of debris and the remains of more than 40 boats.
Joann Flora of Ketchikan was named the first Alaska "rock-paper-sizzors" champion.
Elizabeth Knight of Ketchikan celebrated her 11th birthday on 11-11-11.
Ketchikan pilot, Allen Richter, 71, charged with flying 200 pounds of marijuana from California to Indiana, on Nov. 4
Kayhi girls finished second in the state swim championships, boys finished 8th.
Isabelle Stephens, Janelle Stacy, Kassandra Klose, Ella Sherrill won the girls 200 yard medley relay. Maddy Stephens, Stacy, Sherrill and Aly Walker were 2nd in the 400 free relay . Stacy won the 100 butterfly, 2nd in the 100 backstroke. Klose was 3rd in the 100 breastroke. Defending state champion Case Kuikoven was 2nd in the boys 500 freestyle.
Ruth Pechay and Bill Hardy of Ketchikan Indian Community took part in a special Native American swimming event in San Francisco, from Alcatraz to the city.
Alan Bengaard, a 20 year veteran, was named new city of Ketchikan police chief. Linda Gens of Guthrie, Oklahoma was named the new Ketchikan Public Library director.
In December, the body of Richell Hudson, 48, was found on a barge moored to a downtown Ketchikan dock. Police said foul play was not suspected.
Rest In Peace
Beulah Roppel, 93, longtime Ketchikan businesswoman, Jan. 11
Myrina Garza, 80, lifelong resident of Southern Southeast, Jan. 17
Paulu Saari, 91, photographic chronicler of Ketchikan in the 1950s and 1960s, Jan. 16
Lloyd Nault, 90, former school board president, Jan. 17
Gerald Edenshaw Sr, 76, lifelong Hydaburg resident, Jan. 28
Mary Anne Henry, 59, former Ketchikan District Attorney, Feb. 6
Joanne McMahon, 70, lifelong resident and longtime bookkeeper, Feb. 13
Dr. Erma Lawrence, 98, lifelong Southeast resident and Native leader, Feb. 21
Inga Hanson Brinck, 101, lifelong Ketchikan resident and business person, Feb. 22
Claude Morrison, 100, lifelong Hydaburg resident and commercial fisherman, Mar. 17
Leila Robertson, 84, 35-year Ketchikan teacher, March 31
Robbie Whitton, 54, lifelong Ketchikan resident, longtime public works employee, April 6
Earl Mossburg , 78, lifelong Ketchikan resident and outdoorsman, May 20
Marie Westfall, 88, former Borough Assembl y member and longtime GOP "general," May 23
Sister Rita Mary Lyons, 97, longtime Ketchikan General Hospital chaplain, June 3
Tom Coyne, 89, two decade Ketchikan city councilmember and town "grump," June 16
Fannie Ermaloff, 90, longtime Klawock resident and Native culture expert, May 20
Walt Bolling, 88, former police officer and civic leader, June 19
Wendell Pitcher, 92, long time Ketchikan area fisherman, July 4
Tom Abbott, 74, lifelong SE resident and Saxman fisherman, July 4
Diana Thomas, 82, longtime Ketchikan school nurse, July 16
Jean Dix, 81, longtime Ketchikan resident, Aug. 4
Patricia Hook, 85, half century resident of the First City, Aug. 6
Frankie Allain Wise, 82, lifelong Ketchikan resident, Aug. 3
Alex "Bradda" Bolton, 74, lifelong resident of Metlakatla and Ketchikan, Aug. 14
Howard Royer, 87, 75 year resident of Ketchikan and union leader, Aug. 23
Lillian Ferrence, 90, Ketchikan bookstore owner, Sept. 5
Patricia Charles, 93, longtime Ketchikan newswoman, Sept. 15
Henry Keene, 91, former USCG Captain and Superior Court Judge, Oct. 5
Roger "Ridge" Hadland, 60, half century resident of Ketchikan, Sept. 18
Carroll Fader, 88, former Borough Mayor and State Legislator, Oct. 14
Tillie Hoff, 88, Tlingit Matriarch, Oct. 15
Elsie Boyer, 92, former 60 year resident of Ketchikan, Nov. 14
Norman Olson, 89, an 80-year resident of SE and longtime fisherman/boatbuilder, Nov. 16
James Michael Thompson, 54, half century resident, Nov. 18
James Scanlon, 78, longtime local businessman, Dec. 4
2011 Weather Statistics
Total rain 171.36 inches
Peak winds: 64 mph on September 23, but unofficially, local residents noted several much higher windfalls during the year!
The windiest daily average was December 23 at 23.6 mph
The hottest day was July 12 at 77 degrees.
The coldest was 3 above on Feb. 28.
Wettest day was September 20, when 5 inches was recorded.
Most rainy days in a row was 19 between Oct. 15 and Nov. 2
Most sunny days in a row was 7 from January 7 to January 16.
Total rainy days in 2011: 286
The first snowfall was in mid November, leading to a rare White Thanksgiving in Ketchikan. Naturally, it was followed by a Wet Christmas.
There were only 31 days without precipitation in the last six months of the year.
Weather superlatives
Days that recorded their all time highest rainfall:
May 4 (2.9 inches)
July 1 (3.69 inches)
Aug. 20 (4.63 inches)
Aug. 23 (3.80 inches)
Sept. 20 (5 inches)
September 2011 was the wettest September on record at 28.33 inches
May 31 was warmest May 31 on record at 76 degrees
Feb. 28 was coldest Feb. 28 on record at 3 degrees.
On the Web:
More Columns by Dave Kiffer

Historical Feature Stories by Dave Kiffer
Dave Kiffer is a freelance writer living in Ketchikan, Alaska.
Contact Dave at dave@sitnews.us
Dave Kiffer ©2012

E-mail your news & photos to editor@sitnews.us


Publish A Letter in SitNews Read Letters/Opinions
Contact the Editor
SitNews ©2012
Stories In The News
Ketchikan, Alaska

Articles & photographs that appear in SitNews may be protected by copyright and may not be reprinted without written permission from and payment of any required fees to the proper sources.