2010 Year in Review
Elections Get Locals Up On Step
By DAVE KIFFER        
January 21, 2011
Friday PM

(SitNews) Ketchikan, Alaska - The year 2010 was a year in which elections, local and statewide, caught the interest of the Ketchikan populace.
Locally, the long running saga of a new Ketchikan Public Library created both a special election to determine a site as a well as a regular election to approve bonds for the library.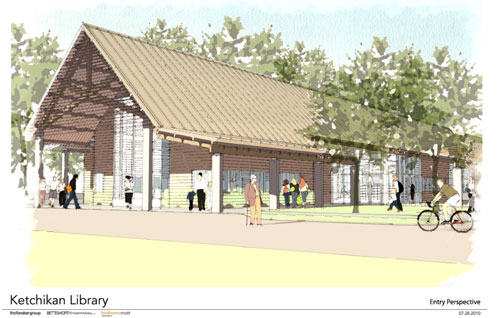 The Proposed Ketchikan Library
Graphic courtesy Friends of the Library

The Friends of the Library and City staff had been working for several months to determine a site for the new library, but when a site in Bear Valley was chosen, a group of Downtown residents and business owners formed ABC (A Better Choice) to push for the city to keep the library in the Downtown core.
A special election was held on Aug. 24 and city voters turned down the proposal to keep the library in the Downtown by an 873 to 596 margin. Another proposal to allow the library to be anywhere in the city limits passed 906-562.
On the October municipal election, city voters approved $5.2 million in bonds of the $12 million new library, of which $6 million is expected to be provided by the State of Alaska.
| | |
| --- | --- |
| Lisa Murkowski | Joe Miller |
The statewide US Senate race also created controversy locally as District One Republicans were split over whom to support, with some choosing primary winner Joe Miller and others choosing incumbent Lisa Murkowski who chose to run a write-in campaign. Murkowski won in the general election over Miller and Democrat Scott McAdams.
The aftermath of the November state general election created local electoral controversy.
State Representative Kyle Johansen was easily elected to his third term in Juneau from District One, but then immediately shocked locals by walking out of the Majority Coalition and giving up his seat as House Majority leader. The walkout occurred during the leadership organizational meeting in mid November.
Johansen contended that he did so for political reasons because he didn't like the "anti-development" direction that the caucus was taking. Caucus members replied that Johansen and Rep. Charisse Millett of Anchorage left the caucus because Millet was not given a committee chairmanship that she sought. Millett and Johansen are close friends, but Johansen denied at a public meeting in Ketchikan in December that they are a couple.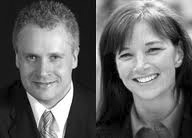 Rep. Kyle Johansen (R-Ketchikan) & Rep. Charisse Millett (R-Anchorage)
At the public meeting in Ketchikan in December, Johansen assured residents that he would be a member of the majority coalition and have a leadership position when the legislature convened in January. (Neither Johansen nor Millet were back in the coalition when the Legislature convened on Jan. 18).
Some local Republicans have expressed interest in attempting to recall Johansen but the earliest that could occur could be the summer of 2011.
In other local election news, Dick Coose and Matt Olsen were re-elected to the Ketchikan City Council and Agnes Moran was re-elected to the Ketchikan Gateway Borough Assembly. The Assembly also has two new members, Alan Bailey and Bill Rotecki, who replaced Glen Thompson and Mike Painter who were term limited off the Assembly. Ginny Clay, Dave Timmerman and Michael Fitzgerald were re-elected to seats on the Ketchikan Gateway Borough School Board.
Another local election that caught the public interest was special election in April for the city to seek permission to find a buyer for the Ketchikan Public Utilities telecommunications division. Voters approved the action by a narrow 388-375 margin and by the end of the year, the city announced it was in negotiations with Matanuska Telephone Association to sell the division.
In other city government news, the city council in 2010 transferred control of the Gateway Center for Human Services over to Akeela Inc. a statewide non-profit. In December, the city council approved a city budget of $85 million with a $22 million reserve and a KPU budget of $62 million with a $4 million reserve. City property tax rates stayed the same for 2011.
The Ketchikan Gateway Borough had a busy year selling and buying property. After several years of negotiations it sold land in Ward Cove for nearly $3 million to the Alaska Marine Highway System so the AHMS can build a new administration/distribution center and a winter layup facility. The borough also purchased the $9 million White Cliff building from the developer, Dawson Construction, that renovated the former school building.
In 2010, the borough continued planning work on the new $19 million Aquatic Center which is not scheduled for completion in the spring of 2012.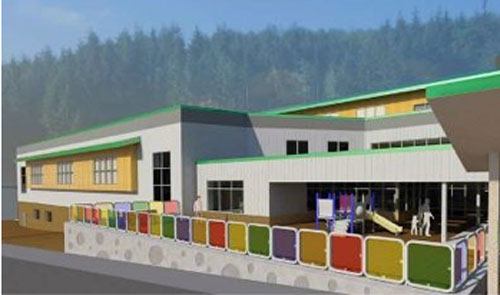 Proposed Ketchikan Aquatic Center
Graphic courtesy Ketchikan Gateway Borough

About mid-way through the year, the borough began to seriously question whether it could continue to manage the state owned Ketchikan International Airport at an annual loss of $400,000. Negotiations between the borough and the state were ongoing at year's end. In June, the Borough Assembly approved a budget of $37 million and with a $4.9 million reserve. That included a mill rate reduction to 5.8 and an elimination of the borough business personal property tax.
In education news, Revilla Alternative High School met the federal government's Adequate Yearly Progress levels for the first time in 2010 and the overall district dropout rate declined to 12 percent, according to district officials. After several years of declining enrollments, the district reported a stable student level in the fall of 2010.
Fawn Mountain Fifth and Six Grade students won the statewide Battle of the Books competition and Oliver Price of Craig Middle School won the statewide Spelling Bee.
Kayhi Counselor Bob McClory was one of the finalists for national school counselor of the year and Case Kuikuven won the state title in 500 freestyle at the state swimming championships, the first male Kayhi swimmer to do so in more than a decade.
Reductions in the local federal government workforce also effected Ketchikan in 2010. The US Coast Guard decommissioned its Shoal Cove station in August, eliminating those 21 jobs from the community and at year's end it was continuing with the decommissioning of the nearly 70-year-old cutter Acushnet which has been in Ketchikan for the past decade. Eighty additional jobs are being lost by that decommissioning.
In more positive waterfront news, Alaska Ship and Drydock completed the $70 million MV Susitna in the spring, a first of its twin hulled, ice breaking, variable draft ship for the MATSU Borough. The Shipyard continued work on the new borough airport ferry the Ken Eichner II.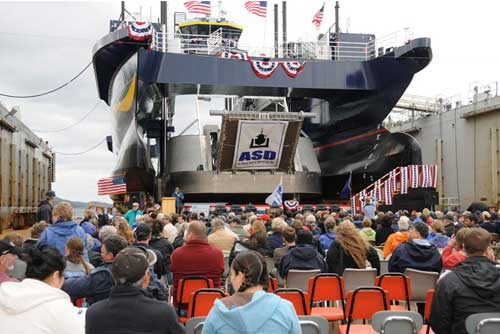 The christening of the M/V Susitna at the Ketchikan shipyard.
June 11, 2010
Photo courtesy Office of the Governor

In crime and punishment news, the main headline was the oft-delayed Rachel Waterman retrial getting delayed once again, this time from September, 2010 to January 2011. Waterman – a former Craig resident – is accused of encouraging two former boyfriends to murder her mother six years ago. The former boyfriends have both pled guilty and are serving long prison terms. But Waterman's first trial ended in a hung jury. (In January 2011, Judge William Casey decided to move the trial to Anchorage after a survey of Ketchikan residents indicated that a majority already had an opinion about Waterman's guilt or innocence.)
The biggest arts news in 2010, was the dedication of Dave Rubin's multi-figured statue, The Rock, on Berth 2 in July. The $200,000 bronze sculpture immediately became a focal point and photo opportunity mecca.
Requiescat In Pace
Mark Wheeler, artist and entrepreneur, 67, 12-25-10
Pat Hagiwara, war hero, 91, 6-21-10
Cliff Phillips, cold storage owner, 90, 12-10-10
Walter Kubley, former state commissioner and legislator, 89, 12/14/10
Weather stats
Maximum temperature: 83 (8/14)
Minimum temperature: 17 (11/22 and 12/29)
Most consecutive dry days 11 (7/26-8/5) (it was also 11 consecutive days with temps in the 70s and 80s)
Most Consecutive wet days 31 (9/22-10/22)
Wettest day 1/10 6.02
Windiest day 3/13 24.5 mph
Highest wind: 70 mph Oct. 8 and 9. (Nota bene – several other readings in town noted winds in excess of 90 mph those days)

Total wet days: 265
Total rainfall: 156.92 inches

Weather Superlatives
It was a dry early summer with less than 12 inches of rain falling in May, June and July.
Two days in 2010 were the warmest ever recorded for those dates, Jan. 10 (50) and Jan 20 (55).
Five days in 2010 set all-time precipitation records for those dates, Jan. 9 (2.50), Jan 10 (6.06), March 23 (2.61), March 24 (3.26) and Oct. 17 (3.70).
On the Web:
More Columns by Dave Kiffer

Historical Feature Stories by Dave Kiffer
Dave Kiffer is a freelance writer living in Ketchikan, Alaska.
Contact Dave at dave@sitnews.us
Dave Kiffer ©2011

E-mail your news & photos to editor@sitnews.us


Publish A Letter in SitNews Read Letters/Opinions
Contact the Editor
SitNews ©2011
Stories In The News
Ketchikan, Alaska

Articles & photographs that appear in SitNews may be protected by copyright and may not be reprinted without written permission from and payment of any required fees to the proper sources.