Column
Char and Dave's Excellent Adventure, Parte Dos
By DAVE KIFFER
December 07, 2009
Monday

Ketchikan, Alaska - Don Quixote would have gone completely stark, screaming bonkers.
As our train rumbled across the high Spanish plains north of Zaragosa, windmills dotted the horizon for as far as the eye could see.
And they weren't the small wooden ones of Miguel de Cervantes time either. These were the throughly modern 90 meter mega spinners of today's energy thirsty world. Every hill was apparently alive with the sound of "whup, whup, whup," although all we could hear was the clickity clack of the RENFE trail zipping across the country at 150 kilometers an hour.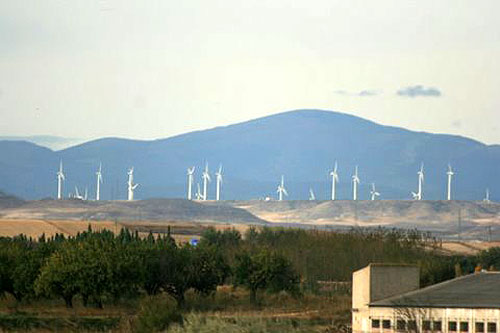 Windmills
Photo by Dave Kiffer

Even Hemingway's "Hills Like White Elephants" along the Ebro River were topped with the giant party pinwheels. So much for my stereotype of the rustic Spanish countryside.
It was also interesting that there wasn't much empty space there. With the exception of one small area that resembled the badlands of South Dakota, everything was farms, villages and factories. In America, we tend to forget that the old world doesn't have the wide open spaces that we do, which is why the endless vistas of America tend to fascinate the Europeans so much.
Still, it was a great train trip, we had left the hubbub of Barcelona and were speeding toward the start of our Basque tour in San Sebastian cheerfully munching our Jamon Iberica sandwiches and enjoying three times the leg room we'd been granted on the flight over from Seattle.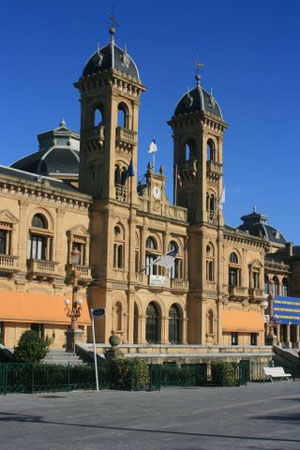 The Mayor's Casa in San Sebastian
Photo by Dave Kiffer
After about five hours, we passed from the high plains and entered the mountainous country near the Atlantic coast. The cute little Basque mountain villages zipped by the train windows, punctuated by a surprisingly large number of factories and other new infrastructure. European Union structural enhancement dollars have been very, very good to northern Spain and the Basque Country.
We arrived in San Sebastian early in the afternoon. We shleped our stuff out to the taxi zone and waited.
No taxi came for 10 minutes. Then 15 minutes. We didn't even see a taxi go buy on the busy street across the river from the main part of town. As usual, it seemed as if we were a day late and a dollar short in the "knowing what goes on" sweepstakes.
Did we need to call a cab? Would they just show up? What the heck was going on?
I went back inside to ask the station master what the procedure was for hailing a taxi, but it turned out he didn't speak English and when I tried to ask him in my college Spanish, he just waved me away by shouting "taxi" and pointing outside toward the empty taxi "stand."
I went back out to wait with Char. By then, several other folks were cued up behind us. Turned out they were other visitors to San Sebastian and had no more clue than we did. We continued to wait.
Finally, I said "let's walk."
The guidebook had indicated it was an easy walk down the other side of the river to the hotel.
Just then a taxi arrived.
Turned out it was more like a mile and a half - and several very busy street crossings - to the hotel. Good thing we rode!
The Hotel Parma was a charming little hotel, no more than a couple dozen rooms, sort of boutique hotel, but very pleasant and with a remarkably multilingual staff.
At the hotel, we started to meet the other members of our tour. Char and I were the newbies. Just about all of the other tour members were Rick Steves' "veterans" of many trips.
Some had even taken as many as six or seven previous Rick Steves' tours to Europe. Since you get a $50 discount for each previous trip you have made with the company, it was clear that some folks were angling for the day in the future that they would eventually end up traveling for free!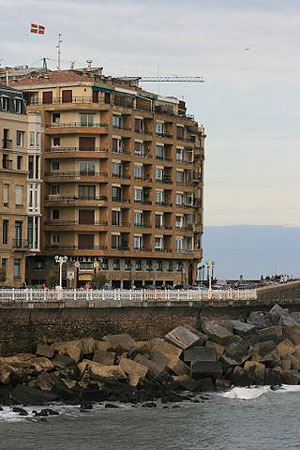 Hotel Parma
Photo by Dave Kiffer
They chattered on so happily about their previous trips that we were a little sad that we were coming late in the game to the world of Rick Steves (Enrique Esteban!). Our fellow travelers even spoke of him in the hushed tones used for minor deities.
The "Europe Through The Back Door" travel, guidebook and TV show empire is based in Edmonds, Washington so it was not too surprising that most of the 26 people on the tour had Northwest connections, although there were travelers from as far afield as Houston, Minneapolis and New Jersey.
After a get acquainted meeting (where we learned that most of our fellow travelers were definitely sold on travel and really, really, really sold on Rick Steves), we had a stroll through San Sebastian's old town (Parte Viaje) and then had dinner at a private Gastronomic Society overlooking the town.
The societies, generally all men affairs, meet regularly so the members can discuss cooking, tell sexist jokes, and prepare dishes for each other, further contributing to San Sebastian's reputation as one of the great "small" culinary capitals of Europe. We were reminded again and again on the trip that food was taken very seriously in San Sebastian and that the town had three Michelin 3 star restaurants and a several other 1 and 2 star eateries, a shockingly large number for a town of 200,000 people.
Fine with us. One of the things we had planned on this trip was to enjoy some new food. That was one of the primary reasons that Liam - our eight year old - was staying with friends back home. We just - for once - wanted to take a vacation in which we wouldn't have to check the menu of every likely dinner or lunch stop and ask the inevitable question "is there anything here that Liam will eat?"
And we explained this to Liam before we went. He was unhappy, but he was also unwilling to commit to eating more than macaroni and cheese or grilled cheese sandwiches.
Hopefully, the next time we go to Europe, he can come with us and enjoy the thrill of trying at least one or two new foods.
The delicious gastronomic society meal came in a variety of courses, punctuated by a lot of different types of. Between that and the residual jetlag, we were all pretty buzzed and I'm not sure I even remember exactly what we ate. I do remember that it was very good, whatever it was.
Then we cheerfully careened back to our hotel. Some of the other travelers stayed up even later to catch up and share stories of other tours. Char and I dozed off to sleep to the sounds of hysterical laughter from the room next door.
The next morning, we were treated to a city walking tour with a "local" Actually, Gabriella was a New Yorker but she had lived in San Sebastian for 20 years. We learned the history of the town (most of the oldest buildings dated from 1813 when Wellington torched the place) and even some lovely gossip. Such as the fact that Bette Davis died in San Sebastian during the annual film festival in 1989 but her body was spirited out of town to Paris and her death was announced there because the San Sebastian folks were worried that her dying in town would be bad publicity.
We also had one of those lovely little moments in a park where the tour group inadvertently came between a young boy and his mother. He couldn't hear her calling his name (Jorge) and then he freaked out when he couldn't see her.
It probably didn't help to have two dozen Americans shouting "Jorge, Jorge" and gesturing wildly toward his mother.
Fortunately, they were soon reunited and all was well with the world.
That afternoon we took a short bus ride to a fishing town called Getaria just up the coast. It was the home of the first person to circumnavigate the globe. No not Magellan, but Juan Sebastian Elcano. Although Magellan is given credit for the first circumnavigation because it was his expedition, he died in the Philippines. It was his navigator, the Basque Elcano, who led the handful of remaining sailors back to Europe. He then died trying to repeat the trip several years later. Obviously he didn't feel much like staying in Getaria.
After our history lesson, we had lunch, and - unfortunately - got a bit taken in the restaurant. We ended up getting the typical tourist experience - charged a little bit too much and served a little bit too little. The food was okay, but by the time we paid our 50 plus Euros ($75), it was no bargain.
Fishing town Getaria
Photo by Dave Kiffer
Fortunately, that was the only time that happened during the trip. All our other meals were reasonably priced (and most of the larger dinners were included in the price of the trip).
The plan on the way back was to bus our way up to the top of one of the three promontories that overlooks San Sebastian (Monte Igueldo) for a pretty vista, but the fog rolled in. We were treated instead to a visit to a modern art installation that has become one of those "must see" locations in San Sebastian.
It was a sculpture by local modern artist turned good Eduard Chillida. Getting there required a serpentine bus drive through some remarkably close quarters (kudos to our bus driver Jose, senor muy suave!) and then a long walk around a health club (the women in our tour seemed fixated on a pilates/yoga class that was going on in - of course - Basque).
Chillida (or as our French tour guide William pronounced his name - Cheeeee-yeeeeee-daaaaa!) was known for his monumental abstract works and this particular sculpture was monumentally abstract. It was called El peine del viento (The comb of the wind) but it really looked exactly like a bunch of great big broken cruise ship mooring cleats that were stuck into the side of the rocks at the seashore.
Afterwards, we went back to our hotel and then foraged for dinner. Ever since our first trip to Spain, Char and I have wondered why we seem to be the only folks in the world who can't do what Senor Steves trumpets as the "tapas tango."
Steves goes on and on about this in his videos and guides books. The only way to really "eat" in Spain is to visit the numerous tapas (or pintxos in Basqueland) bars and nosh down the delicacies as you stand at the bar.
So we tried again, stopping a clean, well-lighted tapas bar not far from our hotel. We noshed down. Once again, it was ----- remarkably average. Once again "tapas" were nothing to write home about. They tasted just slightly better than okay and all seemed to be blended in a food processor ala Gerber. In fact, it was almost impossible to tell what they had originally been because the textures seemed to be variations on a theme of creamed peas. The bread was nice and crispy but the fish-meat-pork stuff on top of it was pretty bland. And it was luke warm. Thank God for the sangria.
I was beginning to wonder if "tilting at tapas" was going to be our culinary version of Don Quixote.
Stay tuned for more of Dave and Char's "tapas tangle."

Related Column:
Char and Dave's Excellent Adventure, Parte Uno By DAVE KIFFER - What we had was a failure to communicate. - More...
Monday PM - November 16, 2009
On the Web:
More Columns by Dave Kiffer

Historical Feature Stories by Dave Kiffer
Dave Kiffer is a freelance writer living in Ketchikan, Alaska.
Contact Dave at dave@sitnews.us
Dave Kiffer ©2009


Publish A Letter in SitNews Read Letters/Opinions
Contact the Editor
SitNews ©2009
Stories In The News
Ketchikan, Alaska