Column
An Rx For A Little Road Time

By Dave Kiffer
October 09, 2014
Thursday AM

Ketchikan, Alaska - Dear National Cooperative Rx,
Thank you so much for writing me to tell me how important my annual influenza vaccination can be in "keeping me and my family healthy."
I realize how important you think it is because you wrote me four DIFFERENT letters encouraging me to attend a health fair to get my flu shot.
I assume you also want me to take along my family as well. That could be a bit spendy, though, if I follow your recommendations.
The first letter suggested I attend a health fair at the MatSu Regional Medical Center in Palmer on September 27th. Sadly, that letter arrived a couple of days late.
But, fortunately, you had a backup plan.
The second letter quickly arrived and suggested I attend a health fair on Oct. 4th at the Alaska Regional Hospital in Anchorage. Since that deadline was fast approaching you also suggested a second health fair at Alaska Regional on Nov. 8.
Perhaps you then looked at a map.
Perhaps not.
A third letter arrived shortly thereafter suggesting I take my family to a health fair on Oct 18 at Centennial Hall in Juneau.
That site is a little more regionally appropriate for sure.
After all, it is only about 200 miles to Juneau so I could drive there in four or five hours (I stay healthy by not being a speed demon), if we had a road.
Which we do not.
So I guess I could take my car on the ferry and that only takes a bit over 24 hours.
Of course, I could also hop on a jet and be there in an hour or so direct or about 1,360 hours if also fly through Wrangell, Petersburg and Sitka.
Unfortunately, I suspect that when you say FREE flu vaccinations you don't mean that you will also cover the airplane ticket(s), no matter how important you think it is to keep "me and my family healthy."
That's okay. We in Ketchikan are quite used to this sort of geographical befuddlement.
Just about every resident of Ketchikan has received at least one contest come-on in which part of the grand prize is a limousine being dispatched from either Seattle or Anchorage to pick up the lucky local winner.
In fact just a few weeks ago, a caller told my mother that one of her prizes would be a Mercedes that would be driven directly to her front door from Anchorage.
She asked if they planned to put it on the ferry in Haines and they said no, it would be driven directly to her front door from Anchorage.
Fancy that.
But, as usual, I digress.
Anyway, letter four arrived several days later. It suggested that I might plan to take my family to a health fair at the Carlson Center in Fairbanks on Oct. 25.
Now they are getting somewhere.
By October 25, Fairbanks should just be cold enough to be ground zero for flu eradication. About then it starts getting too cold in Squarebanks for any self-respecting virus to want to hang around. Those little flu-lettes are leaping on the backs of Rancho Mirage Snowbirds faster than you can say "drinks at the cabana."
If Ebola ever gets to Alaska, I am heading for Fairbanks in the winter.
Hey, seriously, these pandemics are pretty smart. They can mutate faster than a political position and spread quicker than salmon slime on a deck chair. They know a good petri dish when they see one.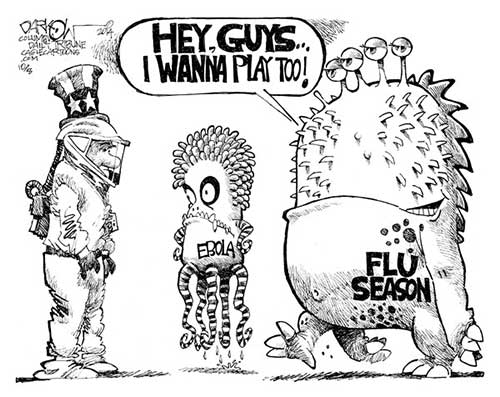 Viruses Going Viral
By John Darkow ©2014, Columbia Daily Tribune, Missouri
Distributed to subscribers for publication by Cagle Cartoons, Inc.


And they won't go anywhere near Fairbanks.

Of course, by now you are saying to yourself, what is up with this Ketchikan Crackpot (that was the high school mascot in 1905 by the way)?

He sounds like he is looking for any little excuse to skip out on the flu shot!

For goodness sake, we just gave him five different options!

If he ends up being the only resident of Alaska to come down with the flu this winter it will be his own danged fault!

Okay, you got me!

Getting my flu shot is just not high my list of priorities for this fall no matter how "convenient" you try to make it for me.

But then, you say I should "consider doing it for my family, friends, co-workers and others with whom you come into contact. Infants, elderly, pregnant women and individuals with certain chronic health conditions are at high risk for complications from the flu. Government health statistics estimate that 15 to 60 million Americans get the flu each year, resulting in 70 million missed worked days…flu associated deaths (range) from 3,000 to 49,000 people annually."

All righty then, I need to do it for others, I get that.

You really don't have to lay on the guilt quite so thickly.

If I was looking for a guilt-alanche I could just ask the opinion of every Ketchikan mother that I know.

You win, I'll get the goll danged flu shot.

If I start driving now, I bet I can get to Fairbanks by October 25th.




On the Web:
More Columns by Dave Kiffer

Historical Feature Stories by Dave Kiffer

Dave Kiffer is a freelance writer living in Ketchikan, Alaska.
Contact Dave at dave@sitnews.us
Dave Kiffer ©2014


Publish A Letter
Letter to the Editor
editor@sitnews.us
SitNews ©2014
Stories In The News
Ketchikan, Alaska