Column
When Fishticuffs Break Out
By DAVE KIFFER
September 23, 2013
Monday PM

(SitNews) Ketchikan, Alaska - A couple of local Alaska Grrrrls got into a tiff recently.
I'm not sure what it was about exactly, maybe one of the grrls said something disparaging about the other's salmon dip.
Or perhaps, it was an argument over not returning the other grrls extra tufs promptly.
I hope it wasn't over some guy.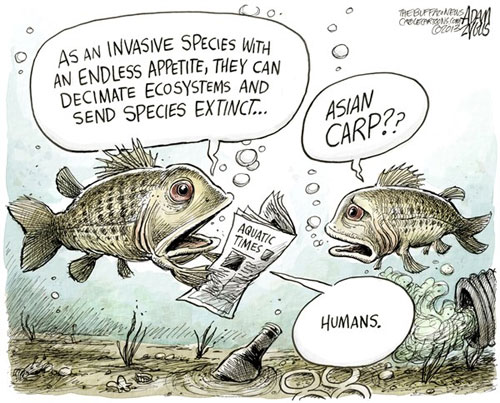 Fresh Water Invasive Species
By Adam Zyglis, The Buffalo News
Distributed to subscribers for publication by Cagle Cartoons, Inc.

I mean, really, in this land where nearly all the "goods are odd" any guy is just not worth coming to fisticuffs over. Ketchikan is the sort of place where a lot of people are actually grateful when someone steals their significant other.
At any rate, whatever they were arguing about probably wasn't nearly as silly as the two guys in Russia who just this week got into a little gunplay when they argued about Kant's "Critique of Pure Reason" while beer drinking one night.
Since no one got seriously wounded I suspect that at least one of the argumentors must have been shot in his "a posteriori" knowledge. Go figure.
But, as usual, I digress.
Anyway, we don't usually pay too much attention to mutual combat in K-town. After all, this is the community that a prominent local artist proudly hails as the "Home of Recreational Fighting."
But when the party of the first part uses a "fish" to flog the party of the second part upside of the face, well, it does get one's attention.
I mean, how often do you get to use the word "fishticuffs?"
Natch, it became a popular post on anti-social media.
It was clearly "sockeye" season, right?
The combatants clearly weren't "chums."
They were playing checkers and one shouted "king me."
One accused the other of being a "pinko."
And so on, and so on.
And no, it was not true that the offender, when asked to explain herself, told the judge she did it "just for the halibut."
Although there was a humorous aside when the judge asked whether the fish was frozen or not.
I am guessing that a frozen fish weapon would raise the incident from misdemeanor to felony status? So it goes.
Anyway, the party of the first part was sentenced to 80 hours of "boat arrest."
Just kidding!
She got community service.
One hopes that it will be spent making fish chowder at a soup kitchen.
Or cudgeling coho crisps sat the next Fight Club night at the Ted Ferry.
Of course this is not the first time that an unusual weapon has been used in Our Fair (and sometimes Felonious) Salmon City.
In the 1980s, at least two different fishing assaults involved "gaff hooks."
In the 1960s, a "pond" worker was charged with assault at pulp mill after brandishing a cork boot in a felonious manner.
And one person WAS once charged with assault at a local fish processor in the early 1990s when he threw a halibut at a co-worker. In that case it WAS frozen!
Everyone knows that a frozen halibut is just as dangerous as a bowler hat in a James Bond movie!
Back in the early 1950s, a local pie auction turned ugly and much whipped cream was tossed around in a potentially dangerous fashion. But no charges were filed, according to the Ketchikan Chronicle, but a "good licking" was administered.
In the early 1980s, a parent wanted charges pressed when a young swimmer at the pool "blatantly and viciously attacked" her child with a "pfd" causing "numerous skin abrasions." Noodle Assault in the First Degree!
Yep, that's Our Town all right.
Now I don't want to underplay the pain and suffering that can occur when someone tries to smite someone else with a steelhead or flay them with a flounder or even cane them with a coho.
I'm sure the complaintant suffered loss of consortium because after all, who wants to "sleep with fishes" or with fish guts as the case may be.
But considering how much snickering was caused by a charge of Bashing with a Black Cod in the Fourth Degree, perhaps the real crime was something different.
Assuming it was a king or coho, it really is a crime to waste good salmon.
Isn't it always better to be smokin' salmon than smokin' mad?
So next time be "in the pink" and not swinging one.


On the Web:
More Columns by Dave Kiffer

Historical Feature Stories by Dave Kiffer
Dave Kiffer is a freelance writer living in Ketchikan, Alaska.
Contact Dave at dave@sitnews.us
Dave Kiffer ©2013


Publish A Letter in SitNews Read Letters/Opinions
SitNews ©2013
Stories In The News
Ketchikan, Alaska