Column
Born to Be Mild
By DAVE KIFFER
September 04, 2013
Wednesday PM

(SitNews) Ketchikan, Alaska - One of the personal benefits to this year's spectacular summer weather has been my ability to put more than 1,500 miles on my motorcycle.
Yes, I can hear all the "iron butts" out there scoffing. Heckfire, they can put on that many miles in a "day and a half."
All I can say is (a) not on a Harley Sportster and (b) not in Ketchikan!
I noted last year that my darling wife Charlotte has always been skeptical about the utility of a motorcycle in Ketchikan. I believe her direct quote was "You want to spend $10,000 on something you will get to ride twice a year???? Are you crazy????"
Well, yes. But that is a subject for a different column.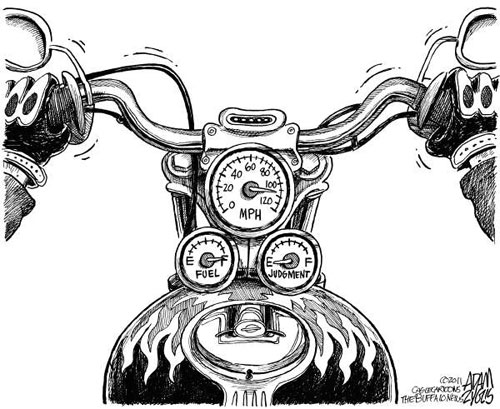 Motorcycle Iron Butts
By Adam Zyglis, The Buffalo News
Distributed to subscribers for publication by Cagle Cartoons, Inc.

Our compromise, of course, was that I would only spend $5,000 for something that I could ride "twice a year" significantly lowering the cost per mile of said "mid life crisis."
My part of the deal would be that I would stop whining about not having a motorcycle and I would stop spending hundreds of dollars a month on motorcycle pin up magazines.
Okay, so I am still buying motorcycle pin up mags.
But, lo and behold, the God of Ketchikan Weather (Precipitatus Inevitabilious) has granted me a summer in which I have gotten to ride my motorcycle more than twice. Quite a bit more than twice in fact.
Just looking at the numbers it would seem that I have driven from Herring Cove to Settlers Cove 53.5 times (your numbers may vary).
Notice that I didn't say Beaver Falls to Settlers Cove (the traditional end to end K-town journey.) I also did not include Last Chance to Harriet Hunt or any of the Road to Nowhere.
I have abso-bloody-lutely no desire to drive a 600 pound street bike with virtually no suspension (Iron Butt indeed) and slicker than slick street tires on any of the local dirt roads.
Nosiree Bobber! No logging roads, no dusty driveways, no motocross jumps at Whipple Creek or the Moore rock pit for me these days!
Once upon a time, when I was younger, fitter and owned smaller motorcycles, I loved to bomb around on the local goat paths. And I used to do all those X-Game tricks.
Of course, they weren't necessarily "tricks" back then. Any mid air 360s or 720s were clearly accidental in those days of yore. You just prayed you didn't "stick the landing" head first.
But now if my Harley inadvertently falls down it will take a Heavy Duty "Life Alert" Heli-Crane to "help it get up" again.
Just as an aside, if you Google "Distance Ketchikan to Herring Cove" it apparently takes "2 Days and 18 hours" to get there from here.
Are you behind a Lincoln Continental being driven by a grandma?
Are you caught up in the South Tongass Bearathon Sightseeing Traffic?
Are you just really enjoying a really, really, really a slow drive on the South Pothole State Highway?
No, you are going from Ketchikan to Herring Cove, Massachusetts (near Provincetown on Cape Cod). You would have to be a major Iron Butt to ride 3,795.5 miles in 2.75 days, but I seriously digress.
And by the way, the K-town roads in general are in the best shape that I can remember. It's just that with a motorcycle you get to experience every imperfection in a manner that leads to serious coccyx shock.
Anyway, it has been a lovely summer for riding. And you really get a sense of how lovely when you experience Ketchikan in the open air.
The joy of wood smoke in your nostrils as you pass Bugge Beach.
The lovely plink of a rare raindrop on your face shield.
The alluring aroma of reposing salmon as you cross the bridges of Stedman Street, Herring Cove or Ward Creek.
These are the things we miss out in our climate controlled Camrys and blue tarped Blazers.
Once upon a time, a friend said that riding a motorcycle is as close as you can get to being a cowboy on a horse rumbling across the high desert.
That's probably a bit too romantic of a view (a cowboy never got dehorsed by a bumble bee striking his face shield at 65 mph), but there is something to having that closer touch of nature.
(At this point, Charlotte is shaking her head and thinking "if you want to really touch nature, get off your iron butt and go for a walk!")
Still, being on a bike lets you more intimately experience the smells and sounds of K-town. Assuming your bike isn't burning oil through unmuffled "performance pipes."
And, goodness knows, you become very well acquainted with every countersunk manhole, pothole and random bump in the road.
Speaking of which, it is 2013 and Harley Davidson is celebrating its 110th anniversary. Isn't it finally time to start putting real suspensions on its bikes? Is it asking too much to not have to visit the chiropractor after every ride longer than a block?
Well, I guess that would be messing around too much with tradition.
At any rate, after so many years of zipping around on high buzzing Universal Japanese Motorcycles, I have to admit there is a different feel to riding a deep rumbling, slow, uncomfortable piece of American Iron around.
It appeals to my "muddle age crisis" spirit of adventure. I may not quite be a cowboy riding the range or a knight heading off to do battle with dragons.
But with bugs in my teeth, by bottom throbbing and my hands soaking up a good vibration buzz, I do feel "Born to Be Mild."


On the Web:
More Columns by Dave Kiffer

Historical Feature Stories by Dave Kiffer
Dave Kiffer is a freelance writer living in Ketchikan, Alaska.
Contact Dave at dave@sitnews.us
Dave Kiffer ©2013


Publish A Letter in SitNews Read Letters/Opinions
SitNews ©2013
Stories In The News
Ketchikan, Alaska