Column: Humor
Potholing Our Way to Down Underville
By DAVE KIFFER
May 29, 2018
Tuesday PM

Ketchikan, Alaska - I have been wracking my brain (yes, I have one) for some time now trying to come up with a way that Ketchikan can profit from its most renewable resource, its pot holes.
First, I thought that maybe we could change our town motto.
I mean, after all it looks like we'll never be able to catch a salmon again in these here parts so maybe "Salmon Capital of the World" is outdated. So I came up with "Ketchikan: Land of Pot holes and Potheads." But that just didn't seem to set the right tone.
Then I thought that we could market our streets to car manufacturers as a ready made test track. Especially since our roads are so bad they are more "off road" than "on."
But having concept cars busting over the bumps at high speeds with dramatic car commercial music in the background would probably be too much of a hazard with the million plus confused pedestrians out and about each summer.
Sure, you could market it as the height in "urban combat driving" but I guess that doesn't quite set the proper tone either.
Then the other night, I was tossing and turning and it came to me. Coober Pedy.
What is a "Coober Pedy" you say?
I'm so glad you asked.
For one thing, I think it is one of the funniest names for a city I have ever heard. The only thing better would be "Goober Pedy" which must be the name of its Appalachian Sister City.
"Coober Pedy" is the most well-known Australian city that you have probably never heard of.
And just what does the name mean?
Well, the local promoters say it is a Anglo mishearing of an aboriginal term meaning "boys' watering hole." I'm sure that it really means something else. Something that can't be repeated on a PG-rated website.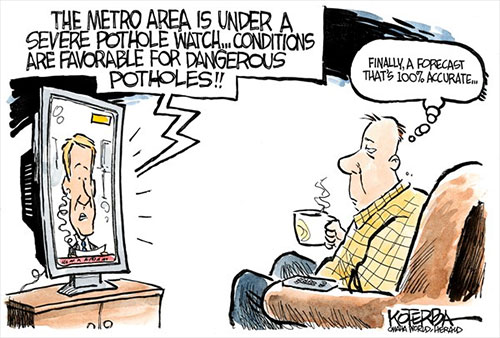 Dangerous Potholes
By Jeff Koterba ©, Omaha World Herald, NE
Distributed to subscribers for publication by Cagle Cartoons, Inc.
Kind of like "Ketchikan." Another famous Anglo mishearing of an aboriginal term.
There are even more logical connections.
Coober Pedy is also considered "nowhere"  to the much more civilized parts of Down Underville.
And Coober Pedy has holes in the ground too. A lot of them.
Some sources says there are nearly 250,000 mine shafts in the area. That's hard to imagine. It would seem like eventually there would be no surface left.
Which might be why Coober Pedy is famous for such things as "underground houses" "underground hotels" and "underground churches."
Only the golf course is apparently above ground. It one giant sand trap that - of course - is pock-marketed with hundreds of "unplayable lie" holes. I believe par at the "Coober Pedy Opal Fields Gold Club"  is around 6.1 million.
But I digress.
You see Coober Pedy is the world's largest producer of opals, so everyone is always digging holes in the ground to find more.
And it also in a blazing hot desert so no one really wants to be above ground during the day time any way. It's pretty hot and dry there, Like 120 at noon hot. And they get a total of 5 inches of precipitation. A year.
That is so hard to imagine. Five inches of precipitation in Ketchikan is......last Thursday.
So how does this town that looks like an outtake from Mad Max (it IS a popular post apocalypse filming locale) relate to Our Fair Salmon City?
Well, put simply they have a lot of holes in the ground (see above) and so do we.
And they actually attract tourists to see those holes.  Yeah, I get that a lot of you think that we already have a lot of tourists already. Maybe we do. But they do spend money when they come.
Imagine this scenario.
Tourist (conveniently from Australia) : Hey mate, how come there are so many holes in the road?
Local: What holes?
Tourist: Those holes!
Local: Oh, you mean THOSE holes?
Tourist: Yeah like one my bus just disappeared into.
Local: Oh that hole.
Tourist: Yeah, that hole.
Local: Those are where we dig out the TANZANITE!!!
Tourist: Really?
Local: Yeah, it's just like Coober Pedy.
Tourist: Good on ya, mate!! Ya got your 'roos loose in the top paddock!
Well, I'm going to take that as a good thing. Real "Fair dinkum" on his part!
Just like Ketchikan's endless supply of potholes.
On the Web:
More Columns by Dave Kiffer

Historical Feature Stories by Dave Kiffer

Notice: Publication Fee Required.
Dave Kiffer ©2018
Contact Dave at dave@sitnews.us
Dave Kiffer is a freelance writer living in Ketchikan, Alaska.


Representations of fact and opinions in comments posted are solely those of the individual posters and do not represent the opinions of Sitnews.
Contact the Editor
SitNews ©2018
Stories In The News
Ketchikan, Alaska

Articles & photographs that appear in SitNews may be protected by copyright and may not be reprinted without written permission from and payment of any required fees to the proper sources.

E-mail your news & photos to editor@sitnews.us

Photographers choosing to submit photographs for publication to SitNews are in doing so granting their permission for publication and for archiving. SitNews does not sell photographs. All requests for purchasing a photograph will be emailed to the photographer.