TSA Worries Have Gone (Snow) Global
By DAVE KIFFER
May 04, 2009
Monday

Ketchikan, Alaska - Somewhere, as I write this, a terrorist is planning to hijack a jet with a snow globe.
"Hmmm, let's see now. I smuggle the globe inside my overstuffed carry-on. Then I subdue the flight attendants by violating all cabin protocol by using the first class bathroom even though I only bought a coach ticket.
"Next, I break open the globe and use the 4.26 ounces of water inside it to short-circuit and open the blast proof cockpit door. Then I blind the pilot with the little sparkly bits and seize control of the airliner. (Insert Snidely Whiplash laugh here)."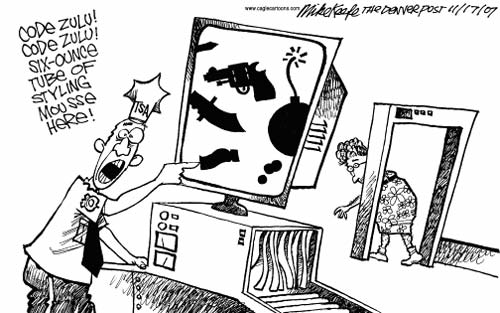 Airport Screening
By Mike Keefe, The Denver Post
Distributed to subscribers for publication by Cagle Cartoons, Inc.

Sure, you laugh as well, but people farther up the IQ chain than me are already anticipating this possibility.
Yes, the Thousands Standing Around (TSA) Brain Trust (and no, that is not necessarily an oxymoron) is concerned about snow globes.
Or at least they were recently.
The last time I flew out of Ketchikan a while back there was a notice at the airport informing passengers that "snow globes" were required to be in checked luggage, not carry-ons.
Of course, anyone foolish enough to put a snow globe in checked baggage is just asking to arrive at their destination to find their extra undies drenched and their best dress shirt covered in more sparkly bits than one of Liberace's pinky rings.
But - as usual - I digress.
I'm not trying to be unreasonable here.
I can certainly get behind requiring passengers to check their "ulus."
You could seriously hurt someone with one of those things.
At the very least you could inadvertently slice through your upright and locked tray table causing a serious malfunction in official landing procedure and hence forcing the plane to overhead every airport between Seattle and Shaktoolik.
And, no, I don't object to limiting the water carry-ons because as space gets smaller in "steerage," the likelihood of an "air rage" incident because someone spilled their water on my laptop increases exponentially.
But snow globes?
What in the world is so dangerous about snow globes?
Snow globes are usually happiness inducement dioramas.
Look at "The Santa Clause" or "Citizen Kane" or "St. Elsewhere."
Well, skip that last one. I - like bazillions of others - was pretty cheesed to find out that the entire series turned out to be just an imagined world inside a big snow globe.
Yet snow globes are apparently personala effecta non grata in the little dark cave, err situation room, in which the TSA does its best counter-terrorism work.
In that netherworld, a snow globe is just as dangerous as a surface to air missile, which you are also required to put in your checked baggage despite Alaska's liberal "lock and load" laws.
Yes, they are much more dangerous than knitting needles.
They are more dangerous than wooden matches.
They are more dangerous than those plastic knives and forks in steerage.
They are even, apparently, more dangerous than those ratty old dentures in the mouth of the old guy sitting next to me that have a smell akin to an odd mixture of gasoline and ammonium nitrate.
But - once again - I digress.
I guess I should be happy that people are taking every threat seriously and are taking action to keep us safer.
And I guess that it is good that the TSA is indeed thinking "globally." Even as it acts loca-lly.
On the Web:
More Columns by Dave Kiffer

Historical Feature Stories by Dave Kiffer
Dave Kiffer is a freelance writer living in Ketchikan, Alaska.
Contact Dave at dave@sitnews.us
Dave Kiffer ©2009


Publish A Letter in SitNews Read Letters/Opinions
Contact the Editor
SitNews ©2009
Stories In The News
Ketchikan, Alaska