Column
We're On a Cruise to Nowhere
By DAVE KIFFER
January 10, 2015
Saturday PM

Ketchikan, Alaska - Last week, my wife Charlotte mentioned something about a knitting cruise. At the time, it just sort of rolled off my brain like a slippery skein of yarn that then needs to be chased half across the room.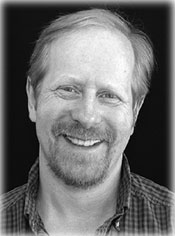 I mean, seriously, why would you spend thousands of dollars to take a cruise ship to Alaska and then spend the whole time sitting and knitting?

Isn't the whole point to a cruise to Alaska to "EXPERIENCE FIRST HAND THE GRANDEUR OF THE LAST FRONTIER?????"

Well, at least that's what the ads say, anyway.

Hard to imagine though that successfully mastering a vertical crocodile stitch is more spectacular than seeing Glacier Bay, but I could be wrong.

On the other hand, just thinking about scallop stitches and crab stitches does make me want to "EXPERIENCE FIRST HAND THE CUISINE OF THE LAST FRONTIER!!!"

But I digress.

Looking a little further into this (spending little more than the time it takes to complete a Front Post Double Crotchet) it does appear that in the same way there is a blog out there for every possible interest.
Certainly, cruise lines are looking to set up cruises that cater to every possible interest group, or at least every possible interest group with members who have the money or the drive to group book cruises or even full ships.

That, of course, leaves off bookers like Poverty Be Us and the Procrastinators Club.

There are music cruises for every genre. Even ones like heavy metal and acid rock, which don't necessarily seem to be the type that would appeal to most cruisers.
Although Mick Jagger and posse are on the side of 70 that means "Satisfaction" is a good nap before watching "Murder She Wrote."
Apparently these head-banger cruises appeal to those ossifying boomers aching for one last "booze cruise."

There are classic television cruises that feature appearances by old stars who you thought died years ago. And probably should have.

There are cruises for folks who don't want to worry about packing lots of clothes, if you get my drift.
Although based on the age of the most of the people I see cruising to Our Fair Salmon City, a cruise for similarly chronologically advanced nudists would probably cross over into the horror/zombie cruise market.

And there are cruises for animal lovers.

A personal fave is the "Meow Meow" cruise on Carnivore lines out of Miami.
It, of course, offers special "treats" for such as seminars for cat lovers. You can even visit the descendants of Ernest Hemingway's six toed cats in Key West.
But, alas, you can't actually bring YOUR cats with you on the cruise. That is absolute shame.
I would love to see a group of tourists descend upon the Hemingway House with about 400 kitties in tow! Ooh, the fur would fly.
But then, I suppose it would cost a fortune - and some really big rollers - to defur both the Carnivore Victory and Key West afterwards.

Another cruise that actually might tempt me is a motorcycle cruise in the Caribbean.
In this case you do get to bring your "baby" on board for the trip and then your bike is offloaded at each port for a special circuit around the island, which actually sounds kinda lame when you stop to think that just about every Caribbean Island looks like every other Caribbean Island and the only real recreations, shopping and sunbathing, are not the sort of things that your motorcycle will get much "mileage" out of.
Oh well.

And then there is my memory of a photo from the Titanic showing a really spiffy early motorcar that has spent the last century still in the hold it was loaded into in Southhampton. I could never do that to my "baby."

Fair enough.

There seem to be a lot of supernatural themed cruises.
Ghost cruises, psychics cruises, even a "Dark Shadows" themed cruise which apparently visits some locations where the main characters met according to the story line.
Good thing that Forks, Washington is not on the ocean otherwise there would also sorts of "Twilight" cruises docking there.

Of course, that might be considered a good thing. At least the jewelry selection in the town would improve. And that would be a boon to all those "women of a certain age" who seem to think the only good man is an "undead" one.

Speaking of supernatural cruises, there apparently was "Dracula" related cruise to Alaska last year. I missed it because it was too sunny for me come out of my coffin that week.

I heard that the great, great, great, great, great, great, great, great grand nephew of Bram Stocker was on the cruise, giving expert commentary. As expert as I suppose is possible under the circumstances.

Even though Alaska is certainly not shy of weird occurrences and wacky creatures, I have yet to hear a credible (and by credible, I mean it has to have been "heard about" by at least two patrons of the bar you are in) report of a vampire in Alaskan.
Blood sucking mosquitoes, yes. Blood thirsty bears, sure. Blood squeezing oil men, absolutely. But no vampires.

And I gather none were "outted" during the cruise either.

Of course, as helpful as I always am, I have some suggestions for cruise lines trying to diversify their portfolio.

The obvious one is a Kushtaka or Big Foot Cruise.
Natch, the ship would have to anchor in Thomas Bay and then the participants could choose to wander the dark woods, clothing optional, in search of either large foot prints or the eerie cry of a baby animal in the woods luring them into the water.
Or perhaps the cruise could visit the sites on Prince of Wales where sasquatch has been reported to turn trees upside down in the muskeg. Selfies with upside down trees that were wielded by big foots are sure to be very popular.
And how about a bear (as opposed to bare, see above) cruise. Currently visitors spend a gazillion dollars flying out to remote sites for bear viewing opportunities. Shouldn't they be able to just view the bears on the Lido Deck? Even better, we can have some free range bears allowed to wander all the passenger decks. Getting into a glass elevator with a 350-pound black bear definitely allows visitors to "EXPERIENCE FIRST HAND THE WILDLIFE OF THE LAST FRONTIER."
I thought about the idea of a "rain" cruise since all the visitors just love to hear about our annual 14 feet of wetness. But, really, that just sounds spending a week in a submarine. As much as our visitors say they want "Our Lifestyle" to be "Their Reward," they really don't mean it.
Finally, I would like to suggest a "Nowhere" cruise.
Everyone seems to have about something to Nowhere. A Road to Nowhere. A Race to Nowhere. A Pipeline to Nowhere. And, drum roll please, a Bridge to Nowhere.
Well, and this will come as no surprise, Wikipedia - the arbiter of all that is officially official knowledge in our modern world - has decreed that the proposed Gravina Island Bridge (actually the Ralph M. Bartholomew Veterans Memorial Bridge) is the BRIDGE TO NOWHERE.
Which means that Gravina Island is indeed "Nowhere." So therefore we can have a Cruise to Nowhere. It just needs to tie up on Gravina or we can liter passengers across Tongass Narrows. Or even better we can have people fly in to Gravina ("Flight to Nowhere") and then take a short cruise around Southern Southeast and come back to Gravina ("Cruise to Nowhere") and visitors can have double the "Nowhere" to brag about to their friends back home about.
Heck, we could take them on a bus excursion on the South Gravina Highway ("Road to Nowhere"). Think of it, triple the "Nowhere" of any other cruise! Awesome.
I, for one, am certain that when cruisers go home, they are dying to say "Nowhere" when their mail person or grocer asks them where they went.
Heck, it would have to be more interesting than admitting they were on a "Dark Shadows" or "Meow, Meow" cruise.





On the Web:
More Columns by Dave Kiffer

Historical Feature Stories by Dave Kiffer

Dave Kiffer is a freelance writer living in Ketchikan, Alaska.
Contact Dave at dave@sitnews.us
Dave Kiffer ©2015


Publish A Letter
Letter to the Editor
editor@sitnews.us
SitNews ©2015
Stories In The News
Ketchikan, Alaska