An Evening of Jazz and Blues

Concert and scholarship fund honors memory of Sam Pitcher
November 17, 2004
Wednesday

Ketchikan, Alaska - The second annual Sam Pitcher Memorial Scholarship Concert will take place Tuesday, November 23 at 7pm at the Kayhi Auditorium. "An Evening of Jazz and Blues" will feature the Discovery Jazz Club, the Soundwaves Jazz Club, the Windjammers Jazz Club and the Kayhi Jazz Ensemble. Donations for the scholarship fund will be accepted at the door.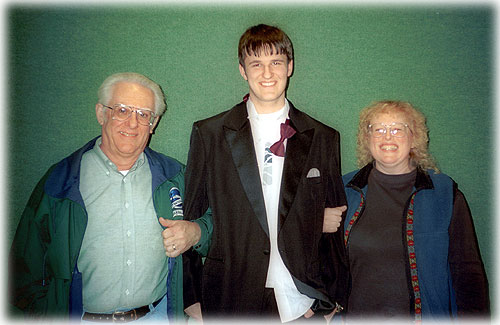 Roy and Tina McPherson of McPherson's Music and Sam Pitcher
following a Kayhi Wind Ensemble concert in April 2003.

These groups feature many talented young musicians in grades 7 - 12. Some of the featured soloists will be Andrew Goodwin on trombone on "Fields of Gold'" Angela Entwit on alto saxophone on "Just Before Sunset," Samantha Mestas on alto saxophone on "Send in the Clowns," Ron Brandow on flugelhorn on "Velvet Rain," and Courtney Kiffer on alto saxophone on "The Magician". "Original People" will feature the entire trombone section as well as solos from Weston Corporon on trombone and Amber Kiffer on trumpet.
The concert and scholarship fund was set up to honor the memory of Seming "Sam" Pitcher, a Kayhi student who died from an inflammation of his heart in April 2003. Sam was a gifted young man who enjoyed music. He played trumpet, flugelhorn and electric guitar in all the bands that will be performing in this concert as well as The Rubber Band and the Kayhi Wind Ensemble. Sam was also able to benefit from participation in the Sitka Fine Arts Camp and Interlochen Fine Arts Camp in Michigan. The scholarship is intended to help other young musicians in grades 7 - 12 attend similar summer music programs.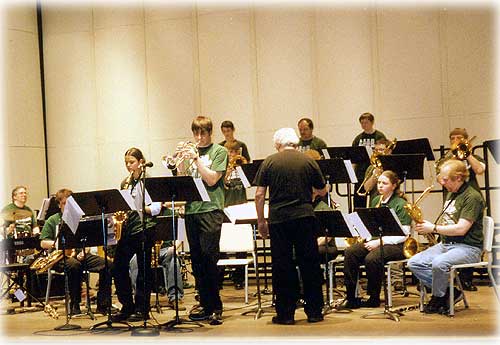 Roy McPherson conducts the Windjammer's at the 2003 Jerry Galley Memorial Scholarship concert and features Allison Netterer and Sam soloing out front.


Scholarship recipients in 2003 were sisters Amber and Courtney Kiffer. Amber applied her scholarship towards attending a jazz workshop in Louisville Kentucky and another in Port Townsend, Washington. She stated, "I had the time of my life" and "was immersed in music." She got to meet and take classes from well known jazz trumpet players such as Ingrid Jensen and Bobby Shew. Courtney attended the Sitka Fine Arts camp where she "learned a lot, made new friends, and had a lot of fun!" She also stated, "It really sparked my interest in music."
Applications for scholarships from the fund and more information are available at McPherson Music, the Ketchikan Area Arts & Humanities Council, and the Ketchikan High School counselor's office. Up to $1000 in scholarships will be awarded in 2005 based on the applicant's musical ability, goals, motivation and, to a lesser extent, on financial need. Applications are due February 1, 2005.
The Sam Pitcher Memorial Fund is an Advisory Group of the Ketchikan Area Arts and Humanities Council. Tax deductible contributions can be made to the scholarship fund in care of KAAHC at 716 Totem Way, Ketchikan.
Related story:
The Sam Pitcher Music Scholarships Announced; Amber Kiffer and Courtney Kiffer Each Receive Awards...
SitNews - March 09, 2004

E-mail your news & photos to editor@sitnews.org


Publish A Letter on SitNews Read Letters/Opinions
Submit A Letter to the Editor

Sitnews
Stories In The News
Ketchikan, Alaska