Forever thankful to those who serve
by M.C. Kauffman
November 12, 2004
Friday
Ketchikan, Alaska - Addressing those who gathered at Ketchikan's Centennial Square Thursday to honor the patriotism and service of all American veterans, Alaska's American Legion Commander and local resident Jim Van Horn quoted writer Cynthia Ozick saying those things that most deserve our gratitude are often taken for granted - freedom, our Constitution, a good job, a wonderful family. Van Horn said our military veterans should be on that gratitude list.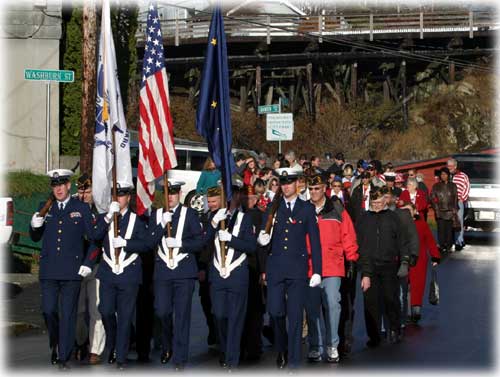 Parade of Colors from American Legion Post #3 to Centennial Square...
Photograph by Carl Thompson

Commander Van Horn said, "By honoring veterans we remember their valor - and we reflect on why they fought." He continued saying, "Veterans fought to preserve the values of America. They fought to preserve our right to life, liberty and the pursuit of happiness. They fought because our country asked them to take up arms. They went where they were sent. Did what they had to do. And prayed they would survive and return home to family and friends. Some did not. We remember them with solemn ceremonies every Memorial Day."
In his address, Van Horn said, "However, Veterans Day is for those veterans who are still here. Men and women who are making a difference now in communities like ours around the nation." Van Horn said today there are nearly 25 million veterans with less than half of them over the age of 65. He said, if you look around those attending today, you might ask where are the younger veterans? Van Horn said, "Most likely, they are at work right now - making a difference for tomorrow. They are teachers, law enforcement officers, Doctors, Nurses, Engineers. Name the skill - you'll find veterans working there." He said, "We understand that they need to be working today. But in years to come - when you and I are no longer alive - they will be here. They will not forget us, just as we do not forget those who came before us."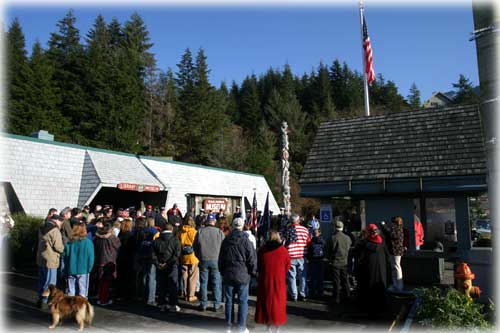 Jim Van Horn addresses those gathered at Ketchikan's Centennial Square Thursday to honor the patriotism and service all American veterans.
Photograph by Carl Thompson

Speaking about our troops today, Van Horn said "There are countless stories to be found about the positive efforts of our troops." He said, "We share a strong bond - a love of country and a devotion to our comrades." Van Horn said these young men and women ask nothing in return but they are doing what needs to be done just as those who came before them. He said, "They don't do it for pay. They don't do it for glory. They do it because they have been chosen - have been privileged - to pay the price for freedom."
Van Horn said, "As we honor veterans today - we will do well to remember that our freedom did not come easy. On the battlefields of the globe, America's finest men and women have shed blood and tears. Not for recognition or reward - but simply because they love America - and they love those who share the burden with them."
In his closing remarks, Van Horn said, "So, I ask: Why are we here today? I trust your answer will be - because we care. We shall never take our veterans for granted. We shall always remember them. We are forever thankful to those who served and those serving."
The faces of some of the brave young men and women from
Ketchikan and Alaska who serve today....

"We are forever thankful to those who served and those serving."...
Alaska American Legion Commander Jim Van Horn
Jason Landstrom, US Army; Brian Pyles, USAF; Margret Collins, USMC; James Thompson, US Navy; Keith E. Thomas, US Navy; Michael Moniak, US Army; Latseen Benson, US Army; Jeremy Mutart, US Army; Zack Pilcher, USMC; Trevor Sayer, USMC; Ryan Pickrell, USMC; and Nick Charrier, USMC... More about Our Troops
Veterans Day: A Time To Pay Tribute by Alaska Governor Frank Murkowski
A day to honor those who answered the call to serve... by U.S. Senator Ted Stevens
Remembering the Sacrifice of Our Troops by Senator U.S. Lisa Murkowski
New Vets by Alaska Congressman Don Young
E-mail your news & photos to editor@sitnews.org


Publish A Letter on SitNews Read Letters/Opinions
Submit A Letter to the Editor

Sitnews
Stories In The News
Ketchikan, Alaska