Oldest Commissioned Cutter Plankowner Reunited With Ship After 61 Years
by EM2 Todd D. Buncie
October 08, 2007
Monday

Ketchikan, Alaska - Veteran Stan W. Gutowski, Sr., a Pennsylvania resident, was reunited with his ship from World War II in Ketchikan on August 29, 2007. Gutowski was a plankowner (initial crew at commissioning) of USS SHACKLE (ARS 9) commissioned February 5, 1944. SHACKLE was transferred from the U.S. Navy to the U.S. Coast Guard and commissioned as Coast Guard Cutter ACUSHNET (WMEC 167) on August 23, 1946.
Gutowski was a machinist's mate and salvage diver aboard SHACKLE from 1944 until 1946. He had last seen the ship in Pearl Harbor in 1946, when he was transferred to a different unit.
Gutowski, known to his shipmates as "Ski," only recently learned that SHACKLE (ACUSHNET) was still active when his grandson found an article about ACUSHNET on the internet when the ship became the Coast Guard's Oldest Commissioned Cutter in February 2007. He then began making plans for a trip to Ketchikan.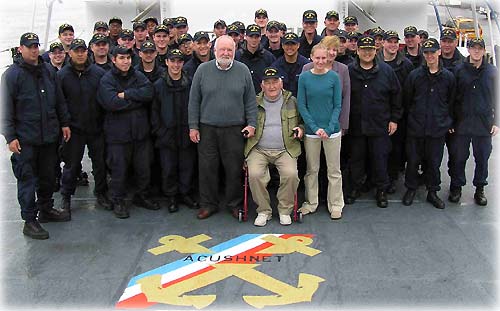 Former USS SHACKLE crewmember Stan W. Gutowski (seated center with family, Stan, Diane, and Tiffany) reunites with his former ship and her present crew on August 29th.
Photo by ENS Andrew M. Stec

During his visit he took a tour of the ship and spent time in the crew's lounge sharing his historical experiences with the present crew while looking at pictures from his tour. Ski talked about his personal experiences during SHACKLE's numerous rescue and salvage operations and made mention of three significant duties SHACKLE had undertaken during the war.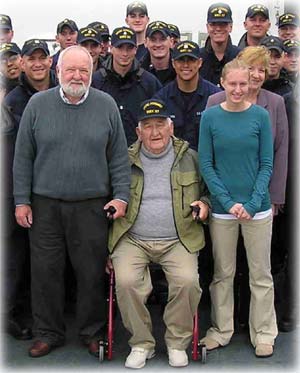 Former USS SHACKLE crewmember Stan W. Gutowski (seated center with family, Stan, Diane, and Tiffany) reunites with his former ship and her present crew on August 29th.
Photo by ENS Andrew M. Stec
First, SHACKLE survived a Japanese torpedo attack on the U.S. fleet in Buckner Bay and then assisted the damaged USS PENNSYLVANIA (DD 38) and played a crucial role in keeping the ship afloat. While SHACKLE's crew worked long hours dewatering and patching the hull of the PENNSYLVANIA, Ski and his fellow divers were charged with recovering the bodies of 20 sailors who had made the ultimate sacrifice. The quick response from the SHACKLE ensured the PENNSYLVANIA could sail to safety and be put to further service in the war effort.
The salvage of the USS MACAW (ARS 11) at Midway was another story Ski shared with the crew. MACAW ran aground while attempting to rescue the submarine USS FLIER and began to list and slide into deeper water because of a storm. As a result, Midway's main shipping channel was blocked. The crew of MACAW was evacuated and SHACKLE was tasked with clearing the Midway channel. SHACKLE and its crew spent hundreds of hours setting two and a half tons of demolition charges (SHACLE frequently sailed with up to 30 tons of explosives) which were used to cut away MACAW's superstructure and remove the wreck. The mission was a success; the channel was cleared to enable crucial shipping to enter port.
Ski also spoke of the SHACKLE's duties as a minesweeper in the East China Sea. This ship removed or destroyed over 200 mines to ensure the save transit of U. S. battleships. There were many other successful salvage operations conducted by SHACKLE in the Pacific Theater during WWII. Some 44 diving salvage efforts and 55 rescues were conducted at Midway, Eniwetok, Saipan, Guam, Iwo Jima, Okinawa, and Wake Island. SHACKLE earned three battle stars in the execution of these duties. The crew learned a lot about their ship and bolstered their pride in their historical ship.
When asked how he felt seeing the ship for the first time in 61 years, Ski said he couldn't believe how small the ship looked due to the extreme low tide in Ketchikan, and initially he was not sure if it was the same one. Once he crossed the brow and saw the whole ship, Ski asserted, "This is SHACKLE!"
The USCGC ACUSHNET (WMEC - 167) is homeported in Ketchikan, Alaska. The unit's missions consist of fisheries law enforcement, search and rescue, and homeland security, primarily in the Gulf of Alaska and Bering Sea.
The ACUSHNET is the Oldest Commissioned Cutter in the Coast Guard fleet and proudly bears the gold hull numbers. Most recently, her crew earned the Meritorious Unit Commendation ribbon for outstanding readiness and operational excellence.

Related Articles:
Coast Guard Cutter Acushnet To Be Crowned Next "Queen of the Fleet"
http://www.sitnews.us/0107news/012307/012307_acushnet.html

"Ignore Blizzard -- Return To Ship" by Sid Morris USCG, July 1951 -July 1954
http://www.sitnews.net/Acushnet/022403_SidMorris.html

Source of News:
United States Coast Guard - Station Ketchikan
www.uscg.mil

E-mail your news & photos to editor@sitnews.us


Publish A Letter in SitNews Read Letters/Opinions
Contact the Editor
SitNews ©2007
Stories In The News
Ketchikan, Alaska