Coast Guard Cutter Acushnet To Be Crowned Next "Queen of the Fleet"

January 23, 2007
Tuesday

Ketchikan, Alaska - With the de-commissioning of the Coast Guard cutter Storis on Feb. 8, 2007, the Ketchikan-based Coast Guard cutter Acushnet will be crowned the next Coast Guard "Queen of the Fleet".
The title "Queen of the Fleet" is a distinction given to the oldest commissioned cutter in the fleet. The Acushnet will celebrate its 63rd birthday Feb. 5, 2007.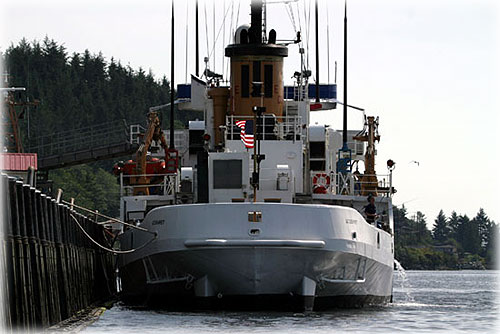 Ketchikan-based Coast Guard Cutter Acushnet
Photograph by Carl Thompson
www.carlsphotos.com

Acushnet was originally commissioned as a Diver Class Fleet Rescue and Salvage Vessel, USS SHACKLE (ARS 9) for the U.S. Navy Feb. 5, 1944. On August 23, 1946, Acushnet was commissioned as an Auxiliary Tug (WAT) in the US Coast Guard. That same year, two other U.S. Navy Diver Class vessels: the Escape (ex-ARS 6) and Yocona (ex-SEIZE ARS 26) also joined the Coast Guard fleet as Auxiliary Tugs (WAT).
Unlike any other ship in the Coast Guard, Acushnet has served in the Navy and Coast Guard as a Fleet Rescue and Salvage Vessel (ARS), an Auxiliary Tug (WAT), an oceanographic vessel (WAGO), and a medium endurance cutter (WMEC). It is the second Coast Guard cutter to bear the name Acushnet and will be the oldest medium endurance cutter still in operation after the Storis.
While both sister ships, Yocona and Escape, have been decommissioned, Acushnet continues to serve as a medium endurance cutter in the Gulf of Alaska and Bering Sea.
Acushnet's operational history as USS Shackle includes participation in the salvage efforts at Pearl Harbor, Midway Island, Eniwetok, Guam, Saipan, and Japan. The salvage ship also played active roles in the battles over Iwo Jima and Okinawa. During WWII it earned three battle stars.
Acushnet's first homeport as a Coast Guard tug was Portland, Maine, where its crew earned a valiant reputation as a dependable friend to fishermen and boaters in distress. From 1968 to 1978.
Acushnet supported the National Data Buoy Project while designated as an oceanographic vessel primarily in San Diego (1968-1971) and then in Gulfport, Miss. In 1978, Acushnet was reclassified as a medium endurance cutter primarily to enforce maritime laws in the Gulf of Mexico, Atlantic Ocean and Caribbean Sea. Acushnet crews also executed other duties, such as environmental protection, boating safety, search and rescue, and participated in the largest immigration crisis in the history of the Coast Guard, the Mariel Boat lift from Cuba..
In 1990, Acushnet changed homeports to Eureka, Calif., and patrolled the West Coast from the southern waters of California to the northern waters of the Bering Sea. Acushnet changed homeport to Ketchikan, Alaska in 1998 from where it now patrols primarily the Gulf of Alaska and Bering Sea.
Nicknamed "The 'A' Team in Alaskan Fisheries," Acushnet is credited with handling the Alaskan environment more effectively than most other cutters even though it lacks a flight deck and modern weapons systems. Its current missions consist of homeland defense, search and rescue, and law enforcement.
During the course of 60 years of service, Acushnet crews have received the following awards for exemplary service: World War II Victory Medal, Asiatic-Pacific Campaign Medal, American Campaign Medal, 2 Coast Guard Unit Commendations, 5 Coast Guard Meritorious Unit Commendations, 7 Coast Guard "E" Ribbons, Navy Occupation Service Medal, 3 National Defense Service Medals, 2 Humanitarian Service Medals, and 2 Coast Guard Special Operation Ribbons.
Source of News:
United States Coast Guard
www.uscg.mil

E-mail your news & photos to editor@sitnews.us


Publish A Letter on SitNews Read Letters/Opinions
Contact the Editor
SitNews ©2006
Stories In The News
Ketchikan, Alaska