Front Page Photo
'Leask Lakes Hikers'
Photo by Chris Wilhelm

August 24, 2004
Tuesday

Ketchikan, Alaska - According to information provided by Laura Baker, sixteen people made it to the upper Leask Lakes Saturday. Upon arrival the group was shown on a map where they were in relation to Leask Creek, the Upper George Inlet, the Naha and Wolf Lake. The group had lunch and afterwards some people left right away. Ten people went swimming in the lake while others lounged in the sun.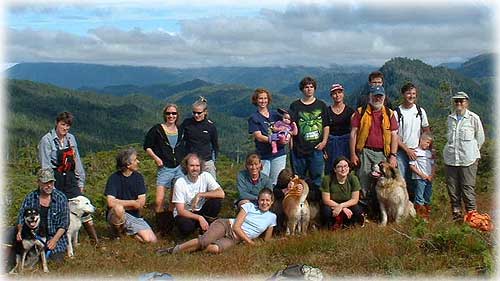 Some of the hikers pictured are Dave Lieben & daughter Sara held by Kineret Sherman, Emily Ferry, Joey Prows & dog is Perio, Frank Jakob, Emily Moore, Amanda Davis, Mike Sallee and dog Nanna, Jim Mitchell, Roy Mitchell, Laura Baker, and Mary Jo Turek.
Photo by Chris Wilhelm

Baker said being at the Lakes in the wilderness was quite an enjoyable experience. They saw wolf and bear scat, a woodpecker and water fowl. The group spoke about the muskeg and how it is so dry that it crunched under their feet and one could sit on places in the muskeg and not get wet. Those from the Southeast noted that this is quite unusual.
Additionally, more flagging was put up in order to help define the trail for future users. Baker said the whole crew made it back in one piece, and there were no injuries.

Related:
New Group Hosts Hike to Leask Lakes; Kicks Off Collaborative Effort to Maximize Ketchikan's Value from Use of Backyard Treasure...
August 20, 2004
E-mail your news & photos to editor@sitnews.org


Post a Comment View Comments
Submit an Opinion - Letter

Sitnews
Stories In The News
Ketchikan, Alaska