Governor Reacts to Protest by Greenpeace Activists

14 Greenpeace activists removed but Tongass protest continues

August 05, 2004
Thursday

Southeast Alaska - Governor Frank Murkowski reacted strongly Wednesday to the protest staged near Petersburg by Greenpeace - a group described in a release by the Governor as an extreme outside environmental group. The organization is protesting timber harvesting and road building activity on Kupreanof Island in Southeast Alaska. Members have chained themselves to heavy equipment and barricaded a road in a way that has endangered their well-being and prevented local Alaskan companies from working.
"The actions of this outside environmental group do nothing to resolve issues on the Tongass," said the Governor. "Alaskans have a long history of disagreeing with each other and using the public process and the courts to resolve their disputes. We may not always agree, but up to now, opponents of logging have not resorted to scare tactics or illegal actions to get their way," said Governor Murkowski.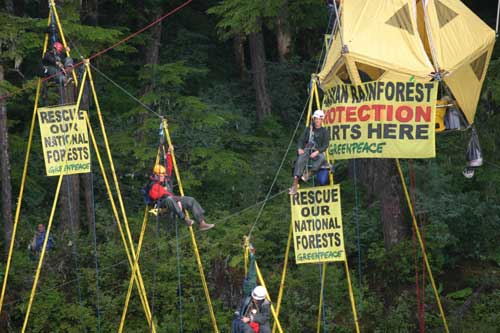 Tongass National Forest, Kupreanof Island, Alaska. - August 03, 2004
USA Greenpeace activists and local residents stopped roadbuilding and timber operation Tuesday in an area of the Alaskan rainforest where Greenpeace says clearcutting is taking place. Above a banner reading, "Ancient Forest Protections Starts Here", activists suspend a specially engineered structure high over logging roads in a forest that is slated to be cut. Other volunteers place themselves in the path of trucks and bulldozers, while a group of Alaskan lock themselves to roadbuilding equipment. Greenpeace said they have "set up these stations as part of its escalating campaign for a moratorium on industrial logging on public lands and for greater protection and restoration of endangered forests."
Photograph courtesy Les Stone/Greenpeace ©2004
---

The timber sale in question, the Finger Point sale, has cleared scrutiny under the National Environmental Policy Act and associated legal hurdles. The NEPA process provides for extensive public input on the proposed action. Greenpeace is currently preventing road construction crews from working to provide access to the sale.
According to the Office of the Governor, the Greenpeace organization has also stopped a clean-up operation involving a previously harvested timber sale. The sale purchaser was removing felled and bucked timber on the sale after the harvest had been completed. The Forest Service had received criticism in the past for lack of clean-up on previous sales.
On their trip to Alaska, Greenpeace made public presentations in Craig and Hydaburg. At the Craig presentation, activists were quoted as referring to a "war in the woods" and the group's adversarial tone and use of threatening language frightened some residents, states a news release from the Governor.
"This is the antithesis of good public dialogue," said the Governor. "The group's blatant disregard for the communities and economy of Southeast Alaska, their vitriolic rhetoric and their mean-spirited and antagonistic actions are un-Alaskan and unacceptable."
The Governor also noted that Greenpeace is protesting logging sales and associated road building that support a reduced, but critical niche of the Southeast economy. Timber harvest has declined dramatically since the 1980's, but the three small, family-owned sawmills in Southeast Alaska play an important role in the local economy.
"I have been a strong supporter of the timber industry in Southeast Alaska and will continue to advocate for our hard-working mill owners and their employees," Murkowski said. "Timber harvest can occur on the Tongass in an environmentally responsible manner. We all have an interest in a healthy Tongass National Forest, but the Greenpeace tactics do nothing to assist in resolving our differences."
The activists, including seven Alaskans, launched the Forest Rescue Station Tuesday by blocking logging roads near the Finger Point Timber Sale. The Greenpeace activists are demanding an end to industrial logging in public forests across the country. The protest is the first forest occupation in the Tongass.
According to information provided by Greenpeace, 36 hours after stopping roadbuilding and timber operations in the Alaskan rainforest, several Greenpeace activists were removed by authorities from Kupreanof Island, taken to Petersburg, cited and released Wednesday evening. However, eight protesters, seven of whom are Alaska residents, remain on Kupreanof and continue to block a road that leads to the controversial Finger Point Timber Sale.
Three of the cited activists were in a Forest Rescue Station, a multisided dome suspended from trees 30 feet in the air near the Tonka Log Transfer Facility (LTF). Six others were suspended from metal A-frames that were balanced and tethered together, secured to trees by industrial cable. All nine were forced to leave their positions when the Forest Service brought in a "cherry picker" and began interfering with rigging supporting the Station and the A-frames, compromising the safety of the activists. Five additional activists, acting as ground support and safety officers, were also removed and cited.
"Our activists are willing to place their bodies on the line, but safety is always a paramount concern for Greenpeace," said Greenpeace Campaigns Director Rose Young, speaking from Juneau. "Although these volunteers were forced to end their part of the blockade, we continue to prevent construction of the Finger Point Road."
On Wednesday, according to Greenpeace, the remaining activists were locked to roadbuilding equipment approximately two miles away from the Tonka LTF. No communication has been received from this group since Wednesday afternoon so Greenpeace stated it is assumed that police confiscated any communication equipment they might have had. The activists were prepared to stay through Wednesday night.
The names of the cited activists were released by Greenpeace. They include Scott Anderson, 30, of Moab, Utah; James Brady, 37, of Little Rock, Ark.; Peter Bradley, 40, of Falls Church, Va.; Tom Cohen, 37, of San Francisco, Calif.; Scott Crowe, 37, of Austin, Texas; Heath Hansen, 24, of Washington, D.C.; Meghan Houlihan, 35, of Putney, Vt.; Mike Johnson, 21, of Daly City, Calif.; Kimberly Medeiros, 29, of Amherst, Mass.; Nena Osmers, 28, of Dusseldorf, Germany; Jeremy Paster, 33, of Silver Spring, Md.; John Piccone, 39, of Los Angeles, Calif.; Kirsten Randall, 30, of Olympia, Wash.; and Adrienne Stauffer, 24, of Washington, D.C.

Previous articles:
Greenpeace Vessle Arctic Sunrise Arrives In Ketchikan...
Tuesday - July 13, 2004

State charges Greenpeace for violating Alaska environmental laws...
Thursday - July 22, 2004

Source of News:
Office of the Governor
Web Site

Greenpeace
Web Site
E-mail your news & photos to editor@sitnews.org


Post a Comment View Comments
Submit an Opinion - Letter

Sitnews
Stories In The News
Ketchikan, Alaska