Pattison holds lead with 41.9 pound king at end of derby's 1st week
By M.C. Kauffman

May 30, 2006
Tuesday

Ketchikan, Alaska - Leading unofficially at the close Monday evening of the first weekend of the 59th King Salmon Derby is long time Ketchikan resident Misty Pattison. Pattison moved into the unofficial first place position with a 41.9 pound king. Pattison said she was very exicited about sitting in the first place spot on the derby ladder and plans to keep fishing until the derby ends. She said she caught her big king around Pup Island which is north of Ketchikan and near the Knudson Cove Marina.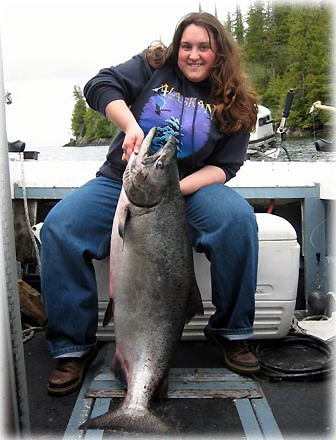 Misty Pattison & her 41.9 pound king salmon
Photo by Sam Willett
Before the start of the derby on May 21st, Wade Jardine also caught a big king salmon weighing in at just over 52 pounds in the Knudson Cove area. However, Jardine's good luck came a week too early as the 59th Annual King Salmon Derby started at 7:00 am, Saturday, May 27th. "Like I say good luck on the wrong weekend," said Jardine.
According to Ketchikan CHARR who sponsors the derby, over 1,200 anglers checked out to fish over the Memorial Day weekend with 314 kings entered in the derby.
Listed unofficially in second place at the close of the first weekend of the 2006 derby is Mary Whitesides with a 41.5 pound king salmon, and following close behind Whitesides is Kenneth Comstock with a 41.4 pound king salmon.
The winners of the unofficial special prize categories for derby week one are:
Biggest King in a 16 foot or less Skiff: Henry Brannon, 34.6# King
Angler between the age of 6 and 15 for Week 1: Connor Mickel, 31.1# King
Angler with Alaska Fish & Game Permanent Fishing License: Mary Whitesides, 41.5# King
Week one daily drawings winners are:
Day 1 - May 27, 2006: Kris Williams, 19.1# King
Day 2 - May 28, 2006: Mark Johnson, 19.4# King
Day 3 - May 29, 2006: John Dempsey, 25.6# King
More than $80,000 in cash and prizes will be awarded in 2006. There are 30 prize rungs on the ladder in addition to a variety of special prize categories. This year's derby winner will take home more than $12,000 in cash plus other prizes.
According to Ketchikan CHARR, derby tickets for the 2006 Ketchikan King Salmon Derby are available at the following ticket sale outlets: Clover Pass Resort, Knudson Cove Marina, Lighthouse Grocery, Safeway, Newtown Liquor, Murray Pacific, Tongass Trading, and South Tongass Service.
Week two of the 59th Annual King Salmon Derby will be held on June 3rd & 4th and the final weekend, week three, will be held on June 10th and 11th.
Craig Cannon claimed the top prize last year with a 49.7 pound king.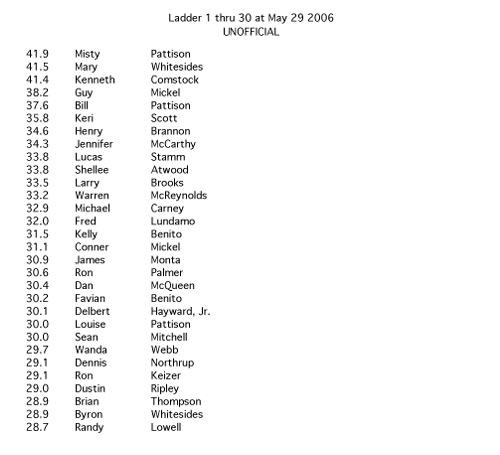 Related story:
Good Luck... But the Wrong Weekend! By M.C. Kauffman - With the 59th Annual Ketchikan CHARR King Salmon Derby starting Saturday, Wade Jardine said he had good luck, but on the wrong weekend! - More...
Tuesday - May 23, 2006
On the Web:
59th Annual Ketchikan CHARR King Salmon Derby
http://www.ketchikancharr.com/Templates/
E-mail your news & photos to editor@sitnews.us


Publish A Letter on SitNews Read Letters/Opinions
Contact the Editor
SitNews
Stories In The News
Ketchikan, Alaska