Good Luck... But the Wrong Weekend!
By M.C. Kauffman

May 23, 2006
Tuesday

Ketchikan, Alaska - With the 59th Annual Ketchikan CHARR King Salmon Derby starting Saturday, Wade Jardine said he had good luck, but on the wrong weekend!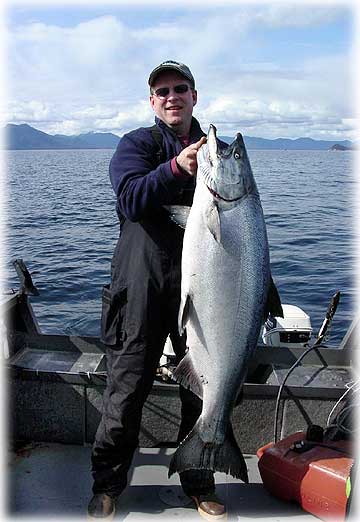 Good luck on the wrong weekend!
Wade Jardine and his 52 pound King Salmon
Photograph by Nikki Jardine
Jardine and his wife Nikki were fishing this past Sunday just off Survey Point. "It was slow going for the first few hours, so I changed my gear and put it out for another go around and all hell broke loose," said Jardine. "I was sure I had a halibut on by the way it took off for bottom."
When Jardine looked over to his wife's down rigger, it was banging up and down. He said, "I thought WOW a double hook up! I worked it up and saw my wife's flasher and bait rapped around my down rigger and my heart sank. I thought there was no way I would get this fish in the boat." Jardine said, "But God was watching over my shoulder cause some how I got all the gear free and my wife scooped him up in the net."
The good luck catch was a King Salmon weighing in at just over 52 pounds. Jardine said, "Like I say good luck on the wrong weekend." Jardine's good luck came a week early as the 59th Annual King Salmon Derby starts at 7:00 am, Saturday, May 27th.
More than $80,000 in cash and prizes will be awarded in 2006. There are 30 prize rungs on the ladder in addition to a variety of special prize categories. This year's derby winner will take home more than $12,000 in cash plus other prizes.
According to Ketchikan CHARR, derby tickets for the 2006 Ketchikan King Salmon Derby are available at the following ticket sale outlets: Clover Pass Resort, Knudson Cove Marina, Lighthouse Grocery, Safeway, Newtown Liquor, Murray Pacific, Tongass Trading, and South Tongass Service.
Craig Cannon claimed the top prize last year with a 49.7 pound king.


On the Web:
59th Annual Ketchikan CHARR King Salmon Debry
http://www.ketchikancharr.com/Templates/


Publish A Letter on SitNews
Read Letters/Opinions
Contact the Editor
SitNews
Stories In The News
Ketchikan, Alaska