New Ketchikan Canopy Adventure Opens This Week
by M.C. Kauffman
May 31, 2005
Tuesday

Ketchikan, Alaska - A new canopy adventure in Ketchikan, the Alaska Canopy Adventure and Wildlife Expedition, opens to the public this week at the Alaska Rainforest Sanctuary. Professional photographer Seanna O'Sullivan photographed the first run-through of the new tour Sunday to share with SitNews' readers. As O'Sullivan's captures in her photographs, this new adventure is not for the faint-hearted as guests will tour the rainforest while gliding at heights up to 135-feet.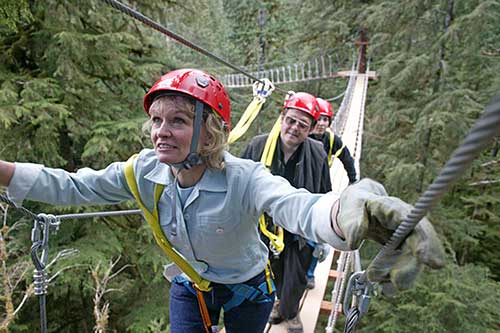 First run-through of the new tour...
Seanna O'Sullivan ©2005

The Canopy Adventure and Wildlife Expedition tour begins with a quarter mile hike on uneven terrain. A word to the wise, don't take hike out if you're afraid of heights! Heights? Oh yes! This eco-adventure tour combines the rainforest canopy with a flight over seven zip lines and 4,500 feet of high tension cables and three aerial bridges. There is also a ground-based network of nature trails and boardwalks. Along the way, there are also opportunities to watch for wildlife from tree platforms and discover a hidden forest waterfall.
Before the tour begins professionally trained guides provide a detailed safety briefing and outfit those daring to experience the adventure with state of the art safety equipment. After hiking up to the first platform, the guides progressively ease the group into the forest canopy along cables ranging from a short 175 feet to the nearly 1000 foot plus pounding "Ben's Revenge".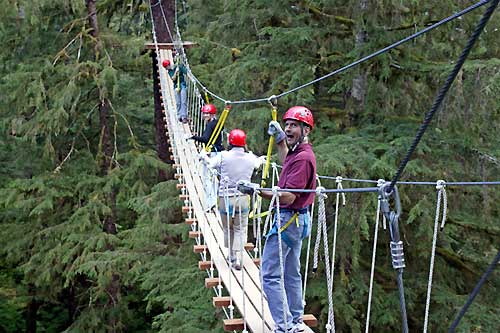 First run-through...
Seanna O'Sullivan ©2005

This once in a lifetime experience ends with a "touch down" at the base complex where there will be time to interact with reindeer, observe a native master totem carver, view exhibits in the Interpretive Center, enjoy a complimentary snack and hot beverage, and shop in the General Store.
The Alaska Canopy Adventure and Wildlife Expedition is located approximately 16-miles south of Ketchikan. During the 16 mile round-trip coastal drive to the reserve, an informative narration is presented.
Now just sit back and imagine the thrill of gliding through the top of a rich rainforest canopy along a series of cables suspending between tall spruce, hemlock and cedar trees. But before you let your imagination run wild with the thrill of flying up to 135 feet over the forest floor, this nature experience is designed for individuals who are in good physical condition and a waiver and/or release form are required. Needless to say, closed toe shoes are recommended. Weight must be between 80 pounds and 265 pounds and the minimum age is 10 years.
From start to finish, the tour runs approximately 3 hours and 15 minutes. Tours are daily from May through September. Tickets will be sold aboard cruise ships for visiting passengers and tours are also available to locals on Sundays.
Southeast Exposure was the first tour group to launch a rainforest ropes and zip challenge tour in Ketchikan. Southeast Exposure began operation of their rainforest ropes and zip challenge on May 1, 2005. They have three ziplines and eight ropes elements. Southeast Exposure is located approximately 15 miles north of Ketchikan and is owned by Betsey Burdett and Geoff Gross.
Southeast Exposure is certified, insured, and their guides have all completed their 40 hour training course. Owner Betsey Burdett said they are working with the cruise ships already.
The Alaska Canopy Adventure and Wildlife Expedition and the Alaska Rainforest Sanctuary are owned by Kris Singstad, Brien Salazar and Len Laurance of Ketchikan.
First run-through...Alaska Canopy Adventure and Wildlife Expedition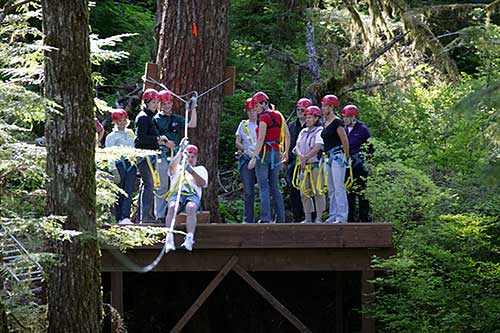 First run-through...Alaska Canopy Adventure and Wildlife Expedition
Seanna O'Sullivan ©2005

First run-through...
Alaska Canopy Adventure
and Wildlife Expedition
Seanna O'Sullivan ©2005

First run-through...
Alaska Canopy Adventure
and Wildlife Expedition
Seanna O'Sullivan ©2005
On the Web:
Related Stories:
Ketchikan's Reindeer Benefit From Volunteer Efforts By M.C. Kauffman
May 24, 2005

Exploring The Alaska Rainforest Sanctuary By Louise Brinck Harrington
June 05, 2004

Contact M.C. Kauffman at mc@sitnews.us
Publish A Letter on SitNews
Read Letters/Opinions
Submit A Letter to the Editor
SitNews
Stories In The News
Ketchikan, Alaska