Ketchikan's Reindeer Benefit From Volunteer Efforts
By M.C. Kauffman
May 24, 2005
Tuesday

Ketchikan, Alaska - Nubian goats, peafowl, Roman Tuffed geese, Mandarin ducks... and yes, even reindeer call Ketchikan home. Living at the Alaska Rain Forest Sanctuary located at Herring Cove south of Ketchikan, these delightful reindeer were brought to live at the Sanctuary after numerous requests were made by visitors indicating they would particularly like to see reindeer. The Alaska Rainforest Sanctuary is owned by Kris Singstad, Brien Salazar and Len Lawrence.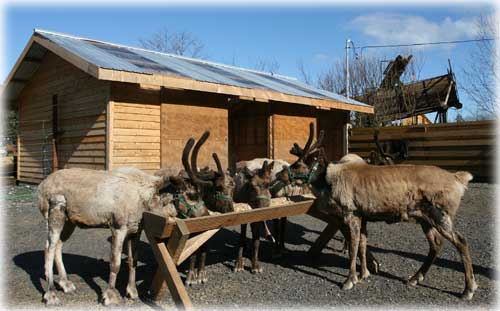 Reindeer of Ketchikan
Photograph by Carl Thompson ©2005

Gigi Pilcher one of four volunteer reindeer wranglers said, "The reindeer have delighted children from the Saxman Head Start Program, students from the Ketchikan Christian Academy, and senior citizens from the Long Term Care Unit at Ketchikan General Hospital."
In addition to the volunteer efforts of Pilcher, three Ketchikan students also volunteer their time and talents on a daily basis as reindeer wranglers - Oliva Round, Rachel Heitman, and Jolene Pflaum.
And why would anyone want to be a volunteer reindeer wrangler? According to Pilcher the rewards are many for both the reindeer and the volunteers. A trusting bond develops between the reindeer and the volunteer caretakers which results in the reindeer becoming more tame. Pilcher said she believes that the reindeer look forward to the daily visits and the loving care provided by the volunteers. She noted that the reindeer now allow human touch, daily brushing and are noticeably more tame than several months ago. "The joy we experience in caring for the reindeer is priceless," said Pilcher.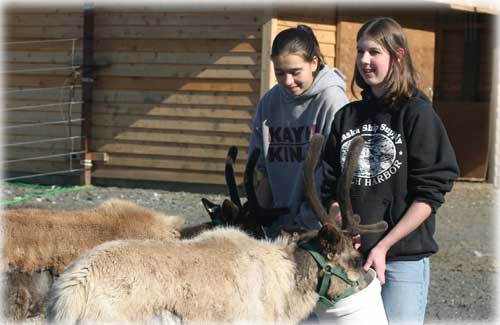 Oliva Round, Rachel Heitman, and Jolene Pflaum also volunteer their time.
Photograph by Lisa Thompson ©2005

The Sanctuary's reindeer were born at a farm outside Fairbanks last May and came to live in Ketchikan in December 2004. According to Pilcher all six reindeer are female and celebrated their first birthday this May.
And just what do reindeer do in Ketchikan? Pilcher said, "During sunny days, the reindeer enjoy sunning themselves on fresh hay and romping around the corral." And what do the reindeer do if it's raining? "If it's raining, they stay in their barn."
It's not all rest and relaxation for these beautiful little reindeer. Pilcher said, "In the early evening they tend to become more lively. They often will chase each other around the corral. But their favorite game is playing with a giant ball given to them by Gavin Salazar."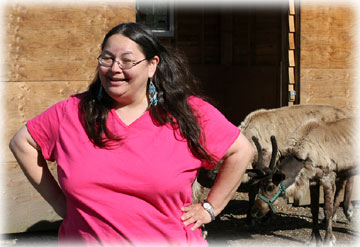 Volunteer Reindeer Wrangler Gigi Pilcher
Photo by Carl Thompson ©2005
Describing the characters of each reindeer with the enthusiasm a proud mother would of a child, Pilcher said, "Raven loves hay. She reacts to fresh hay like cats do to cat nip! She will roll in it, rub her head and antlers in it and then jump up and run kicking her hooves several times after fresh hay is put down each day."
"Kiska and Feisty Fiona (aka Aurora Borealis) are the two Alpha females of the herd. They also happen to have the largest antlers. Recently, Feisty Fiona has been trying to become the "top 'Queen' of the pasture. She would like to rule over everyone and everything," said reindeer wrangler Pilcher.
Pilcher continued, "Poco Loco (Sitka) and Jade are the two reindeer who are the outcasts of the herd. They are often chased away from the feeding troth by Feisty Fiona or Kiska but occasionally Nora or Raven will chase them away too." Pilcher said, "This is normal herd behavior. Recently, Sitka has begun to retaliate as her antlers have begun to grow longer."
And what is involved in the game of reindeer ball? Pilcher said, "They each tend to think of the ball as theirs." She said, "They will kick the ball around with their hooves, bat it about with they antlers, and nose it about as well. Nosey Nora (aka Nenana ) loves to eat so she doesn't play much with the ball, she leaves that to the other reindeer. Nora would rather eat than do anything else. She loves willow branches, blueberry leaves, moss, tender salmon berry leaves - but dandelions are her favorite!"
Feisty Fiona (aka Aurora Borealis)
Photo courtesy Gigi Pilcher ©2005

The reindeer eat a well-balance diet and especially enjoy eating their food outside on sunny days. They are protected from any wildlife, such as bears or wolves, that might decide to venture into their corral by an electric fence - which the reindeer quickly came to respect. Fresh water runs constantly into a rain barrel providing an ongoing supply or clean, fresh water.
All six reindeer are currently shedding their winter coats and their summer coats are starting to grow on their necks and on their flanks. "The new coat is very, very soft, like down," said Pilcher. "The velvet on their antlers is also very soft and will remain on the antlers for several more months."
These delightful reindeer can be seen at the Alaska Rainforest Sanctuary during regular business hours. Unfortunately, there have been a few incidents in the past of individuals trespassing and climbing into the corral after hours frightening the reindeer - so please don't do that. Not only could you place yourself and the reindeer in possible danger, trespassing and frightening the reindeer could undo all the hard work of the owners and volunteers to tame and provide a secure environment for these delightful creatures.
Related story:
Exploring The Alaska Rainforest Sanctuary By Louise Brinck Harrington
June 5, 2004
Contact M.C. Kauffman at mc@sitnews.us


Publish A Letter on SitNews Read Letters/Opinions
Submit A Letter to the Editor
SitNews
Stories In The News
Ketchikan, Alaska