Alaska's yellow cedar considered for endangered species protection
By MARY KAUFFMAN
April 11, 2015
Saturday PM

(SitNews) Ketchikan, Alaska - The U.S. Fish and Wildlife Service announced Thursday that Alaska yellow cedar trees may warrant protection under the Endangered Species Act because of ongoing threats from climate change and logging.
If listed, yellow cedar would be the first Alaska tree species, and only the second plant in the state, protected by the Endangered Species Act. According to an earlier U.S. Forest Service Report, yellow cedars (Calliptropsis nootkatensis) are killed as the climate changes, with spring temperatures warming and snow cover being more frequently insufficient to protect the roots. A lack of snow exposes this species' shallow, fragile roots to freezing temperatures that can kill them.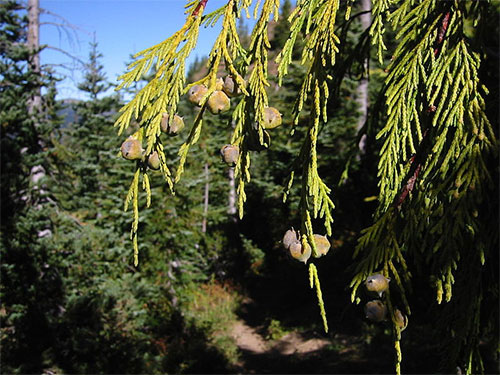 Yellow cedar cones and foliage. Also known as Calliptropsis nootkatensis. Behind are subalpine fir trees.
Photo By Walter Siegmund, Courtesy Center for Biological Diversity

Yellow cedars are found from southeast Alaska to Northern California and are most common in the Tongass, in Alaska and British Columbia. These trees are a central part of the region's forests, historically greatly valued by Alaska natives for carving, medicinal and ceremonial purposes; they are also an important food source for Sitka black-tailed deer and brown bears.
Conservationists say that despite the trees' decline, timber sales in the Tongass National Forest selectively target remaining living yellow cedars because of the wood's unusual qualities and its exceptionally high market value. They hold massive amounts of the greenhouse gas carbon dioxide, and their extinction would be a devastating loss say conservationists.
Rebecca Noblin, Alaska director at the Center for Biological Diversity, said. "Yellow cedars have joined the long line of species headed for extinction because of the climate crisis." Nobli said, "These trees are tough and have survived where others can't, but all their unique defenses are useless against a warming climate. The Fish and Wildlife Service must protect yellow cedars immediately so we can turn this around."
Ketchikan resident Owen Graham, the Executive Director of the Alaska Forest Association told SitNews the USFS silviculture people in Alaska have explained that yellow cedar decline is an intermittent phenomenon that occurs on some bog-like sites sporadically every 20-years or so.
Owen said, "We know of no researcher who has used the word 'extinction' for the current or even future yellow-cedar health or viability issue in Alaska."
He added, "Through selective thinning and occasionally planting, we actively manage for yellow-cedar on lands we've harvested in the past where yellow-cedar occurs. As a result, yellow-cedar is thriving in many of our managed stands."
Owen explained that the decline occurs in very poor, wet sites where the trees are barely surviving to start with. The hypothesis is that the roots are killed by cold weather during low snow years. It does not seem to affect yellow cedar in the majority of the forest and it does not usually kill all the trees in the affected sites. Also, the new growth in the affected sites seems to be growing normally.

According to Owen, since the decline affects only a very small percentage of the forest a small percentage of the time and since most of the forest is doing well, there is no reason to consider the yellow cedar as threatened. Owne provided documents from the the Journal of Forestry and from the U.S. Forest Service making this same comment. (See Below to download).
Southeast Alaska is at the current northern extreme of the yellow cedar range, said Owen, but that range has been trending northward since the glaciers receded thousands of years ago. Most species at the fringe of their range typically are less abundant and trees at the fringe of their range typically have trouble competing with other trees.

"The hypothesis that climate change or global warming might exacerbate the yellow cedar decline is speculative," said Owen. In any case the majority of the forest will probably grow faster if the climate continues to warm, particularly if the amount of carbon dioxide in the air increases as some expect he said.

"I'm not worried about the yellow cedar and I certainly don't support any restrictions on activities in the forest simply based on a hypothesis that might temporarily affect such a tiny percentage of the forest," said Owen the Executive Director of the Alaska Forest Association which has been a Statewide Association since 1957.
Greenpeace forest campaigner Larry Edwards has a different opinion. Sitka-based Edwards said, Edwards said, "A Forest Service report acknowledges that Tongass timber sale planners select project areas with a higher than average cedar component and plan timber projects that extract cedar at a higher rate than its occurrence in the project areas." Edwards said, "For example, while yellow cedar is 9.5 percent of the growing stock on the south Tongass, it is 17 percent of the timber volume in the controversial Big Thorne project."
Conservationists say Vast swaths of yellow cedars have died off in the past century, with more than 70 percent of these long-lived, beautiful trees now dead in many areas of Alaska.
"There is a double perverse incentive for the Forest Service to log yellow cedar disproportionately to its natural occurrence — that is, to high-grade it," said David Beebe, president of the Greater Southeast Alaska Conservation Community. "First, this species has exceptionally high market and stumpage values. Also, by law the agency cannot offer timber sales that appraise to a negative sale value, and boosting the proportion of high-value cedar in a timber sale is a way to overcome that."
"When we first started offering nature-based wilderness cruises in southeast Alaska 35 years ago," said Joel Hanson of The Boat Company, "the region's predominant mixed-conifer slopes generally looked healthy, with only a few dead-standing yellow cedars in evidence here and there. But now we see mile after mile of slopes where almost all the yellow cedar trees are dead. We should be protecting remaining healthy stands of this species wherever they may still be found in the region, not clearcutting them."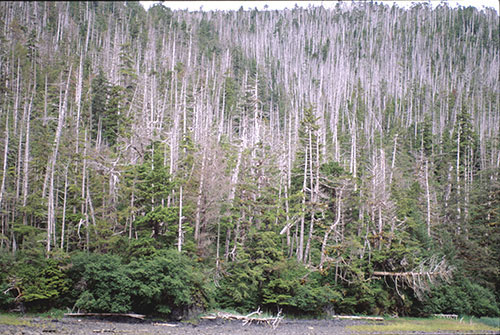 Yellow-cedar in West Chichagof-Yakobi Wilderness Area, Date: 2012. The West Chichagof-Yakobi Wilderness Area is a pristine area of coastal Alaska. The West Chichagof-Yakobi Wilderness is part of the Tongass National Forest, the largest national forest in the United States
Photograph courtesy US Forest Service - Pacific NW Research Station
http://www.fs.fed.us/pnw/news/2012/02/yellow-cedar.shtml

As the climate warms, conservationists say there are scientists who predict, suitable habitat for yellow cedar trees will disappear. More than 600,000 acres of dead yellow cedar forests are already readily visible from the air.
Supporters of designating the yellow cedar as endangered say if greenhouse gas emissions continue to rise at their current rates, the tree will be driven to extinction. Reducing greenhouse gas emissions, while at the same time eliminating any live-tree harvest by logging, is the yellow cedar's best hope for survival.
Owen added that although this issue is interesting, it is insignificant in comparison to the rest of the forest. In order to provide further clarification he noted:
The 17-million acre Tongass is comprised of about 5.6 million acres of commercial forestland. In order to be classified as 'commercial' the land has to be capable of growing at least 20 cubic feet of timber per acre per year. Most of our yellow cedar trees are scattered throughout these commercial timberlands.There is roughly another 4.4 million acres of non-commercial timberland - these land grow timber too slowly to be considered part of the commercial timberland base.
The non-commercial timberland is where the bulk of the yellow-cedar decline occurs. Pine and yellow cedar are common in the wet, bog-like non-commercial stands because they can survive despite the saturated soil conditions. The roots of these trees are usually near the surface where there is slightly less water.
Owen said, "The yellow cedar trees are not an endangered species. Even if the global warming hypothesis is correct, it might adversely affect only some of the yellow cedar trees in some of the non-commercial, bog-like stands."

"I'm not a silviculture expert, but there are several in the Forest Service here in Alaska, said Owen. He noted he relies on these experts for his information.
According to this 2007 Forest Service chart provided by Owen, there is no shortage of timber on the Tongass; yellow cedar or other species.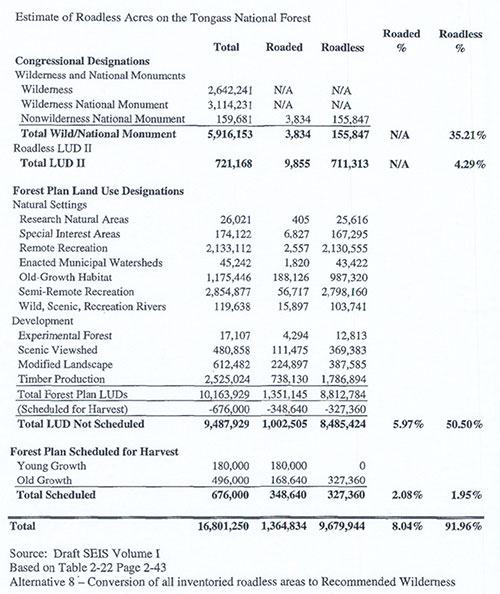 2007 Forest Service chart
Click here or on the chart for a larger view.

Friday's 90-day finding triggers a legal requirement for the U.S. Fish and Wildlife Service to make a decision on whether listing is warranted by June 09, 2015.
The petition to list the yellow cedar was filed by the Center for Biological Diversity, The Boat Company, the Greater Southeast Alaska Conservation Community and Greenpeace in June 2014.
Comments due by June 09, 2015. You may submit comments for which a status review is being initiated by one of the following methods:
(1) Electronically:

Go to the Federal eRulemaking Portal: http://www.regulations.gov. In the Search box, enter the docket number assigned for yellow cedar (FWS-R7-ES-2015-0025). Then click the Search button. You may submit information by clicking on "Comment Now!" If your information will fit in the provided comment box, you are asked to use this feature of http://www.regulations.gov, as it is most compatible with their information review procedures. If you attach your information as a separate document, the preferred file format is Microsoft Word. If you attach multiple comments (such as form letters), the preferred format is a spreadsheet in Microsoft Excel.

(2) By hard copy:

Submit by U.S. mail or hand-delivery to: Public Comments Processing, Attn: [Insert docket number assigned for yellow cedar; FWS-R7-ES-2015-0025]; U.S. Fish and Wildlife Service, MS: BPHC, 5275 Leesburg Pike; Falls Church, VA 22041-3803.
Docket Folder:
Docket Folder: Summary and View all documents and comments in this Docket
Docket ID: FWS-R7-ES-2015-0025
http://www.regulations.gov/#!docketDetail;D=FWS-R7-ES-2015-0025

On the Web:
Federal Register Notice - April 10, 2015:
http://www.regulations.gov/#!documentDetail;D=FWS-R7-ES-2015-0025-0001

Download 72 Page PDF: PETITION TO LIST YELLOW-CEDAR, CALLITROPSIS NOOTKATENSIS, UNDER THE ENDANGERED SPECIES ACT - June 2014

Forest Health Conditions in Alaska 2014, 90 page P
US Department of Agriculture - Forest Service
http://www.fs.usda.gov/Internet/FSE_DOCUMENTS/stelprd3834154.pdf

U.S. Forest Service Report
http://www.fs.fed.us/pnw/research/climate-change/yellow-cedar/

Download the Journal of Forestry Article - December 1997 PDF
Provided by Owen Graham, Executive Director Alaska Forest Association

Download May 10, 1989 Dynamics of decline and mortality of Chamaecyparis nootkatensis in Southeast Alaska PDF - USDA Forest Service Forest Pest Management & Pacific Northwest Research Station...
Provided by Owen Graham, Executive Director Alaska Forest Association
Sources of News:
Alaska Forest Association
http://www.akforest.org

Center for Biological Diversity
www.biologicaldiversity.org/

The Boat Company
www.theboatcompany.org

Greater Southeast Alaska Conservation Community
www.gsacc.net

Contact the Editor
SitNews ©2015
Stories In The News
Ketchikan, Alaska

Articles & photographs that appear in SitNews may be protected by copyright and may not be reprinted without written permission from and payment of any required fees to the proper sources.

E-mail your news & photos to editor@sitnews.us

Photographers choosing to submit photographs for publication to SitNews are in doing so granting their permission for publication and for archiving. SitNews does not sell photographs. All requests for purchasing a photograph will be emailed to the photographer.