Avoiding consumer fraud, deceptive practices and identity theft
By Marie L. Monyak
March 31, 2006
Friday

Ketchikan, Alaska - The Greater Ketchikan Chamber of Commerce held their weekly luncheon this past Wednesday and due to unforeseen circumstances the invited guest speaker could not attend.

As they say in the theatre, "the show must go on" and it did thanks to Eric Bjella, Vice President of Marketing for First Bank who filled the void with only a few hours notice. With assistance from Bob St. Clair, Vice President of Electronic Banking, the luncheon guests were provided with a timely, informative presentation on consumer fraud, deceptive practices and identity theft.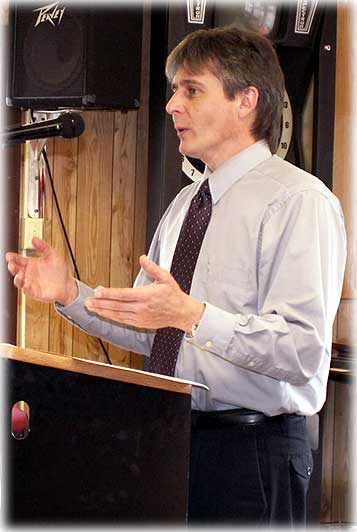 Eric Bjella, Vice President of Marketing for First Bank
Photo by Marie L. Monyak



At a time when many merchants in Ketchikan are preparing for the tourist season and the influx of people it brings to town, Bjella and St. Clair's message was one of caution and common sense.

According to Bjella, passing counterfeit currency and falsifying merchandise returns are the crimes most perpetrated by unscrupulous individuals upon local merchants. "People [thieves] are getting more and more creative every day so the rest of us have to be a little more diligent in what we are doing and how we are conducting business," Bjella said.

Bjella referred to last year when First Bank sponsored a fraud prevention program that included a presentation by the FBI that addressed merchant issues and provided information about identity theft. He further stated that First Bank wants to ensure that everyone is aware that the merchant service at the bank is always willing, at anytime, to assist with questions regarding credit card fraud or theft.

"Fraud used to be simple," Bjella stated, "now it's faster and more complex which means they [thieves] are out there looking for your information. Banking today really isn't about money anymore, it's about information. We don't transfer cash in truck loads, we transfer information about currency to someplace else."

When an individual is making a transaction, whether it's a purchase or a bank withdrawal, identification must be provided. Passwords, PINs, social security numbers and mother's maiden name are some of the ways of verifying ones identity. This is the information that thieves will try to access in a variety of ways.

Bjella gave numerous examples of how thieves can obtain personal information. Finding a bank statement or credit card bill in a person's trash will provide a thief with the victim's name, address and account number. With this information a thief is able to contact their victim by phone and impersonate a representative from a credit card company or bank and extract more information.

Phishing is an internet term used of late that is defined by the Urban Dictionary as, "A scamming method used to elicit information from uninformed computer users through the impersonation of trusted sources." It is exactly what it sounds like; someone is fishing for your personal information.

With the addition of a person's email address a thief can now go "phishing." According to Bjella, thousands of emails are sent daily to unsuspecting victims using fear or greed to motivate the recipient into providing even more information.

Just one of the phishing scams Bjella described is an email that informs the recipient that their bank or credit card account is about to be closed and they must respond immediately by using the link provided in the email which takes the victim to a counterfeit website that will appear to be legitimate.

Once the victim has rendered their password, social security number and any other information on this illegitimate, mirror-image website, the thief then has access to the victim's accounts and the damage is done long before the victim realizes that he or she has been duped.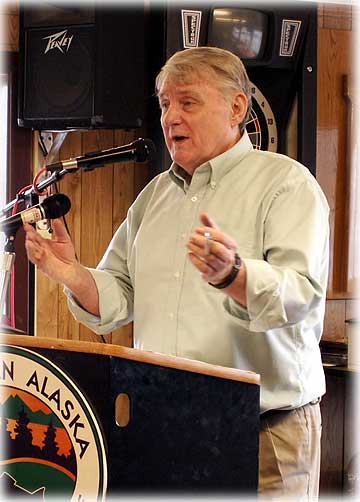 Bob St. Clair, Vice President of Electronic Banking
Photo by Marie L. Monyak



Fear was the motivating factor in that particular case. Various letters and emails promising lottery winnings, unexpected tax returns and promises of free gifts use the greed factor to get individuals to relinquish their personal information.

The greed factor takes over when a person is on the receiving end of a well-known scam called the "Nigerian letter." This scam has been around for approximately 15 years and has evolved from a letter sent through the postal service, into an email. St. Clair said it is very effective because after all these years people are still duped by the promise of large sums of money.

Fear or greed may have been the downfall for many phishing victims but not so in the case of several local merchants targeted as recently as the beginning of this month. Bjella sited an article in Sitnews with regards to a scam wherein the thief attempts to return stolen merchandise for a cash refund. According to St. Clair, merchants must ensure that they have clearly stated refund policies posted in their place of business.

Besides refund policies, merchants need to be able to distinguish between real and counterfeit currency. "I know its difficult now because they keep changing it on us. If you take one [counterfeit] in, set it aside; just be careful because you accept that risk." Bjella stressed that merchants must see to it their employees are trained to recognize genuine currency thus making it easier to discern counterfeit bills.

Bjella and St. Clair both touched on identity theft emphasizing the importance of a person's social security number stating that it's a key piece of information needed for malicious activity to be carried out. "The need for awareness has doubled in just the last two years particularly associated with phishing. There is a tremendous effort out there," St. Clair stressed.

St. Clair spoke about the importance of protecting not only credit/debit card numbers but also ones username and passwords. "Malicious characters out there are very, very active, more active than you would think."

To avoid becoming a victim of scams, fraud or identity theft, St. Clair stressed one important element that everyone needs when banking, while engaging in financial transactions or when providing personal information and that fundamental ingredient is awareness. BE AWARE at all times!

Next week's Greater Ketchikan Chamber of Commerce luncheon will be held on Wednesday, April 5th at the VFW on Tongass Avenue. The invited guest speaker will be Dave Carlson, CEO of the Four Dam Pool.



On the Web:

First Bank website:
FBI link to internet scams and fraud:
Sitnews' article referred to by Bjella in regards to recent scam in Ketchikan:
http://www.sitnews.us/0306news/030106/030106_scam_investigation.html
Two previous articles in Sitnews in regards to phishing scams:
http://www.sitnews.us/1105news/110205/110205_jury_duty_scam.html

http://www.sitnews.us/1205news/121405/121405_shns_phishing.html
Marie L. Monyak is a freelance writer living in Ketchikan, Alaska.
A freelance writer is an uncommitted independent writer
who produces and sells articles to a publisher such as SitNews.
Contact Marie at mlmx1[at]hotmail.com
Send your story ideas to editor@sitnews us
Publish A Letter on SitNews
Read Letters/Opinions
Contact the Editor
SitNews
Stories In The News
Ketchikan, Alaska