Viewpoints
Trumpeter Swans
By Bev Kingdon
February 15, 2007
Thursday PM

We had a marvelous Alaskan cruise and were fortunate enough to visit Ketchikan. If I am remembering correctly we went on a salmon bake during our visit there. I never ate salmon before that and now faithfully eat it twice a month minimum but more often than not once a week. How many other people are missing such a delicious food?

The Trumpeter Swan Society is considering a North American Conference in the north and if such happens that it is near Ketchikan we hope to revisit.

I read with great interest your story about the trumpeter swans.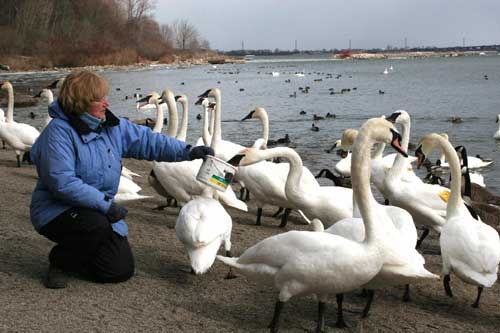 Bev with flock on Beach LaSalle

I am writing from Burlington, Ontario Canada. Here in Ontario the trumpeter swans were hunted to extinction and in the early 1980's a gentleman by the name of Harry Lumsden started and co-ordinated a trumpeter swan reintroduction program.

During that time I believe Harry received eggs from Alaska (If you would like to confirm that info his phone number is 905-727-6492) amongst other places for hatching. Swans from those eggs were kept as captive pairs, raising cygnets for release to the wild.

I met Harry in the mid 1980 and kept a pair of his adult captive trumpeters at a farm we owned in the North Bay Ontario area. In 1993 the first pair of trumpeters to mate in the wild and migrate in Ontario (with their 6 cygnets) in nearly 200 years flew to Burlington Ontario where I reside.

I located that family and stayed with them daily until they returned north in the spring. I now have spent every winter since then (1993) monitoring, feeding, recording, photographing, rescuing, transporting sick and injured swans to Guelph University for medical care and re-releasing swans back into the wild when recovered. With Harry I catch, band, tag and sex the swans and maintain records of the flock of approximately 130 birds that now spend their winters here.

Experts felt that 550 trumpeters in the wild with 150 nesting pairs would qualify as a self sustaining flock for the Province of Ontario. This year Mr. Lumsden's records indicate that we have reached our goal.

Mr. Lumsden received the Order of Canada, a very prestigious award for his work with reintroducing the trumpeters back into Ontario and I was extremely honoured to receive the Harry Lumsden Conservation Award.

I have enclose a photograph of mine that I took at LaSalle Park in Burlington, where the swans, both trumpeters and mutes spend their winter. We also get tundra swans migrating through here.

With all the trumpeters out your way you would probably find it hard to understand our joy when that first pair migrated but it certainly was an important piece of history for our Province.

Thank you for your article, I always appreciate learning new pieces of information about these magnificent creatures.
Bev Kingdon
Burlington, Ontario Canada


Received February 14, 2007 - Published February 15, 2007
Related Front Page Photo:
A Gray Juvenile Trumpeter Swan Front Page Photo by Peaches (Naona) Wallin - This gray trumpeter swan or cygnet was photographed recently at Ward Lake north of Ketchikan. Trumpeter swans grow rapidly and by 8 to 10 weeks of age, the cygnets have reached half their adult size and are fully feathered. They will retain their gray juvenile plumage until their second winter. - More...
Sunday - February 11, 2007


Note: Comments published on Viewpoints are the opinions of the writer
and do not necessarily reflect the opinions of Sitnews.
Send A Letter -------Read Letters

E-mail the Editor at editor@sitnews.us

Sitnews
Stories In The News
Ketchikan, Alaska