A Gray Juvenile Trumpeter Swan
Front Page Photo by Peaches (Naona) Wallin
February 11, 2007
Sunday PM

Ketchikan, Alaska - This gray trumpeter swan or cygnet was photographed recently at Ward Lake north of Ketchikan. Trumpeter swans grow rapidly and by 8 to 10 weeks of age, the cygnets have reached half their adult size and are fully feathered. They will retain their gray juvenile plumage until their second winter.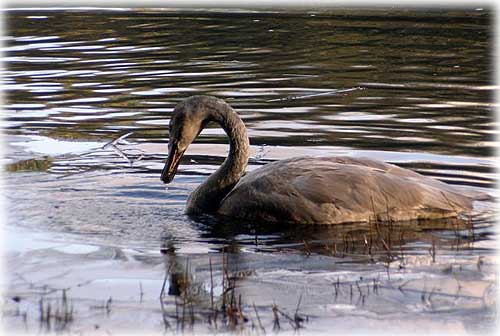 A Gray Juvenile Trumpeter Swan
Photo by Peaches (Naona) Wallin

Average age at first flight is 14 to 17 weeks in Alaska and 13 to 15 weeks in other areas. However, some of the cygnets may not survive to flight stage. Trumpeter swans fly with their long necks and legs fully extended, rather than tucked. They swim with their necks erect, in contrast to mute swans, which swim with their necks in an "S" curve.
In the early 1900s, the trumpeter was hunted nearly to extinction for its skin, feathers, meat, and eggs. Passage of the Migratory Bird Treaty Act of 1918 gave protection to trumpeter swans and other birds and helped curb illegal killing.
In 1932, fewer than 70 trumpeters were known to exist worldwide, at a location near Yellowstone National Park. This led to the establishment of Red Rock Lakes National Wildlife Refuge in 1935. Red Rock Lakes is located in Montana's Centennial Valley and is part of the Greater Yellowstone ecosystem. Nearly half of the known trumpeter swans in 1932 were found in this area.
In the early 1950s, a fairly large, previously unknown population of trumpeter swans was discovered in Alaska. Today, estimates show about 16,000 trumpeter swans reside in North America, including some 13,000 in Alaska, which winter on the Pacific Coast; more than 1,600 in Canada; about 500 in the Midwest; and more than 500 in the tri-state area of Idaho, Wyoming, and Montana.
Source of Information:
US Fish & Wildlife Service
http://www.fws.gov

E-mail your news & photos to editor@sitnews.us


Publish A Letter on SitNews Read Letters/Opinions
Contact the Editor
SitNews ©2006
Stories In The News
Ketchikan, Alaska