Viewpoints
Change - but is it progress?
by Mike Sallee
February 24, 2005
Thursday

Here's a change - a new clearcut behind the industrial area west of the airport on Gravina.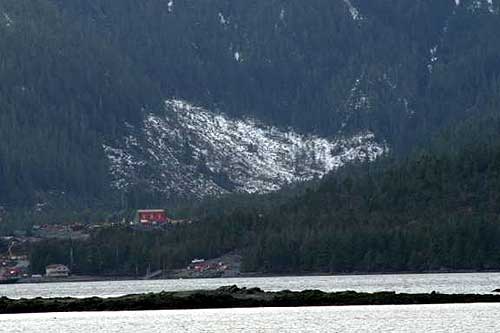 But is it progress? Maybe my assumption that progress should be a change for the better is not correct.
Because a hike to this spot, from where we lived before the airport was built, was a few miles further than the adjacent valley to the left of this photo, my forays here were few. Still, it was a pleasant hike through a series of gently sloping muskegs connected by fairly open forest and game trails.
The valley to the left where I deer hunted most often has been changed too. The highest valued timber has been high-graded by helicopter. The open timber that previously provided avenues of travel across the valley has been trashed with tops, limbs and pieces of trunks left from the extraction.
Will Mental Health require some form of cleanup of this logging debris? Or is it simply to be another cut and run with the money so typical of the liquidation that has been passed off as management of forests for decades here in SE Alaska?
Mike Sallee
Ketchikan, AK - USA
Related Viewpoint:
Ketchikan is changing by Bob Allen - Ketchikan, AK - USA
Note: Comments published on Viewpoints are the opinions of the writer
and do not necessarily reflect the opinions of Sitnews.
Write a Letter -------Read Letters

E-mail the Editor

Sitnews
Stories In The News
Ketchikan, Alaska