Raging Moderate
The Least Laboring of Days
By Will Durst
August 31, 2013
Saturday PM

(SitNews) - Hey, it's Labor Day, everybody. Woo-hoo. Okay, we're partying now. Throw your arms in the air and wave them like you just don't care. Blow up some balloons. Tap a keg. Rip open a bag of chips. Because this isn't a champagne and caviar kind of thing. This is the very definition of blue collar. If collars be worn at all.
It was 1894 when Labor Day first punched into work. Grover Cleveland signed it into law six days after the end of the Pullman Strike, during which federal troops killed more than 30 strikers. Cynics saw it as a kind of make-up sex between the government and the American worker. Well, flowers and candy anyhow.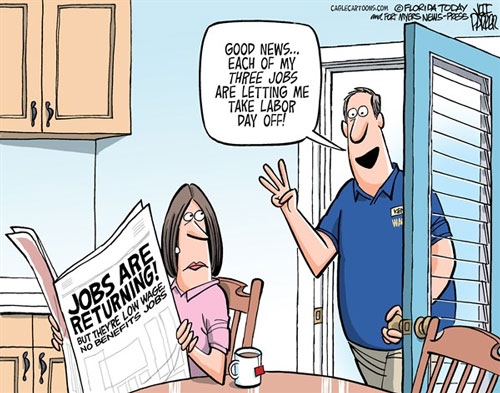 Labor Day Jobs
By Jeff Parker, Florida Today and the Fort Myers News-Press
Distributed to subscribers for publication by Cagle Cartoons, Inc.

The first Monday of September was specifically picked to bridge the long holiday gap between the Fourth of July and Thanksgiving, and to get as far away from May Day as possible. In the late 19th century, labor unions were one thing, but Communists were a horse of a different color.
For 120 years, Labor Day has been the red-headed stepchild of holidays. As glamorous as the guy with a shovel following a mule in a parade. Something you roll out to get Child Protective Services off your butt. "Look, we gave you an entire day, now give it a rest, would you? What do you want, cake?"
Goldilocks would have loved Labor Day. Not too hot. Not too cold. Less incendiary than Easter and Christmas, but with a decidedly higher thermal print than the International Talk Like a Pirate Day, fast approaching on September 19. Hard to believe its time to dig out the eye patch, wooden leg and Jolly Roger. Again. Already.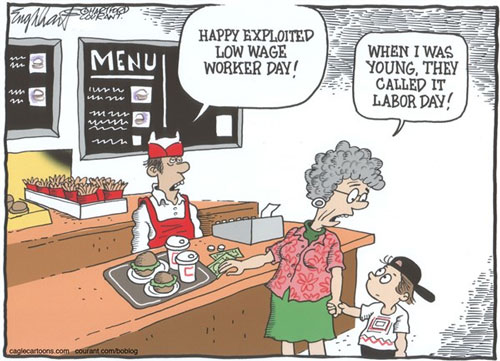 Labor Day
By Bob Englehart, The Hartford Courant
Distributed to subscribers for publication by Cagle Cartoons, Inc.

Because of Labor Day's peculiar calendar placement, it has morphed into not so much a celebration as a seasonal signal flag. Here lies the tired, dried-up body of summer. Time to roll up the garden hose and recharge the snow blower. Bury the swimsuits and exhume the parkas. Watermelon smoothies give way to pumpkin lattes. Weenie roasts on the back deck -- no. Tailgating in a dirt parking lot -- yes.
The lazy, hazy days are over and school and football have kicked off. And this holiday Monday is but one final chance to party in the long light. Meanwhile, the significance of what we're commemorating has gotten lost in a last-gasp blast of beer, baseball and barbecue.
Labor Day is meant to be a day we set aside to honor not the dead, but the living. Our workforce. One single day off so the real nine-to-five heroes that keep this country humming can hang with their families and friends before squaring their shoulders and getting back to the job of earning a living and carving out the future. And maybe one day at a theme park on someone's 10th birthday without having to take out a second mortgage.
It's a day to catch our breath. To celebrate the contributions of all of America's working folk. From the floor of the stock exchange to the stockroom of Amazon. To recognize the pistons that keep the engine of this country pumping along. And no need to bring gifts, although that whole flowers-and-candy thing is never a bad idea. And maybe some chips and beer and what the hell... cake. Who doesn't like cake?
Copyright 2013, Will Durst, distributed by the Cagle Cartoons Inc. syndicate to paid subscribers for publication.
Will Durst is a political comedian who has performed around the world. He is a familiar pundit on television and radio.
E-mail Will at durst@caglecartoons.com
The New York Times says Emmy- nominated comedian and writer Will Durst "is quite possibly the best political satirist working in the country today."
E-mail your news & photos to editor@sitnews.us


Publish A Letter in SitNews
Contact the Editor
SitNews ©2012
Stories In The News
Ketchikan, Alaska

Articles & photographs that appear in SitNews may be protected by copyright and may not be reprinted without written permission from and payment of any required fees to the proper sources.