Houghtaling Holds Annual Awards Ceremony
Story & Photos by Karen Hollywood
May 27, 2004
Thursday

Ketchikan, Alaska - Friday, May 28th marks the last day of school for the remainder of Ketchikan's students (High School Seniors are already out!).
Twins Bianca and Briana Smith happily share a Science Award...
Houghtaling Elementary held their Annual Awards Ceremonies on Wednesday, the 26th, with Principal Les McCormick presiding. Among awards given were certificates of recognition for perfect attendance (including Mark O'Brien - a teacher!), awards for fundraising, Band, and an exceptional amount for the Science Fair science projects that Houghtaling students participated in this year.
While Molly Keene of North Point Higgins Elementary won First Place at State level in the competition, Houghtaling had a record number of participants and winners this year. Twins Bianca and Briana Smith won first place in the 1st to 3rd Grade division, while the entire First Grade class won prizes for their group effort (how many licks to the center of a tootsie pop?). Many winners received money and gift certificates. In the District competition, Houghtaling's Jayna Blanchard won 3rd prize while Danny Lord took home 1st place in the 4th to 6th grade divisions and garnered prizes totaling about $600.00. What project? Mold, of course! His parents (both teachers) have expressed great appreciation towards the businesses and sponsors of this years' Science Fair. Diane Lord said the support given to the students couldn't be emphasized enough, and she was deeply moved by the generosity of our local citizens.
It was a loud and exciting ceremony. Houghtaling's year is ending on a good note, with good weather, good progress for most, and even good results for this mom after searching the lost and found!

Photo Gallery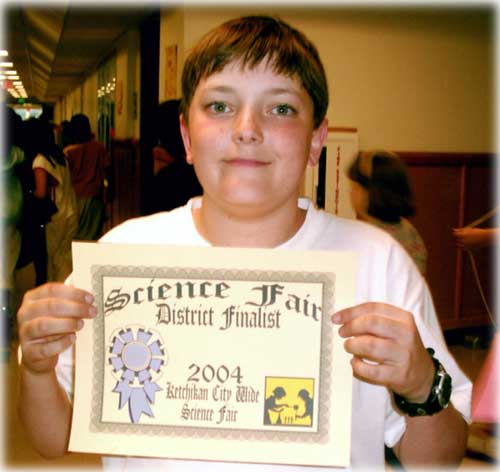 District Science Fair winner Danny Lord holds up his Certificate with pride...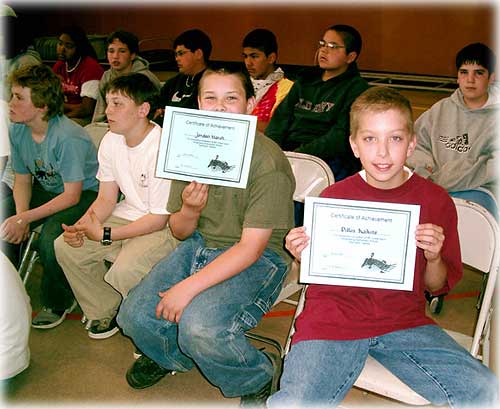 Dillon Kalkins and Jordan Marsh show off their Band Awards
while classmates listen attentively...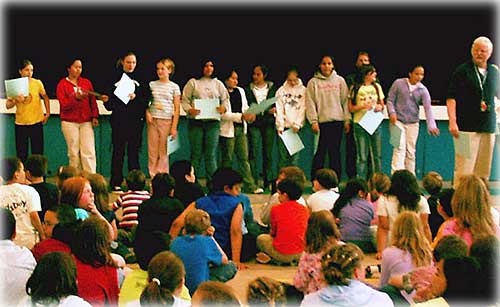 Houghtaling kids look on as friends and classmates receive awards...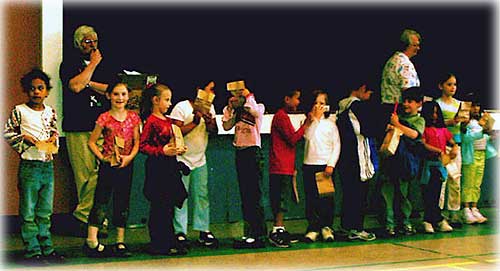 First Graders found out how many licks it takes to get to the center of a Tootsie Pop...
Karen Hollywood ©2004

E-mail your news & photos to editor@sitnews.org


Post a Comment View Comments
Submit an Opinion - Letter

Sitnews
Stories In The News
Ketchikan, Alaska