Tongass Sunset
photo by Mark O'Brien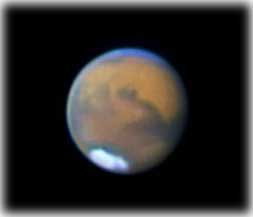 Close encounters with Mars
Photo courtesy NASA
Today, August 27, 2003, Mars will be closer to our planet than it has been in nearly 60,000 years. In celebration of this once-in-a-lifetime event, August 27th has been declared Mars Day by The Planetary Society.
Ketchikan: Tongass National Forest Awards 15 Grants To Southeast Communities - During the past year, the Tongass National Forest awarded 15 economic recovery grants totaling more than $185,000 to Southeast Alaska communities under the Forest Service Economic Recovery Program. - Read more...
Wednesday - August 27, 2003 - 12:30 am
Ketchikan: Up On My Soapbox a Column by Mike Harpold - The Root of the Problem - During each of the past two years, the Borough Assembly has balanced the borough budget by taking money from the school district. Last year, learning that the district was scheduled to receive a Learning Opportunity grant from the state for $500,000, the Assembly cut an equal amount from the school board's request. This year, the Assembly not only cut $500,000 from the school district's operating budget request, but cut $100,000 for student extracurricular activities.
Some assembly members have actively sought to mislead the public by asserting that the budget cuts are in response to actions taken by the school board, that it is the school board that is fiscally irresponsible. In particular, they cite the pay raise the school board gave to teacher's last year. In fact, school funding is based on student count, not education expenses. Whether or not to give teachers a raise is a decision the school board has to make given the funds it receives. - Read more...
Wednesday - August 27, 2003 - 12:30 am