Thursday
August 14, 2003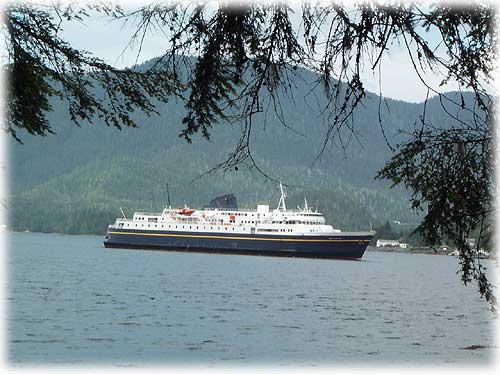 'The Malaspina'
photo by Vanessa Alderson
Front Page Photo: Ketchikan, Alaska - This photograph was taken by Vanessa Alderson of Las Vegas, Nevada in August 2003.
Thursday - August 14, 2003 - 11:55 am
Alaska: New Well Near ANWR May Yield Important Data - At the request of Governor Frank H. Murkowski, the Department of Natural Resources, Division of Oil and Gas is soliciting interest in a stratigraphic test well to be drilled on unleased state owned submerged lands offshore of the eastern portion of the Arctic National Wildlife Refuge (ANWR) coastal plain. A stratigraphic well is designed only to provide geologic information about the area being tested. - Click here for more...
Thursday - August 14, 2003 - 2:10 pm
When red granite is subjected to extreme crushing pressures in the laboratory, as in this experiment conducted by Freund and colleagues, its surface emits infrared radiation. Photo courtesy NASA.

Earthquakes: Anticipating Earthquakes - High above Earth where seismic waves never reach, satellites may be able to detect earthquakes - before they strike. - For many people, earthquakes are synonymous with unpredictability. They strike suddenly on otherwise normal days, and despite all the achievements of seismology, scientists still can't provide warning of an impending quake in the way that weathermen warn of approaching storms.
Although earthquakes seem to strike out of the blue, the furious energy that a quake releases builds up for months and years beforehand in the form of stresses within Earth's crust. At the moment, forecasters have no direct way of seeing these stresses or detecting when they reach critically high levels. - Click here for more...
Thursday - August 14, 2003 - 2:10 pm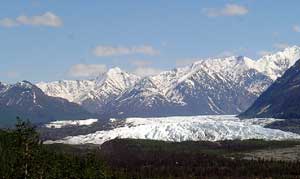 Matanuska Glacier - South-central Alaska
Glaciers: With supercooling and the right geometry, 'warm' glaciers can trap and transport silt - It may take them a century to advance a few meters, but the bottoms of some glaciers churn with supercooled activity, according to an article by a Lehigh University geologist in the Aug. 14th issue of Nature magazine.
Edward B. Evenson, professor of earth and environmental sciences, says his team's 12-year study of the Matanuska Glacier in south-central Alaska sheds light on a riddle that has long baffled geologists - how glaciers are able to pick up and transport silt. - Click here for more...
Thursday - August 14, 2003 - 2:10 pm
Oceans: Ocean Carbon Cycle Affected by Drought - Recent drought conditions in the North Pacific Ocean near Hawaii have caused a decrease in the strength of the carbon dioxide sink, according to a study published this week in the journal Nature. - Click here for more...
Thursday - August 14, 2003 - 2:10 pm