Wednesday
August 13, 2003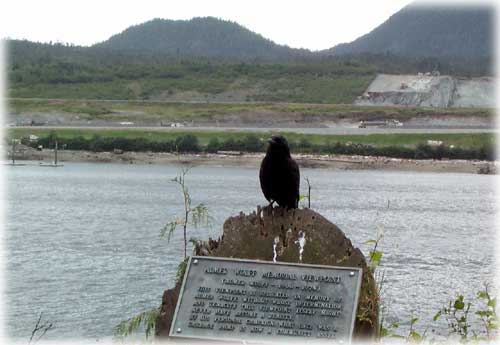 'Watchful Crow...'
photo by Vanessa Alderson
Wednesday's Front Page Photo: The 'watchful crow' photo was taken at the Almer Wolff Memorial Viewpoint in August by Vanessa Alderson of Las Vegas, Nevada. Almer Wolff's (1900-1970) personal campaign helped turn what was once a garbage dump into what is now a community asset.
Wednesday - August 13, 2003 - 12:15 pm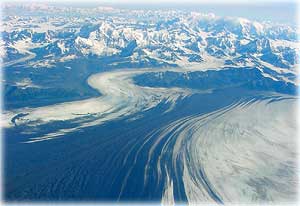 Malaspina Glacier - northwest of Yakutat, AK
Photo by Dick Kauffman - August 2003

Glaciers: Scientists rewrite laws of glacial erosion - Glaciers, it turns out, aren't so different from people - they can gain weight in their bottoms and be less active, scientists have discovered.
Glaciers, the heavyweights of landscape erosion, grow not just from snow accumulating on their surfaces but also from beneath by freezing of meltwater which can affect the rate at which they can erode, according to a team of scientists, including one from Michigan State University. - Click here for more...
Wednesday - August 13, 2003 - 1:45 pm
Education: U.S. Population More Educated Than Ever, Census Report Says - The U.S. Census Bureau today released a report from Census 2000 on educational attainment that said educational levels of the U.S. population were the highest they have ever been. - Click here for more...
Wednesday - August 13, 2003 - 1:45 pm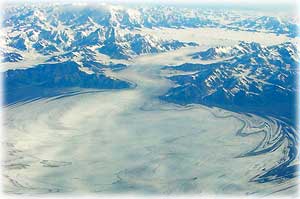 One of many Southeast Alaska glaciers...
Photo by Dick Kauffman - August 2003

Glaciers: Glaciers strive for steady-state in bed erosion - Glaciers erode the mountain landscape, creating piles of boulders, rocks and gravel, and leaving scooped out tarns and cirques, but until recently, geologists were unsure how to model this erosion because the feedback mechanisms controlling it were unknown. Now a team of geologists using a variety of data suggests that a strict regime controls glacial erosion and tends toward steady-state equilibrium.
"Glaciers are more variable than anything else like them," says Dr. Richard B. Alley, Evan Pugh professor of geosciences, Penn State. "Some do nothing, and some cut really fast." - Click here for more...
Wednesday - August 13, 2003 - 1:45 pm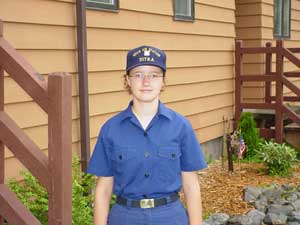 U.S. Coast Guard Seaman Anna Grafchikova
Official USCG Photo

Sitka: Coast Guardsman naturalized, Officer Candidate School next? - In June of 2003, 53 people in Alaska took the oath and became citizens of the United States. Only two of those 53 were members of the United States Armed Forces.

One of the two was U.S. Coast Guard Seaman Anna Grafchikova.

Grafchikova is currently serving at the Coast Guard Air Station in Sitka. Born in Chernogolovka, Moscow District, Russia. Grafchikova came to the U.S. when she was 17 to study at the University of Alaska in Anchorage. - Click here for more...
Wednesday - August 13, 2003 - 1:45 pm

Internet: Using the Internet may harm, not help, people find a job - Contrary to popular belief, using the Internet may not improve a person's chances of finding a job.

That surprising finding will be presented Tuesday (Aug. 18) during a session on economic sociology at the annual meeting of the American Sociological Association in Atlanta by Christine Fountain, a University of Washington doctoral student. - Click here for more...
Wednesday - August 13, 2003 - 1:45 pm