Arts and Entertainment
Fjord of Dreams
A Monumental Journey on Alaska Cruises' Tours -
Cruise and/or Cruise with Seaplane Adventure
By Sharon Allen
June 23, 2005
Thursday

Ketchikan, Alaska - "If you build it, they will come. . . Field of Dreams, 1989."
But, it isn't a field; it's a Fjord, and it's never been a case of "if . . ," they've always come, and for most, it's the dream of a lifetime.
The Fjord referred to is Misty Fjords. The western boundary is located approximately twenty-two miles east of Ketchikan, Alaska and about 680 air miles from Seattle. It has an average rainfall of 162 inches per year, which makes the name "Misty" quite fitting. But don't let the rain stop you from coming to visit this monumental attraction. Although a clear day is beautiful in Misty Fjords, any extra condensation in the air just creates even more white tendrils dangling across the rugged landscape and only adds to the ambiance.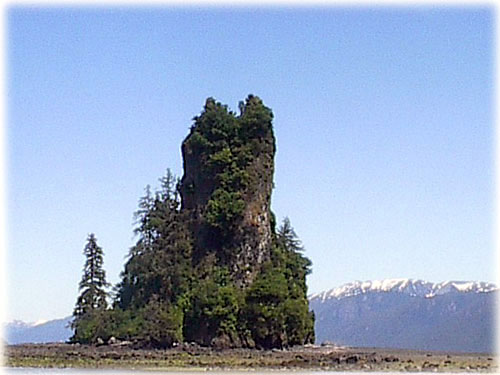 This island called "New Eddystone Rock" is a pillar of volcanic basalt that arose through a fracture in the floor of the Behm Canal during the last 5 million years.
Photo by Sharon Allen

Wild and remote, the Fjords can only be reached by floatplane or boat. Alaska Cruises, like some other tours, offers a cruise of the area. However, unlike any of the other tour operators, Alaska Cruises has been locally owned and operated in Ketchikan for over twenty years. They offer a six and one-half hour cruise to and from Misty and are well-known for their high standards in customer care and have an excellent safety record. Their promise is to make this adventure a memory of a lifetime for you. There's no rush-pushing there and push-rushing back with no time to enjoy the scenery or to shut down the engine for a minute should an orca suddenly breach close by. Additionally, the boat is well-maintained, the crew friendly and knowledgeable, the food excellent and unobstructed viewing is provided on two spacious levels with wraparound windows.
However, many people believe the best way to experience this awesome remote wilderness is to both cruise and fly the area. As such, Alaska Cruises has developed an adventure to Misty Fjords with just the right combination of both perspectives: sea and air. Additionally, Alaska Cruises is the ONLY company that combines both a cruise AND a flight tour of Misty's spell-binding, eye-blinding, unspoiled ecosystem. Either way you choose to travel on Alaska Cruise's tours - whether you only cruise or cruise and fly - you're in for a double-header delight that you'll remember the rest of your life. The Cruise Only deal is $199.00 a person and the Cruise with Seaplane Adventure is a steal at $250.00 per person. Both options are worth every penny.
"Ray, people will come . . . for reasons they can't even fathom. They'll turn up your driveway not knowing for sure why they're doing it. They'll arrive at your door as innocent as children, longing for the past. Of course, we won't mind if you look around, you'll say. . . This field, this game: it's a part of our past, Ray. It reminds of us of all that once was good and it could be again. Oh... people will come Ray. People will most definitely come. Terence Mann."
You'll be amazed at the wildlife you might see along the way. There are bears and wolves roaming the spectacular mountainside within primeval timbered forests, upon jagged, rocky beaches and beside semi-frozen rivers that cut ribbons through stone with slowly dribbling greenish-blue melting ice. There's seldom a moment when you cannot find an eagle nesting in a gigantic eerie or screaming along the wisps of mists that drape like lace upon the plunging décolletage of ancient granite walls. Mountain goats can often be seen with heels prancing about on what appear to be 90-degree slopes and the sound of howling wolves sometimes can be heard echoing off gorge walls; startling the graceful Sitka black-tailed deer as they antler their way across Tongass timberlines.
If you're carrying binoculars, you might catch sight of some of the smaller animals that live within Misty's borders. Beaver, mink, marten, wolverine and river otter are all common residents here as well as many types of water fowl and forest birds, including that elusive little beauty, the hummingbird. And as for those creatures that make water their home 24/7, packs of harbor seals or Steller sea lions can be seen pudging along seaweed-slung rocks or bobbing curiously in the cold waves. Porpoises often playfully chase after boats and although often elusive and mysterious, whales are often sighted arching their backs slowly above the water or flipping a massive tail in the air.
And there are monstrous halibut and of course, salmon - Chinook, Sockeye, Coho, Chum, and Pink - a never-ending cycle of birth and death returning year after year . . . but that's not all. There's steelhead, rockfish, sole, tomcat, red snapper - the list goes on and on.
As for birds, besides the majestic eagles, there are Glaucous-winged gulls, herring gulls, marbled murrelet, pigeon guillemonts, loons, and murres, just to name a few.
"This is my most special place in all the world, Ray. Once a place touches you like this, the wind never blows so cold again. Dr. Archibald "Moonlight" Graham."
But it's usually not the wildlife that lures visitors to the Fjord of Dreams. It's the magnificent scenery. The Fjords were formed by processes of glaciations, volcanic action and erosion during what is known as the Pleistocene era.
And while the term "Ice Age" invokes visions of herds of prehistoric animals and Neanderthals, it should be noted that even today, in the northeast corner of Misty, active glaciers still reside, draining melt water into rivers that braid channels back to the sea. But, of course, most of the Monument has shed the cold mantle of mile-thick ice from its frosty heart of fossilized foliage in favor of a profusion of green timbered towering parapets, impossibly-blue, sapphire-colored, ribboned waterfalls and blueish-gray stone bare-shouldered cliffs that jut abruptly skyward and fold over the sea in a loving caress.
During the cruise part of the tour, Alaska Cruises' Majestic Fjord will take you aboard at City Float near Salmon Landing and welcome you with a feast of smiles, handshakes, and a buffet of goodies including their famous Salmon Dip. You can either relax inside or stand at the rail with the wind in your hair as you glide past Creek Street, otherwise known as the notorious brothel area where Dolly's House is located.
From there, you'll move along the route to the U.S. Coast Guard Base and you'll also catch glimpses of the Native Villages of Saxman on the left and Metlakatla on the right. Saxman was settled by Tlingit Indians from Cape Fox and Tongass Island in 1894 and the main road is lined with totems. Peering through binos, passengers can make out the predominately red and black forms carved on these poles as they reach up to the sky to shake hands with the ancestors and guardian spirits of the proud Tlingit people.
Likewise, Metlakatla was founded on the island of Annette by a group of Canadian Tsimshians who migrated from Prince Rupert, British Columbia in 1887 seeking religious freedom. It is the only federal reservation in Alaska today and although the town itself cannot be seen from the boat, one can feel the lure of the ancient wilderness stirring their souls as the red cedars of Annette Island pass by.
You'll then cut through the notoriously rough and capricious waters of Point Alava as you make your way through Behm Canal to the pine-whiskered Rudyerd Island and then on toward Punch Bowl Cove. Behm Canal is a long, deep channel lined by jagged shorelines with soaring cliffs that curve upwards anywhere from 2,000 to 7,000 feet.
Rudyerd's Marble Outcropping and the abandoned fox farm built by T.C. Eastman back in 1923 are the first landmarks to appear as Rudyerd Bay displays geological gems. Often described as "a place where the Earth shattered open," the island also holds an exploratory mine known to have the world's largest deposits of Molybdenum, a bottling site for mineral water and a logging camp. Ella Creek is also the site of a Soda Springs where Mr. H.O. Coe bottled and sold the water as "Eddystone Mineral Water" in San Francisco in 1904 and both Wasp Cove and Ella Creek endured extensive logging between 1965 and 1971, prior to the December 1978 presidential proclamation naming the 2,294,343 acres within the Tongass National Forest as a National Monument.
But as interesting as Rudyerd Island is, it's a different island that captures the hearts and imagination of most passengers during this part of the tour. New Eddystone Rock is a huge odd-looking volcanic plug in the center of the channel that resulted from lava flowing through fractures in the floor of Behm Canal long ago. Discovered by Capt. Geo. Vancouver of the Royal Navy in 1793, he named it after the Eddystone Rock and Lighthouse in Plymouth, England.
It rears up 237 feet above water, dominating the landscape. This skyscraper basalt pillar is one of the most awe-inspiring experiences of the tour, second only to Punchbowl Cove. Over 200 species of plant life can be found on the island and quite a few different types of birds. There's a small basalt cave hidden in the side of this spire by scraggly spruce and green-bearded shrubs. It also has a permanent eerie and resident eagle family living at the very tip-top of the highest crag.
A rather sizeable beach lies at its base measuring approximately 1.5 miles wide. The beach is popular as a romantic site for local weddings; however, it is renown that the sandy shore disappears quickly when high tide arrives. There is a story told locally of one unlucky couple who forgot to take tide tables into consideration when planning their nuptials and had to scramble a bit to get past the "I do's."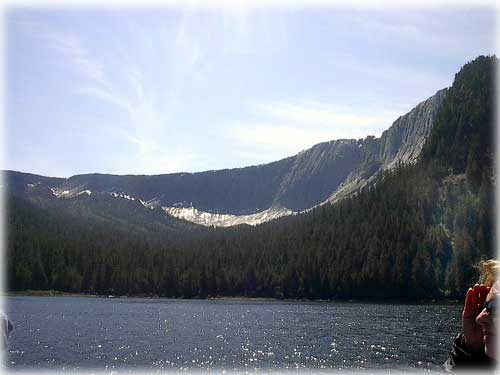 Punchbowl
Photo by Sharon Allen

To the east of New Eddystone Rock is Checats Cove. There are interesting basalt formations carved on the north shore which can be seen at low tide and across the cove is a creek which leads to Lower Checats Lake. The creek is a popular stop in late summer as fine-finned salmon form leaping stepping stones as they travel upstream from Behm Canal on their way to spawn.
Another popular stop is Seal Rocks. Here, harbor seals seem to be everywhere. Pups splash about or bask on rocks while moms and pops poke bald heads and big, round, sad eyes out of the water to blink long-whiskered curiosity at anyone passing by. Entire dynasties of harbor seals and Stellar sea lions sprawl on chaise-lounge rocks; looking like 800-pound sun tanning slugs that glisten in the sun but reek with the stench of Coppertone gone bad. It's a Kodak moment and cameras shutter digital images on memory cards with record speed.
But then the boat turns and all else is forgotten as the Punchbowl comes into view. Up until now we've been rather cavalier about the mighty glaciers that acted as elemental architects; pulverizing, chiseling and sculpting these astonishing valleys, fjords, mountains and shores.
But no more.
Air leaves lungs and hearts pound on deck as the filmy vapors of famous mist are seen weaving elegant subtle shapes upon the patchy textures of a rounded amphitheatre jutting gray stone 3,000 feet high from the water and plunging another 3,000 or so feet below the surface. As the boat moves nearer, one is suddenly faced with uncompromising evidence of a higher power and also begins to understand why this wilderness is so beloved.
"This is my corn. You people are guests in my corn. Ray Kinsella."
The clouds part and come together in a primal dance upon the face of the cliff, braiding vapors in a dream-like Lord-of-the-Rings fashion. To the sides, green-timbered trees point bony fingers upward as if directing praise toward the creator of this incredible place. Here and there, mountainfalls tumble down with waterfalls in mixture of a violent, chaotic torrent of jumbled rock with ribboned water colored as blue and clear as the eyes of an artic wolf.
Everywhere you look is peace and serenity. Although Misty changes with each day's unexpected combination of life, light, landscape, and atmosphere, it is always awe-inspiring. No one ever comes away from here feeling disappointed.
As the boat swerves toward the Mossy Wall Bird Rookery, the naturalist resumes his informative discourse regarding glacial scaring. He points out the roosting gulls and pigeon gillemonts. The boat will slow down to a crawl as it passes the ancient Pictograph marking a headstone of an unknown Tlingit shaman so that passengers can take their time to squint into the shadows of the rocks to see the ancient burial site.
And then the Majestic is docking and you find yourself stepping onto the wood planks of the float dock and into the dream that is Misty. Some people say that the trick to having a good experience in the Fjords is dependent upon the weather, but that really isn't true. Like any grand lady, Misty Fjords looks good every time you see her. Whether she's wearing a mantle of white sparkling snow, a long dress of yellow sunshine, a gown of rainbow-jeweled raindrops or nothing but a few scantily-clad puffs of mists and a come-hither wind-blown look, she'll always impress.
"You know we just don't recognize the most significant moments of our lives while they're happening. Back then I thought, well, there'll be other days. I didn't realize that that was the only day. Dr. Archibald "Moonlight" Graham."
And impress she does. You'll be standing with your camera forgotten in your hand, taking in the enormity of her beauty from shore level with a gaping mouth, while planes from overhead are landing on the water and catching up lines to tie off at the Float beside you. Finally, when someone tugs on your arm or calls your name, you'll be pulled out of your reverie and find yourself standing beside a bobbing Beaver or a prodding Otter Floatplane, ready for yet another incredible experience high above Misty's incredible splendor.
If you've never taken a small airplane ride before or if the expanse between the dock and the seaplane's first step makes you nervous, don't worry. The pilot has loads of experience in these Alaska skies and will be there to help you aboard and ease your fears. Before you know it, you'll be strapped into the seat and being reassured that even the smallest floatplane you could be flying in has more than enough horsepower to spare and both the Beaver and Otter are considered the safest planes for the area. You'll also be given a headset with a microphone that is voice-activated so that everyone in the aircraft can talk with each other as well as hear the pilot's narration regarding interesting tidbits about the sites seen along the way.
The plane's interior hugs you reassuringly as the pilot stirs the engine from sleep and with a couple of adjustments to the dials there will be a push off from the dock. Then you'll be slide-fliding down the runoff of salt water punch from Misty's rocky ridges and her 3,000 foot spoon-shaped-cliff and then . . . you're off! Air bound and still holding your breath, you'll climb over those same ridges and skim that huge granite cliff with ease and after clearing the water, the plane will gently climb away from the middle of the Fjord, awarding you with fantastic views of the area.
There's such a difference between reading something in a book and seeing it with your own eyes and experiencing it in person. As incredible as a cruise into the area is, looking down from the window of the plane, you'll suddenly understand the need to experience Misty Fjords from both the air and the ground in order to experience her fully. The pure ruggedness of the terrain seen from the air will inspire you all over again. You'll understand the vast numbers of her acreage at last. It is at this time that you will realize just how big Misty Fjords is. The fact that the Monument encompasses over 2.2 million acres of wilderness is easily lost as mere number when you're on the ground and not sure what might lie around the next corner. But when you're aloft, staring out at the expanse of a mystical storybook filled with rock walls and forested passages that stretch further than you can see no matter how high your plane climbs up in the sky, that number becomes a reality.
It's also easy to see why the sheer cliffs have been named "Punchbowl Cove." From the ground, it resembles the sides of a granite bowl, but from the air, you can see the "bowl" much clearer and it's as if all the boats and people and airplanes down below are just brightly-colored jelly beans floating in a giant punchbowl of raspberry-blue koolaid.
And it's also easier to appreciate the outstanding scenery in a "big-picture" sort of way from high in the sky. Before, on deck of the Majestic, you saw things from the perspective of a Bear rambling along the shoreline watching an eagle's flight. But, as the floatplane banks and circles sharply on its flight path back to Ketchikan, you gain a different perspective - this time that of the eagle swooping down to catch a glimpse of the bear's trek within the embrace of the divine Misty.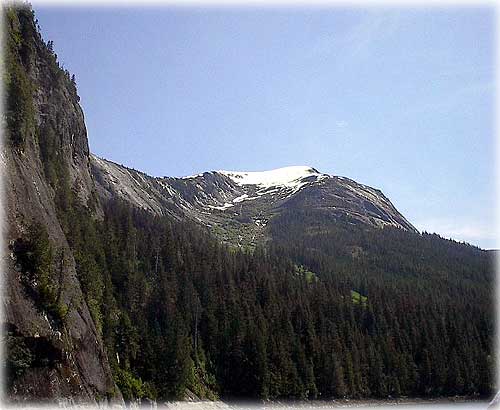 Punchbowl area...
Photo by Sharon Allen

It is true that the dangerous grizzly bears appear as just black boulders rolling across muskeg and most of the other life forms are invisible to the naked eye, but other aspects of Misty become available which would otherwise be inaccessible. The sameness is there, but the little streams you saw before you can now trail up the steep slopes and down into the open bogs. That Hemlock you thought was so cool can now be seen as part of a forest wider than you could walk in a single hour. That small inlet is actually a large cove. That outcropping, a big island. Creeks and rivers which are usually too narrow for boats to traverse can be explored with binoculars and a dipped wing. Remote homes and service cabins hidden along mountain trails or shrouded shorelines can be spotted as possible vacation spots. Campers and hikers can be seen waving from treks further inland. Hidden lakes sparkle like diamonds upon the lush velvet of a muskeg neckline or a green forest's backbone or the blue-green shoulder of bare boulders.
And as you turn off the long highway of Behm Canal back toward Ketchikan, the clear line in the water dividing the incoming ocean from milky glacial runoff is more easily seen. Additionally, at specific times of the year, the golden spruce pollen can be spotted floating on the calmer waters, as can the rusty explosion of red tide. A hodgepodge of homes and shacks can be observed on the adjoining islands to Revilla, still inaccessible by road in true frontier spirit. Then the profusion of life which is Ketchikan comes into view and grows in size until the floatplane is just above Pennock Island, turning for a final approach on the liquid runway of Tongass Narrows.
The little play cars and boats become Buicks and Glasplys again as you drop in elevation. People below gain facial expressions and names as the water comes closer. The drone from inside the airplane lessens and then there is a little skip as the plane touches the water in a jello-smooth surface landing right between the big Cruise Ships at the dock and Gravina Island.
"We're keeping this field. Ray Kinsella."
It is an incredible experience to travel on the Alaska Cruises' Monumental Misty Fjords Cruise or Cruise with Seaplane Adventure. It's encouraged that you make advance reservations for this incredible trip to the Monument. Of course, there is always the risk that weather may interfere with your plans, but if you don't make prior plans, you may run the risk of the tour being booked and not having enough space to accommodate your needs.
Alaska Cruises offers their tours daily through September 23rd. If you opt for the Cruise/Cruise only, the tour into Misty and back is 6 _ hours. On the Cruise with Seaplane Adventure Tour, the trip into Misty Fjords averages two hours and the flight back is about twenty-five minutes - but it takes a lot longer to pull yourself out of the dream-like state you fall victim to from the tour of the area, no matter which option you decide on. No matter what, Alaska Cruises'
Tour to Misty Fjords is a must-see must-do combination that will definitely fulfill a lifetime of dreams.
Alaska Cruises offers their Misty Fjords Cruise and Cruise with Seaplane Adventure Daily through September 23rd. For reservations, please call 907-225-6044 or toll-free at 1-800-228-1905. You can also email them at mail.ac@GOLDBELT.com and visit their website at www.mistyfjord.net.

Sharon Allen is a freelance writer living in Ketchikan, Alaska.
Contact Sharon at sharon(AT)sitnews.us
Publish A Letter on SitNews
Read Letters/Opinions
Submit A Letter to the Editor
SitNews
Stories In The News
Ketchikan, Alaska