Arts and Entertainment
ARTScool's JUNGLE A "ROARING" GOOD TIME!
By Sharon Allen

August 22, 2005
Monday

Ketchikan, Alaska - On Saturday August 13th at Kayhi, some of the kids in Ketchikan went totally WILD!
. . . but not with vandalism or bad language or rude behavior. In spite of the bad press so often written about the youth of today, the wildness I'm talking about was a positive commotion - not a negative one.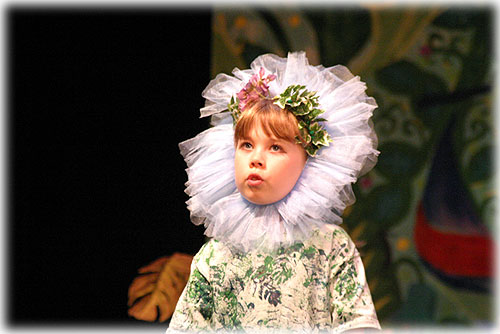 Three flowers Kyrie Chandler, Alexandra Souter and Shyanne Cooper
hit the adorable meter with high marks. Pictured is Alexandra Souter...
Photograph by Mike Gates ©2005

I'm referring to the theatre performance of Disney's "The Jungle Book KIDS" by ARTScool. Perfect for even the youngest age group, this play was adapted from the Rudyard Kipling classic entitled, The Jungle Book, and I'm happy to report that everyone there - cast, crew and audience - had a roaring good time.
The lighting by Aubree Danner was perfect, and the sound by Kathleen Jorgensen and Colin Patton was very well done.
The set crew consisted of Jill Gates, Peggy Toldy, Steve Toldy, Martin Chavez, Michelle Kistler, Michael Fitzgerald, Myra Zelensky and Jim Monta. Kate Cessnun was the Stage Manager and both she and Colin Patton were Theatre Interns for the production. A special thank you goes out to all of them for their hard work in creating such a lush backdrop and an amazing show.
Responsible for the costumes were Loren McCue (Wearable Art), Haley Widness (Costumes and Jungle Shirts), Beth Brandt-Erichsen (Jungle Shirts), Anne Schuerger, (Jungle Shirts), Anne Schuerger (Costumes), Roxanne Abajian (Costumes), Grayce Hein (Costumes) and Ann Widness (Costumes), as well as the rest of the parents and cast.
They all did a superb job by ingeniously designing clothing for an incredibly diverse company that allowed just enough of a visual clue to stimulate the imagination while still keeping everyone comfortable.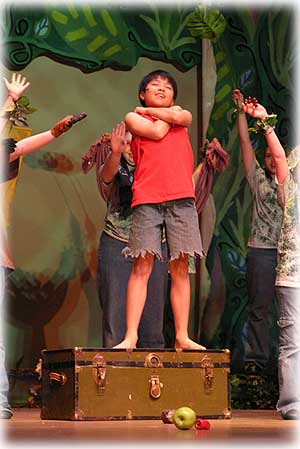 Nathan Buendia did an excellent
job cast as Mowgli...
Photograph by Mike Gates ©2005
But more than any others, there were three people who seemed to leave their stamp on the show: Elizabeth Nelson (Director) and Clare Patton & Kate Cessnun (Choreography). Nelson's seasoned hand on the production was gentle but confident. I felt she did an excellent job with the kids and deserved a standing ovation for her work alone.
Patton and Cessnun were fantastic as well. They provided each child with choreography for their part without resorting to the obvious. Both of them also seemed to understand how a young actor thinks and the way young bodies move. The result of their work was a young, entertaining musical entourage that presented itself with considerable polish.
And it was truly entertaining.
If you are not familiar with this version, it was a little different from the original story. It also wasn't the other Disney adaptation which starred Jason Scott Lee as Mowgli, Lena Headey as Kitty and the talented John Cleese as Kitty's father and is a love story between Mowgli, the jungle boy, and Kitty, the daughter of the commander of an army post.
Instead, this rendition was more like the animated Disney version from the sixties and had more good fun than gun-flash or gushy feelings. Written by Richard M. Sherman, Robert B. Sherman, Terry Gilkyson and Marcy Heisler with music adapted and arranged by Bryan Louiselle, it begins by telling the tale of a boy named Mowgli who was lost in the jungle at a very early age. Miraculously raised by wolves and protected by Bagheera, the wise panther, he grows from an infant into a "man-cub," peacefully.
But then everyone in the jungle hears that Shere Khan, the evil tiger, has returned to the area. That spells big trouble for Mowgli because the tiger has vowed to kill the young man-cub. So in order to keep the boy safe, Bagheera becomes determined to return his young charge to the man-village before Shere Khan can find them.
However, returning Mowgli is not such an easy feat. To begin with, Mowgli himself rebels. He wants to stay in the jungle. Confounding things even further, he persists in somehow falling into traps, wandering away, or just plain getting into trouble whenever the wise old panther's back is turned.
For instance, first Mowgli meets Kaa, the python, who tries to eat him for a snack. Then an elderly ear-flapping elephant Colonel named Hathi appears complete with a brigade of Babars adorably trailed by a baby elephant. Of course, the Colonel and his troops aren't out to hurt Mowgli, but they do end up slowing down Bagheera's progress toward the man-village somewhat with their marching mayhem.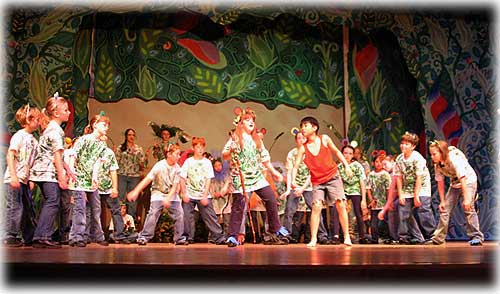 Monkeys: Emily Bryan, Regan Cloudy, Craig DeBoer, Chandler Grace, Hitsati Hudson, Solstice Lappin, Devon Lewis, Melanie Loughman, Sarah Martinez, Cierra Mechan-Driscoll, Amy Owings, Mack Owings, Tori Stewart and Rosemary Svenson.
Photograph by Mike Gates ©2005

Next, Mowgli meets Baloo, a sympathetic, bumbling, happy, dear bear. Baloo doesn't quite understand the dangers involved should Mowgli stay in the jungle, and so he soft-heartedly sides with Mowgli and therefore gets in the way of Bagheera's plans to keep the boy safe.
And there is a jiving, jazzy monkey Monarch by the name of King Louie, who orders his comical chimp minions to kidnap Mowgli, thus complicating things even more.
Ultimately, of course, all ends happily. Bagheera rescues Mowgli from Kaa's clutches in time, the tramping trunks move on down the road, King Louie and Company are outwitted and Mowgli is rescued yet again, and then Shere Khan is defeated and tied up with jungle vines. Mowgli even meets a young girl from the man-village and decides to leave Bagheera, Baloo and his beloved jungle for a try at a new life.
As I mentioned before there are, of course, many different versions of Kipling's work, of which "The Jungle Book KIDS" is only one. But all have the same basic structure: a moral tale of self-discovery which delves into Mowgli's struggles to understand and find his place in the world. It is a story that has charmed countless children for generations and which has excellent examples of loyalty and friendship and sacrifice.
What the other versions DON'T have is the rhythmic song that was performed prior to the play. Entitled Harambee: "A Rhythm and Movement Production," it began with a drumbeat outside of the theatre and continued as the performers and musicians entered from the back of the theatre to take their places onstage.
This fascinating introductory piece was performed by Ryanna Chandler, Hitsati Hudson, Mena Heinl, Faith Jardine, Hayley Nichols, Kirsten Stump and Ashley Byler. Choreographed by Byler and with drums played by Dave Rubin and friends, it was an apt appetizer to the tropical treat to come: fun, rhythmic, visually arresting, original and enchanting.
Against a simple background, the costumes were vivid, colorful and imaginative. Additionally, the use of drinking-fountain water bottles as drums for each child was, I thought, a wonderful Ketchikany touch that brought a surprisingly realistic sound to the Kenyan piece.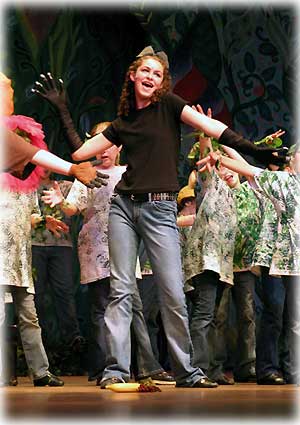 Elizabeth Graham gave a stylish performance as the sleek panther Bagheera.
Photograph by Mike Gates ©2005
All of the kids did a great job, but then again, one can only wonder if they were born with a flair for dance or if, in part, their panache was coaxed forth by the teachings of the gifted Ashley Byler.
Her own love of the art is reknown in Ketchikan, as is her huge reservoir of talent, her love for teaching and her fondness for children. Byler plans to move to New York next month to further her studies in dance, and while we all wish her well in her goal, we will miss her greatly.
My only criticism would be with the mode of entrance. There seems to be preponderance these days toward directing musicians, in particular, and oftentimes the actors themselves, to begin a production by entering from the back and traipsing their way through the audience while acting a part, singing an opening song, or playing an instrument.
Perhaps it is not a universal complaint, and perhaps I am just old-fashioned in my judgment, but it was noticeable that many who attended the show were made uncomfortable at having to twist around 180 degrees to find out what was happening at the back of the auditorium. That said, it was, I admit, a small inconvenience, and once the show got going, any such hassle was forgotten in watching the talent onstage.
And speaking of talent, it must be pointed out that in this piece, Ryanna Chandler should be labeled as "one to watch." Dressed in yellow with long tresses gracefully framing her young face, she looked shy, but danced with poise, buoyancy and joy.
Then too, Hitsati Hudson, in particular, was outstanding in everything he did throughout the show. Afraid of nothing, his movements were full of bold confidence. His love of life was readily apparent within his wide smile and his exuberant movements. Such a thing is always a pleasure to see in anyone, but it is especially treasured when observed in one so young.
Likewise, another young man, Nathan Buendia, did an excellent job cast as Mowgli. Barefoot and with his slight build dressed in a bright red shirt and cut-off shorts, he looked enough like a jungle boy to keep the story flowing throughout even the slowest segments. He gave a great performance with a flawless delivery complimented by comical facial expressions and unrestrained body movements that would have been unusual in an actor twice his age. As such, he was a delight to watch throughout the performance and he should receive full marks for his animated treatment of the starring role.
Similarly, Sarah Gilmon made a lovable, laughable Baloo the bear. The "one of the guys" personality she gave to Baloo was endearing, and her slappy, funny, somewhat clumsy spectacle was right on track.
Elizabeth Graham gave a stylish performance as the sleek panther Bagheera; Mowgli's wise guardian. Her tall slim form, long dark curled locks, and graceful limbs were the perfect foil for the cat's tiny black ears and long gloved claws. In short, she was lustrous and luscious and elegantly feline.
Gracie Brandt-Erichsen, Katherine Toldy and Treva Widness were unquestionably all snake charmers in their part. The three of them had the strange but well-done task of synching up and portraying the long, long, long, cold-blooded Kaa, the rock python. Their song, "Trust in Me" was sung as they endeavored to squeeze Mowgli into their coiled clutches. To say their performance met with success from their combined sinuous efforts is an understatement. They were fabulous.
So was Shere Khan, the Evil Tiger, which was played by Katrina Monta. Here was no velvety-Tony-Jay-voiced malicious feline, but a grasping, growling plain-mean-ole fur-lined bully. Dressed in jeans with an orange top and coordinating black, white, and orange striped ears, tail and clawed gloves, Katrina joyfully imbued the part with Khan's powerful arrogance to the delight of the crowd. After all, who doesn't love to hate a villain? Or for that matter play one onstage? It was a great part - well played, and I can only imagine how much fun she and the others had at rehearsals.
Another favorite of the audience was Colonel Hathi (April Souza) complete with the Elephant Troops (Crysta Davis, Taylor Gates, Kaitlyn Hasty, Drew Hausmann, Charlie Klein, Solstice Lappin, Kinsey Ruhl, Emma Scott, Skyler Smith and Leslie Snodderly) and the Baby Elephant (Haley Nichols).
Haley was incredibly good as the Baby Elephant and her little trunked tyke rivaled the Disney version in cuteness. In fact, the whole segment was toe-tappingly wonderful, if not knee-slappingly hilarious, and April was stuffily tusky and perfectly-full-of-herself as only a floppy-eared elephant-like British Commander of a pack of pachyderms could be.
But I must admit to a weakness within the next comment. My favorite part was where Mowgli was taken captive by the monkeys. The way they bounced around the stage as if it were a playground full of teeter-totters, hopscotch squares and monkey bars was great.
And on that note, of all the characters throughout the performance, I felt the show's principal asset was Sarah Fitzgerald, who played King Louie, the pathological egotist. In the animated Disney film, King Louie's character was based on the jazz great, Louie Armstrong, but Sarah took the part in a different direction.
While still emulating the scratchy scat of Armstrong and the stooped physique of a primate, she succeeded in giving a new slant to this familiar personality with a distinctive blend of humorous comedy, monkey-like-agility, insecure pomposity, narcissistic triviality and the most amazing voice I have ever heard on a child of that age. If the caliber of her talent rises with time, there is no limit to what this amazing young girl could accomplish in her life.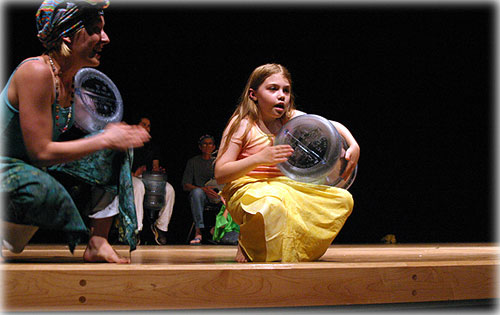 A flock of birds: Ryanna Chandler, Crysta Davis, Kinsey Ruhl and Tori Stewart.
Pictured is Ryanna Chandler (yellow)
Photograph by Mike Gates ©2005

It is hard to pick out any other individual performances. Each of the supporting parts were handled extremely well; especially as it must be most difficult to give a lot of personality to roles such as a Rock (Hitsati Hudson, who was so great in Harambee), a sun or a moon (Chandler Grace and Amy Owings), a Prickly Pear (Rosemary Svenson), a bunch of insects (Devon Lewis and Cierra Mchan-Driscoll), fruity things (Gracie Brandt-Erichsen, Regan Cloudy, Sarah Fitzgerald, Kaitlyn Hasty, Carlee Kistler, Charlie Kelin, Haley Nichols, Emma Scott, Skyler Smith, Katherine Toldy and Trava Widness), flowers (Kyrie Chandler, Shyanne Cooper, Alexandra Souter, Alexa Zelensky and Annie Johnson), trees (Drew Housmann, Sarah Martinez, Leslie Snodderly and April Souza), or bushes (Emily Bryan, Craig DeBoer, Charlie Klein, Melanie Loughman, Mack Owings and Kinsey Ruhl).
Even as Shanti (Alexandra Flom), the Old Monkey (Annie Johnson), a vulture (Jami DeWitt and Alexa Zelensky), a pack of wolves (Regan Cloudy, Crysta Davis, Jamie DeWitt, Charlie Klein and Alexa Zelensky), a flock of birds (Ryanna Chandler, Crysta Davis, Kinsey Ruhl and Tori Stewart), or a bunch of monkeys (Emily Bryan, Regan Cloudy, Craig DeBoer, Chandler Grace, Hitsati Hudson, Solstice Lappin, Devon Lewis, Melanie Loughman, Sarah Martinez, Cierra Mechan-Driscoll, Amy Owings, Mack Owings, Tori Stewart and Rosemary Svenson), it would be hard to "find one's motivation" and really outdo anyone else.
However, I must say Lauren Gates (as the Coconut Tree) did a stand-out exceptional job - her voice was very good and her facial expression, while perhaps not "palmish" at all times, was always full of sunshine.
Likewise, three flowers hit the adorable meter with high marks: Kyrie Chandler, Alexandra Souter and Shyanne Cooper. Although you couldn't really tell if they were American Beauties, Skygazer Lilies, or wild Forget-me-nots, it didn't matter a bit. With their cherub faces framed by ruffled netting, ivy and silk petals; their voices were heavenly, they looked sweet as Roses and their smiles will not be soon forgotten.
Neither will the others in the cast and crew. They all more than deserved the huge roar of applause and the standing ovation at the end of the evening. The whole show was immensely enjoyed and greatly appreciated by those of us in the audience. We are so privileged to have such beautiful, talented, terrific kids in Ketchikan.
I think Kipling would have been proud.



Sharon Allen is a freelance writer living in Ketchikan, Alaska.
Contact Sharon at sharon(AT)sitnews.us
Publish A Letter on SitNews
Read Letters/Opinions
Submit A Letter to the Editor
SitNews
Stories In The News
Ketchikan, Alaska