Arts and Entertainment
GRINDING TO A FALL STOP
The Season Ends for The Monthly Grind Part I
By Sharon Allen
June 24, 2005
Friday

Ketchikan, Alaska - Just in case you haven't been in town recently, the Tourists are back. That's bad for traffic and good for the economy. It also means the seniors have graduated, the Derby is in full-swing, the kids are out of school for the summer and the Monthly Grind has ground to a halt for the summer . . . but before you get your Helly's in a bunch, don't fret; it'll be back before you know it.
Every year The Monthly Grind takes a little well-deserved vacation during June, July and August. The musicians need a vacation (like everyone else) and besides, it's tourist season and anyone who isn't working fourteen-hour-days is fishing from four am to 10 pm. There simply isn't time for much else in the summer.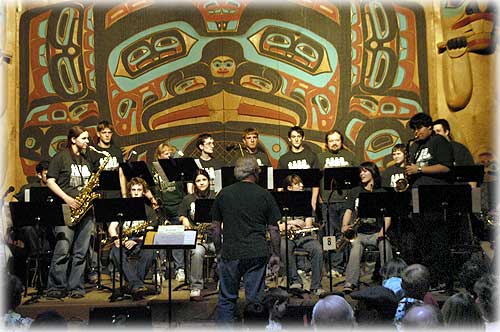 Windjammers: Always a favorite...
Photo by Jeff Fitzwater

So May's show was the last one until this coming September and if you missed it, you shoulda' been there! The Monthly Grind closed out the season with Snap!
The Monthly Grind is always well attended, but the Saxman Tribal House was packed for this one on May 21st! The show was sold out a full week prior, but people were still standing in line outside hoping for a ticket from a cancellation. There were a few lucky ones who did get to buy a last-minute ticket, but not many.
It was well-advertised that the show's theme would be a tropical one so naturally, a lot of people came dressed in Hawaiian shirts or beachy-type outfits. Some of the ladies came in grass skirts (over their jeans, of course!) and about half of the attendees wore leis.
Wearing their famous green t-shirts with their namesake ship on front, the Windjammers jammed up the crowd as the crowd crammed in the place and took seats. Always a favorite at the Monthly Grind, this Jazz Club is made up of kids in grades six through twelve and was formed in 1998 and the first place they ever performed was at The Monthly Grind. McPherson Music started a Jazz Workshop for young musicians that year and it was such a hit with the kids that they made it a permanent thing.
But not just anyone can join. It's open to advanced students only and only by audition. The kids have to have improvisation skills, music theory fundamentals, be able to attend 1 _ hour weekly practices and if they are absent, make up the time they missed within seven days. There are also fees involved and they also must have experience playing Jazz, Rock, Latin and Ballad-style music.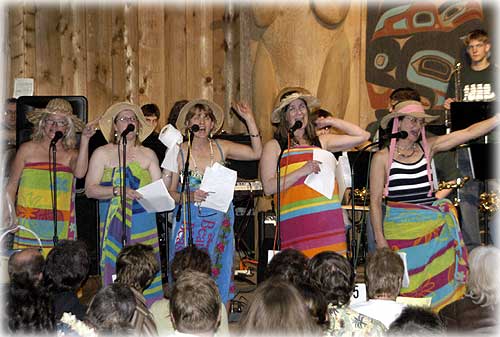 "Six Beach Babes" (Chaz Staunton, Sherry Henrickson, Roxanne Abajian, Valerie Brooks and Marlene Kuehl) sauntered onstage...
Photo by Jeff Fitzwater

All the kids work hard to be in the Jazz Club and you can tell they're having fun too. And they're good. Very good. The young musicians this year are directed by Roy McPherson and are also assisted by Matt Englebrecht, David Kiffer, Kim Kleinschmidt and Tina McPherson.
The Saxophone players are Krystle DeCourcey, Pat Doherty, Jamie Karlson, Courtney Kiffer, Sayers McAlpin and Samantha Mestas. The Trumpet section is made up of Ron Brandow, Lane Davis, Jeffery Karlson, Amber Kiffer and Lindy Parsons. Weston Corporon, Clay Hanson and Matthew Perry are on Trombones. Erik Judson tickles the Ivories and Arne Tollfeldt, Nelson Hays and Austin Hays play Guitar, Bass Guitar and Drums, respectively.
By the way, you may remember the daughters of Ken and Karleen Kiffer - Courtney (Saxophone) and Amber (Trumpet) - as being two recipients of the Sam Pitcher Music Scholarships in 2004. Likewise, Jamie (Saxophone) and Jeffery (Trumpet) won the 2005 Sam Pitcher Music Scholarships. These two talented twins are the daughter and son of Dan and Debbie Karlson.
After the Windjammers finished their warm-up, the Hosts for the night appeared to start the show along with Tom LeCompte. "Six Beach Babes" (Chaz Staunton, Sherry Henrickson, Roxanne Abajian, Valerie Brooks and Marlene Kuehl) sauntered onstage - dressed in bathing suits with straw hats - and one dressed with her bathing suit overtop her jeans!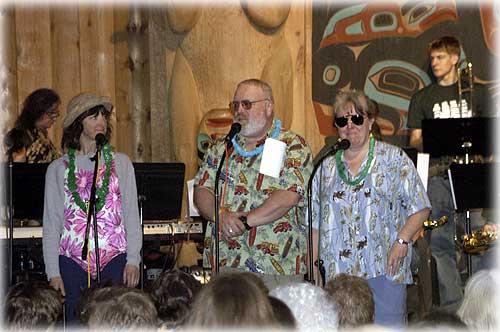 Hosts for the night the Beach Babes appeared to
start the show along with Tom LeCompte.
Photo by Jeff Fitzwater

However, despite their hilarious getups, they put all kidding aside for a couple of important announcements. First, the audience was informed that there was going to be a contest for the "best beach attire" right before the dessert awards with a real prize.
Then, one of the Beach Babes took up the microphone to talk about Dave Rubin. As most of you know, Dave is one of Ketchikan's best-known artists and has been a resident since 1983. His paintings, murals and other artwork are displayed and sold at Dockside Gallery. He also teaches art classes and workshops, acts in the community theatre from time-to-time and also lends his musical talents to local spots such as the Potlatch band or the Grind; where he can flutter-tongue a sax into altissimo like a Master or make a guitar wail or weep with emotion.
There are very few of us here in Ketchikan who are not familiar with Dave's bearded friendly face, so the news related was quite a shock.
"This is going out to a dear friend of all of ours - Dave Rubin . . ," the Beach Babe said quietly. "He really is the Heart of our Community and a couple of weeks ago, we almost lost Dave.
"He had a massive heart attack and had to fly south to Seattle . . . and as we know, it's pretty expensive . . . so the proceeds of this Grind are going to Dave Rubin . . ."
Amid the enormous thunder of applause following the announcement that a collection was also being taken by the door should anyone wish to contribute a dollar or two, the audience was relieved to spot Dave to the right of the stage, looking slightly weary, but on his feet.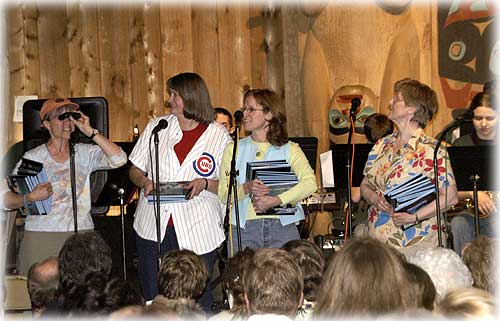 Ketchikan Reading Association
Photo by Jeff Fitzwater

The Ketchikan Reading Association made a quick appearance next. Their theme was WHALES.
"Hey, I'm having a whale of a time this summer watching humpback whales at Mountain Point," one of the women declared before asking another, "What are you doing this summer?"
"I'm going to have a whale of a time resting my foot," she replied, adding, "and watching for whales on the beach."
"I'm going to have a whale of time reading while camping on our new sailboat," a third woman proclaimed.
"Well, reading and watching whales? They go together!" the first said, holding up a book. ". . . So, I'm going to watch whales . . . and we can help a lot of people watch whales!"
And with that, the three handed out free copies of the beautiful book by two photographers (Mark Kelley and John Hyde) and three writers (Linda Daniel, Scott Foster and Lynn Schooler) entitled "Alaska's Watchable Whales" to families with children who might like to read the book this summer.
That was quite a gift. A compact hardcover book with a big impact, it portrays these magnificent animals with stunning glossy photographs and pairs its amazing visual experience with the most professional, accurate and up-to-date information currently available. It retails for $14.95 and can be found in most of the local shops around town or at http://www.galligaskins.com/whale.htm or at other similar bookstores online.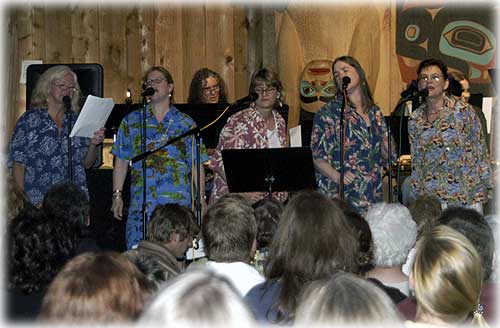 Beach Babes in Hawaiian shirts and Bermuda shorts.
Photo by Jeff Fitzwater

Following the presentation from the Members of the Ketchikan Reading Association, the Beach Babes returned; this time in Hawaiian shirts and Bermuda shorts. A couple of them wore shell necklaces as they introduced the Windjammers' set by singing, "Go 'Jammers, Go 'Jammers, Go 'Jammers, Go!" to the tune of "Help Me, Rhonda."
Then the Windjammers opened with a classic Buddy Rich song composed and arranged by Bill Potts, "Big Swing Face." According to the Official Website of Buddy Rich, this title was recorded in September of 1966 and was released in 1967 by Blue Note Records (USA). Most people consider it to be the best song Bill Potts ever wrote. It is also deemed the No. 1 song on the best album the legendary drummer Rich ever made.
This example of Big Band jazz is a blast of fast-paced-past and the Windjammers were up to the challenge of making the first song of the Grind one to remember. They did an excellent job on it, especially the soloists; Lane Davis, Clay Hanson, and Krystle DeCourcey.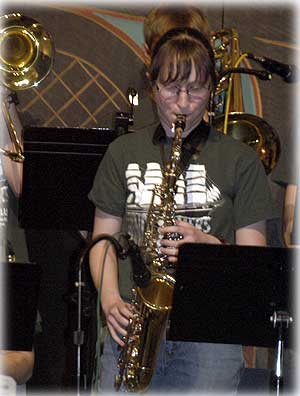 Member of the Windjammers:
Courtney Kiffer on Sax
Photo by Jeff Fitzwater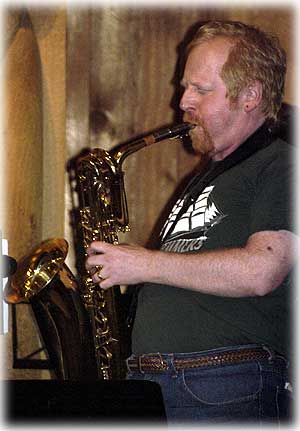 Windjammer Dave Kiffer
Photo by Jeff Fitzwater
"The Magician" and "Poultry Guest" were the songs played next. "The Magician" featured Courtney Kiffer on Sax and was a lovely ballad with a refreshing sound with an outstanding ending. "Poultry Guest" is a song from the "Chicken Rock" charts written by Les Hooper.
"He [Les Hooper] wrote a thing called "Chicken Scratch" way back," McPhearson told the crowd, adding, "and he seemed to be on a poultry thing for a while because the next one was "Rooster Parade" . . . and then Chicken Polo and then there's this one called "Poultry Guest."
It featured Sayers McAlpin on Saxophone and Weston Corporon on Trombone. It was a rocking, funky, spooky little number that was entirely unique with a very muscular, energetic beat.
They closed their set with a song that was actually three-songs-in-one. "We have three pieces called 'After You've Gone.' Three arrangements . . . we have an arrangement by Bill Holman . . . and then by another arranger, Mark Taylor that is totally different, and then we're going to close with something . . . by Paul Clark.
The original song "After You've Gone" was written in 1918 by two legendary songwriters, Henry Creamer and John Turner Layton. It was first recorded by Sophie Tucker, but both the original and later arrangements have also been recorded by most of the Jazz greats, such as Louis Armstrong, Count Basie, Nat King Cole and Tommy Dorsey, just to name a few.
The first arrangement by Bill Holman was full of energy and was quickly over. It roared through the short sixteen measures in no time. It featured soloists Krystle DeCourcey and Dave Kiffer. Mark Taylor's offering of the same name was a lot slower with a Basie-style languid sound lending a tasteful groove to it. The last of the three offerings was pure swing. It was up-beat and had a lot of extraordinary tempo changes that made it a fun piece - especially the strip-tease-like Gypsy-Rose-Lee ending. Krystle's solo was very good and Dave, as always, blew everyone away. It was great to hear the Windjammers doing so well and we all hope to hear them again soon.
As the stage was cleared of chairs and music stands, the hostesses swam up, wearing snorkeling gear and flippers. It wasn't quite clear how the first of them could see where she was going - she kept getting fogged up - but somehow, she led the rest of them toward the microphone with flippers flapping on timbered floors.
Completely off-key, and with great confusion as each tried to steal the spotlight, the ladies sang a song in which the only recognizable words were "heavenly music;" which, as they were introducing Anita Hales and the Celtic Knots next, was fitting. The harp music produced by Anita's talent is definitely angelic in nature and always amazing.
The group consisted of Anita Hales on the Celtic Harp with the Knotty Ones being; Carlene Allred on the Fiddle, Shoshana Hales on vocals and Pennywhistle, Sarah Hales on vocals, Dave Rubin (take it easy, Dave!) on guitar, Brian Curtis on Bass, and Rob Alley and Jen Alverson on the Bodhran (Irish Drum).
They all arrived onstage in green "home-brew iron-on" t-shirts with a knot on the front and on the back with the words below stating humorously, "Knot My Shirt." We have all enjoyed Dave, Brian, Rob Jen and Carlene's music before and know how great they are. Anita's harp music was superb and she has a wonderful voice, as do her two daughters, Shoshana and Sarah; quite similar to the beautiful and talented Loreena McKennitt.
The first song performed was "Skellig." It was a poignant song done by Anita and Carlene.
Anita's voice was pure Celtic ear candy with a lovely, melodic lilt. Carlene's violin wept along with the harp and it was easy to fall in love with the sound. It was nearly trance-like in its ability to steal one away to Ireland, at least for the length of the song.
A beloved Irish folk song, "The Mountains of Mourne" was next. This song is about how a young man went to London to seek his fortune but wishes he was back at home with Mary McCree (his beloved) living in the mountains of Mourne. It was a witty song that brought laughs and chuckles from the crowd with lyrics such as, "There's beautiful girls here, oh never you mind, with beautiful shapes nature never designed . . ."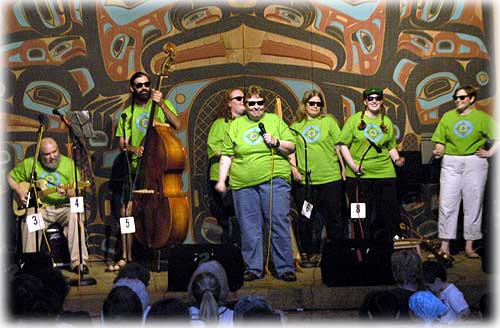 Anita Hales and the Celtic Knots
Photo by Jeff Fitzwater
Anita took the microphone then and told the crowd jokingly, "This song is "The Mummers Dance" and those of you who don't know what a "Mummer" is, it usually comes along with a Father."
Actually, a Mummer is a play. They still take place in the pubs of England and they date back to what is called the Heathen Era. They consist of between 5-7 actors and the plot is always the same; first a hero returns from a distant land and is challenged and killed, and then a doctor is called and revives the hero who then becomes victorious and peace reigns over all the land.
Anita's daughters - both with beautiful young, fresh faces and with one plaited in braids and the other with gorgeous red curls - sang some delightful harmony here and it was apparent they had inherited fine singing voices from their mother. Both girls are indeed stars in the making and I'm sure these two striking new talents would shine brightly in their own right should they decide to follow the footlights alone.
The melody of the song itself was unexpectedly exquisite as it describes what is considered to be a rather violent play. The mixture of simple instrumentals and complex vocal harmonies was quite intriguing.
Also intriguing was the next song they played; which was a purely Gaelic tune called "Alasdair Mhic." Later, Anita gave up a little more information about the song. "The song is from the island of Barra and the Waulking songs were known as Orain Luaidhaidh . . . These songs were sung throughout the Highlands and the Hebrides and they are of a type unknown elsewhere in Western Europe."
But onstage, Anita joked around as she introduced it. "On the next song," she told the audience, "you can sing along. It's in GAELIC! But some of the words are really easy . . ."
And they actually were. "Alasdair Mhic Cholla Ghasda" was not that difficult to pronounce and the crowd did a very good job of singing their part on cue. As a little background, Anita told everyone that "Alasdair Mhic" was a working song.
"They called it a Waulking song," she said, adding, "and when they make the fabric out of wool, they'll make yards and yards of fabric and then they want to make it soft - you know how itchy wool is - so guess what they used to make it soft . . ." she asked, waiting for a minute before answering herself by saying, "Fish oil. Now fish oil smells really good and so you want to get that fish oil out of there so the best thing to get fish oil out of fabric is diluted urine and you would be working this with your hands and feet and so you would sing this song so you would not think about what you were doing . . ."
Of course, everyone "ewwed" at that.
With that, the clapping began and the Waulking song was chanted with gusto. It was a delightful way to involve the audience in the singing and everyone enjoyed it immensely.
And then the Celtic Knots played something a little more modern . . .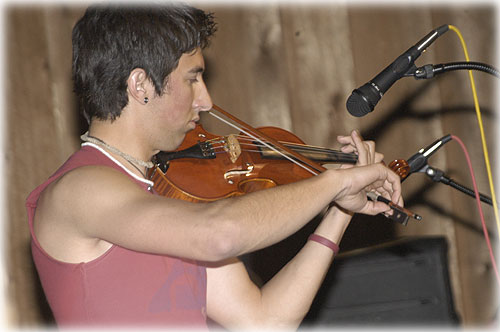 Stefan Hovik
Photo by Jeff Fitzwater

Anita stood up and took the microphone and put on her sunglasses. The rest of the Knots took the background and Anita started grinding out "Fever." If you thought she did a great job on the old Gaelic songs, it was nothing to what she did this time around. This song showed off her voice to full advantage. She lent a husky, back-of-the-throat tingling effect to the number and her incredible voice just reverberated throughout the hall.
The Knots did their best to keep up too. Everyone was having a good time. Sarah and Shoshana were wiggling down to the sound and Brian was the epitome of cool. Rubin was superb, as always. It was a great song and a great ending to their set.
The Beach Babes returned as the Knots retired. This time the Babes wore headbands and love beads and hippie skirts with peace necklaces and rainbows. Their version of "Good Vibrations" introduced our home-town classical violinist, Stefan Hovik next, with the beginning words of "ooooo, the sound of the violin . . ."
But there was nothing small-town about Stefan's talent - it was all big-town. To say that Stefan can fiddle is an understatement. Stefan plays Bach: Well.
You wouldn't think he would from his appearance. He arrived on stage looking like any other college student. He wore tan pants, a rust-colored muscle shirt with a woven rawhide necklace. But, oh, his fingers were magical and his Strad was strung with gut as he belted out the three movements of Bach's incredibly intricate "Fantasia and Fugue in A Minor."
To be continued . . .
Sharon Allen is a freelance writer living in Ketchikan, Alaska.
Contact Sharon at sharon(AT)sitnews.us
Publish A Letter on SitNews
Read Letters/Opinions
Submit A Letter to the Editor
SitNews
Stories In The News
Ketchikan, Alaska