ARTS AND ENTERTAINMENT
FIRST CITY PLAYERS AND ActOUT'S "CHARLIE AND THE CHOCOLATE FACTORY" A DELICIOUS TREAT
By Sharon Allen
April 10, 2006
Monday

Ketchikan, Alaska - At 7:30 pm this past Friday and Saturday nights, First City Players and the ActOUT Youth Performance Company put on "Charlie and the Chocolate Factory" at the Kayhi Auditorium. It is always a delicious treat to see the kids of Ketchikan on stage; however, this production was especially "scrumdidilyumptious." After all, who doesn't love the combination of chocolate, kids and fun?
Forty-four youngsters made up the cast which was directed by the gifted Elizabeth Nelson. John Gierard starred as the gentle Charlie Bucket, Cody Dean was the famous Willy Wonka and Jeanette Sweetman played the part of the informative Narrator. Adapted by Richard R. George, this sweet play was first published in 1990 and was based on the book of the same title by Roald Dahl.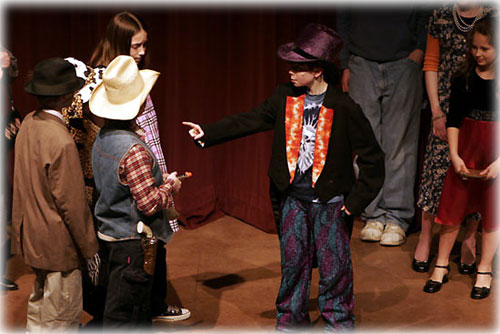 Willy Wonka (played by Cody Dean) offers a guided tour of his magical chocolate factory.
Photograph by Carl Thompson ©2006


As you read the article, View the Photo Gallery by Carl Thompson
Besides stirring George to dramatize the book, Dahl's work also inspired two films. You may remember the first of these best of all. Released in 1971, it starred Gene Wilder as the nutty chocolate mogul, Willy Wonka. The second more recent (and darker) version was directed by Tim Burton, written by John August and starred Johnny Depp. Two of Dahl's other titles "James and the Giant Peach" and "Matilda" have also been made into huge box office smashes.
Although Dahl is most popular as a children's author, he didn't begin his career by writing kids' books. He made his start when a newspaper asked him to write about his experiences as a fighter pilot in the Royal Air Force during WWII. So, it wasn't until 1960 that he began writing children's stories; purportedly, to entertain his own kids at bedtime and because he had run out of ideas for adult fiction.
Dahl's book and George's dramatization of it are equally great for kids to experience. The play has simple requirements for set design and props, as well as a lot of parts to go around for everyone. They both illustrate clear moral values and are full of fun.
For anyone who is not familiar with the plot, the story is about an eccentric chocolate maker, Willy Wonka (Cody Dean), who offers a guided tour of his magical chocolate factory (and hints at even greater prizes) to the five lucky people who find golden tickets hidden inside his chocolate bars.
Cody was brilliant as Wonka. Wearing the signature purple tails and black top hat, he played the part more like the character in Dahl's book than the Wonka in either of the films. He was a jumping junk food masterminding genius rather than a weird wild Depp or a warm but still rather strange Wilder.
Cody's smile was endearing and his portrayal excellent. The audience especially loved his ad-libs, such as once when the lights went up too soon and the audience saw Mike Teavee leaving the stage instead of imagining him floating through the air. Cody just turned to the audience and with a wave of his hand, quipped, "You saw nothing!"
The Narrator (Jeanette Sweetman) was also excellent. You may remember her as a frequent host at The Monthly Grind or as one of the actors in "Charlotte's Web" as the Haystack and Pitchfork. This time, dressed in light and dark chocolate-colored clothing she informed us of the important events of back story and transition, as well as giving a few opinionated commentaries along the way about the four unpleasant children and their parents.
She was upbeat, fun to watch and spoke very well, especially as she introduced us to each lucky ticket holder. The first was the ravenous Augustus Gloop, the second - the nasty masticating Violet Beauregarde, the third - the malicious bratty Veruca Salt and the fourth - the cap-gun-toting, TV-watching, know-it-all Mike Teavee.
And the fifth ticket holder?
Enter Charlie Bucket (Gierard); the kind-hearted, underprivileged boy. Charlie lived in a dilapidated shack with his mother (Emma Scott) and father (Jaron Whitton) and both sets of grandparents (Rosemary Svenson as Grandma Josephine, Leslie Snodderly as Grandpa George, Gracie Brandt-Erichsen as Grandma Georgina and Sara Gilmon as Grandpa Joe).
As an example of the pitiable conditions the Bucket family endured, all four of his grandparents were presented onstage squished together in a single bed - the only bed in the house. Through their conversation, we learned the family was so poor they could barely afford thin broth to eat and although Charlie loved chocolate, he usually only got some once a year on his birthday. Yet all six of them somehow managed to keep each other's spirits up and fill the home with lots of love.
Gierard was a wonderful choice to play Charlie. He had the perfect voice for the part and his portrayal imbued all of the right characteristics. He filled Charlie's part with a generous and giving spirit, lots of dreams, a love of family and a goodly amount of kindness towards others. From the time he stepped on stage, the audience was rooting for him to find the golden ticket, outclass the other kids and win Wonka's favor.
Emma (Mrs. Bucket) and Jaron (Mr. Bucket) were also brilliant choices. They both depicted Charlie's parents as fine and loving parents as well as just plain good people. Emma was wonderful, just as she was when she danced like a pro in Ketchikan Theatre Ballet's production of "The Museum." She was part of the Tap II Beginning Class and performed "Rothko's Later Works" to "Wilbur's Soiree" by the Jazz Mandolin Project. She was also part of those fantastic elephant troops in "Jungle Book" as well as a fruity thing.
But here, dressed in a rather shabby looking dress and sweater, Emma's clothing and posture did a great job of demonstrating the family's attempt to overcome their downtrodden financial and social conditions. She had a loving tone whenever she spoke and always seemed to keep her head down most of the time as if Mrs. Bucket were truly nearly broken by the world's cruelty.
And even though Jaron's performance as Mr. Bucket was short, he definitely nailed the image of a loving father. Reading bits of news to the family from what appeared to be a second-hand newspaper, he personified a man who wished he could do more for his family, but can't do so because of circumstances beyond his control.

Likewise, Grandpa Joe and the other grandparents came across with the same emotion. Rosemary, Leslie, Gracie and Sara were very good at their parts. In the past, they have all worked on other theatre productions together such as "Jungle Book." Rosemary Svenson was a prickly pear and a monkey, Gracie Brandt-Erichsen played part of the long, long, long, cold-blooded Kaa and a fruity thing and Leslie Snodderly was an elephant in the elephant troop as well as a tree in "Jungle Book."
But Sara Gilmon undoubtedly has the most experience of the four. For a start, she took part in "The Museum" in several scenes. She was in "Space" dressed in jazzy black and silver skin-tight leotard, and danced in the fun and ferocious primal routine entitled "Magdalenian Cave Art" as well as in the silly punditry of "Knock, knock, who's there?" Sara also did an outstanding job as the loveable Baloo in "Jungle Book" and with her shaking stooped walk, made a convincing Grandpa Joe this time.
As the scene opened on the four of them all wedged together in one single bed (the only bed in the house), they were a symbol of the cramped quarters of the penniless Bucket family. The red long-johns and the patchwork quilt was a great touch as well; representing their age, frailty and family cohesiveness. The appearance of all of them together in such a small amount of space on such a huge stage did more than anything else to allow the audience to understand how underprivileged Charlie was while growing up in such a wide, big world.
It was a sharp image, but as mentioned earlier, this is a morality play and the disparities have to be strong in order to make their point. For instance, there was another vivid contrast made between the fabulous magical factory and the squalor of the Bucket house, and an even more dramatic one revealed by showing the ugly characteristics of the four nasty children against Charlie's good disposition.
It makes for a good story. It also made it easy for the audience to rejoice as Charlie miraculously found the fifth golden ticket and when he and Grandpa Joe step through the factory's gates close on the heels of Augustus, Violet, Veruca, and Mike, as well as the four horrible children's equally horrible parents. After all, Charlie and Grandpa Joe were kind and good and all of the others were worse than a bunch of Wangdoodles, Hornswogglers, Snozzwangers and rotten Vermicious Knids!
Augustus Gloop (Brendan Stanton) was first to show his nasty nature and leave the tour; falling victim to his own particular weaknesses of greed and gluttony. You may remember Brendan as Avery in "Charlotte's Web." He acted extremely well in "Charlotte," but here, with hands constantly full of food, and suspenders holding up his (literally) stuffed belly; Brendan was even better. He portrayed Augustus as if he were something between a poster child for Overeaters Anonymous and the original Fat B@*&ard from Austin Powers. He was splendid.
Alexa Zelensky was also wonderful as Mrs. Gloop. No novice actor, Alexa has been in two other productions: "Charlotte's Web" and "Jungle Book." Alexa played a chicken and a gander in Charlotte, and a vulture, a flower and a wolf in "Jungle Book." This time, her drab clothing and heavy accent lent a smothering mothering air to the part of Mrs. Gloop. She did a great job of going off the deep end when her insatiable son greedily gulped from the bank of Wonka's chocolate river and accidentally tumbled into it. Particularly hilarious was the way Alexa beat Wonka with her purse as she unjustly berated him for what she felt was the chocolate maker's negligence in allowing her oversized offspring to be sucked up a pipe and into the fudge room.
Next, we were introduced to Violet (Rique Hill), her three-month-old chewing gum wad, and her mother, Mrs. Beauregarde (Sarah Fitzgerald). With a little bow in her hair and wearing a blue and white plaid dress and canvas shoes, Violet looked innocent enough - at least until she opened her mouth. Then her ill manners became apparent as her lips spoke run-on paragraphs even while smacking gum and being generally obnoxious.
In this part Rique showed she is comfortable on the stage. She was recently seen in "The Museum" dancing next to Sara Gilmon in "Space" and "Knock, knock, who's there?" and was also a part of the Ballet V Class dressed as a beautiful Grecian Goddess.
Rique also deserves a round of applause for the way she handled the "wardrobe malfunction" on Friday night's performance in the "Invention Room." As the cue came for her to pull the string which would make her blow up like a bubble from chewing Wonka's most amazing, fabulous, sensational experimental soup - roast - beef - and - blueberry -pie - all -in - one bubble gum, she timely yanked at the cord, but it came away in her hand. However, not to be beaten by a mere string, and with a Violet-like determination, she took it in stride and somehow managed to make the mechanism work anyway! It was a great show of spirit and it also gave the audience an extra chuckle along the way.
And speaking of spirit, although Charlie and the Chocolate Factory wasn't a musical, and as such, the audience didn't get to enjoy Sarah Fitzgerald's splendid singing voice, they did get to appreciate her bountiful spirit and enthusiastic acting abilities as Mrs. Beauregarde. Outfitted in an outrageous zebra-patterned dress with black hose, white heels, a leopard stole, a huge tacky flowered black hat and an equally tacky pocketbook, Sarah shrieked lines with gusto as her gum-a-holic obnoxious little horror of a daughter began to turn as violet as her name.
Sarah has always been a favorite Ketchikan kid. She was a fruity thing and was also Great with a capital G as King Louie in "Jungle Book." As Mrs. Beauregarde, Sarah earned capital ED as an Everlasting Delight on stage.
"Well, well, well . . . two naughty, nasty little children gone. Three good, sweet little children left."
Then it was time for the third rotten child to take the spotlight. It is always difficult to pick one actor out from an ActOUT cast because all of the kids put every bit of heart they have into their work onstage and being of all different ages, they are all at different levels of experience as well.
However, that said, in watching the audience's reaction to the actors, there was no doubt that, other than the strange and wonderful Wonka himself, Veruca Salt (Skyler Smith) was a favorite as well. Of course, Veruca has always been a great role. Everyone loves to hate someone who is arrogant, demanding, selfish and quarrelsome. Veruca was all of that and more.
And if Mrs. Salt (Clare Chapel) seemed too sweetly indulgent and weak, Mr. Salt (Brandon Woolsey) was downright spineless against their daughter's temper tantrums. As an example, when Veruca demands a squirrel from Wonka's circular nut room, Mr. Salt whipped out his checkbook from the pocket of his business suit, ready to buy one at any cost. Both Brandon and Clare played their parts well, as one by one; the three Salts were attacked by Wonka's squirrels and dumped down a garbage chute.
Skyler herself was exceptional in the task of being the loud-mouthed and spoiled Veruca. It's no wonder. Skyler is no stranger to performing. She is very good. You may recall her as the loveable white lamb in "Charlotte's Web," or as a fruity thing and one of the elephants in the elephant troop in "Jungle Book."
This time, dressed in a pretty black and red velvet dress, she did an excellent job of capturing Veruca's personality - especially the unattractive and imperious way she ordered everyone - including her parents - around. Indeed, one could almost hear a silent cheer from the audience as Veruca got her just desserts.
As a result of the Salts' great acting, I think the lesson learned here spoke more loudly to both the children and the adults in the audience than any of the others.
"Who turned her into such a brat? Who were the culprits? Who did that? The guilty ones and this is sad . . . dear old Mom and loving Dad."
It was an obvious message spoken by the Oompa-Loompas after the Salts disappeared down the garbage chute and made its point blatantly.
Oh, and yes, we haven't covered Oompa-Loompas yet. There were Oompa-Loompas in the play. Lots of them. There were four main Oompa-Loompas (Alex Flom, Bryana Homan, Annie Johnson and Jenna Luhrs) and the four of them lent a lot of talent to the production. Last year, Alex Flom played Shanti in "Jungle Book" and Annie Johnson portrayed Mrs. Zuckerman in "Charlotte's Web" and a flower and the Old Monkey in "Jungle Book." As for Jenna Luhrs, not only did she play a lead in "Charlotte's Web" but she also took part in "Our Symphony" in 'Tap Shoes' as a dancer of the Tap I Class.
But of course, that wasn't all of the Oompa-Loompas. Violet and Veruca had their own groups in between their departures from the Wonka factory. Wesley Branco, John Cass, Joshua Chapman, Neva Garner, Nathaniel Homan, Grace Jackson, Leo Jackson, Liam Kiffer, Duncan Slagle, Elsa Snodderly, Kailee Tavaras, Melody Thompson and Zach Verney chanted after Violet's disappearance. Perhaps you spotted Neva in Ketchikan Theatre Ballet's production of "Our Symphony." She took part in the Scottish "Bagpipes" scene, stepping lively to the music of "Brendan's Begley's Slides."
Mary Flora, Sarah Herrick, Melanie Loughman, Shaelyn Painter, Rudy Pankow, Kyle Schnur, Mason Slagle and Clara Stanton recited after Veruca's departure. Melanie Loughman was an active member of the cast of "Jungle Book." She played a bush and a monkey in several scenes.
However, the Oompa-Loompas didn't sing as they did in the 1971 film, but they did chant the moral lessons and they were colorful and crazy and cute. They came in all different sizes and shapes and giggled and stomped with bare feet as they rhymed their way into our hearts in less than two seconds flat. Every one of them deserved a standing ovation. They had a lot of blocking to remember and an incredible amount of prose to memorize and the fact that they did it all in eight weeks was very impressive.
And after Veruca, the last of the five to get into trouble was Mike Teavee, (Charlie Klein). After entering the Wonkavision Room and learning about Wonka's new transportation method, Mike asks: "Mr. Wonka, can you send other things? Not just chocolate, I mean. . . What about . . . people?"
And, of course, being disobedient and not listening to anyone's warnings, Mike pushes buttons and makes himself fly through the air in a million pieces until he comes out miniaturized on the other end of the small TV screen.
Charlie has a lot of stage experience. He played Mr. Zuckerman in "Charlotte's Web" and in "Jungle Book" he was an elephant, a wolf, a fruity thing, and a bush. This time, in "Charlie and the Chocolate Factory," Charlie was great. Sporting cowboy attire, complete with a cowboy hat and cap guns, he played the mumbling, insolent, violent boy with a vengeance. The way he quickly leveled his toy gun at Wonka at one point was a scream.
Mr. Teavee (Alec Pankow) and Mrs. Teavee (Maricka Garner) were screams too - they screamed as they hurried over to Wonka's television and plucked a doll-sized Mike from the inky black screen. They both then put their son into Mrs. Teavee's purse and took him off to the taffy-pulling machine, hopefully to be molded and pulled back into shape. It was a funny scene and brought a lot of laughter from the audience.
Maricka has also been on stage before. She played both a chicken and a lovely goose recently in "Charlotte's Web" and was absolutely fabulous dancing in "The Museum" with the Ketchikan Theatre Ballet. She danced to "Faust" in "Van Gogh's Starry Night" with the rest of the Ballet IV Advanced Class. Her past stage experience stood her well in the part of Mrs. Teavee and helped to make the scene and underscore the moral. If you missed it, the lesson here was less blatant than in Veruca's case, but it was still there: those who are ill-mannered, selfish and rude and who do nothing but watch TV and play video games all day wind up small indeed.
So now Augustus, Violet, Veruca and Mike are gone and only Charlie and Grandpa Joe are left. Finally, the real reason for the special golden ticket tour is divulged by Wonka:
"I can't go on forever, and I don't really want to try. So, who can I trust to run the factory when I leave and take care of the Oompa-Loompas for me? Not a grownup. A grownup would want to do everything his own way, not mine. That's why I decided a long time ago I had to find a child. A very honest, loving child to whom I can tell all my most precious candy making secrets."
So Charlie and his family are to move into the factory to live in ease with Willy Wonka and his chocolate. So ends a great play. All the nasty children and their parents got what they deserved. Charlie and his Grandpa Joe and all the rest of his family are rewarded for being loving and good. Good triumphs over evil once again.
And talk about triumphs! Such was the entire play for director Elizabeth Nelson, who once again showed her brilliant talent at working with children.
It should also be mentioned that the set design was also well done. Deb Turnbull made all of Wonka's factory come to life, even Wonka's boat, the great doors to cream, whips and beans, the fantastic purple Wonka Elevator and the chocolate river "played" by several cast members. They held and swung a very, very, very long "chocolate" strip of cloth back and forth in a wavy motion. It was a great, if simple, design and worked beautifully. The machines in the Invention room were a delight as well. Here, cast members stood in groups wearing plastic-looking garb and sharing lengths of dryer tubing as machine parts. Their movements were on spot and looked very much like revolutionary, non-pollutionary mechanical wonders. Clare Patton should take a round of applause for that and for the rest of her efforts as Movement Coach.
The lighting by Alejandro Chavarria was great, especially the part when Violet turned blue. There were several times when it was hard to hear the children speaking, but I'm sure Kathleen Jorgensen had a tough job to handle as there were forty-four cast members to keep track of. That's a lot of mikes!
The costume design by Kathy Fitzgerald, Beth Brandt-Erichsen and Carol Stanton, as well as the rest of the cast and their families, was excellent. Somehow they managed to make the kids look like adults and also came up with some crazy get-ups for the Oompa-Loompas.
In addition, it should be pointed out that the music was great. A big round of applause should go to musicians Kim Henrickson, Sherry Henrickson, Bob Bloom and Clare Patton. They generously gave their time and talent to the production and made the experience even richer by their contributions.
A standing ovation was given to the entire cast as they made their bows. It was obvious that the audience both loved the kids and appreciated the play. As Willy Wonka put it: "A little nonsense now and then is cherished by the wisest men."
So, thank you, First City Players and everyone who was a part of ActOUT, for giving us yet another night to cherish.
"So shines a good deed in a weary world."
Sharon Allen is a freelance writer living in Ketchikan, Alaska.
A freelance writer is an uncommitted independent writer who produces
and sells articles to a publisher such as SitNews.
Contact Sharon at sharon(AT)sitnews.us
If you have a story you'd like published on SitNews,
contact Dick Kauffman at editor@sitnews.us


Publish A Letter on SitNews Read Letters/Opinions
Contact the Editor
SitNews
Stories In The News
Ketchikan, Alaska

©2006