Arts and Entertainment
CHASING THE SUMMERTIME BLUES AWAY WITH BLUEBERRY ARTS!
A 2005 Blueberry Arts Festival Review
By Sharon Allen
August 10, 2005
Wednesday

Ketchikan, Alaska - There's an event that occurs late every summer in Ketchikan, Alaska that is always a "Berry" good time and a bushel of fun! It's the Blueberry Arts Festival and in case you missed it, it took place last weekend here in Ketchikan.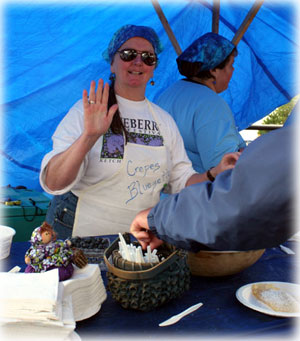 Susan Walsh making her famous blueberry crepes. A huge line formed all day in front of this booth. The crepes were wonderful....
the photographer can testify to that!!
Photograph by Melva Olson ©2005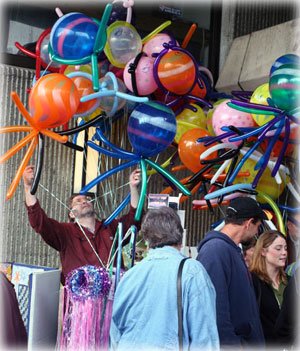 Balloons, balloons, balloons...
Photograph by Melva Olson ©2005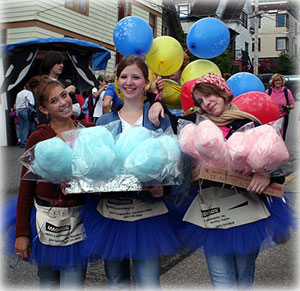 What would a festival be without cotton candy
and the blueberry cotton candy girls?
Photograph by Melva Olson ©2005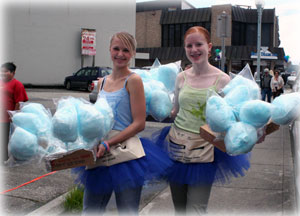 Photograph by Melva Olson ©2005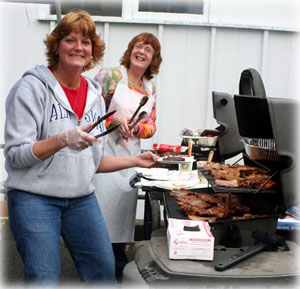 Gai Hooker and Jan Wolfe
Cookout for the Safeway Employees Association.
Photograph by Melva Olson ©2005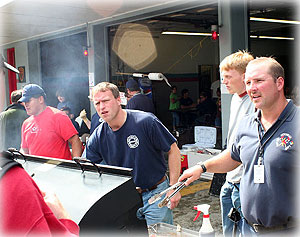 Jason Spear, Brian Short, and Dave Brietkreitz
cooking up a great barbecue!
Photograph by Melva Olson ©2005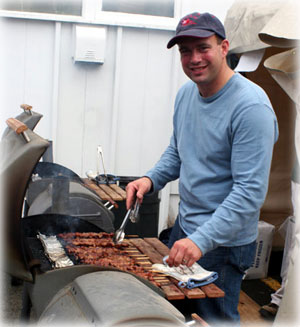 Ribs on the grill...
Photograph by Melva Olson ©2005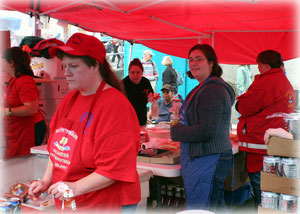 South Tongass Volunteer Fire
Department's food booth...
Photograph by Melva Olson ©2005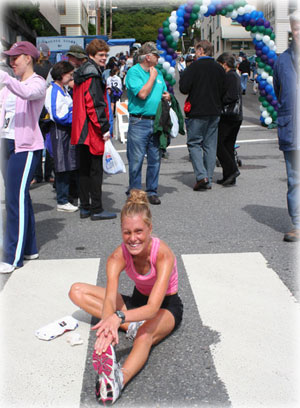 Preparing for the Blueberry Run...
Photograph by Melva Olson ©2005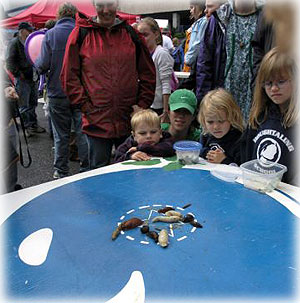 Dean Haines and Mom watch his slug-PodRacer
Photograph by Mimi Eddy ©2005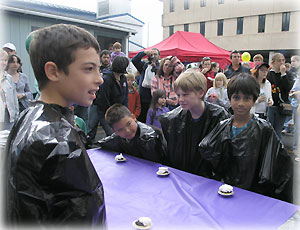 Jens Christianson, Logan Collins and
Jake Potts getting ready to dig into their pies...
Photograph by Mimi Eddy ©2005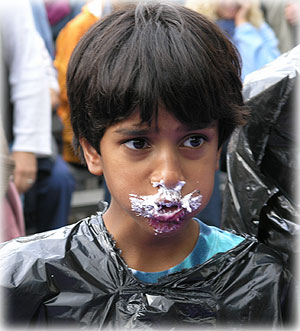 Jake Potts
Photograph by Mimi Eddy ©2005
The Blueberry Festival is always a much-loved, well-attended event and the 2005 edition was no different. It was filled with over 100 festival participants, demonstrations and activities, including food venders, booths of fine artwork, crafts, arts organizations, community groups, games, and commercial businesses promoting their products. It also featured a spelling bee, several contests and races, a poetry slam, a car show, several opportunities for local bands and musicians to show off for the crowds with an eclectic mix of tunes and talent and the ever-popular Gigglefeet dance festival.
Events early Friday began at 2 pm with a Pet and Doll Parade, a contest for the best blueberry dish at 3 pm, a Juried Art Show at 5 pm and the first Gigglefeet performance at Kayhi at 7:30.
The parade of kid-decorated bicycles and doll carriages was a perfect choice to start the three day event. As reported earlier in Sitnews, Gretchen Klein informed us that this was the first year that prizes were awarded. The added excitement was a welcome element and each winner was given a $30.00 gift certificate. All awards were donated by Big Brothers Big Sisters and after the parade, participants enjoyed ice cream and cookies served by Big Brothers Big Sisters volunteers Cecelia Johnson and Patti Fay Hickox.
The results of the 2005 event for Best Costume were as follows: First Prize to Erica Stewart of Ketchikan for "Princess and the Bunny Rabbit"; Second Prize to the Rachel Scanlon Family of Ketchikan for "Dolls and Pets"; and Third Prize to Gracie Jackson of Ketchikan for "Many Little Dolls."
The Best Blueberry Dish Contest was sponsored by the Arts Council and there were eighteen entries this year. The Grand Champion Winner went to the Blueberry Forest Rum Cake by Faith Duncan. She received a free Blueberry Festival t-shirt and $100 Mainstay Gallery gift certificate for her awesome dish. Second place went to Maria Dudzak for her Double Chocolate Mousse Pie with Blueberry Sauce and Fresh Berries and Third place went to Blueberry Baskets by Molly and Lucy Ortiz. There were two Honorable Mentions: Blueberry Lemon Pudding Cake, by Frances Young and Blueberry Cream Puffs, by Emily Anderson.
As always, the dishes were scrumptious and tempting, but the People's Choice went to the Double Chocolate Mousse Pie with Blueberry Sauce and Fresh Berries by Maria Dudzak.
The Arts Council sponsored the Juried Art Show at the Mainstay Gallery and there were sixty-six entries this year. A willow screen with fabric collage took First place. With an overall green cast and intricate stitching, it was somewhat Japanese in flavor and very beautifully done. It was crafted by Jackie Keizer and was entitled "Springtime Along my Path." Jackie was given $150 cash and a $100 gift certificate to Tongass Business Center's art supply room for her entry's win.
Second place went to "In the Deep," by Maida Kelley. This beautiful artwork displayed a watercolor rockfish and was absolutely stunning with vibrant colors and attention to detail. Maida received $125 cash and a $75 gift certificate to the Frame Shop at Exploration Gallery as her prize.
"Mixed Pickles- Traveling Show," by Diane Palmer won Third place. This box sculpture/installation- vintage suitcase held doll heads, old bottles, and fabric, etc. It was a whimsical piece with an antique flavor and brought smiles to most who viewed it. Diane took home $100 cash and a $50 to Tatsuda's IGA for her original artwork, which also was voted "People's Choice."
There were two Honorable mentions: Blueberry Suite, by Chris Hanson (hand fabricated patinated sterling silver pin and earring set) and Rougheye Rockfish, by Tamara Buell & Ty Mautner (acrylic fish print). Chris' jewelry is only now receiving the attention and acclaim so deserved for his unique creations. This blueberry set was truly a work of art.

Gigglefeet is always a success, but this year's show was over-the-top. Dance styles represented at the Gigglefeet Dance festival included Jazz, Mediterranean, Banghra, Belly Dancing, Ballet, Tap dance, Expressive Motion, Hip-Hop and the kind of show dancing that is a part of musicals and MTV video shows.
All of the performers were skillful, and in some cases, more than impressive. Ketchikan is truly blessed with more than its share of talented individuals. A good deal of the choreography was absolutely dynamic. It appeared from the reactions of the crowd as they filed out to their cars after the show that everyone was feeling energized and inspired.
A Run for Fun started the day on Saturday. Registration for the "Fun Run" began at 8:30, with the races off to a great start at 9:00 for children and 9:30 for adults. Leif Stephens was the Winner of the one-mile run for children 8 years and younger. Leif's time was an impressive 11:33 and he is only four years old!
Twelve-year-old Gabe Potts won the mile race for 9-12 year-old children with a time of 7:57. Young Kiera O'Brien took top honors in the 8 year-old or younger girl's one-mile race. She is seven and her time was 9:54. In the girl's 9-12 year-old division, 11-year-old Geneva Peters won with a time of 8:13.
In the adult divisions, Jodi Jakubek won the (overall) 10-kilometer event with a time of an amazing 37 minutes, 1 second. Second place (overall) went to Nellie Ballou with her time of 41:51. Bill Elberson took the top spot in the men's portion of the 10K race with a time of 40:52 and also placed third in the overall competition. Third place went to Gretchen Klein in the women's 10K event. Her time was 40:45. Second and Third place in the men's 10K were awarded to Brian Geske (49:41) and Rocky Eldering (52:02), respectively.
The 5K Race was hot and close. The men's First place Winner as well as the overall Winner was Matthias Jamet with a time of 18:36. Second and Third place went to Lou Hu and Jesse White with their times of 18:36 and 19:05, respectively. Kenna Patrick earned the First place in the women's division as well as placing fourth overall with a time of 19:40. Molly Ortiz placed second by crossing the finish line in 20:50 and Amanda Hammermeister took third with her time of 20:57. All-in-all, there were ninety-five runners in the events.
Next in the line-up came cars and slugs. The Blueberry Car Show opened it's doors (and trunks and hoods) at 10:00 and sliding into the limelight at 9:30 and 10:30 am was the 7th annual Big Slug Weigh-in Contest and the 25th annual Slug Race sponsored by the AK Department of Fish & Game.
This year, "Man-o-War" (a.k.a., Stanley), owned by Kate Spencer won the Big Slug Weigh-in, with a respectable 2.2 oz on the scales. Second Place went to "Slippery" at 1.6 oz, owned by Kiarra O'Brian and Third Place was awarded to "Lucius" at 1.4 oz, owned by Joey Bosch. As for the Slug Race itself, First place was taken by "Spot," trained by Cardigan McAlpin; Second place by "Bill," trained by Rebecca Schulz; and Third place by "Dewy," trained by Brennan Schulz. According to Judge Boyd Porter of Fish and Game, at least 68 slugs entered the race this year and all winners received a free Blueberry Festival t-shirt (the owners, not the slugs!).
If that wasn't enough gross fun for everyone, the Blueberry pie-eating contest sponsored by WestCoast Cape Fox Lodge hit the clock at exactly 11:30 and then things turned serious when the Bands began battling at 12:30. The group "Baby Shower" (Ashley Byler, Caity Koch, Corrina Troll and Tallie Medel) won Best Performance in the Battle which was sponsored by the Arts Council. There were fourteen participants and the award for the Best blueberry song was given to POW Gospel Bluegrass Band. They received $150 cash for the honor and the group "Baby Shower" was awarded $250 cash for their win.
Gobbling up First place (Adult) and Grand Champion in the Pie Eating Contest was Cory Bernhardt. In the other four age divisions; Clara Stanton took top honors as the 6&7 year-olds First place winner, Luc Wilford in the 8-10 year-olds division, Brendan Stanton as the winner in the 11-12 year-olds, and in the division for 13-18 year-olds, Daniel Harris munched out the competition in garbage bag bib style. All winners received a free Blueberry Festival t-shirt.
Next, a spelling bee took place at 1, a trivia contest at 2, and the "Great Blueberry Race" at 3. Charr's 10th Annual Ketchikan Beer Festival finished up the evening at 6:30 - 8:30.
Community Connections was the sponsor for the Spelling Bee and all winners received a free Blueberry Festival t-shirt. There were four categories and the winners were as follows: 1st place (8 and under): Clara Stanton; 1st place (9-12): Brendan Stanton and Steffani Strassburg (tie); 1st place (13-18): Elizabeth Kline; and 1st place (adult): Matt Yospin. The ages of the participants ranged from six to adult.
The Trivia Contest is always a fun event for adults and was sponsored by Friends of the Library. Again, all winners received a free Blueberry Festival t-shirt. There were six categories; art and literature, sports and leisure, science and nature, history, people and places and entertainment. In the youth division, Nevaeh Herby and Sace Mirsky won First place with the question: In the movie The Lion King, what is Simba's Dad's name? (Answer: Muffassah). Matt Yospin was the Winner of the Adult Version by answering correctly the question: Who won the 2004 World Series? (Answer: The Boston Red Sox).
On Sunday, things wound up with the Poetry Slam and Short Short Creek Street Story Contest at That One Place at 2 and a final performance of Gigglefeet that packed Kayhi to the rafters at 7:30 pm.
Sponsored by Soho Coho Gallery, Parnassus Bookstore, & the New York Café and dubbed the "14th Annual Richard Brautigan and Dick Whittaker Trout Fishing in America Poetry Slam and Short Short Creek Street Story Contest," the event attracted a lucky thirteen participants. The Top Three Winners were as follows: Charlotte Tanner for "Long lining for Halibut" (a 100 word novel); Tom Fowler for "Crossing the Waters" (an original poem); and Sarasvati Hewitt for "Sweet India" (an original poem). Charlotte took home a gift basket from Chinook and Company for her win, Tom received a book of Richard Brautigan's poetry and Sarasvati was awarded a free t-shirt of choice from Soho Coho.
All-in-all, it was a fantastic weekend and there's no doubt that the Blueberry Festival is great entertainment for the money. On Monday, the town seemed to have a livelier step from the experience and most people walking around had blue faces - but it was from blueberries and not the usual lack of sunshine! Here's to another great Blueberry Festival and Kudos to all who organized, contributed, attended, took part in, and applauded! See you next year!


Sharon Allen is a freelance writer living in Ketchikan, Alaska.
Contact Sharon at sharon(AT)sitnews.us
Publish A Letter on SitNews
Read Letters/Opinions
Submit A Letter to the Editor
SitNews
Stories In The News
Ketchikan, Alaska