Childhood Obesity
By Rob Holston
March 17, 2006
Friday

Childhood obesity will almost double in the next four years! That is the chilling report recently published in the International Journal of Pediatric Obesity. Their prediction is that by 2010, nearly 50% of all children in the U.S. will be overweight. Their study sates that "only significant changes in diet and lifestyle can change this prediction." The report goes on to state that the results of childhood obesity will be heart disease, diabetes, liver disorder & high cholesterol (for starters). In my opinion this is a Katrina sized national crisis in terms of medical costs, lost production and lost potential and we simply must avoid this catastrophe. Dr. Philip James of the IJPO describes the situation as "epidemic" and blames Western worlds food industry as the cause. This author primarily blames parents.
Parents do have a choice and as children become older, the choice becomes theirs. An ancient Proverb (22:6) says, "Train up a child in the way he is to go and when he is old he sill not depart from it" As parents, as a community and as a nation we are failing our children by ignoring this dietary and lifestyle advice.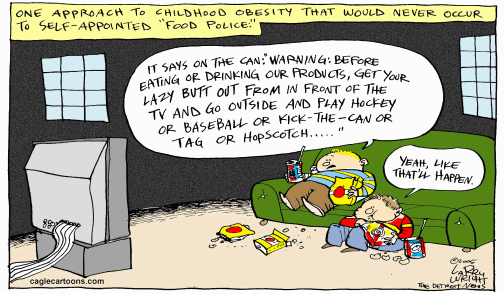 Childhood obesity
By Larry Wright, The Detroit News
Distributed to subscribers for publication by Cagle Cartoons, Inc.


Last night I was at the Rec. Center for our men's league basketball tournament. I had just finished one game (we won!) and I was watching the next match-up so we could play our second game. Normally we have just one game in any given day but this is tournament play and the semifinals stack up like this occasionally. What does this have to do with childhood obesity? Of the six teams I observed that day, one player out of 50 players was as old as myself and a majority of our opponents were less than half our ages yet we old guys were able to enjoy the rather youthful sport of full court basketball with the 20 year olds. An active and healthy lifestyle for ALL ages should be a personal goal as well as a community and national goal for its citizens, both young and old.
As I sat in the bleachers at the Rec. Center, I observed parents and kids and the problem of childhood obesity loomed. Yes I blame parents first, not industry, for childhood obesity. Over the next four years, it will be up to parents and their learning curve to either allow or prevent the childhood obesity predicted by the International Journal of Pediatric Obesity. One young mother sat with an infant, feeding the child a bottle of formula. That is a choice. Breast-feeding or formula? I don't bring this up to condemn the young mom for making this choice but simply because it is usually the first of 100's of dietary choices that parents can make for their kids and in a vast majority of the cases it is NOT the best dietary choice the parents can make.
What I also saw around me concerned two other mothers, each with kids who were about four years old. One child was sucking on a 12-ounce bottle of Root Beer and the other had a 12-ounce bottle of Coke. The parents had made the choice to allow these drinks for their kids and I'm sure every pediatrician in the world would agree it is the wrong choice. In looking at these young parents I would estimate the three moms averaged a BMI of +30. This is not only an indication of their poor dietary choices but quite possibly the choices allowed by their parents and now, it seems, they are passing along those poor choice habits to the next generation.
Dr. James blames the food industry for creating what is collectively called "junk food." However the demand for the junk food is what gives the industry the financial incentive to produce it. Parents who allow their children to make choices based on their desires create the demand. A child's desires for food and drink (and those of adults too) are no secrete to the food industry. The human palate desires Fat, Salt and Sweets in that order.
The Bible describes things that cause us to sin as "fleshly desires." Certainly adultery and promiscuity would be described as fleshly sin by my pastor and yet that same pastor would marry a young couple, fully expecting that they would partake of and enjoy sex. The lesson to learn here is that, Fat, Salt and Sweets, the most desired of all tastes are not to be totally eliminated from the human diet. I believe these tastes were created for our pleasure as well but in the hands of the giant food corporations of America, beware!
Children can become addicted to Fat, Salt and Sweets just like drug addicts become addicted to drugs. I'm sure that few parents willingly destroy their children's lives by introducing all of these seductive tastes into their young lives and then set little or no boundaries as to how, when and where that child can partake of these tastes. But, as the recent Pediatric Obesity study indicates, that obviously, to a great degree, is the case. We as parents are failing our children. We as a community are failing our children. We as a nation are failing our children. The obesity trend must be reversed for the sake of all. This trend will be reversed only when poor dietary and lifestyle choices are replaced with healthy choices. Train up children in the way that they are to go and they will grow to enjoy a longer and healthier life.
On the Web:
Contact Rob Holston at holston[at]kpunet.net
©2006


Publish A Letter on SitNews Read Letters/Opinions
Contact the Editor
SitNews
Stories In The News
Ketchikan, Alaska