Column
Real-life Adventures in the Land of Gimme-Gimme
By RICK JENSEN
September 12, 2015
Saturday PM

(SitNews) - There's sense of entitlement infecting this country.
While the virus may be originating with politicians bathing in cheers from adoring fans fooled by their empty promises of giving them confiscated money from rich people, it is spreading to everyday life.
The Associated Press reports a Pennsylvania barbershop has been fined $750 for refusing to cut a woman's hair.
Advertising itself as a "gentlemen's" barbershop, the state's Bureau of Professional and Occupational Affairs found the barbershop guilty of gender discrimination.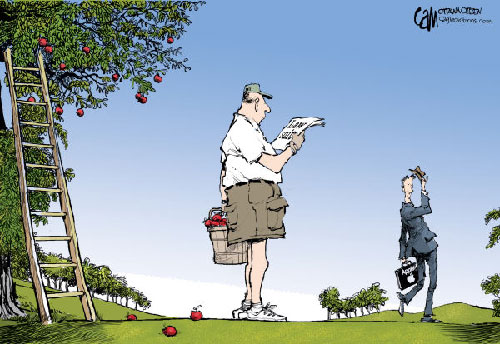 Lawsuits
By Cameron Cardow©2015, The Ottawa Citizen
Distributed to subscribers for publication by Cagle Cartoons, Inc.

Owner John Interval told the (Washington) Observer-Reporter the fine "infringes" on his shop's environment. Interval says, "Guys come here as a kind of a little getaway, to be around other guys."
Interval says his staff recommended other shops for the woman and even offered to pay for a haircut elsewhere to compensate for the inconvenience.
No, that's not good enough. Barbershops in Pennsylvania are no longer allowed to specialize. The government says so.
We're only one lawsuit away from gynecologists being required to use a speculum on transgendered men who haven't undergone gender surgery. Good luck with that.
In a separate case, a woman is suing restaurant chain P.F. Chang's for charging extra for gluten-free foods on their menu. Really. She's suing. (http://www.pfchangs.com)
P.F. Chang's says they charge more for gluten-free dishes due to the higher costs of specialty gluten-free ingredients. Also, to be certified as gluten-free the food must be prepared in a separate area and cooked in separate woks with separate utensils so there is no cross contamination. So really, they argue, the surcharge is simply due to additional restaurant costs.
This apparently matters not to the disgruntled diner. She wants what she wants, the way she wants it at the price she wants!
To avoid litigation, restaurants will now need to eliminate gluten-free foods from their menu entirely or increase their prices on every dish in order to hide the actual higher costs of gluten-free foods.
Apparently the idea that we pay a little extra for something extra and that a private business has the freedom to price its own goods is capitalism run amok.
Do we also need the government to codify the prices of a small caesar salad and a 12 ounce prime rib should be the same?
The cost of entitlement.
Then there's the lady who's suing a restaurant known for throwing bread rolls at their customers because a server threw a bread roll at her.
Lambert's Cafe's web site is "ThrowedRolls.com."
Hmm... Still a mystery as to why anyone would throw a roll at her.
Signs and menus sport the slogan, "Home of Throwed Rolls."
Hmm... Based on the bad grammar, who would know that they actually throw rolls in this restaurant?
Troy Tucker claims an airborne brioche caused her serious physical injury.
Fox4KC reports she "sustained a lacerated cornea with a vitreous detachment and all head, neck, eyes and vision were severely damaged."
Tucker now wants $25,000 to pay for her medical bills and legal fees. The lawsuit claims throwing rolls is a "defective condition" and that the restaurant already knew, or should have known, about the "danger of this practice."
Interesting that the presumption is the owners of the restaurant are the only ones who are supposed to know a flying biscuit may result in someone coming in contact with said descending biscuit.
Sure, we can all agree that a surprise baguette bomb could cause corneal damage, but these must be mighty dense baked goods to cause such damage to one's head and neck.
We know we can get hit by a foul ball at a baseball game. Should baseball teams pay the medical bills of the 1,700 or so fans hurt by one each year?
If we walk into a restaurant well known for throwing bread rolls, Frisbees or Ginsu knives, at what point do we have the responsibility to say, "Let's try P.F. Chang's instead of calling '800-Sue-Em-All'?"
© Copyright 2015 Rick Jensen,
distributed exclusively by Cagle Cartoons newspaper syndicate.
Rick Jensen is Delaware's award-winning conservative talk show host on 1150AM WDEL and 93.7FM HD3, Streaming live on WDEL.com from 1pm - 4pm EST.
Contact Rick at rick@wdel.com, or follow him on Twitter @Jensen1150WDEL.
This column has been edited by the author. Representations of fact and opinions are solely those of the author.
Contact the Editor
SitNews ©2015
Stories In The News
Ketchikan, Alaska

Articles & photographs that appear in SitNews may be protected by copyright and may not be reprinted without written permission from and payment of any required fees to the proper sources.

E-mail your news & photos to editor@sitnews.us

Photographers choosing to submit photographs for publication to SitNews are in doing so granting their permission for publication and for archiving. SitNews does not sell photographs. All requests for purchasing a photograph will be emailed to the photographer.