Pioneers of Southeast: A Tale of Two Men Named Thomas
By Louise Brinck Harrington
October 30, 2006
Monday

Ketchikan, Alaska - In 1909 two men with the same last name-Thomas-lived in the small town of Ketchikan on Stedman Street (then referred to as "Indiantown"). Both men originally came from Canada, worked in the herring business and owned and skippered halibut boats.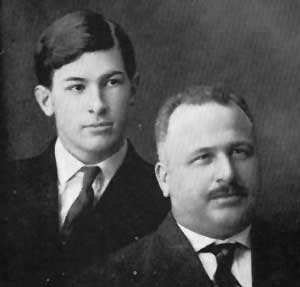 A.W. Thomas and his son Frankin
Photograph courtesy Andrews, Ralph W. and A.K. Larssen. Fish and Ships,
Bonanza Books, New York, NY: 1959.
And both left his name in the Thomas Street-Thomas Basin area.
Who were these men and which one is today's street and boat harbor named for? Well, there's some controversy about that.
Captain Ashton Waylon Thomas
Captain Ashton Waylan Thomas-usually referred to as A.W. Thomas-came to Alaska from Washington State's San Juan Islands, where he'd been in the fish-canning business.
During the gold rush of 1898 he towed a scow to Wrangell and started a transportation business, ferrying prospectors up the Stikine River to the gold fields. When the gold rush slowed down in 1903 he moved on to Juneau and started a new fish business: the Juneau Packing Company. The company operated three fish traps and produced canned sardines and smoked and kippered salmon.
In 1909, A.W. came to Ketchikan to operate a bait herring business for the New England Fish Company. At first he built a saltery near today's Talbot Dock, then in 1912 moved to a location above the tide flats of Ketchikan Creek where the Alaska Packers Association had built a wharf and warehouse.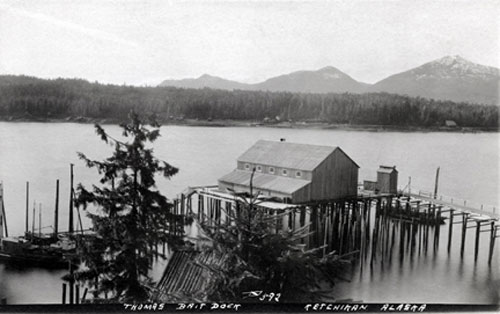 Thomas Bait Dock, circa 1912
Photograph courtesy Tongass Historical Society - Ketchikan Museums

A.W. leased the Alaska Packers' property, constructed a smokehouse and started smoking and salting herring for New England Fish Company, as well as for Ketchikan's growing halibut fleet. He bought two new boats: the 50-foot Acushla that he used to seine herring for his business and the 68-foot Margaret used to fish halibut.
In those days a pile-driven boardwalk started about at the intersection of today's Thomas Street and Stedman Street and extended on pilings for about 1,000 feet. A.W. Thomas's wharf and warehouse towered at the end of the walk. An old photograph shows the two-story wooden building with large signs reading "A.W. Thomas Company Wholesale Fish" and "Halibut Bait."
Although A.W. Thomas did not stay long in Ketchikan (only eight years, leaving in 1917 to start a herring saltery and reduction plant at Little Port Walter on Baranof Island), he left his name on the old Alaska Packers' wharf and walkway, which came to be known as Thomas Dock.
And this is where the controversy comes in: It's likely that the city of Ketchikan later transferred A.W. Thomas's name to what we know today as Thomas Street. This is not certain, however, as some people claim the street was named for another man, Captain Walter Thomas, who was an old-time halibut fisherman and master of the schooner Grace D.-which is another story.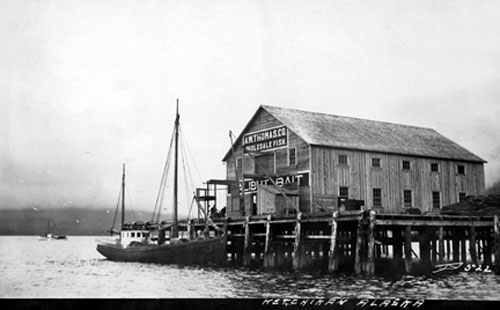 Schooner Margaret at A.W. Thomas Dock - circa 1912
Photograph courtesy Tongass Historical Society - Ketchikan Museums

Captain Walter Thomas
Captain Walter Thomas arrived in the tiny village of Ketchikan even before Captain A.W. Thomas-probably around 1890.
In 1898 the Ketchikan Glee Club wrote and performed a song called "On Tongass Narrows," which included a reference to "Walt Thomas, an old time sailor man." So he'd been around long enough at that time to become well-known.
By 1920 Walter was living on Stedman Street where he owned the "Pioneer Cabins," a few shacks located near the intersection of today's Stedman and Thomas Streets. (The cabins burned down in the 1960s.)
Walter kept his boat, the Grace D., moored below Stedman Street off the tide flats of Ketchikan Creek. He did not like this moorage, which was wide-open to southeast storms, but there was no other choice. Back then there were no protected harbors in Ketchikan and all skippers did the same thing-anchored their vessels in Tongass Narrows.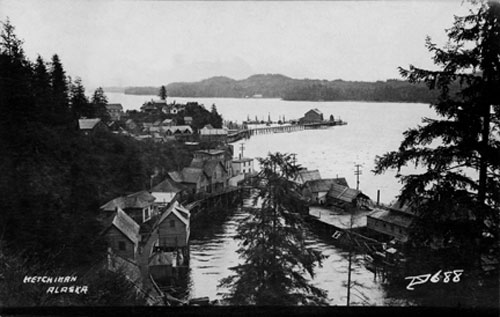 Creek Street, circa 1915
Photograph courtesy Tongass Historical Society - Ketchikan Museums

In 1921 Walter, a civic-minded man, was elected to the Ketchikan City Council. At a council session he brought up his favorite topic: the need for a boat harbor and mooring facilities. If Ketchikan wanted to progress and grow, he said, the town needed a harbor for the fishing fleet. He suggested that Ketchikan Creek be dredged and a breakwater built for this purpose.
Most people agreed this was a good idea, but no money was available to pay for a harbor. By 1925 over a thousand boats-including more than 150 halibut schooners and 100 cannery tenders-home-ported in Ketchikan and anchored or tied up in Tongass Narrows or wherever they could.
Controversy
And this brings up the controversy over the "Thomas" name again:
Since Walter Thomas first proposed the idea, it is likely Thomas Basin was named for him. But that's not certain: Some folks claim the harbor was named for Ashton Waylon Thomas, who packed fish and sold herring on the old "Thomas Dock" just off Stedman Street.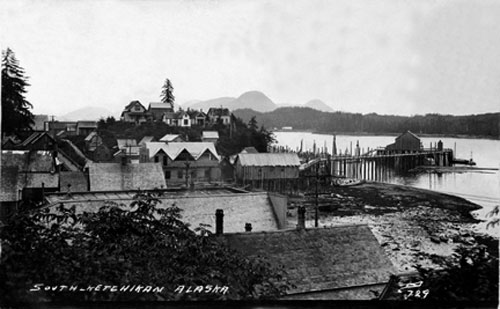 Thomas Basin circa 1915
Thomas Basin as viewed from above Stedman Street
Photograph courtesy: Tongass Historical Society, Ketchikan Museums

In any case, neither Walter Thomas nor Ashton Waylon Thomas was around to see the harbor completed. By the time the dredging began, Walter Thomas had died. He passed away in Ketchikan in 1925 just after the first hearings on the harbor took place.
A.W. Thomas left Ketchikan and continued to work around Alaska for a few years, but by 1920 had been judged mentally ill and committed to an institution in Seattle. He later died in an insane asylum in Sedro Wooley, Washington.
In 1926 the Ketchikan Alaska Chronicle ran a story about the prospect of dredging for a boat harbor to be called "Thomas Basin." This was the first official use of the name in print.
The Thomas Basin project was completed in 1931. At that time most likely everyone knew where the names of Thomas Street and Thomas Basin came from. But years have muddied the waters and now the question remains: which Captain Thomas was Thomas Basin named for?
Sources
Andrews, Ralph W. and A.K. Larssen. Fish and Ships, Bonanza Books, New York, NY: 1959.

Charles, Doug and Risa Carlson. Workboats of the Ketchikan Region 1895-1939, Ketchikan Museum Department, Ketchikan, AK: 1994.

Ketchikan Alaska Chronicle, Ketchikan, AK: April 20, 1926.

Roppel, Patricia. Southeast Alaska: A Pictorial History, Norfolk, VA: 1983.

Tobin, Emery. "Fish, Gold, Fish, Lumber, Fish, Minerals, Pulp & More FishDominate History of Alaska's First City," The Story of Ketchikan, Ketchikan, AK: 1973.

Louise Brinck Harrington is an author and
freelance writer living in Ketchikan, Alaska.
All rights reserved ©2006

Post a Comment -------View Comments
Submit an Opinion - Letter

Sitnews
Stories In The News
Ketchikan, Alaska