Front Page Photo
'Hummingbird Heaven'
Photo by Paul Perry
May 26, 2005
Thursday

Ketchikan, Alaska - We hang our feeders and are prepared to shoot -- photos that is! These fascinating little hummingbirds are again back in Ketchikan and again providing endless challenges to Ketchikan's photographers and endless entertainment from dawn to dusk with their incredible J-dives and darting speeds.
These rufous hummingbirds likely were among those making the annual 2,600-mile spring migration from southern Mexico to Southcentral Alaska bringing with them a little bit of hummingbird heaven to our neck of the woods.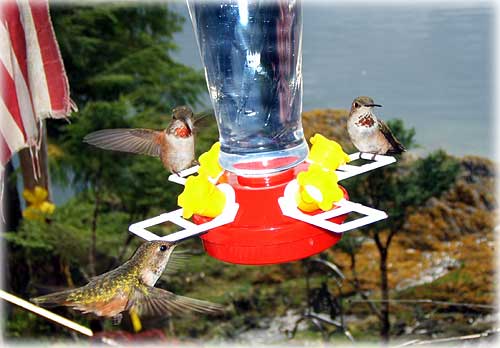 Rufous hummingbirds

A full-grown rufous measures 3 1/2 inches from bill tip to tail end. These fuel-efficient birds are the northernmost hummingbirds.


Paul Perry ©2005
Submit your photos for publication to photos@sitnews.org
Post a Comment View Comments
Submit an Opinion - Letter
Sitnews
Stories In The News
Ketchikan, Alaska