Front Page Photo
'Pussywillows in Bloom'
photo by Paul Perry
February 04, 2005
Friday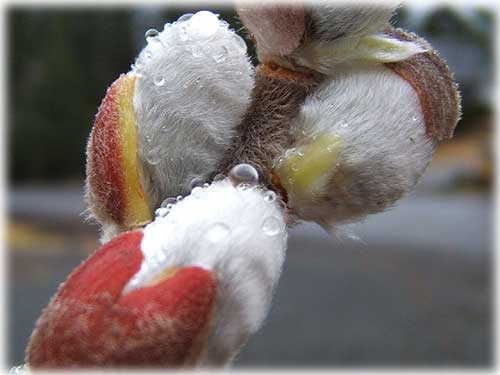 Ketchikan, Alaska - It might as well be spring - at least for the Pussywillows! In and around Ketchikan the Pussywillows are in bloom. This plant can be either a small tree or shrub, growing up to 30 feet. Its catkin buds bloom in February to May, and are small, gray and woolly. This is a favorite tree to see, as it means that springtime is coming.
Known as being one of the first plants to bloom in the spring, the milder temperatures in the Ketchikan area have apparently teased the Pussywillows into blooming - unless that is of course the Pussywillow is a reliable predictor of an early spring coming.
This Pussywillow was photograph along South Tongass Wednesday. Pussywillows have also been seen in bloom this week as far as mile 14 North Tongass Highway.


Paul Perry ©2005

Submit your photos for publication to photos@sitnews.org
Post a Comment View Comments
Submit an Opinion - Letter
Sitnews
Stories In The News
Ketchikan, Alaska