Photo Essay
Red Suspenders Party Concludes
AFA's 46th Annual Convention

October 29, 2003
Wednesday - 12:30 am

Ketchikan, Alaska - The Alaska Forest Association's Red Suspenders Party concluded the AFA's 46th annual convention which was held last week in Ketchikan at the Ted Ferry Civic Center.
The AFA began on March 6, 1956, when a group of loggers met in Ketchikan to establish an association for Alaska loggers. At the conclusion of the meeting, the group voted to affiliate with the Timber Operators Association and selected the name S.E. Division of Timber Operators Association. During the first year of operation, the group developed a worker's compensation program and hired a safety engineer.
Red Suspenders Party
Will Haag receives two Alaska Airlines Tickets to any
West Coast Destination given by Bill MacKay and Susan Bramstedt.
photo by Malissa Peters, AFA
In 1957, the group withdrew from the Timber Operators Association and formed its own association, the Alaska Loggers Association and in 1960, the organization voted to admit as Regular Members, sawmills and pulp mills that had logging operations. Also at this time, the Associate Member category was created. Associate members include businesses and individuals that serve the forest industry and wish to support the AFA mission of committing the resources of the Association to advancing the restoration, promotion and maintenance of a healthy, viable forest products industry, contributing to economic and ecological health in Alaska's forests and communities.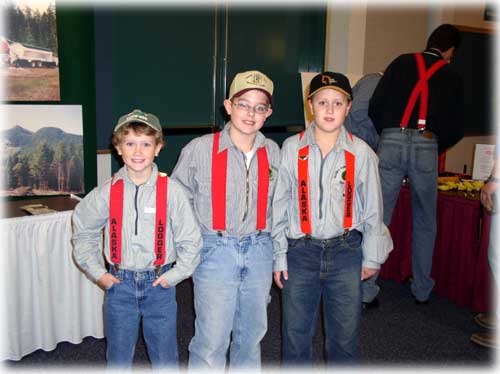 Little Loggers
The next generation of loggers...
Kable Lervick, Jasper Reese and Keagan Lervick.
photo by Malissa Peters, AFA

The Association is one of the oldest in the State of Alaska and provides members the opportunity to participate in programs such as Tongass Timber Trust (group health), Alaska Loggers Retirement (pension plan) and a public information program which promotes the facts concerning the forest products industry.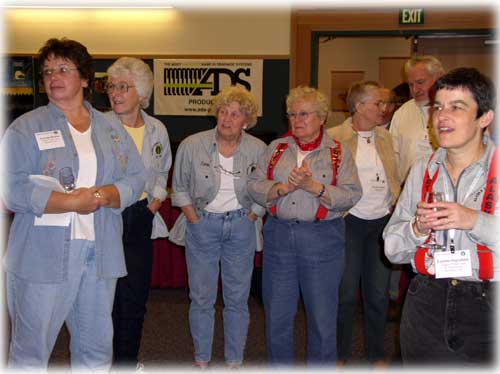 Auction
Waiting to see who is the high bidder on an item...
The Auction funds support the Don Bell Alaska Logger's Scholarship Fund.
photo by Malissa Peters, AFA


The Associates sponsor the social event called the Red Suspender's Party during the AFA conventions. For many years Alaska Women in Timber (AWIT) held their fund raising auction during the Red Suspenders Party; however, after the Alaska Women in Timber disbanded several years ago, the Associates continued the auction tradition using the funds to support the Don Bell Alaska Logger's Scholarship Fund.
The AFA is a high profile industry trade association.


Photos ©2003 Malissa Peters of Alaska Forest Association
Submit your photos for publication to photos@sitnews.org.
E-mail Dick Kauffman: editor@sitnews.org
Post a Comment View Comments
Submit an Opinion - Letter
Sitnews
Stories In The News
Ketchikan, Alaska