Front Page Photo
'Life is full of little adventures'
photos by M.C. Kauffman
October 14, 2003
Tuesday - 12:50 am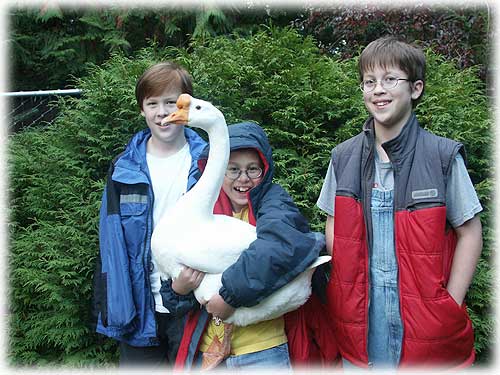 Jesse, Dion holding Pissarro, and Doug...
photo by MC Kauffman

Ketchikan, AK - Ketchikan residents Jesse, Dion and Doug had the opportunity to visit with the Kauffman's geese, ducks and peacocks on Monday after a busy school day.
Dion is all smiles as he enjoys one of life's little adventures - holding a full grown male goose - as his big brothers, Jesse and Doug, stand close by. Pissarro seemed to sense that these young fellows were not only brave but also kind-hearted as he joined in with posing for the camera.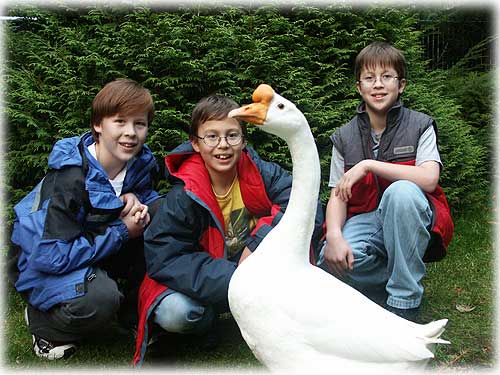 Jesse, Dion, Pissarro and Doug...
photo by MC Kauffman
Note: Not all geese are as tame and bonded to humans as is Pissarro. Geese can bite and their space should be respected. Adult supervision is recommended.
MC Kauffman ©2003
E-Mail: mc@sitnews.us
Submit your photos for publication to photos@sitnews.org.
Post a Comment View Comments
Submit an Opinion - Letter
Sitnews
Stories In The News
Ketchikan, Alaska