'Ketchikan Peahen'
photo by M.C. Kauffman
October 06, 2003
Monday - 12:55 am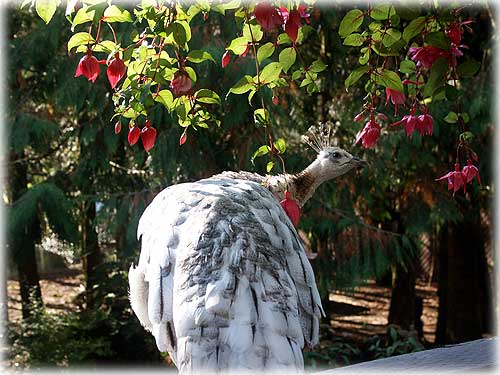 Ketchikan, AK - Sitting high on a banister, BillieJo Kaku enjoys nibbling tasty fushias on a sunny day in Ketchikan last Thursday. BillieJo is a Black Shouldered Blue India peahen. On rainy or cold days, BillieJo prefers to stay indoors and snooze on her perch along with her Blue India peafowl pals - Elvis, P.Kaku and BobbieJo.
The peafowl live indoors in a large heated greenhouse that has been redesigned as a Ketchikan peafowl house. On sunny days, they all enjoy roaming around the yard - which is fenced in for their protection. Even though they can fly, they will stay in their yard and around their home perching on banisters and often on the roof.
Daily they eat a variety of foods including meat, lettuce, seeds, nuts, pineapple and berries. Peafowl are gentle and intelligent birds - and beautiful. Although they have a reputation for being noisy, when provided a comfortable and safe environment, they are very quiet.
MC Kauffman ©2003
E-Mail: mc@sitnews.us
Submit your photos for publication to photos@sitnews.org.
Post a Comment View Comments
Submit an Opinion - Letter
Sitnews
Stories In The News
Ketchikan, Alaska