People of Ketchikan
'Father & Daughter'
photo by M.C. Kauffman
September 20, 2003
Saturday - 12:45 am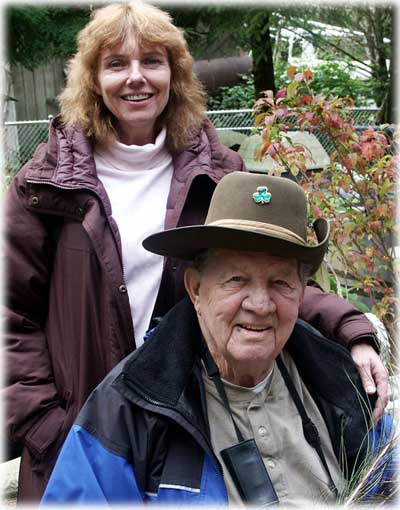 Elwin Klein & Kathy Stack
photo by MC Kauffman
Ketchikan, AK - Ketchikan residents Elwin Klein and Kathy Stack - father and daughter - take time to pose for the camera Friday.
Elwin Klein, now in his eighties, came to Alaska as a young man and first settled in Petersberg where Kathy, who is now married to Lyle Stack, was born. She was raised in Ketchikan.
Working on the Alcan Highway while in the Army is among Klein's many life adventures over the years. Klein retired as head of the meter shop at K.P.U. in 1985 and has many stories to tell about being a line man.
MC Kauffman ©2003
E-Mail: mc@sitnews.us
Submit your photos for publication to photos@sitnews.org.
Post a Comment View Comments
Submit an Opinion - Letter
Sitnews
Stories In The News
Ketchikan, Alaska