Front Page Photo
'Mandarin Duck'
photo by Gretchen Moore
June 25, 2004
Friday

Ketchikan, Alaska - The adult male Mandarin is a striking bird and it's not unsurprising that these beautiful birds are frequently featured in oriental art.
Mandarin Ducks are not native to Ketchikan. These birds are native to the forests of China and Japan. The Mandarin is held in high esteem by the Japanese and the Chinese. In these countries, they serve as a symbol of happiness and marital fidelity.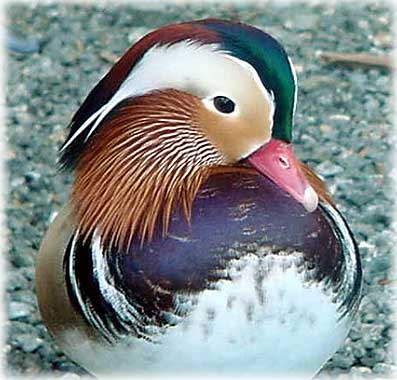 Fortunately, two factors have helped the Mandarin to survive: they are beautiful, not tasty.
Ketchikan has a variety of unique and exotic birds... and a variety of unique and exotic bird lovers!


Gretchen Moore ©2004

Submit your photos for publication to photos@sitnews.org
Post a Comment View Comments
Submit an Opinion - Letter
Sitnews
Stories In The News
Ketchikan, Alaska