Front Page Photo - People of Ketchikan
'Waiting'
photo by Gigi Pilcher
September 29, 2003
Monday - 1:00 am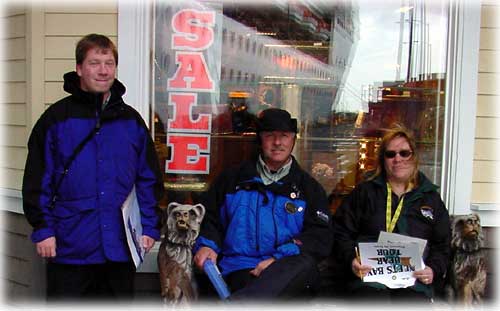 Chris Christensen, David Houston and Candi Scudero

Ketchikan, AK - A sight that won't be seen again until next tour season will be the many colorful and exuberant seasonal tour workers waiting downtown to greet cruise passengers.
Last Wednesday several local Ketchikan residents who have seasonal tour jobs posed for the camera for one last photograph before the season ended Friday. On the left is Chris Christensen who worked for Princess Tours this summer for his third season. Christensen drives the Ketchikan Gateway Borough bus during the winter. Seated in the middle is David Houston - aka "D.C."- who also worked for Princess Tours this summer for his second season, and on the right is Candi Scudero who worked her first year for Pro Mech Air promoting their fly-in bear tour.
Tour workers were seen waiting around several times last week as two of the three cruise ships scheduled for Ketchikan arrived late due to the weather on Tuesday and Wednesday.
With the departure of the Veendam around 6:00 pm Friday evening, Ketchikan's 2003 cruise season came to an end.
Related:
Last Ship by Dick Kauffman...


E-mail Gigi Pilcher: gigi@sitnews.org
photo ©Gigi Pilcher 2003
Send your photos for publication to photos@sitnews.org.
E-mail Dick Kauffman: editor@sitnews.org
Post a Comment View Comments
Submit an Opinion - Letter
Sitnews
Stories In The News
Ketchikan, Alaska