People of Ketchikan
Labor Day, a day to honor our nation's workers
photo by Gigi Pilcher
September 01, 2003
Monday - 12:30 am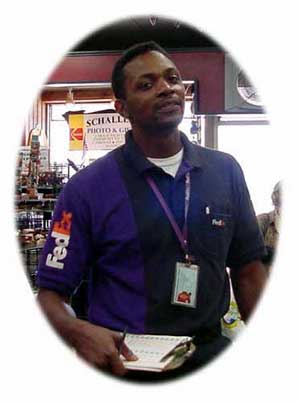 Kenneth Williams
photo by Gigi Pilcher

Monday, September 1st is Labor Day - a national holiday with more meaning that just the end of the summer season.
The first observance is thought to have been a parade in New York City, in 1882, organized by Peter McGuire of the Carpenters Union. The idea caught on, and by 1893, more than half the states were holding some sort of observance to honor the nation's workers. The first Monday in September became a national holiday in 1894.
Today, nearly 140-million men and women over 16 are in the labor force - about 64 percent of all adults. In terms of gender, 71 percent of men and 58 percent of women are among the nation's workers. About 7 percent of all workers are self-employed, and 6 percent have more than one job. [Source U.S. Census Bureau]

Local Ketchikan resident Kenneth Williams is one of many Ketchikan workers keeping our community running smoothly. Williams is employed by FEDEX and has lived in Ketchikan for several years.


gigi@sitnews.org
Gigi Pilcher ©2003
Send your photos for publication to photos@sitnews.org.
Post a Comment View Comments
Submit an Opinion - Letter
Sitnews
Stories In The News
Ketchikan, Alaska